Pressing Flesh
Marty & Elayne, John Waite, and The Motels
August, 2004
It seemed like a weekend of freebies. Small niceties in the land of take, take, take. So, it may be that LA isn't so shallow…er…all the time. Maybe concerts aren't always filled with either drunken weirdoes or the tragically hip; and playing veterans, instead of closing themselves off into their aloof shell of jaded performing, sometimes convey touching moments of being human and are dare I say…friendly.
Marty & Elayne
The Dresden Room
Hollywood, CA
Friday August 20, 2004
After many months of saying we should go see this show, but never wanting to make the long commute from the Westside to the Los Feliz area of Hollywood, a girls night out was finally solidified; and on Friday, August 20, five of us (Mary, Julie, Carol, Britt and Shelby) walked into the Dresden Room around 9pm to witness the marvel that is Marty & Elayne.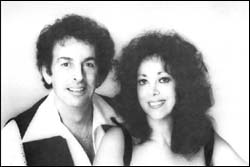 Ape Culture archivists believe this photo was taken
over 25 years ago.
For the uninitiated, Marty & Elayne Roberts have been knocking off impassioned jazzy lounge numbers on Vermont Avenue for something near to 20 years. Although dressed in matching black with some spangled blue trim, they look a little worn and tired, this was actually a refreshing note, as I was expecting something a little more disturbing: either disillusioned and blasé or disconnected and barmy.
As seen briefly in the movie Swingers, Marty and Elayne's act consists of both Sinatra-styled standards and more stylistic revamps of contemporary songs…well, if "Stayin Alive" can be seen as contemporary in comparison. Their audience loves their rendition of "Stayin' Alive", by the way, during which Elayne goes into a keyboard solo with such body-rocking fury, you feel she might be trying to channel Iron Butterfly. It would be funny, but it's not bad enough to be funny. In fact, it's not bad at all…which was the most refreshing gift of the night.
After all, I'd been worried we'd have to enjoy Marty & Elayne in that mocking sort of ironic sense. I mean, if this show was an LA institution, it couldn't be any good. If Marty & Elayne attracted reported hoards of hipsters, the show couldn't be very genuine or accomplished. It must be all wink wink if the jealous jaded are showing up. It must be funny in a way that out-of-place/off-the-mark acts often are.
But this is not the case with Marty & Elaine. They are both polished musicians, Elayne on her elaborate keyboard operation (comparable to what the Wizard of Oz plays) and Marty on drums. Once in a while, their song choices may cause you to chuckle in the beginning as you adjust to the idea, but these two pull out creative renditions whatever they do; and as a result, genuine hollers of appreciation follow Elayne's frenzied organ solos.
And because we arrived early, we were privy to witnessing Marty working the room. Instead of that all-too-familiar lounge-act show-biz fake-talk, Marty was remarkably friendly, much like a smiling older uncle.
Girlish chattering from our table accidentally elicited Marty's attention and he wanted to know what we wanted to hear. We agreed with almost strange and immediate unity: Neil Diamond.
Slowly Marty sang, "warm….touching warm…..reaching out…..touching me…..touching you." Uncannily intuitive song choice for Marty considering Carol's real name is Caroline. Subsequently, we all dared Julie to request a KISS song. But she wouldn't do it. Instead we heard "What's New Pussycat," "The Lady Is a Tramp," "When I Was Seventeen," "The Girl from Impanema," and "Copacabana," among many others.
At one point, a young girl with Rita Hayworth hair and a 40s-styled slant-stripped dress took over the microphone and sang "When You're Smiling" with all the annoying affectedness, insincerity, and smiling without warmth that completely reinforced the diamond-in-the-rough brilliance of Marty & Elayne. They are warm. Touching warm. Reaching out. Touching Me….
In fact, our only complaint was not enough Marty & Elayne, too many guest players wanting to jam and sing in the show, from retro girl and her 80s-haired boy toy to the saxophone player (although Julie liked the sax player and Carol said he was a "hottie"), to the bassist, Gordon, who sang his own number, as well.
You also should be warned that as the night grows old, the hipsters start pouring in and filling the room with an uber-trendy vibe that can be air sucking. As this happened, Marty became less talkative with the crowd.
For our part, we were so entranced, we stayed four hours camped in our large booth until Marty, during their second break, came over to our table, personally thanked us for being such troopers and then proceeded to slap down five cassette tapes of Marty & Elaine in LA in front of each of us. Then he rushed away.
Later, after the show was over and we were waiting for the bar's lonely two waitresses to settle a packed room full of bar tabs, the 20-something bassist Gordon who is a recent semi-permanent addition to the Marty & Elayne Show came over to say hello and thank us for coming.
Hey…a little personal attention goes a long way. We'll all be singing their praises and initiating the infidels for years to come.

John Waite
with Special Guests The Motels
Vault 350
Long Beach, CA
Saturday Aug 21, 2004
Here's the bad thing about the Vault 350: cheap concert prices with no service charges are undermined by overpriced food and spit-take inducing drink prices.
The ticket price for this show was an enjoyably flat $25 dollars. But the online purchasing system didn't work well and the inexplicably mandatory e-confirmation-to-ticket swap at the door was needlessly complex, creating an entry log-jam. And because, we must suppose, the two acts on this bill had a hit or two in the 80s, we were tortured with loud iconic 80s music before and after each show.
But aside from all that, Vault 350 is a nice-looking venue in scenic downtown Long Beach and the staff was exceptionally friendly, including the bouncers, which is hereto unheard of among the surly staff of most intimate rock venues.
Friend and co-worker from my former job at the Prostate Cancer Foundation, Kelly Blair, attended this show with me. Everything ran about 20 minutes late, during which time we created a list of acts we'd want to see if we could turn back time. I said Queen and Janis Joplin. Kelly said Led Zepplin and Elvis. Then we played There's Your Boyfriend, which is not a very nice game at all and you should never play it, although I suspect everybody plays it. A much better game to pass the time would be the slightly older Would You Rather game. This a harmless and competitive game of horribly uncomfortable sexual scenarios. For instance, if I were playing this game with John Waite, I would say "Roseanne Barr or Minnie Pearl" and he would grimace and make a selection and then try to top my Would You Rather with an even more grimace-inducing scenario; whereas if I were playing with Martha Davis, I would say "Michael Jackson or Don Knotts." The most legendary instance of this game occurred three years ago when I declared to Julie Wiskirchen, who was sinisterly trying to find my low bar, that I would rather sleep with the corpse of Roy Orbison than Rod Stewart. Or maybe it was the time a friend of Julie's who shall remain nameless was asked to choose between E. T. and the Energizer Bunny and shockingly opted for E.T. because, she said,. he has that long finger. The object of the game is to back your opponent into a nightmarish corner where they are forced to choose something ridiculous, such as "Oh Christ, I guess it's Andy Rooney, then."
We waited aproximately another fifteen mintues for The Motels. I was interested in seeing them, but I was never a huge Motels fan because back in the 80s I was an uber-nerd (probable object of quite a few There's Your Girlfriend games) and I felt the need to amass catalogues of Barry Manilow and Sheena Easton records while at the same time listening to radio stations with the same happier-than-humanly-possible 80s synth-pop being played too loudly at the Vault this very night.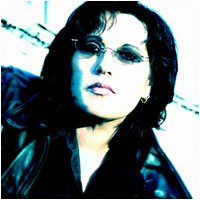 Martha Davis, current
The Motels were a little better than that. I did love one of their last singles, "Shame" (which they did not play) and I always liked deeper, husky female voices, which in the 80s included Annie Lennox and Martha Davis.
We couldn't help but wonder what Martha would look like after all these years. I wondered if she would look either over-preserved like Cher or under-inflated like Elayne Roberts. When The Motels took the stage, we could see that Martha had gained some weight, similar to Heart's Ann Wilson, and she wore a large front-zippered sweatshirt with jeans and a cap over her pony-tailed black hair, all as if to say I don't give a shit how I look anymore. However, throughout her set, she kept tugging down on the front of her sweatshirt in a way that hinted she cared just a little.
Well, I didn't care. More power to the sweatshirt, I say. Martha sounded great, and her set list included a decent portion of new material which sounded modern and catchy, in addition to her biggest Motels hits: "Suddenly Last Summer" and "Only the Lonely" (with that wonderfully transporting guitar bridge played by one of the mostly new and younger Motels).
Aggravatingly, The Motels and Martha Davis have no updated, functional web site. Their main site, www.themotels.com/www.marthadavis.com lists a sprinkling of outdated show dates on a single page and nothing else. Nowhere on the web is there any venue for a fan to post a set list or review of the show. Where is The Motels community?
Similarly, Martha did not interact much with the audience during the show. She stayed safely and a little tensely behind that invisible performing curtain that separates us all. Which was disappointing only because the crowd was sprinkled with die-hards who were singing along to every word with unrepressed bliss. Clearly they missed Martha; but it was unclear as to whether Martha had missed them.
Likewise, Martha should have been out pressing the flesh for her new independent venture, just as John Waite did after his show. And Waite is reportedly from the insular cancer tribe, so you suppose this can't always be easy.
The Motels need to update their website, if nothing else. Even a rudimentary fact sheet is far superior to a glossy nothing. At one point, Martha mentioned the availability of new Motels material ready for download on iTunes; but what a shame, I could find no confirmation of this on any Motels-related website. Their lack of web presence gives them the sad feel of a band lost in….well, the 80s. Which they don't really deserve.
John Waite
I don't know how full the back of the room was because I was completely wedged forward in the herd, but I haven't felt so crowded at a John Waite show since I saw Bad English in St. Louis in 1989 at Mississippi Nights.
It was an interesting phenomenon. The crowd watched The Motels from a respectful distance, a few even had room to dance as the mood struck. But as soon as The Motels' set ended, people slithered right up under the lip of stage. These people were serious. Hands would be flying up for handshakes, you could just tell.
I noticed mostly older fans of equal sexes. Lots of guys are Babys fans, including my two older brothers who brought their albums into the house many years ago. In fact, I clearly remember myself circa age nine when one of my brothers went marching past my bedroom door after a trip to Record Bar with a copy of the Babys album Head First under his arm. I remember a budding feminist's dismay in seeing the cover artwork of sprawling, upside-down, Barbie legs: "Men and their leg fetishes!" I would have haughtily scoffed if I had been able to verbalize what was fermenting in my head.

This Saturday night, it felt like I was in a crowd of my older brothers, in both age and temperament, not to mention a good amount of female fans, which included a sprinkling of well-coiffed blondes.
We had been herded into a good spot, two standing rows back, stage center, and we were there to stay. You couldn't mingle, at this point. You couldn't even move. We could have stood farther back for my taste, back where we weren't bumping up against each other. At one point, my hair was literally petted. (Kelly…did this happen to you?) The fellow behind us kept bumping into me and at one point wanted to look over my Sonny & Cher bag. As it turned out, he was okay; but in a more fluid crowd I would have instinctually moved.
The set list included: "Change," "Back on My Feet Again," "Keys to Your Heart," "When I See You Smile" (Bad English), "The Hard Way," "New York City Girl," "How Did I Get By Without You," "The Best of What I Got" (Bad English), "Missing You," "Isn't It Time" (The Babys), "Midnight Rendezvous" (The Babys), and "Head First" (The Babys).
"The Hard Way" is the title track of the mostly repackaged album John Waite released independently this month, available at shows, online, and, like the Motels' new material, downloadable on iTunes and Napster. Where The Hard Way is a return to the aggressively fierce rock of The Babys and Bad English, there is also a counter-balance on the album of more quiet, introspective material, songs which have almost a country substratum to them, including "New York City Girl" and the Dylan penned "Girl From the North Country," which is often included in live shows b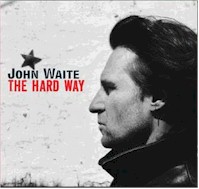 ut not always.
John Waite was remarkably on game throughout the performance. Kelly even commented on the continued strength of his voice. He looked striking with the strong shoulder line of his coat, high handsome cheekbones, and a sweep of beautiful red hair. He seemed almost exhilarated during the show and engaged the crowd both physically and with comments about the new material.
He also did a few interesting alternate song endings and, at one point, sampled parts of newer songs into older material. For instance, I heard retooled bits of "Godhead" slip into one of his Babys songs. Old hat was given a hardy shake and the crowd seemed to be enjoying it.
Kelly was also able to take a trip in the time machine by hearing John Waite's last song, a cover of Led Zepplin's "Rock and Roll." It was a choice ambitiously and impressively executed. Again, Led Zepplin was a staple of life with older boys in the house. But honestly, I never cared for Robert Plant's voice. The cover John Waite did indicated how interesting similar their voices are in quality of grit; but the voice of Plant is a little removed, less engorged with emotional propinquity.
It's awfully hard to describe a voice. If I could borrow the food analogy of Streisand fans who inappropriately describe her voice as akin to butter (it's actually more of a pretty, crystal quality, but essentially meaningless like champagne), Cher's voice is smoky and amber and therefore would be maple syrup. To borrow other Ape Culture models, Kylie Minoque's is sweet but a little tart and would be like a Green Apple Jolly Rancher, while Ozzy Osborne has a pure sour quality, part recklessness, similar to vodka. John Waite's voice is salty and ferocious, like a salsa.
At one point, Kelly and the fellow behind us started laughing at the very excited man knocking us aside to get the almightily hand shake. At the end of the show, Waite threw out the ubiquitous sweat rag to the swarming crowd. The arc looked like it would hurl the little swatch out farther into the masses, but it was the friendly man behind us, three human layers back, who caught it and, for some reason, handed it up to me. I've never had anyone give me a sweat rag before. I raised my eyebrows as if to say "are you sure you want to do this? Did I look like I was making some unrestrained bridesmaid's grab for it?" But it was a nice gesture from the guy who said nice things about my oversized nerd bag. So I appreciated it.

Ten to fifteen minutes after show, John returned to a table by the side of the stage to meet and greet the fans. As they go, this meet and greet was an orderly, assembly-line variety with the exception that the bouncers were friendly and talkative. John appeared to be very animated and happy as people progressed through the line. I was in the tail end of it due to requiring more courage than a Leo should require. He signed my CD. I said "great show." He said "thanks, [insert name]." To John Waite's credit, he does do more garden party variety meet and greets as well, where "thanks [insert name]" occurs generally after a few more sentences. It wasn't exactly a Crossfire conversation; but if he were typical, he might have simply gone offstage to a buffet of Mums and into the arms of some well-coiffed blondes.
Instead, he went back out there and sold some new CDs. He also handed me a free button. What can I say…a little personal attention goes a long way.
Read Kelly's Review of the Show
Links
Marty & Elayne – no web presence. Go to their free show at the Dresden Room (Monday through Saturday, 9 pm to 1:15 am, two drink minimum) to purchase CDs, cassettes, and they're even selling LPs. A sign in the room actually warns you that if you're a collector, you might want to get one now because they're almost gone.
The Motels – no web presence! I suggest you go to iTunes and search for The Motels and hope you see stuff you don't recognize.
John Waite – www.johnwaiteonline.com for show dates; www.johnwaitethehardway.com for information on the new album.
Leave a comment about Marty, Elayne, Martha Davis, A Motel, or John Waite.
Ape Culture and all associated pages are
ŠApe Culture 1998-2007 and evermore.