OZZFEST '98
PNC Bank Arts Center
Holmdel, NJ
July 5, 1998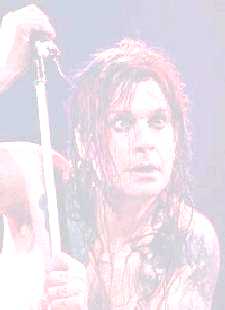 WARNING: This article contains strong language. An Ozzfest review is not for the weak.
The Gentleman of Leisure and I arrived around 2pm. We were dressed to rock. I was wearing jean shorts and a black T-shirt (front) a sweaty, shirtless Ozzy with his open mouth poised precariously over a dove and (back) a flying dove soaring over a severed Ozzy head with drops of blood falling from his beak--the dove's revenge. The Gentleman donned jeans and my black KSHE-95 KISS T-shirt. Despite our fierce t-shirts, we were not frisked by security, nor was my bag searched.
We went up to the main lawn in time to see Coal Chamber. I thought they were pretty good. The Gentleman thought they sounded like a parody of metal, but not a good parody. He left to seek sunscreen, which was not for sale (though holy water blessed by Ozzy was available for $3). After Coal Chamber, he requested we retreat to a shady spot and we found one near the entrance. The Gentleman stayed there for most of the afternoon while I went from side stage to main stage. On the side stage, I saw a band called Snot. That was really their name. Their best song "I Just Lie" features this truly candid chorus: "I jus lie jus to fuck you I jus I jus lie." How forthright.
For dinner I enjoyed a hot dog, fries and a Budweiser for $14. I coaxed The Gentleman up to the lawn, since the sun was setting, and we watched Megadeth. I thought they were good. Then we went over to the side stage to watch Motorhead, who were very old, very loud, and very boring. After a few songs, we went back up to the lawn to watch Tool who I have always considered a MetallicA tribute band. The alterna-kids in the crowd were really into them. I was just waiting for Ozzy! I had to get another beer (beer total for the day: $18 and I only had three!).
Around 9:15, they ran the Ozzy intro video which was even more hilarious than last year's. In last year's video, they digitally inserted Ozzy into various movies, such as Forrest Gump (Ozzy on bench, Forrest sits down and introduces himself and offers Ozzy a chocolate, Ozzy says, "Get the fuck off my bench"). This year, it was the same principle, but more diverse. For starters, Ozzy was in Titanic, topless and reclining on the couch a la Kate Winslet, as Leonardo sketches him. He says, "Jack, you're blushing" and they cut to a sheepish Leonardo. Then Ozzy says, "Hurry up! I'm losing my boner." Then we had Ozzy as a Spice Girl (Satanic Spice?), Ozzy in Riverdance, Ozzy in South Park as Damien, son of Satan. I quite liked Ozzy in the Fiona Apple video. He says, "Shut the fuck up and eat something" and as she morphs around the room, he morphs next to her in every scene offering her a different kind of food. For the finale, they put Ozzy in The Full Monty, stripping in the finale scene of the movie, and we had to look at his middle-aged bum.
Then Ozzy came out on stage, dressed in black (what a surprise!), and played "Believer." He went on to play "I Don't Know" and "War Pigs" and "Desire." He sang "No More Tears" and his voice cracked every time he went for a high note. I found this really hilarious (maybe it was the beer). After the song, he said, "I'm sorry my voice is fucked. I smoked a joint before I came out on stage." The crowd went wild. I appreciated his candor. I guess VH1 will have to tape an addendum to its Behind the Music special because Ozzy is "flying high again."
Throughout his hour and a half set, Ozzy bullied us with the following commands:
Clap your fucking hands
Show me your fucking cigarette lighters
You got to get wilder for me
Show me your fucking hands
Come on COME ON you motherfuckers
We did whatever he said. From time to time, we were rewarded with:
I love you all
God bless you all (note: "God", not "Satan")
You're the best
You're number one
Ozzy continued the set with "I Don't Want to Change the World (I Don't Want the World to Change Me)", "Suicide Solution", "Mr. Crowley", "Crazy Train" (he made us sing the chorus by ourselves every time and didn't help...musta been the voice problems), "Flying High Again," "Goodbye to Romance"--the usual suspects. Throughout the set, he took time to spray the audience with a water cannon and there were sprinklers that rained down from above the stage. We could have used that earlier in the day, but it was dark and pretty cool by the time he took the stage. Fortunately, the water cannon couldn't reach those of us in the cheap seats.
For an encore, he played "Mama I'm Coming Home" and then made us beg for one more, which was, of course, "Paranoid." Then, with a final "God bless you all," and a burst of Ozzy confetti, he was gone. Until next fuckin' year!!
Other Ape Culture Concert Reviews
Post a comment about Ozzy and Ozzfest 1998.

Ape Culture and all associated pages are
ŠApe Culture 1998-2007 and evermore.



Click here to learn about
the Ape editors' book
Check out the Ape Blog for the latest Ape Culture News and Reviews