Meet the Proprietresses of Ape Culture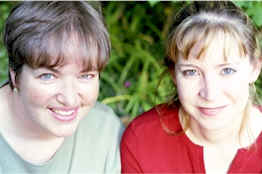 Julie Wiskirchen & Mary (Ladd) McCray

About Our Webzine
Ape Culture believes we are not just the dumb spectators most culture critics believe us to be; nor are we the dumb purchasers most pop traffickers think we are either. We are not inanimate, unthinking, nonjudgmental, uncritical passives. And yet, we are not immune to the damages of modern popular culture. It's easy to get stuck in the quagmire of taste, competition and just plain old fun.
For almost ten years Ape Culture has been making celebrity consumerism personal. One of the first online pop culture zines to showcase a variety of personal responses to celebrity culture, Ape Culture launched in April 1998 with essays, reviews, critiques, satires, parodies and poems. Ape Culture continues to focus on the major areas of popular culture: television, movies, and music. In addition to entertainment reviews and features, the webzine offers poetry, travel and holiday guides, advice columns, media morphing, and a celebrity-obsessed quizzes and games.
The emissaries of Ape Culture will gladly walk the halls of this culture asylum so you don't have to. In fact, they can't stay away. They have their own celebrity obsessions to tend.
Ape Culture has been called "one of the funniest sites online" by Prodigy Comedy Community E-Zines and was voted one of the best web sites of 1999 by Web Guide Magazine, who claimed "This e-zine attempts to make a monkey out of American pop culture -- or does it insinuate pop culture is making a monkey out of you?".
About Our Name
The word APE means a large, tailless, semi-erect primate; TO APE means to copy but clumsily and ineptly. GOING APE means behaving crazy or wild.
To add culture to this: APE CULTURE would mean a large, tailless, semi-erect culture; a clumsy, copied, inept culture; a crazy, wild culture. Ape Culture accepts all these contradictions about modern culture: semi-evolved, copied, clumsy but wild. In fact, these are the very contradictions, the love/hate relationship with the world of the popular that gives Ape Culture it's very weird perspective and great humor.
About Our Generators
Born and raised in North St. Louis County, Julie earned a Bachelors degree with a double major in English and Film Studies at the University of Notre Dame. Before heading off to graduate school, Julie temped at the Anheuser Busch, National Supermarkets, Contico, Whirlpool, Brod Dugan, Monsanto, and many other St. Louis corporations.
Since earning her MFA in 1998, Julie has worked as an administrative assistant and the wind beneath many wings at McKinsey & Company, LRN, and now Google. She resides in Los Angeles and is actively seeking a publisher for her darkly comic first novel, Earth City, which follows the year in the life of a girl who graduates from college, moves back home to St. Louis, temps, sings karaoke and dates a Steve Perry impersonator in a Journey cover band. Julie's short stories include: "Burning Crayons," about a Catholic school May Queen whose spotlight is stolen when her little sister contracts the stigmata; "Things That Are Cold", about a losing contestant on The $20,000 Pyramid who seeks revenge on his dumb celebrity partner; "Mopping Irma", about spontaneous combustion and the mess it leaves behind; and "Holyland Mambo", when your dad is a Satanist, hilarity ensues. She and Nerdia co-authored St. Lou Haiku, published by Timberline Press in 2004. Julie has published television reviews in Time Out New York, fiction in Air in the Paragraph Line, a cartoon in Golden Greats: Cher Zine 2, and essays in Hermenaut, Road Trip, Notre Dame Magazine's online edition, and Temp4-7.com. She also writes a baseball blog - Cardinal Girl - that was named "local blog of the week by The Riverfront Times.
The pseudonym of Coolia comes from the rap artist Coolio. Because Julie is the cool cat of Ape Culture, on top of every trend and retrospect, Julie became know in her circle of friends as Coolia.
Mary (Ladd) McCray is co-editor of the award winning pop culture zine Ape Culture, named one of the best web sites by Web Guide Magazine and listed in one of Yahoo! Internet Life's issue of Humor on the Net. Her poems have appeared in Ape Culture, The Wisconsin Review, Switched-on Gutenberg, Literal Latte, Natural Bridge, Tintern Abbey, Eye Dialect and Hilltop Press in West Yorkshire, England. She has poems forthcoming in Mudfish and The South Carolina Review. In 2004, Timberline Press published a book of haiku poems co-written by Mary entitled St. Lou Haiku. Her essays about pop culture have been published in Ape Culture and Hermenaut, The Journal of Heady Philosophy. She earned her B.A. from the University of Missouri-St. Louis in 1991 and an M.F.A. in Poetry from Sarah Lawrence College in 1997. She and her dog Helga moved around a lot until Helga passed away in May, 2004. She and her co-editor at Ape Culture competed to win the chance to live with The Edgar Winter Dog in 2004 on the Animal Planet reality show Who Gets the Dog. Mary has been a talking head on radio programs, college papers and The Philadelphia Enquirer as Cher Scholar. She is the editor of the spoof fan site CherScholar.com, two Cher fan zines (Superpak Vol. 1 and Golden Greats) and she blogs as Cher Scholar on I Found Some Blog.
In 2012, Mary's first book of poems, Why Photographers Commit Suicide, was published by Trementina Books.
The pseudonym Nerdia is a play on Coolia. If Julie is cool, Mary is the quintessential nerd.

Ape Culture and all associated pages are
ŠApe Culture 1998-2007 and evermore.



Click here to learn about
the Ape editors' book
Check out the Ape Blog for the latest Ape Culture News and Reviews