Meet The Edgar Winter Dog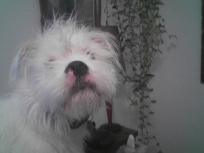 Become a fan of The Edgar Winter Dog on Facebook!
Read about how Ape Culture "got" Edgar on Animal Planet's Who Gets the Dog?
Read our response to criticism that the show is cruel to dogs.
Check out the official Who Gets the Dog? website including the follow-up on Edgar
Read Edgar's first Hugs Gram and then read his second Hugs Gram
I was named Hot Slut of the Day by Dlisted.com! That's a major award.


Click here to learn about
the Ape editors' book
Check out the Ape Blog for the latest Ape Culture News and Reviews