HugsGram: This Year I Learned To Lift My Leg!
May 15, 2006
Hello Dear Fans,
I can't believe an entire human year (that's 7 years to me) has gone by since I last wrote. As you can see, I've been very busy, so I hope you'll forgive my lack of correspondence.
June 2005 - My Birthday Bash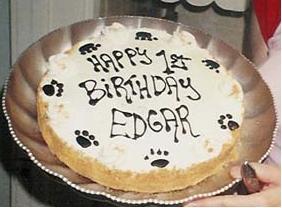 I threw myself a first birthday party and had ten of my canine friends over to frolic. It was like a dog park in my back yard. My peoples invited some nutty vendor to hang out in the living room hawking dog toys to the humans; but we dogs weren't interested (except one co-dependent Dalmatian who kept stalking the back door). I played with little dogs (one boinked his head on a leg of my treehouse) and big dogs (one big dude was freakin' us all out). People brought me dog treats, including homemade peanut butter dog cookies and a cake from a dog bakery. As a result, many dog pies were left behind.

June 2005 - My Online Dating Reviews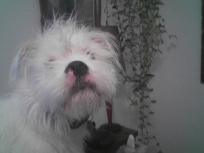 Nerdia did some more online dating last year. I met her dates and gave them the once-over. I try to sniff and see where they've been, if you get my drift. I liked some more than others. If you don't lavish me with affection, I'm just not impressed. As Nerdia's mom says: "Men who don't like dogs? I don't trust 'em." I did my best to try to influence Nerdia toward the most appropriate choice of a mate for her for me. I really like the latest fellow - even though he just gave me a bath recently. He's trying to instill some discipline into my life, just like Mr. Wilson tried with Dennis the Menace. We'll see how that goes. I like to sit on the couch and lick his ears. What can I say? When I see my friends on the couch licking each other's ears, I like to join in even though usually this makes them stop for some reason.
July 2004 - Trip to Dog Beach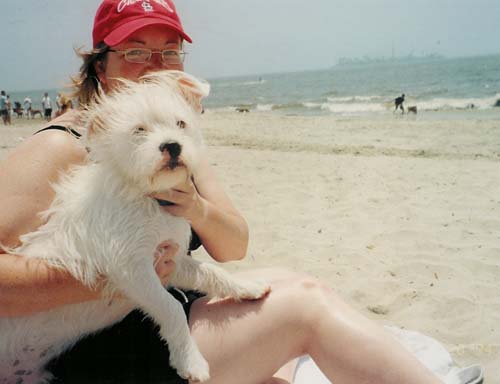 Something different about me - I don't love the beach.

August 2005 - I Blog, Therefore I Am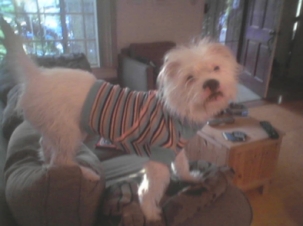 In the summer of last year I also became a blogger on the Ape Blog. I feel I have a lot to say about current affairs, primarily issues that face my fellow albinos. Inspired by the late Helga's bid for the governors house, I feel I have something to say about politics. Last year, Coolia also make me watch a great deal of Growing up Gotti. I also blogged about the Puppy Bowl (loved it!) and Nerdia and Coolia's Barry Manilow Appreciation Nite, an affair which I found to be very humorous and educational, too, although I wasn't too sure about my nerdy Barry sweater. For some reason I also reviewed Transamerica. Many would agree that my posts are the most astute and informed on the Ape Blog.

October 2005 - I Was Robbed on Halloween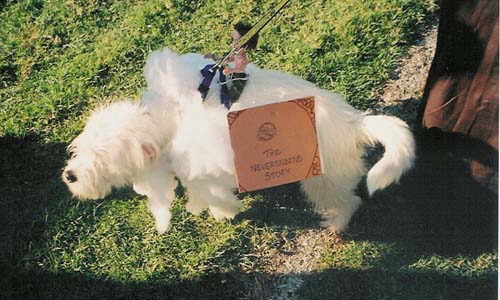 On Halloween, I competed in my local Barrington Dog park Bow Wow Ween competition. Myself, I would have dressed up like a big marshmallow; but Coolia and Nerdia decided to turn me into Falkor the Luckdragon from The Neverending Story. They slapped cotton all over me and tried to tie a Bratz Boy doll onto my shoulders. The outfit was so complicated, I needed a dresser escort following me at all times. Although I did receive a number of compliments from the hipper crowd at the scene that "got me," the celebrity judges, did not. Only The Bachelor's Charlie O'Connell gave me a 10. Tori Spelling, in a tirade of bitchiness, tried to have me disqualified due to her blatant misunderstanding of the rules (Donna Martin graduates!??! I don't think so), rules that allowed me to compete in two categories, "Funniest" and "Best Dog/Owner Duo" (Nerdia went as the princess, Coolia as a druid). Chaos ensued while the organizers and judges sorted it out but the Tori-damage was done. She is dead to me and I will never watch another episode of Three's Company or whatever lame show she was ever on.

December 2006 - Christmas with my Extended Family
Over Christmas, I was visited by the extended families of Nerdia and Coolia. They threw together a St. Louis theme-party where I got to sample the spillings of frozen custard, Pasta House salad, toasted ravioli, mostaccioli, and Crab Rangoon. Then we watched a boring documentary about the making of some odd-looking parabola structure.

January 2006 - First Day of Work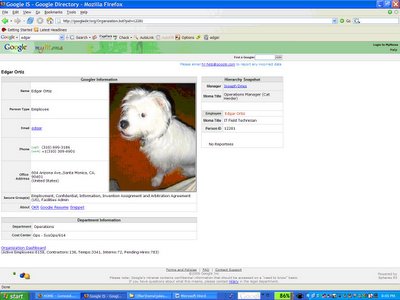 When Coolia got a job at Google last August, she was pretty excited to find out that people would be allowed to bring their dogs to work once they moved into their new office. The old office had a cruel landlord who said "No dogs allowed!" The move was delayed several times due to squatters in the new building and other problems. I got very impatient. I was tired of Coolia's empty promises and of spending my days at home, although Coolia did let me hang out with my old friend Tamar at The Loved Dog sometimes. Finally, in January, the Googlers settled into their new abode and Coolia brought me to work. I had never been to Santa Monica before, and there were so many new smells on the way to the office. Once inside, I met Coolia's cubemates who were thankfully all fans of mine. I did my best to distract them from their programming. Coolia even let me sample some of their free gourmet lunch - chili, yummy! Her cubemates were less than pleased with my terrible gas that ensued, but thankfully they have allowed me to become a regular. I even attend meetings and have been beamed across the country via videoconference - I love being on TV again, even if it's for a limited audience.

March 2006 - Wearing the Green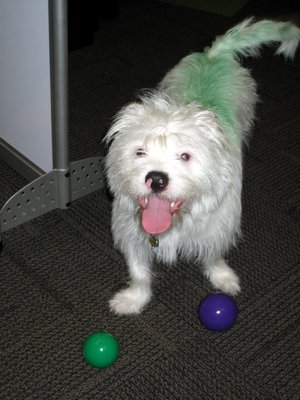 When Coolia found out there would be a St. Patrick's Day costume contest at Google, she didn't think she could win it simply by wearing all her Notre Dame clothes. Her cubemate suggested she dye me green. I was sure they were joking, but I realized when she came back wearing a beret and wielding blo-pens from Michael's, it was no joke. She told me "there's no better canvas than a white dog." At first she used a stencil and tried to make shamrocks on my back, but my long hair made them look like green blobs. She went to Plan B and sprayed a green stripe down my back. At first, I wasn't feeling very dignified, but I soon soaked up all the attention I received on the way to work and inside the office. Given my history of accolades, nobody was surprised when I won the costume contest. Coolia was disappointed because she had been hoping for a video ipod but instead received a pot of gold - containing plastic gold coins and 10 "gold" dollars. Since she knew it wasn't easy for me to be green, she bought me treats with the prize money. The color wore off in a few days, but not before several other dogs at the dog park asked if I was moldy. Embarrassing!

March 2006 - Culver City Dog Park Opens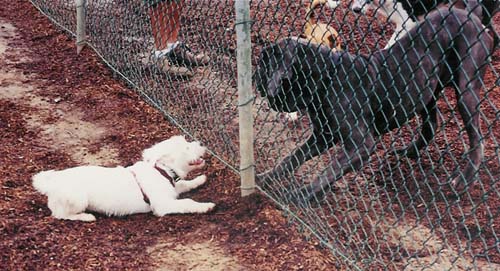 I love going to the dog park, and I was very excited when a new dog park opened up in Culver City, which is very near my house in Palms. Previously, Coolia and Nerdia had often taken me to the Barrington Dog Park , Redondo Dog Park , and El Segundo Dog Park, but all of these required 15-30 minute car trips. This new park was less than 10 minutes away! It's a lovely park with great views of LA and a large small dog area and a big dog area. I am an in-between dog, but mainly I hang with the big dogs. I like the park because it has a slope in the middle of it. Coolia flings the tennis ball and I can pick up so much speed down the slope, I can almost beat the ball! I have made some new friends there. There is one large white dog who continually tries to play rough with me but I have learned to stick up for myself and tell him to piss off when he bugs me too much. Most importantly, I learned through observing my boy dog friends at the park that I was supposed to lift my leg when I peed. They teased me for peeing like a girl. Now I know how to mark, so look out!

April 2006 - Nuts for Mutts - I Was Robbed Again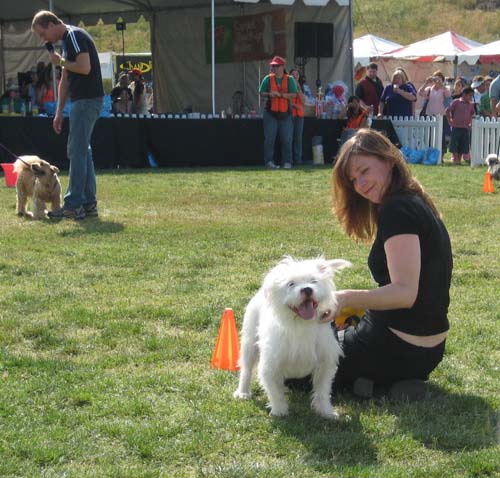 Nerdia and Coolia had big plans for me at this year's Nuts for Mutts competition, a dog show for Mutts. Last year I made the finals in both "Best Smile" and "Best Terrier" categories. This year Coolia entered me into two different categories - "Friendliest" and "Mystery Mutt." But Coolia couldn't take me, so Nerdia did. Although I was at my best in friendliness throughout the day and received many accolades on my expert friendliness, I just wasn't feelin it during the competition. The judge smelled funny or something. It was a long, hot day...so Nerdia took me away from all the hubbub up behind the football field stands to some shade so we could lunch, read and nap. Later she tugged me into the stadium bathroom which I did not like at all. They were disgusting and dark. I don't know how you humans do it. Blech. I was back to my charming self for the "Mystery Mutt" trials and won a place in the finals. The next day was hotter and I did my best to self-shade. When it came time to compete again, I decided I would rather hang out with my pals, John and Shelby, who came to see me strut my stuff. This didn't impress the judges but, frankly, what do I care? I've never had much luck with celebrity judgments. I think they're jealous of my notoriety and obvious cute-i-TEWD. The judges this year were really not my cup of tea anyway. The Barbi Twins? Joanie Lauer aka the wrestler Chyna Doll was also there. I'd had enough of her watching Surreal Life episodes with Nerdia and Coolia. Maybe she remembered their harsh coverage. Needless to say, I didn't win. But a friend of mine from my Birthday dog-party was there and she won best coat. My coat is an acquired taste.

May 2006: Livin and Lovin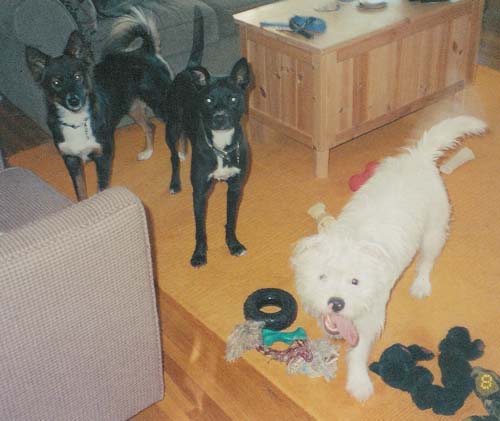 I've spent a great deal of time hanging out with my gal pals, Kizzy and Zella, over the last year. You may remember meeting them in my last missive. They spend a weekend at my crib; I spent a weekend at theirs. They can't keep their paws off me. They also can't keep up with me - the two of them! I chalk it up to the fact that I'm a big hunk of spunk. Just call me LL Cool T: Ladies Love Cool TEWD.
Well, fans, I hope you enjoyed this newsletter.
I will strive to keep you abreast of my activities periodically and will be happy to address any questions you might have - just use the link at the bottom of the page to contact me. I leave you with three photos of me living large, like a celeb dog should.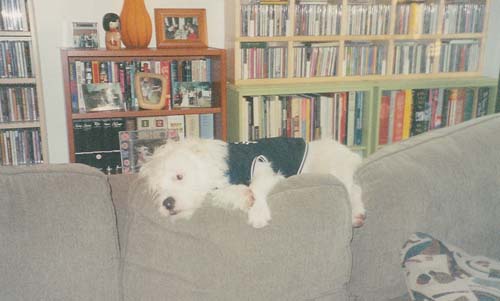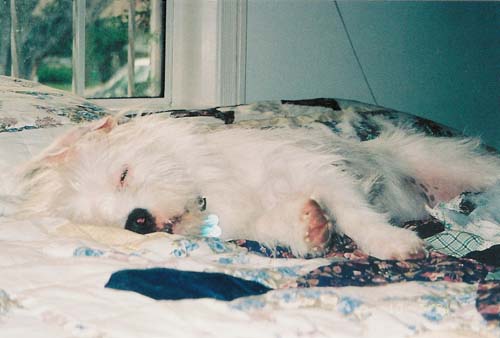 Love and snausages,
Edgar

Read about how Ape Culture "got" Edgar on Animal Planet's Who Gets the Dog?
Read our response to criticism that the show is cruel to dogs.
Check out the official Who Gets the Dog? website including the follow-up on Edgar
Leave your fan letters for Edgar here.
Ape Culture and all associated pages are
ŠApe Culture 1998-2007 and evermore.