LA LIVE
It's been a whirlwind summer of concert viewing for Ape Culture...so busy, our concert go-ers haven't had a chance to write up reviews of the shows they've seen. Nerdia and Coolia take a few minutes to review the music, the venues and the differences in seeing shows in LA versus New York and St. Louis.
Nerdia: I'm sure as a direct result of you moving out here, Coolia, I'm getting out more and am entirely exhausted by all the concert-going this summer. By now I feel like I've seen almost every major venue in LA.
Coolia: Not even close! I think there are more venues here than even in New York. But we're definitely off to a good start.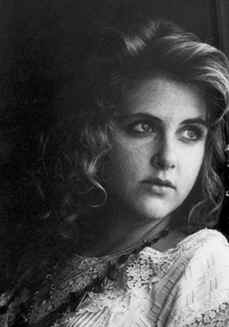 Nerdia: You came out in April to interview for a job and one night Christopher Brisson talked us into seeing Maria McKee at the Roxy. Maria has her die-hard fans but her last albums haven't produced any big hits. The place was full but not packed. Which made seeing her an almost perfect experience. Not a bad place to stand in the house. No one jostling your elbow and spilling your beer. The crowd was made up of gay women and sunset hipsters. Not particularly friendly, by LA standards, but most were serious about McKee. Lots of song requests being called out. McKee put on a good show with rockers and ballads mixed about nicely. She exhibited a lot of stamina in contrast to her "80s frumpy" attire. Her husband was mesmerizing on drums. I did miss more tracks from the only McKee album I know, the more alternative, Marianne Faithful sounding "Life is Sweet". But I liked the Roxy. I like small places because I get fatigued navigating through big crowds. Security was, par for the times, ridiculously heavy and I'll never forget Christopher (rebel against authority that he is) keeping us waiting for 20 minutes while he devised a plan outside to sneak in his water bottle by tucking it into his boot sock. Parking was easy and reasonable at a garage across the street.
By the end of the summer, parking became an important facet of our concert going experience, almost as important as the show itself and cheap parking, let alone free parking, is almost impossible to find on the Strip.
Coolia: I had never heard of McKee, but yours and Christopher's endorsement was enough to convince me to go. And I'm glad I did. She gave a passionate performance and the intimate venue was perfect for her. The show didn't make me want to go buy her albums, but I enjoyed it. Alt-country isn't really my bag.
Nerdia: We reviewed the Coachella festival last Spring, but I want to reiterate a few points about it. It was packed with people and yet was not in any way suffocating. It was really easy to get from stage to stage, virtually painless to buy food (other than the severe wallet drain of the high prices), and there was a lot of space, glorious space. However, leaving was a challenge. The festival grounds provided only one entrance for thousands of people and a logjam occurred there at midnight after the Chili Peppers finished their set. Getting out of the parking lot wasn't fun either. I think it took us an hour or more to exit the lot and we didn't get back to LA until 5am.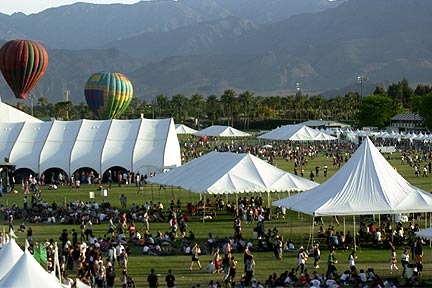 Coolia: Yeah, in the end, the festival was great enough to overcome the parking and crowd hassles. That wouldn't be the case with some shows we saw later in the summer. I think the bad trend started for me at the Hollywood Bowl when I went to see the Kenny Rogers/LA Philharmonic 4th of July Spectacular. I had been a fan of Kenny since I was five and can vividly recalled memorizing the lyrics to "The Gambler" and performing the song at recess. Even though he had ruined my childhood image of him over the years with womanizing, fried chicken restaurants, and too many Gambler movies, I was still excited to see him live. And I was equally excited to see the famed Bowl. We had an easy time getting to the Bowl but were steered to park in a lot where the attendants purposely guided all the cars to box others cars in. The Bowl itself was awesome and even though we were in the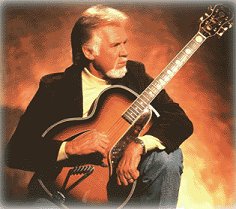 cheap seats and Kenny was a white-haired dot on the stage, the show was a lot of fun. Kenny displayed a self-deprecating wit and played most of his hits, although he did shortchange us a bit by combining classics like "Ruby" and "Lucille" into medleys. The Philharmonic played some Sousa marches that got us in the mood for the fireworks. After the fireworks, we strolled to the exit and to the car and then sat there in frustration waiting for everyone parked around us to make it back to their cars so that we could leave. There seemed to be a lot of dawdling. People were gathering up all the free Target seat cushions for unknown purposes (soundproofing their homes? creating rubber rooms?).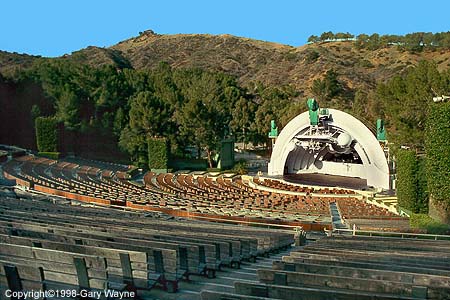 After waiting about 45 minutes, we were able to get out of our space and then get in line to get out of the lot. I guess it wasn't so bad. We could sing "Through the Years" to pass the time.
Nerdia: I saw some kind of interpretive symphonic take on Rogers & Hammerstein musicals at the Bowl last summer and was blown away by the size of it. I can hardly believe Sonny & Cher sold out the place, even back in 1966 as their rock opera "Good Times" claims. I love that you can take food into the place and eat picnics at your seats. It's so "for the people" and displays a lack of greed and refreshment gouging seen so rarely these days.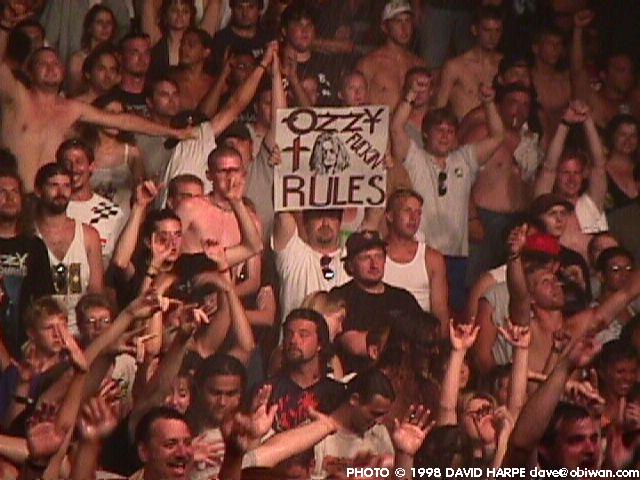 Coolia: Two days after Kenny Rogers, I went for the opposite experience - Ozzfest in the desert. The fest was held at the Blockbuster Pavilion in Glen Helen. Daytime temps were over 100 degrees, so I chose to skip most of the side stage bands and focus on the mainstage. I still required two frozen lemonades to get me through the afternoon. Then night fell and the temperature dropped to the high 60s, just in time for Ozzy to come out and douse us repeatedly with water cannons. I think my body was in shock from the temperature change. While it's just another shed and fairly well organized in terms of parking and security, the climate makes this place unhospitable. It's also simply too far from central LA - it took about 90 minutes to drive there. Why are all the ampitheaters so far out of town - Anaheim, Irvine, etc? Still, it was a revelation for me to see Ozzy at the beginning of a tour and before a hometown crowd, as opposed to the end of the tour in Jersey where I had seen him the past few years. He had much more energy and was in better voice.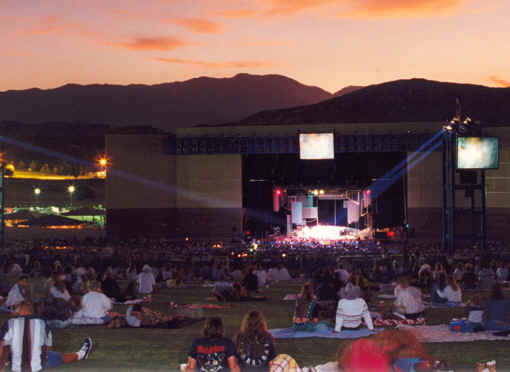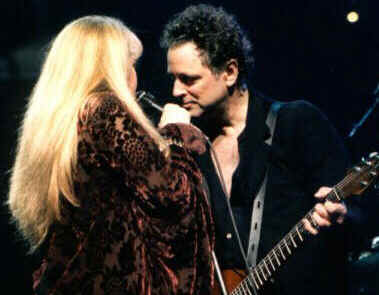 Nerdia: In early July we both saw Fleetwood Mac at another faraway arena, The Arrowhead Pond in Anaheim. I saw Cher there and remembered how nice and new the venue was and how easy it was to park and get out of there after the show. I wanted to see Fleetwood Mac because I'm definitely a fan of theirs, yet I didn't expect a really great live show considering all the dull performances in uninspired Fleetwood Mac videos through the years, plus all the snipping between Stevie Nicks and Lindsey Buckingham, Stevie's recent health problems, and her lackluster performances on a recent Divas show in Las Vegas. But I was wrong. Stevie sounded great. Stevie and Lindsey seemed to have resolved all their issues (for the night anyway), and Lindsey blew us all away with his boundless energy and guitar solos. Honestly they're the only guitar solos I've ever gotten excited about. And Christina McVie is my least favorite Fleetwood Mac member but I must say she was missed...her absence offset a subtle balance of harmonies. Without her, it was virtually the Stevie and Lindsey reunion show...but still a nice reunion. The most annoying aspect of the evening: two women next to us talking a mile a minute through any song that wasn't loud enough to drown them out. And I guess I'm getting old and lazy because I didn't stand up until the end. Coolia even mentioned at one point how different old rock crowds are from new band crowds. Old people sit. I love to sit, myself, even when the show is great.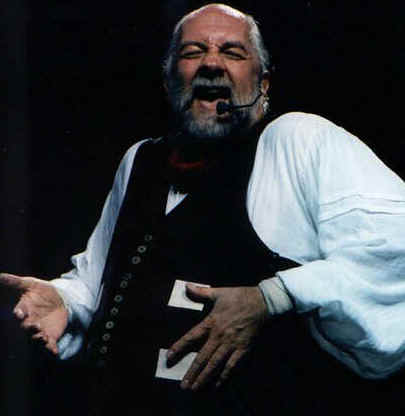 Coolia: I was annoyed by Mick Fleetwood's constant mugging. He seemed to be imitating Jack Nicholson in "Goin' South," which, for the record, is my least favorite Nicholson movie. I did, however, get a kick out of Mick's drum vest that transformed him into a human instrument for the encore. Overall, I found myself entranced by Stevie's voice, which truly filled the arena, and entertained by Lindsey's guitar virtuosity. And they played for over two and a half hours, giving us all the hits with a sprinkling of new material.
Nerdia: I too, hate rock-mugging. This is why I never liked Men at Work until I saw Colin Hay recently on the Ringo Starr tour. Sadly, Mick is still mugging. This just reinforces what an oddball combination Fleetwood Mac is and how amazing it is they gel the way they do, especially live.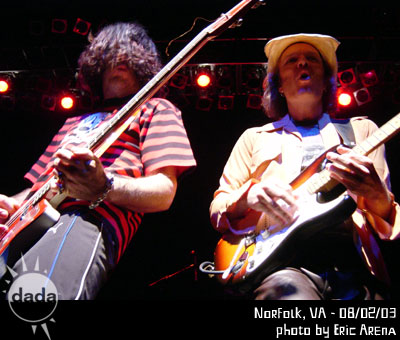 Coolia: In July, I ventured down to Costa Mesa to the Galaxy Theater to see dada. I was so excited to see a small box in the LA Weekly advertising the show. They hadn't been on the road in several years and I'd assumed they'd broken up. I think they are a really underrated band that deserves to break out of the alternative 90s where they got lost among the Gin Blossoms and Better than Ezras. The Galaxy was hidden among office parks and required a long drive, but it was a charming theater with table seating. All three original dada members were there and they were just as good as I remembered.
Nerdia: Then we saw Super Diamond at the House of Blues. I like most Houses of Blues (or as I like to call them - in honor of Tom Lux - Yurts of Blues)…I like the fake authenticity shtick. However, affordable parking is nowhere near this venue. We ended up walking blocks and blocks just to find parking for $10 or less and the crowd was a horrendous mix of drunken college kids. This is weird enough, considering I associate Neil Diamond with my mother. But these college kids love this concept cover band, who play Diamond with serious reverence. Since it was August, the set was taken directly from Diamond's Hot August Night album and Diamond's own drummer joined in at one point. These crazy kids know all the words to Diamond's songs...just like their 50-something mothers do, which granted, should make for a fun time but for the bizarre frat element ruining it all. Guys feeling up the asses of women around them (fights ensued), drunk girls dancing very badly and falling against everyone around them. My number one concert pet peeve is drunk girls dancing into me. At this show, I literally had to move to avoid one out of control dancer and an offensive ass-feeler who kept trying to engage me in either conversation or a grind. I wish I could wear one of those electronic message hats that would say "Anti-social by nature". I hope to some day see Super Diamond again with their very funny and entertaining 80s cover band, I just hope they either pick another venue or I'm standing in the back with the bar flies, who know how to be drunk and just verbally abusive.
Coolia: When I saw Super Diamond at Irving Plaza in New York, it was a similar crowd. One of my friends had an altercation with a drunk dancing girl. I prefer seeing the real Neil with the blue haired old ladies.
Nerdia: My first concert, age 11, was seeing the real Neil (not Surreal Neil as Super Diamond's lead singer is named) in St. Louis up in the nosebleed seats with my gray-headed mother and all her work cronies. They openly coveted Neal (in the biblical sense) right in front of my impressionable ears, even talking about trying to catch him by the back door and pants him!! I was horrified that my mother consorted with such lusty women. I chalked it up to peer pressure because she would crossly exclaim "Oh Dave!" every time my Dad pinched her butt coming up the basement stairs.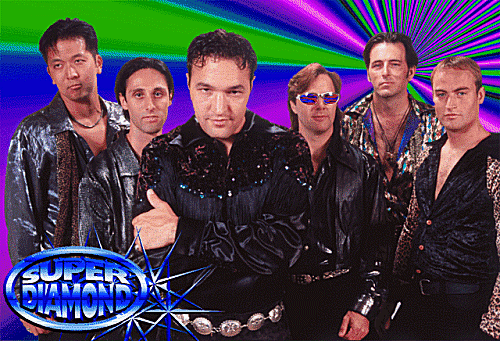 vs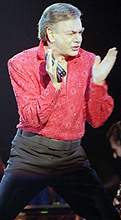 Coolia: I went back to House of Blues for Type-O Negative. This was the opposite of the Super Diamond crowd - goth and metal types, lots of black clothes and doc martens. It was an all ages show so started earlier. I missed the opening acts but caught all of Type O's set and was impressed. I had only seen them once before on Ozzfest about 7 or 8 years ago. I love the heavy bass and morbid, dry sense of humor in their music. And lead singer and Playgirl model Peter Steele teased the crowd with playful contempt, while sipping red wine.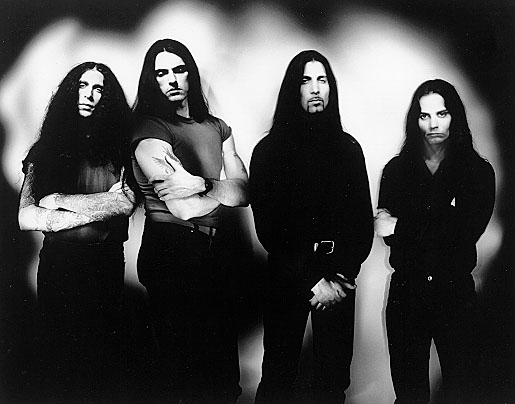 A week later, I went back to the Hollywood Bowl to see Joao Gilberto, the bossanova great who gave us "The Girl from Ipanema." The Gentleman of Leisure was in town and he accompanied me and loved seeing the historic venue. The Bowl was packed and we had to wait in line over an hour to buy tickets. They also delayed the start time of the show due to the long ticket lines. Too many windows were dedicated to will call and not enough to ticket sales in yet another example of LA concert mismanagement. Once inside, we took our seats way up at the top, looked at Gilberto, an elderly dot on the stage with an acoustic guitar and tried to eat our doritos and PB&J sandwiches quietly. He was too muted for the venue and it was difficult to hear. He knew the sound wasn't good and complained in Portugese between each song, calling the sound guys onstage repeatedly and destroying any flow the show might have had. He belonged at the Roxy. We also had to endure a drunk woman in our row singing along and we missed out on all of Gilberto's comments because he had no interpreter. There should be no singing along at quiet shows - this was not arena rock. Getting out of the parking lot was more of an ordeal than the first time, due to more drunken fans having a hard time getting back to their car. I guess it was worthwile to see a legend, but it was a lot of suffering.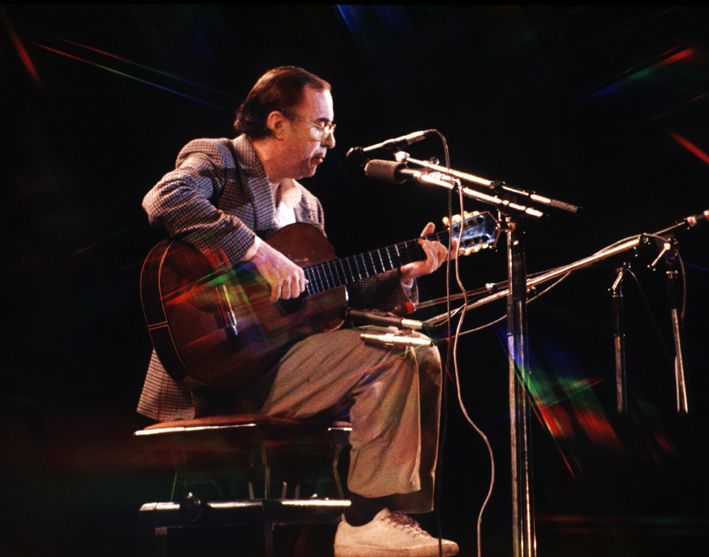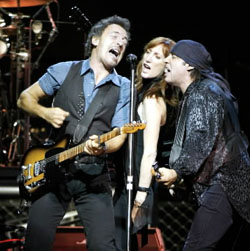 Nerdia: The award for very worst parking experience goes to the Bruce Springsteen show at Dodger Stadium. Why does Bruce insist on playing in places that are so big and require a major cross-country trek to get from your car to your seat-as-high-as-Mt. Everest? Bruce put his show on hold for two hours while Dodger Stadium inexplicably choked up their entrance into one lane and charged us the exorbitant fee of 20 dollars to wander around a vast wasteland of attendant-less parking. Cars roamed around full lots until people resorted to parking illegally in desperation. We were so pissed by the time we walked the mile or so to our nosebleed seats, we felt our first Springsteen show better be damn well as good as they say. Everyone felt ripped off, those that were forced to wait two hours to get in and those who made it in early and had to wait two hours for the show to start. It was a big fiasco. But if you've seen Springsteen, you know. He can make up for it. He's a show-stopping performer. It's like one long 3-hour show of showstoppers. He didn't play very many hits, however. The set seemed to be designed for long time fans, full of deep catalogue favorites and new material. I feel his albums fail to translate the really flawless showman that he is. I would see him again in a minute but I would never see another event at Dodger Stadium ever again - not even a baseball game - their parking lot is a sprawling haphazard mess surrounded by nonsensical, poorly marked stadium entrances. We were so far back, we decided to just stand up behind the top rail and watch from where we'd have plenty of room to eat lots of junk food in an effort to ease our parking pain. Coolia and Julia chatted a lot during the show. I'm not sure they enjoyed it as much as I did. Two thirds of the way through the show, Julia left in disgust and Coolia and I took our seats and laughed as a large group of drunk people genuflected over seeing their messiah. Pure drunken happiness. And I get to sit.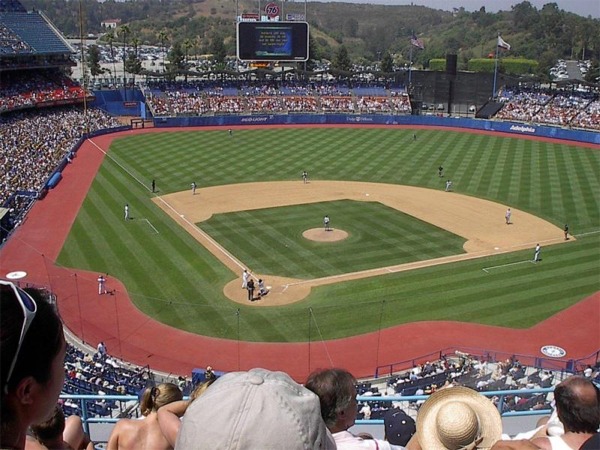 Coolia: I've had it with stadium shows. Never again. I can't feel like I'm really enjoying a show when I'm so far away, and this is a show where you want to be close enough to see the knowing looks exchanged between E Street Band members and have Bruce sweat on you. I talked through some of it because it was so non-immediate that I felt I might as well have been watching it on TV. Actually, I would have had a better view watching it on TV. From our seats, I had trouble identifying even Clarence Clemmons. I'm not a big Bruce fan and the only album I have is the one most of the world has - Born in the USA. So I was disappointed not to hear "Glory Days" and the title track. But I did appreciate his showmanship, the band's virtuosity, and their hard working attitude.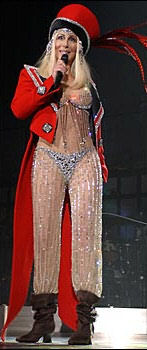 Nerdia: Now my eighth and final Cher show at the Glen Helen Pavilion did not involve nearly the parking hassle, but was, overall, the biggest bummer of a concert experience I've had to date. I was robbed and I don't mean by a Cher-shortened set list. More on that later. I've seen three shows at Glen Helen, none have been enjoyable due to parking, traffic, gang fights or hot weather. The first show I saw there - a rap festival and car show called P3 - took me three hours to get to due to traffic and then the moment I arrived, a large fight between Orange County and LA gangs cleared the lawn completely. Before I could say WTF, the show was over and Ice Cube had left the building.
Every crowd puts a new spin on Glen Helen Pavilion. And a Cher crowd is a strange crowd to begin with: an odd assortment of ass-kicking blue collar women, flamboyant gay men, but also a large group of gay women, quite a few old folks and their grandkids. It's the 38 Special/Madonna/Melissa Etheridge/Wayne Newton/Barney kind of crowd). But the Glen Helen Pavilion crowd was even stranger yet – much more white trash. Two drunk women next to us (one nearly toothless) literally cackled through the whole show. And then someone stuck their hand under my chair and stole my bag of over-priced Cher merchandise. I was burgled at my last Cher show! Back in LA, no one seemed surprised.
Again, I must be a very lazy fan, because I didn't stand up much, even though we were in the back, unobtrusive and Cher was in good form and surprisingly, she updated her never-changing, between-song chit chat (probably due to boredom). She discarded her charming hanging-on-a-chandelier entrance due to "high winds" and cut her set considerably, much to the consternation of Coolia who swore she'd never see a Cher show again after the short 45 minute set she played in St. Louis in 1988. Considering over-abundant costume changes, you always have to re-calculate actual singing time at a Cher show as 15-20 minutes less than the actual running time. This entire show was shortened from it's original hour and a half to an hour and ten minutes. The show was further compromised without the opening act of Cyndi Lauper, whose phenomenal show was replaced by an unremarkable stand-up comic. The four of us there all agreed comedians should never open for music acts. The audience isn't going to a music show with the concentration and the calmness required to appreciate comedy monologues. Both shows require completely different mindsets.
Coolia: As for the theft - I guess, as Cher would say, there is just not enough love and understanding. As for Cher, it was an entertaining show but the short set really burned me up. I know she's been on the road a long time but that doesnt mean that people who are seeing her at this point in the tour should be shortchanged.
Nerdia: Duly noted. Considering the long sets we were seeing from Springsteen and Fleetwood Mac, Cher's show did seem like a let down. Which is not to say the Lauper/Cher combo of last year wasn't a great show. I'm not willing to say the problem was due to her limited endurance because I've seen a clip of those exhausting costume changes. Knowing Cher, she'd rather sacrifice three songs than skip a costume change.
The following weekend, I went to see Ringo Starr & The All Star Band by myself. I had seen Ringo live at Riverport in St Louis back in early 90s - the show his son played drums on. I don't remember Ringo being so funny. Maybe this was because I was on an uncomfortable date at the time. But Ringo is very good at the self-deprecating quips. The St. Louis show was kind of boring as I remember (filled with older brother music) but I liked this year's lineup much better- John Waite, Sheila E., Paul Carrack, Mark Rivera (Billy Joel's charismatic sax player) and Colin Hay (whose 80s video mugging I used to hate but annoying mugging is gone and all is right with the world). I had a great time at this show. It was a mix of everything I liked - a little 70s AC, a little 80s pop, a little 90s. Paul Carrack played the AC Ace song I love "How Long" ....(has this been going on), Sheila E did her thing, Colin did a great job with Men at Work numbers, and Rivera, always seemingly happy, played some fun sax solos for everybody. Sometimes you forgot Ringo was even there. Most everyone at the show was really, really, really friendly. I attribute this to Beatle fans who seem so very happy most of the time. The minute I sat down, a triathlon runner to my left started chatting with me about his recent experiences back stage. He seemed surprised that I would go to a show alone (he's never met a lonely Cher fan, I guess) and asked me if someone had given me the ticket at the last minute. He wasn't a fan and someone had given his producer friend a ticket. As soon as the show started, three girls in front of them stood up and started dancing. He threw me several annoyed looks. As he was an older guy (albeit athletic), I pegged him as a sitter. And I could see their point. I'm a sitter too and the dancing was bad which just adds insult to injury. He and his friends ended up leaving after the third song which left me lots of room so I was happy. The two guys to my right looked over in surprise as the troop to my left was leaving and I just shrugged my shoulders. One of these guys turned out to be a John Waite fan (they were two independent film makers whose short film, A Hard Day's Day, was soon to be part of the Independent Film Festival at the Arc Light.). We talked about these things at length after the show because I primarily came to see John Waite as well. John Waite's performances just keep getting better every time. This new context, as a smaller part of bigger band, suited him in that it slowed him down and he seemed more relaxed, less guarded. And now I know what it was like to be a fan of Andy Taylor. He took the Warrenesque hammer-over-the-head-power out of the ballad with a nice new rendition of "When I See You Smile" - this I liked much more (now if only Cher could do this with Turn Back Time). But again, if anything I am very lazy fan and didn't stand up unless everyone in front of me did and I had to out of dire necessity. The venue itself was accessible. I felt pretty close even though I really wasn't. Parking wasn't bad but getting to Universal Amphitheater (don't go there expecting an "amphi") through the throngs of saturday night City Walk shoppers was a trial. Oh and there was one drunken girl altercation one row back which required security to disperse.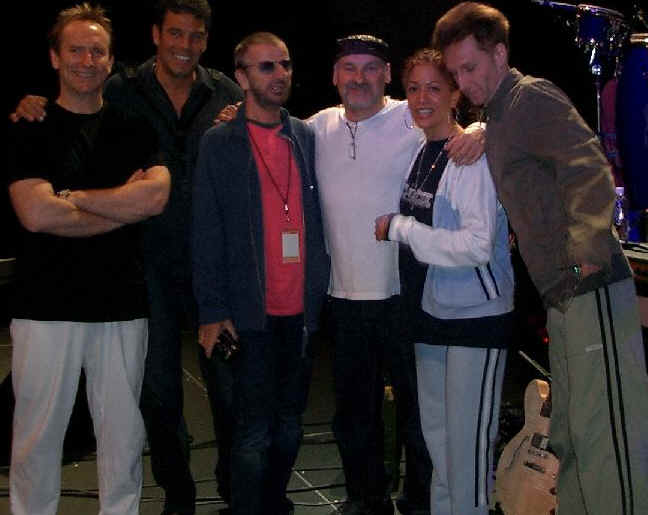 By this time, after witnessing so much summer drunkenness I was thinking I needed to drink more at these shows and I planned to do just that at my next concert experience back at the dreaded Glen Helen Pavilion: Inland Invasion III – an 80s festival. Unfortunately, I was the designated driver which prevented an early start and a late finish, plus the food lines were too depressingly long, as were the bathroom lines. I didn't eat or drink anything beyond a block of lemon ice and a 3 dollar cup of water which I mostly poured over my head because it was as hot as hell in the inland empire. The show was sold out and crowded, crowded, crowded. Once I spread out the blanket to mark my territory of personal space, I didn't budge from it. And the absolute horror of getting out of the show at the end ruined the whole day. A traffic jam of us literally sat in our cars for two hours while attendants let entire other parking lots empty out first. I was thirsty hungry and exhausted. And everyone around us was in a bad mood.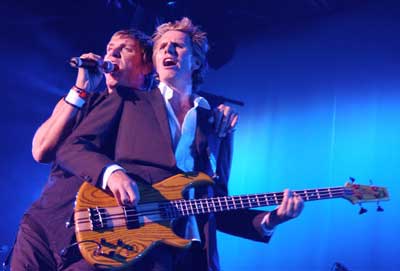 Coolia: I routinely swear off festival shows then find myself suckered in by a seemingly unmissable lineup. I hate festivals because of the overcrowding and overstimulation of too many bands. But this festival was better run than most. For one thing, they had a revolving stage, so there were no delays in between bands. That kept things pretty much on schedule. I enjoyed General Public's set, though I didn't remember anything about them besides the fact the band had one white guy and one black guy. I recognized ska-influenced songs like "Mirror in the Bathroom." Bow Wow Wow were kind of fun, with No Doubt's drummer helping them out. I was excited to see Marc Almond but disappointed that he didnt play my favorite song "Jacky." However, he did get the crowd on their feet with "Tainted Love." I loved the Psychedelic Furs too. I had seen Richard Butler fronting Love Spit Love in a small club in the 90s and wished I could be closer instead of back on the lawn. The Violent Femmes are always fun, though they haven't really varied their act in years. I have seen them at several festivals and they always deliver the crowd-pleasers like "Kiss Off" and "Add It Up" that make us remember high school dances. Of the new bands, I missed most of Interpol's set while waiting in line for food, didn't care for Dashboard Confessional who seemed to drone on and on although they were probably onstage only 20 minutes, thought Hot Hot Heat only succeeded in running around and producing a cacophany, but really liked Fountains of Wayne, who have been around for years but seem to be breaking through with their song "Stacey's Mom" and witty video featuring Rachel Hunter. The main reason I went to this show was for the chance to see the reunited Duran Duran, and they didn't disappoint. I hated being so far away from them, though. And the video camera operators didn't focus on Roger at all and rarely on Nick or Andy. Simon was in good shape and led the band through their greatest hits, as well as a couple of rarities and a new song. I am totally looking forward to their new album and world tour in 2004. And I'll splurge for a good seat next time.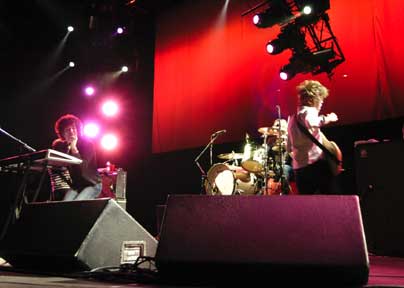 Nerdia: The few dull bands, I slept through. It amazes me how I can sleep outside during whole sets of music. I didn't feel the early bands (like Bow Wow Wow) had much stage charisma. I didn't start to really enjoy myself until The Psychedelic Furs came on. I really liked the Violent Femmes and the new band Hot Hot Heat. It was fun to finally see the band all my friends flipped out over in high school, Duran Duran. They really should have topped the bill. Although we saw more Cure shirts than anything else, after Duran Duran left, so did half the crowd - in droves. I wanted to see the Cure but I was too exhausted and hungry and fatigued by all the people and annoyed by Robert Smith's unchanging schtick to sit through his heady chronologically arranged setlist, so I wanted to leave. The crowd was typical festival-step-on-your-blanket-and-litter-crap-around crowd. But two islands of blankets on each side of us were friendly: the couple on our left graciously sprayed us at intervals with their water fan and the couple on our right borrowed our concert guide twice and then offered to buy us a beer. It was a weird concert going experience because nearly everyone in the audience was exactly our age.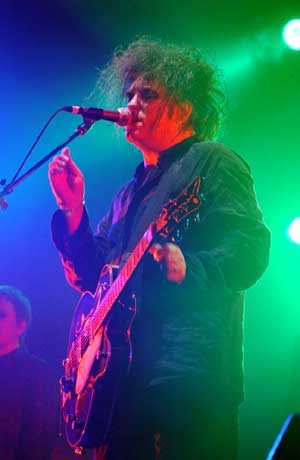 Coolia: Like you, I was ready to leave as soon as the bloated, mushroom-poof-headed Robert Smith took the stage. I was never a big Cure fan, but mildly curious to see them live. Smith looked foolish as he still looks exactly the same as he did in the 80s, while the rest of the bands have at least updated their haircuts and wardrobes, if not their setlists.
Nerdia: By the end of the summer, I missed the intimacy of the first show - didn't you? I'm looking forward to exploring the smaller venues around town.
Coolia: Definitely. I want to focus more on the small Sunset Strip venues and Santa Monica bars. The problem is, I'm getting older, my musical tastes are stuck in previous decades, and I don't really know who most of the bands playing the clubs are. But at least my haircut isn't the same as Robert Smith's. There is hope for me yet.
Nerdia: Yes, where there's a will (and a new haircut), there's a way.
Read more of Ape Culture's concert reviews
What LA venues do you love or loathe. Tell us about your worst concert experience.
Ape Culture and all associated pages are
ŠApe Culture 1998-2007 and evermore.