Summer of Cher
CherCon 2002 & The Farewell Tour
The Living Proof Prologue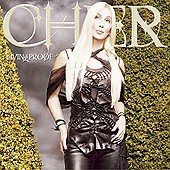 When Ape Culture last reviewed a season of Cher (The Cher Revival in 1999 and CherCon in 2000), I was deep in a crisis of Cher fan-ship having just attended the Chicago Cher Convention and simultaneously finished reading John Seabrook's book Nobrow. Seabrook spoke at length about loss of individual identity when being a fan of a pop star. It's a bad scene, he said. In all fairness to Seabrook, I go through this crisis every few years. It's probably Cher fatigue. Pop Culture doldrums. A natural checks and balances of my attention span. I go high art for two weeks in a sort of a mental detox. Then I realize how drab and joyless my life has become reading T. S. Elliot all day and I run right back into the fuzzy arms of mid-to-lowbrow. It's kind of like a bi-polar taste disorder.
Fan conventions, by their very existence, attract the big fans. It can get intense if you let it. It can also be fly-by-night fun. So this year I decided to dispense with the reading of gloomy anti-pop books. I rationalized my boxes of Cher crap the way a stamp collector might rationalize twenty books of civil war stamps--nothing that will affect world progress, but a diversion that keeps me sane. And it's this very sanity that comes in handy for my other pursuits. There are other pursuits around here somewhere.
Now I hate to make 9/11 the scapegoat for all my funk and bad rationalizations so I'll say half the blame should probably go to the job I had last year which, as 2001 rolled into December, left me feeling very disappointed, dejected, despondent...
To save the day, Cher's new album came out as an import (she's on a British label). After twenty-eight years of buying six Sonny & Cher Albums, twenty-five solo albums, two live albums and countless bootlegs and compilations, this is my first bridge-over-troubled-waters Cher album. Its happy grooves & strong vocals...the downright positivity was addictive. And paradoxically, as her grooves become more Euro-trash, her lyrics became more contemplative.
So, indulging in some Cher seemed innocent enough. For as we were all forced to contemplate our possible sudden, violent end last year, the details of pop culture became instantly meaningless. But then so did the point of agonizing over pop culture as well. A better mood? Get it where you can.

CherCon 2002
Las Vegas, NV - July 13-14
This year, my friends came to Cher Convention 2002. An English teacher, an Ape Culture co-editor, an actor/poet and a bartender; New York City, Los Angeles and Chicago represented.
I wanted to experience the convention as a spectator this year. Last time I ran Cher Bingo and Name That Cher Tune so I missed most of the day festivities. This year, as soon as I checked in I became caught up in the putting together of the Sonny & Cher clocks and annual setting-up merriment. I recognized many of the friendly people I had met in Chicago. I had forgotten how absolutely friendly almost everybody was. Brad was back from Canada; Erika was back from Florida; Diana was back from Chicago.
On Saturday, the convention started before the main hall was completely decorated. I snuck away to catch Ward Lamb's Cher Seminar. This was the convention highlight, as far as I was concerned. A regular Cher Scholar hootenanny. His presentation of rare Cher 45s, complete with a PowerPoint slide show, morphed into an open-floor discussion of Cher as pop culture phenomenon of underdog and commentary on radio-play resistance (complete with a mini-seminar from a station play list programmer in the audience). It was great fun to hang with Ward and pass about Cher theories!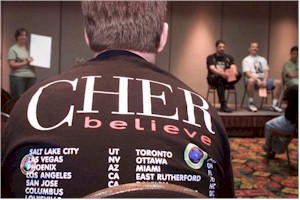 Immediately following Ward's seminar came Cher Trivia. My only job at CherCon this year was to host Cher Trivia. The game was a kind of Weakest Cher Link. Miss three questions and you were booted off the panel with Cher inspired insults (like her Witches of Eastwick tirade, "You are physically repulsive, intellectually retarded, you're morally reprehensible, vulgar, insensitive, selfish, stupid, you have no taste, a lousy sense of humor and you smell!"). Getting up in front of Cher nerds with a list of trivia wasn't easy. I had no way of knowing general mastery of Cher factoids among fans. I seriously worried the crowd would get unruly if the questions were too easy or too hard. General feeling was they were on the hard side. Which was fitting, in a way, since contenders were playing for the world championship of Cher Trivia or Master Cher Scholar. Read a blow by blow of the game as depicted in the Las Vegas Sun.
Incidentally, Julie Wiskirchen did a brilliant interpretation of Vanna White. Ward Lamb won and is now undisputed Master Cher Scholar of the United States.
Other day convention activities included Cher karaoke, Cher auctions, Cher shopping (from Cher soaps, pens, and mouse pads to used Cher clothes from LA's Star Wares), and presentations from the Children's Craniofacial Association, the charity to benefit from all this shameless obsessing.
Night activities included the band Girl doing grunge-interpretations of Cher songs ("All I Ever Need is You"? Believe it or not, great as grunge), and two shows with a literal smorgasbord of Cher impersonators (including Jeffrey Thomas from Chicago, Chad Michaels (the most head-turning Cher look-alike seen yet), British Sonny & Cher impersonators, Catherine Carter and Mark Parry, and the incomparable Wayne Smith who always thrills us with his eerie mimicry of Cher-speak.
Treats:
Cher School: Ward Lamb's educational, mind-expanding seminar
Special Guest: Elvis as special guest in the theatrical reenactment of the Sonny & Cher Show!! Sonny & Cher & Elvis singing Viva Las Vegas!!
Super Diva: Wayne Smith stealing the show with his outrageous improv. He truly channels Cher.
The Big Show: The whole convention, which was twice as slick and showy this year. No doubt this shindig will become bigger and better every year. Remember, even Trekkers didn't become convention pros overnight. Kudos to the organizers Jody Cantwell, Judy Didelot and Kim Werdman!
As always, Cher friends (you're a long time coming, welcome home).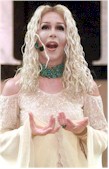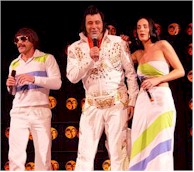 Chad Michaels and Viva Las Vegas with Elvis!!
Bummers:
Cher Gangs: By the second convention it's apparent--cliques are forming.
Wedding food: for example, dessert was more like whipped cream on a twig.
Old Vegas: The Riviera was nice but essentially old-school Vegas, a glitterless hotel with no theme. Someday maybe we can afford to move over to Mandalay Bay!
Where's a girl to go to get another copy of Stars?: No good vendors (visit Kiss Expo or Beatlefest to see all that fan shopping can be).
A Blackwellian Fantasy: Is this a republican fund raiser or a Cher Convention??? Many, many Worst Dressed Women for night events. Girls were shamefully out-dressed by gay men armed with rhinestones and tiaras. In the spirit of Cher, please, wear some star shine! It's dress up time! Get busy gettin' wacky!

The Farewell Tour
Staples Center, Los Angeles, CA - August 6, 2002
The Pond, Anaheim, CA - August 7, 2002
I almost missed the real thing! I had the dates wrong and didn't realize what was what until hours before the show. When I got there, to my surprise, I had first row on the side! I kept asking ushers if I was in the right seat.
Cyndi Lauper opened the show, as she did last tour, and was phenomenal. Aside from Cyndi herself, most Cyndi Lauper fans don't like Cher. Online they can be seen complaining about having to see Cyndi at a Cher show as if it's a necessary evil they must endure. This is a shame because Cher fans literally adore Cyndi. What opening act gets more screaming?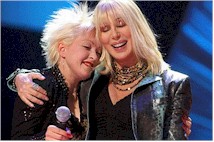 Cyndi starts with "Shine" from her new EP, a true herald of an opener, calling out to the hills of people. They respond to her show-stopping voice which fills the very back crevices of the arena. She immediately marches out into the audience, conducts her set fiercely like a rock maestro. She played to the parking lot. Then she sings the second song! "Change Of Heart" is my favorite Cyndi Lauper song and she performs it complete with necessary drumming epilogue that my single is missing. Then the pro-femme "Sisters Of Avalon"; a great new number, "Still With Me" (for the 2nd time she plunges into audience for a serenade); "True Colors" (wrapped in gay pride's rainbow flag); "All Through The Night" & "Time After Time" (for a ballad's breath); the timely Anna-Nicole-Smith-inspired rocker "It's Hard To Be Me"; the anthemic "Money Changes Everything" (ten times better live than on the record); and finally "Hey Now/Girls Just Want To Have Fun" which she turns into a frolicking sing-a-long where I get to see my Picasso-esque face magnified on a jumbotron. Good times.
Cher and Cyndi sets couldn't be more different yet more complimentary: Cyndi's bombastic intimacy and stripped down authenticity against Cher's theatrical put-on of a circus. A right and complimentary contrast. Their one unifying theme: Girl-power!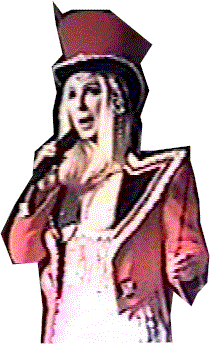 Although Cyndi is an easy recommendation, if you want to enjoy Cher, I'm convinced you have to loosen that fat elitist-rock bug up your ass. Let Cher be swashbuckling ringleader for one minute. John Chaich of The Detroit Free Press called her show "equal parts spit and spirit"; she opens by coming down from the ceiling on a chandelier, held in by what looks like the stand for my Cher doll.
A reporter commented on an early oddity of the show: Cher singing two songs, then doing some introductory monologue, then announcing the official beginning of her show ("Now this is the official beginning of the Cher Show" or some variation thereof). Truth is, she's been doing this sort of prologue since the dawn of the 80s. She makes the same announcement in Cher: Celebration at Caesars (80), Cher Extravaganza: Live at the Mirage (the Heart of Stone tour - 89), and the Believe Tour (99).
Other commonalities across her live oeuvre: her sets, particularly a history of using a multi-level set with some variation of a staircase. On the TV show Cher, circa 1975, she sang beneath a large Cher logo and would strut down one of the two curved white staircases. She used a large staircase down the middle of her set at Caesars, something to descend in what is yet the most majestic headpiece of her concert career. (A year ago this outfit was showcased in the window of New York's Fashion Institute of Technology for a retrospective on Bob Mackie.)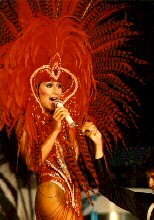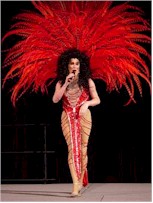 Cher at Caesars; Impersonator Wayne Smith.
She varied her set at the Mirage in 1989, a metropolis with "Express Yourself" chilliness. An unobtrusive upstage staircase led to a small upper level section with a pool table where she sang Springsteen's "Tougher Than the Rest" like a pool-hall barmaid in a red velvet mini-dress. During the Believe tour, her set went goth Sanctuary-style with fleur-de-lis decorating double stairs.
Her video montage segues aren't exactly novel either. Back on The Sonny & Cher Comedy Hour (71-74) you would sometimes see retro Sonny & Cher montages (Years, Part 1 & 2 episodes). Cher used family footage in her Vegas shows, and then set a standard for the dress-change video montage during the Heart of Stone tour. By then we had quite a history to cover already. Her montages keep getting slicker, wittier (more wink, wink) and more comprehensive. For instance, this year we saw more footage of Sonny in Cher's effort to both cover her hits with him and yet also acknowledge his irreplacability. "I Got You Babe" plays in its entirety on video. In Anaheim, this led to an impromptu sing along.
Movie clips have been included since Heart of Stone (although Good Times, 1967, and Chastity, 1969, are never included...an unnecessary shunning of 60s kitsch). The audience loves to cheer for Mermaids, which irks me to no end. Mermaids almost gets the cheers of Mask! This I cannot comprehend. Mermaids is filled with illogical characters, uninteresting dialogue and pointless scenes. Next essay: all the reasons why Mermaids sucks. But I'm obviously in the minority here. As I am with Suspect. No one cheers as loud as I do for Suspect. But no movie gets more roaring applause than Moonstruck and probably not because it's everybody's favorite Cher movie. Most people, Cher fanatics and Joe Blows on the street, seem to favor Mask. You might need to have lived in New York City, have known New York Italians, and experienced the kind of "wrong love" described in the movie, love that "wrecks your life" (and not in a good way) to love this movie. You have to have gone through the proverbial love wringer to hear this movie's ultimate bittersweet message. However, this is not the reason the movie gets the big cheers. It's because Cher won an Oscar for it. And there's nothing wrong with that. Definitely a penultimate Cher moment for righteous Cher fans. Let's relive it up.
Treats:
"Heart of Stone"- LIVE!
"All I Really Want to Do"- LIVE!
"Song for the Lonely" - LIVE!
One giant Muppet of an Elephant. Long live gargantuan Cher props! Someday this elephant shall sit in the Cher museum alongside Heart of Stone's big hair comb and Celebration of Caesars' giant high-heel shoe.

Cher back in COLOR! It's a good thing.
Flashback-fits!
The Genie-fit or India-fit.

What I call the Hole-fit. Mackie calls it the Swiss-Cheese fit. Most fans and reporters mistakenly call it the Turn-Back-Time-fit because of its bare-butt similarity to the real Turn-Back-Time-fit - a veritable V strip of tape with mesh and a jacket.



Turn-Back-Time-Fit with jacket and without
The hole-fit, on the other hand, dates back to at least 1979. She's posing with it on the cover of People magazine. Inside, she's seen singing in it during a Vegas show circa Take Me Home/Prisoner. Next, it's spotted during a performance of Cher's short-lived rock band, Black Rose (1980-81). The hole-fit pops up again on Cher's first video for MTV, "I Found Someone". She wears it again during her Heart of Stone tour, and sweats in it on her second exercise video, Body Confidence. The hole-fit is re-interpreted for the Believe tour and then reinterpreted much more flatteringly for the Farewell tour. We think Cher likes this 'fit.
1)

2)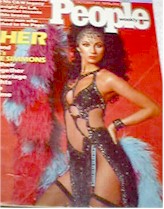 3)
4)
5)


1) 1979; 2)1979; 3) 1980; 4) 1989; 5) 2002
Purple Mohawk Feather Headdress - probably derivative of Cher's serious-actress snub retort outfit worn on the 1986 Oscars with a little Mask-era Mohawk thrown in.

The Way-of-Love-fit. See last tour's Way-of-Love-fit. This year it's violet.

The Take-Me-Home-fit. No, not the Viking-KISS-inspired armor-fit on the cover of the album (this 'fit must be too heavy to sing in). The headpiece of the Take-Me-Home-fit was introduced as part of Cher's Butterfly promo poster for the 1979 album Prisoner. During 1979 shows, Cher would sing "Take Me Home" in the full outfit. She resurrected the outfit for "Take Me Home" on the Believe tour. This time she arrives on stage in a dazzling RED version!
Bummers:
It's the same set list as Believe with "All I Really Want to Do" thrown in. Jo Kozlowski, (co-editor of the Cher Zine Superpak Vol 1), believes this may be because Cher intended for Believe to be her swan song tour, her last hurrah, the retrospective before her adieu. I wish we would have gotten a new opening song at least, considering Cher fans are so rabid for new material or even new cover material. We only hear one song from Living Proof and not even the new single! And we hear short versions of her 70s material, "Gypsies Tramps and Thieves", "Dark Lady" and "Take Me Home" ("Half Breed" can stay short). We heard three Believe songs, "Jesse James" (who likes that song?) and "The Shoop Shoop Song" (more Mermaids unpleasantness)! But again, there's a Cher precedent for recycling concert tours. Her 1980 Caesars special song list was pretty similar to her previous Monte Carlo special. Her Love Hurts tour was almost a retread of Heart of Stone. If Living Proof is a Believe repeat, it's nothing new. New costumes and a different set DID make the show SEEM different, but still...it wasn't.
Too many dancers/costumes/interludes, too little Cher. I don't think I'm alone here. As much as Cher likes to "never spend more than 8 minutes" in one 'fit, we come for that crooning Voice! It's like buttah. We don't get enough of it.
Hearing "Heart of Stone" was the penultimate Cher experience of the Staples show. From where I was seeing her sing it (I was at the right front corner of the stage), she was singing it right to me...and that was worth the bummers in spades.
So sure, a Cher show is, in large parts, artifice and puffery. Sure the money spent on her new pet animatronic elephant could have been spent on women maligned in Arab countries or victims of the West Nile Virus. Instead our ticket proceeds will go to Childrens Craniofacial Association and Cher's new house du jour. She's old Hollywood glamour, a dying breed. Does it all have to mean something? Can't we have our cause and eat our cream puff too? I know I have a cause around here somewhere.
And so ends my Summer of Cher. I get to feel seven years old again for a little while. Now it's back to the scary real world again.
Yep. Right where I left it.

Before you get all serious, take a few more minutes with some non-world-changing pop music:
Read the drippy things I tell a reporter after hosting the CherCon trivia game.
Post comments about Cher stuff.
Ape Culture and all associated pages are
ŠApe Culture 1998-2007 and evermore.



Click here to learn about
the Ape editors' book
Check out the Ape Blog for the latest Ape Culture News and Reviews