The Gentleman of Leisure Reviews Nathan's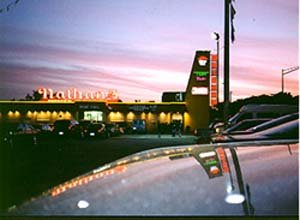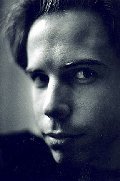 On a recent excursion to the country, my friend and I stopped to eat at Nathan's, an eating establishment that at first appeared to be a delightful example of 'Americana.' Located prominently along Yonkers' Central Avenue, Nathan's exterior boasted a vertical freestanding neon sign that announced the restaurant's existence to passers-by and motorists alike with a Las Vegas-like gusto.
Upon entering, we found ourselves in a garishly lighted space reminiscent of a large airplane hangar. The entryway was edged in purple and yellow neon, and offered an enlarged erector-set inspired playground where patrons could keep their children entertained. Apparently, the proprietors had succeeded in making the restaurant a destination for those who suffered more for want of entertainment than hunger; scores of children were seen to be engaged in play as we proceeded to our table.
Much to our surprise, the cavernous area contained not just a Nathan's restaurant but fast food concessions for both Pizza Hut and The Country's Best Yogurt (TCBY). Instead of the nostalgic retro-'50s classic burger 'joint' interior that one might have expected, the odd variety of competing counters gave one the impression of just having entered a food court at a suburban mall or airport terminal.
Our table was set near a long row of infrequently cleaned, wall-mounted mirrors. The spare-white plastic booths bore the persistent aroma of pickle juice. The harshness of the surroundings was exacerbated by an adjoining arcade-room that echoed with the thunderous sound of no less than fifty coin-operated video machines. For the price of one dollar, one might hope to appease a petulant child with a one-minute round of "Wave Runner," a virtual reality game on offer in the hall.
Nathan's proved to be a popular destination for many people, which lent a carnival air to the long lines and crowds readily observable from the dining area. Procuring dinner proved to be a difficult (and lengthy) task in itself. Realizing no waiter service was available, we proceeded to wait for 25 minutes to order and receive what amounted to take-out food.
For starters, we decided on the Nathan's frankfurter. The hot dog upon which Nathan's Restaurant has built its reputation proved disappointingly limp and chewy, despite the generous portion of sauerkraut applied to it. French fries were soggy and underdone; only the charbroiled chicken sandwich 'redeemed,' with its tasty combination of honey mustard, grilled chicken breast, and freshly-cut iceberg lettuce and tomato.
Offerings from the other concessions were equally uninspiring. For $2.99, my friend had a "Personal Pan Cheese" pizza, which had a greasy, spongy texture and little flavor. Fortunately, the appealing container that housed the pizza prevented an unwarranted leakage of grease onto the tabletop. The "Philly Cheese Steak", which, along with its combination meal, was the most expensive item on the menu at $5.99, turned out to be a lifeless combination of processed steak meat, crusty cheese, and greasy onions.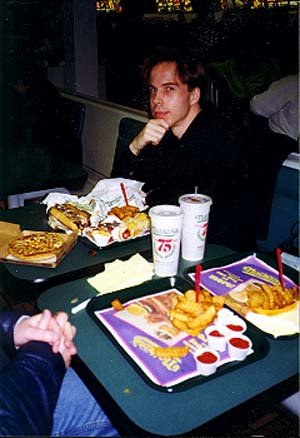 For dessert, The Country's Best Yogurt offered a refreshing and light white chocolate mousse yogurt in a single serving, or chocolate donuts, which were stale and flavorless. Thankfully, Nathan's provided diet soft drinks served in generous cups to wash away some of the overly greasy fare. There was no wine list available.
The moniker on the vintage Nathan's neon sign proclaims the restaurant's 75-year heritage and promises patrons that it is "MORE THAN JUST A HOTDOG." With its dizzying array of lackluster entrées and a crowded carnival-like ambiance, Nathan's demonstrates that "more" does not necessarily mean "better."
(Nathan's is located along Central Avenue in the City of Yonkers, New York)
Leave a comment about Nathan's or The Gent of Leisure.
Ape Culture and all associated pages are
ŠApe Culture 1998-2007 and evermore.