Ozzfest 2003
Glen Helen Pavilion
San Bernardino, CA
July 5, 2003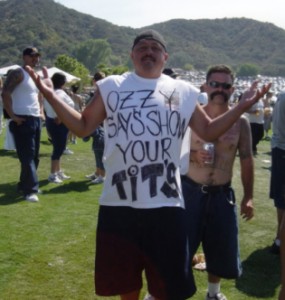 Another Summer has arrived. Rather than kids frolicking in the spray of a fire hydrant, I see concertgoers squirming under fire from a water cannon wielded by a madman. Is the stickiness I feel on my shirt sweat or the Budweiser spilled on me by the drunk guy sitting next to me? Why does the summer breeze smell like pot rather than jasmine? It must be Ozzfest.
Since Sharon Osbourne first mounted this traveling metal circus in 1997, there have been 7 Ozzfest tours. I have attended 6 out of 7, only missing it when I was living in Australia. This would be my first time seeing the show in Ozzy's adopted home state of California and my first time with a great seat - 8th row center. Because the desert temperatures in San Bernardino promised to top 100 degrees and because I was going alone, I decided to skip the majority of the side stage bands. I arrived at the venue around 2:00 PM, but bands had been playing since 10:00 AM. I noticed a lot of sunburned, shirtless, drunk guys stumbling around the grounds, desperately seeking either shade, chicks, or beer.
I made my way to the side stage, where Voivod had kicked off their set. I was curious to see them because they are well respected in the thrash metal scene and because former Metallica bassist Jason Newsted was now playing with the band. Voivod rocked pretty hard, and Jason seemed happy to get through a set without having to play "Nothing Else Matters." The dusty side stage crowd gave him some love. I noticed the goth element creeping into the crowd before the next band, Cradle of Filth, took the stage. They were headlining the side stage. I watched their horror/goth metal for a couple of songs, but I quickly tired of the tragic noise and headed over to the main stage.
I was thrilled to find that my seat was 8th row center, and the people sitting near me were uncharacteristically friendly for metalheads, or any concertgoers for that matter. A Chicano couple on my right were concerned that I was there by myself and wanted to take me under their wing. I explained that I was new to California and hadn't made any metalhead friends yet. Two guys on my left were also friendly. Actually they were quite friendly to all females in the area as they had been drinking since 10:00 AM.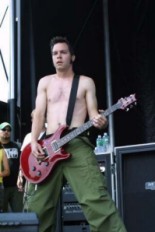 Chevelle (photo at right) kicked off the action on the mainstage, a brother act making a bid to be the Hanson of heavy metal. They looked very clean cut, which caused the crowd to growl suspiciously. The trio proved they deserved to be there, displaying strong musical chops as they tore through several of their radio hits and other tracks from their debut album during their 30-minute set. Although lightweight compared to other headliners, Chevelle definitely deserved their upgrade from the side stage, and I think they converted a portion of the tough crowd.
Disturbed were up next. I had been very impressed by their performance at Ozzfest 2001 and bought their album after the show. I think Disturbed's lead singer, David Draiman, has one of the best metal voices since Rob Halford, and his voice complements the raw power of their tunes. They encouraged the crowd to stand up and got some mosh pits going on the lawn for their hits including "Stupify," "Voices," and "Down with the Sickness." I was sorry to see their no-frills, steady rockin' set end, and I look forward to seeing them again.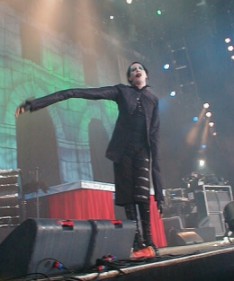 The goth kids crawled out of their caves again to welcome Marilyn Manson, another Ozzfest veteran. Although I am not a big Manson fan, I always enjoy the spectacle of his shows. He pushed his luck on the vulgarity front and found himself banned from Six Flags on this tour. Luckily, nobody in the desert was censoring him, so he could mount the stage and pretend to mount his go-go girls. The girls first appeared in Nazi-esque uniforms, then came back out and appeared at first to be nude but were actually wearing very realistic latex vaginas and breasts. They gyrated like strippers and Marilyn violated their latex orifices in several ways while working through his catalog of hits like "Beautiful People" and "Sweet Dreams." Quite the showman, Marilyn came out in a strange costume that made him appear to have elongated arms and created a very creepy effect. He also had a giant blow-up balloon of his head that inflated and deflated onstage. Weird, wild, somewhat misogynistic, but definitely entertaining stuff.
The crowd reached a fever pitch to welcome Korn. I had never been a big Korn fan and had skipped their show at Woodstock '99. But I found I enjoyed their set more than I expected to, and I recognized a lot of the songs and twisted nursery rhymes. A set highlight was "All Day I Dream About Sex." Korn didn't employ a lot of special effects or gimmicks the way Manson did, opting to let video montages and music take center stage. They played their songs skillfully but not particularly passionately. Still, mosh pits were kicking up a lot of dust back on the lawn, so the kids must think they are all right. During Korn's set, the two drunk guys next to me proceeded to grope a drunk woman in front of them shamelessly. She alternated between allowing it, encouraging it, and slapping their hands away. I made friends with a woman behind me who admired my vintage Ozzy and Lita "Close My Eyes Forever" T-shirt. We recalled the hair metal glory days. She said she was at the Ozzy concert when he bit the head off the bat. That arena must have held a million people if everyone who said they were there was actually there. Still, she was fun to talk to.
Ozzy didn't prepare a comedy video to kick off his show this year, which was disappointing. Maybe he felt he couldn't top his Miss Cleo and Christina Aguilera impressions from last year, or maybe Sharon had him too busy making Pepsi commercials, but whatever the reason, the video was definitely missed. Ozzy came out with a lot of energy and in good voice. He quickly removed his shirt to show off the benefits of continued sessions with his personal trainer. He ran around the stage throughout the night, doing leap frog jumps and mooning the crowd twice. I soon realized the advantage of seeing him in the second week of the tour versus the end of the tour in New Jersey as I had done the previous few years. He wasn't tired at all, and his voice didn't crack once. I was thrilled to see him having fun and in such good physical and vocal shape.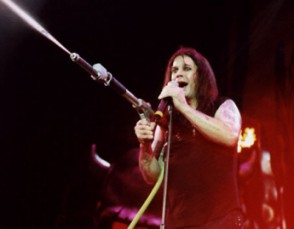 The aforementioned Jason Newsted is doing double duty on this tour, also playing bass in Ozzy's band. He fit in fine with perennial Ozzy bandmates Mike Borden (drummer, formerly of Faith No More) and Zakk Wylde (not playing with his other band Black Label Society on this tour). Ozzy ripped through a set of favorites, declaring how happy he was to be playing at home. He doused the crowd with his water cannon, and although I wasn't close enough to get hit with it, I couldn't avoid the sprinklers that rained down from the top of the stage, drenching the first 20-odd rows. Each time Ozzy took up the cannon, the sprinklers would go on. It actually got to feel a little cold, as the desert sun had long ago gone down and the temperature was probably in the low 70s. As the set wore on and the sprinklers kept coming, quite a few women convinced their boyfriends or husbands to either take them home or retreat to dry ground. I stood my ground, not wanting to give up such an excellent view of the show. In the future, I'd advise the Ozzy stage crew to ease up a bit on the showers.
Ozzy's setlist was pretty typical of years past, with a lot of Black Sabbath songs and his classic solo tunes. Although he no longer attempts vocally demanding tunes like "No More Tears," he did sing "Goodbye to Romance," a classic tune that is not normally part of his set. Before playing "Mama I'm Coming Home," Ozzy called for Sharon to be brought up onstage. It took a while for them to locate her. Although she was visible on the sidelines watching Marilyn Manson and Korn, she apparently had schmoozing to do that prevented her from supporting her husband (for more on my love/hate feelings for Sharon, please read my essay on "The Osbournes" phenomenon). Eventually Sharon was located and came on stage, and Ozzy told us all that she had been declared cancer-free. The crowd cheered and Sharon flashed her bra and bit Ozzy on the nipple. Ozzy assured us he would play as long as we wanted him to play, and he came out for 3 encores, before ending with "Paranoid." He was on stage for over 2 hours, which is the longest I've ever seen him play.
I drove home in my wet clothes, listening to an Ozzy mix and grateful for another rocking Ozzfest. I have to hand it to Sharon. She abandoned the nu-metal crap of past years and really brought together a collection of solid rockin' bands for this tour. See ya at Ozzfest 2004!
Visit the official Ozzfest site
Take the "Which Osbourne Are You?" Quiz
Read past Ozzfest reviews and other metal concert reviews
Were you there? What did you think of Ozzfest 2003?
Ape Culture and all associated pages are
ŠApe Culture 1998-2007 and evermore.



Click here to learn about
the Ape editors' book
Check out the Ape Blog for the latest Ape Culture News and Reviews