John Waite
with Special Guests The Motels
Vault 350; Long Beach, CA
Saturday Aug 21, 2004
I don't know why I still think I can stand in uncomfortable shoes for hours; but try as I might (and did)... my poor dogs were throbbing by the end of the night, along with my ears after what seemed like hours of pre-show and post show loud AS SEEN ON TV 80s music. If I hear another Depeche Mode tune I will throw up.
Two weeks following my 20-year high school reunion, where they played unending 80s music, I'm 80s out. I lived the 80s. I was in the clubs, had the short skirts, big hair and big shoes. I'm done. It still amazes me when I see 45 year-old women still dressed the same, when, unfortunately, their bodies did not remain the same. Cover up girl, no one wants to see that!
It had been years since I thought of the Motels or John Waite. When my friend Mary asked for friends to join her at Vault 350 in Long Beach, California, to see them, it sounded like a good time, at a good price. When we finally arrived there, I was relieved. I wasn't sure we'd make it. The freeway, the directions, the one way streets! It was too much for this driver. I was starving and we had no time to eat, so we decided on snacks at the vault. Very over priced snacks.
With the exception of the freezing air conditioner, the club was great. I think it's better to see performers in small venues. It's much more personal than large stadiums. I probably should invest in ear plugs. It's amazing that I can hear anything at all, considering the number of amplifiers I've stood in front of over my lifetime.
There was definitely an upside to this 80s night. I felt like one of the youngest in attendance. At 37, that doesn't happen much anymore. I scanned the crowd and watched the faces, pretty certain that most were eagerly anticipating the headlining bands in hopes to recapture part of their lost youth.... if only for a few hours.
The opening band took the stage.. if you could call it taking the stage. They didn't take much at all. The vocals were drowned out by the pop 80s beat. The band didn't interact with the crowd, they didn't interact with each other, and I didn't even catch their name. The bass player looked like he didn't even want to be there.... bad form.
I was pleasantly surprised (and relieved) when The Motels took the stage. I have seen many revived 80s bands. Martha Davis' voice is strong and clear. The highs, lows, and melodies, she hit them all perfectly. I also enjoyed the band's transformation from a seemingly nervous we-haven't-done-this-in-awhile energy to sweet glances between Martha and her band members, which seamed to say, "YES, we did it!!" It was a great show.
John Waite and friends put on a fabulous show. They opened with "Change," closed with Led Zeppelin's "Rock n' Roll," and I knew all the words to 99% of the songs. I loved it! John and his band were having so much fun on stage, I don't think they really cared what was going on in the audience. It was simply awesome.
Finishing up the night, we waited for Mary to get her CD signed, all the while being tortured by very loud, forgotten 80s tunes and throbbing feet. To the Vault, put those 80s CDs back in the vault. The Motels and John Waite deserve a chance to grow. Allow them to disassociate with the bad hair/bad fashion era.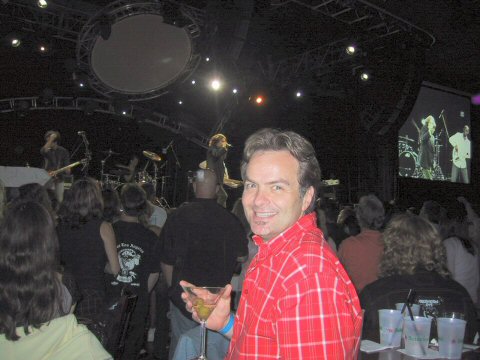 Happy customer: John Waite sings in the background
while JW fan Stathis enjoys himself.
Read Mary's Review of the Show
Links
John Waite – www.johnwaiteonline.com for show dates; www.johnwaitethehardway.com for information on the new album.
Leave a comment about Martha Davis, The Motels, or John Waite.
Ape Culture and all associated pages are
ŠApe Culture 1998-2007 and evermore.