Depeche Mode Singles 86-98 Tour
Madison Square Garden
New York, NY
October 28, 1998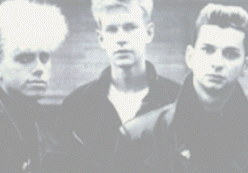 I was in seventh grade when I saw Depeche Mode's "People are People" video on a syndicated, afternoon video show that provided a daily fix for those of us not privileged enough to have MTV. I thought it was a catchy song and an insightful statement on racism. With my babysitting money burning a hole in my pocket, I decided to join the Columbia House music club for the first time. I had to come up with 12 cassettes I wanted for a penny, and I picked Depeche Mode's Some Great Reward. I made most of my selections on the basis of one hit, so I also ended up with tapes by Go West, Animotion, Paul Young, Paul Hardcastle ("19" taught me about the vietnam war), and Limahl. Not surprisingly, Some Great Reward is the only tape from that batch that I still have in my collection.
I remained one of the devoted through their dark period of Black Celebration, a great soundtrack for my junior high pain, and through high school with Music for the Masses. Toward the end of my high school career, DM released Violator, a twangy guitar rock album that was quite a departure from their signature synthesizer and drum machine sound. I couldn't figure out why Martin Gore had decided to pick up a guitar. Perhaps all those years behind the keyboard had given him carpal tunnel syndrome. Whatever the reason, it sounded good, so I didn't complain.
During my college and my post-college years, I listened to different types of music and I lost track of DM. The band remained in my peripheral vision. I felt a little sad when Alan Wilder left the band. And I worried when rumors circulated that Dave Gahan had a nasty drug habit, and especially when it was announced that he had tried to kill himself. But I pretty much stopped listening to DM, and it took this year's tribute album, For the Masses to get me back into the Mode. The tribute album includes tracks by The Smashing Pumpkins, The Cure, Deftones, and Veruca Salt. Some of the tracks are strong, like "Shame" by Self and "Stripped" by Rammstein, but others are simply re-treads that reminded me of how good the originals were. So I started listening to my old DM cassettes, and I bought a ticket to see them at Madison Square Garden.
This was the second night of the US leg of the band's tour in support of their new double CD The Singles 86-98. We were in the nosebleed seats, so I can't really comment on how the guys looked. I can say that the usually gaunt Dave Gahan, while not exactly buff, is no Ally McBeal these days. Rumor has it he's been off the hard stuff and spending quality time with a personal trainer, and the results are paying off. Gahan put a lot of energy into his performance, as he danced around the stage and twirled his microphone stand like a baton. With the other two guys stuck behind their keyboards, Gahan has to provide all the visual stimulation for the audience, and he was good at getting us riled up.
The staging was simple, with keyboardists Martin Gore and Andy Fletcher stationed stageright and stageleft, respectively, and Dave Gahan roaming . Two giant letters, D and M provided the backdrop and there was a tent centerstage. Video images were projected on the tent and the lights played off of it. DM tours with a full band, including a live drummer who really adds a lot to the songs.
The band kicked off the set with "A Question of Time" which got the crowd in sing-a-long mode from the get-go. It took Dave a few songs to get into a groove, but by the time he got to "Never Let Me Down Again" and "Walking in My Shoes," he was twirling around the stage. My friend noted that Dave hadn't developed any new dance moves since she'd seen him on the Violator tour, but the old moves seemed right for the mostly old songs. This was truly a greatest hits show, as they went on to play "A Question of Lust," "Enjoy the Silence", and "Personal Jesus." They also played a few songs from their last album, Ultra.
After an hour-and-a-half set, DM came back for an encore. Martin Gore came out on stage and sang "Somebody," one of my favorites. I was transported back to my junior high bedroom, laying on my bed, staring at my Duran Duran posters on the ceiling, a copy of Star Hits magazine on my stomach, singing along, wishing for my own somebody. Apparently, everyone at the concert either remembers or still possesses the same longing, as the Garden took on a church-like ambience and everyone held up their lighters and chanted the lyrics like a mantra: "I want somebody to share, share the rest of my life, share my innermost thoughts, know my intimate details..."
The encore continued with "Stripped" and "I Feel You." Then DM left the stage, but we all screamed for just one more. We discussed the hits left unplayed: "Blasphemous Rumours", "Everything Counts," "Master and Servant, and "Shake the Disease." The band came back, and Dave declared, "This one's for you, New York." They launched into "Just Can't Get Enough," their first hit. Everybody got on their feet and danced as wildly as the cramped confines of the Garden rows would allow. It was the perfect ending to an evening that covered all the eras of DM's career, and the band's spirited, tight performance certainly leads one to expect that more hits will be forthcoming.
If the Singles tour comes your way this winter (and more dates may be added in the Spring), you're in for a fun night of nostalgia and great music.
Visit the official Depeche Mode site
Halo's Depeche Mode site -- very detailed resource for concert reviews and band info and news
Read more of Ape Culture's concert reviews.
Post a comment about Depeche Mode.
Ape Culture and all associated pages are
ŠApe Culture 1998-2007 and evermore.



Click here to learn about
the Ape editors' book
Check out the Ape Blog for the latest Ape Culture News and Reviews