Hi-Identity: Girls Collecting Music
a dialogue between grownup girls
Contents:
Page One: The Wonder Girls; Girls Taking Off
Page Two: Girls & Mix Tapes; Girls in Record Stores
Page Three: Girls & Guilty Pleasures; Girls, Where Are You Today?
Page Four: Girls in Conclusion: How Should We Be?; Coolia Answers Our Girl Music Survey
This article was inspired by the recent article, "One Track Mind (Is record collecting really just a guy thing?)," in the Spring 2003 issue of Bitch Magazine, Feminist Response to Pop Culture, a magazine I like, obviously, because it's feminist AND about pop culture to boot. The article describes the tribulations of girls who collect old LPs, zeroing in on the sometimes chauvinistic tendencies of male collectors, like the good ole boys in the movie High Fidelity, and the article got me thinking. Even though I have my own small music collections, sexism from my male peers has not really been my experience. However, I think sexism between male & female collectors exists; and I wondered what my girl friends had experienced.
This is, after all, an important issue because music, as it plays a part in my life (and I realize I'm a little nutty but I can't be that unusual), is a basic need and a defining personal journey. And when you feel pressure from yourself or any one else to deviate from your true likes and your own journey, that's your day of reckoning. What are you gonna do? How strong is your identity?
That's one issue. Another interesting one is the makeup of your girl community. Be it a concert gang or a record collecting gang, you go to shows with other girls or you trade mix tapes with other girls. There's definitely a girl's thing going on. I remember walking down the stairs of Radio City Music Hall with Coolia after seeing the Virtual Elvis show and mimicking Elvis' exit theme to each other and cracking up all the way down the stairs. I just can't imagine doing that with a straight guy.
Mary
1. The Wonder Girl Years
When did you first start collecting music? What is the first music you decided to like? What did other's think about your early tastes? What did your family members listen to? Did you ever hear flack about what you wanted to buy? How did you handle it?
Nerdia (LA): As soon as I figured out what that big piece of ugly furniture in the "nice room" was and those disks in dust jackets were made for, I was hooked. My parents had about two hundred record albums, I estimate. They never listened to them. They received them free from Aunt Merle and Uncle George who were both record distributors. My parents' phonograph was a gargantuan piece of furniture with a lid on hinges at the top and built-in tan speakers with a kind of raised grid pattern to them.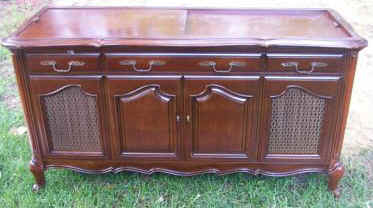 something similar to the console phonograph we had
Jo (Chicago): My folks had a similar piece of phono-phurniture. Theirs had a horrible, ugly blonde cabinet to match the rest of the inexcusably fashionable pale ale wood in their living room.
Nerdia (LA): By age five I had mastered the process for running it. I played about 7 to 10 Disney Storyteller records in a continuous loop. Ask me to sing ten Disney songs from the top of my head. I can do it right off. I also had a Hans Christian Andersen record, a Dr. Seuss record, an Aesops Fables record and Marlo Thomas' Free to Be You and Me.
My parents had two Sonny & Cher albums that I loved and I started watching The Sonny & Cher Comedy Hour religiously - as religiously as you can when you're six and have no concept of weekly TV time. I was literally at the mercy of someone in the house saying, "Hey, since you love that damn Sonny & Cher record so much, their TV show's on tonight." I loved the way they sounded together. I found her voice comforting and resonant. I liked the harshness of his voice in contrast with hers.
By the time I was 7 and we had moved from Albuquerque to St. Louis in 1977, I had started asking for Sonny & Cher albums in present-getting situations and begging for Sonny & Cher record money when we passed a record store at the mall. I had a modest stack by the time I was 9. By then, I had also started exploring my father's Johnny Cash albums which I liked for the evocative stories and western word play, and my mothers Neil Diamond albums, full of deep-voiced passion and romance. My parents also had a good set of Bill Cosby records I would listen to with the girl who lived next door.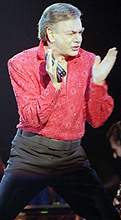 Jo (Chicago): I'm glad you mentioned Neil Diamond -- I forgot all about collecting his stuff. Like you, I enjoyed the romanticism, particularly in a voice that rough. I fell for him with the Jonathan Livingston Seagull soundtrack (does that count as a guilty pleasure?) and immediately began looking for his other recordings. That whole man-child thing worked well for him for a long time. I've been sorry that in recent years his lyrics have diminished into sticky fluff too bland for the man or the child.
Nerdia (LA): Ugh. I agree. I saw him play Madison Square Garden two years ago and the magic was gone. He stretched out on the edge of the stage with his grandpa pants and tried to woo a young girl in the audience with "Girl, You'll Be a Woman Soon". It was sick-making. But that said, I just finished making myself a Neil Diamond mix tape. I still love "Let the Little Boy Sing" and "Solitary Man." My mother just gave me her copy of Live at the Greek Theater.
My love of 70s Cher easily parlayed into adult contemporary radio listening when I was about 9 or 10. I went through a pre-teen Barry Manilow / Billy Joel phase. Billy Joel records I bought because I liked the ballads ("Piano Man", "Honesty", and "Scenes from an Italian Restaurant"). Very soon I hated the ballads and loved the lite-rocking numbers ("All for Leyna" and "Closer to the Borderline").
I liked Barry again because of the romance of "Weekend in New England" and "Somewhere Down the Road." I unabashedly loved the ballads on Adult Contemporary radio. I amassed a large knowledge of adult contemporary and disco. Favorites include: "Love's Theme" by Love Unlimited Orchestra, "Baby Don't Get Hooked on Me" by Mac Davis, "Another Somebody Done Somebody Wrong Song" by BJ Thomas, "Chiquitita" and "Take a Chance on Me" by ABBA, "Nobody Does It Better" by Carly Simon, "Stumblin In" by Chris Norman and Suzi Quatro, "Bad Bad Leroy Brown" and "I Got a Name" by Jim Croce, "Whenever I Call You Friend" by Kenny Loggins and Stevie Nicks, "Air That I Breathe" by the Hollies…you get the idea.
By the time I was eleven and in 6th grade, I realized quite abruptly that liking Cher might not exactly be cool. Painful enlightenment. I did something very bizarre. I gave up Sonny & Cher completely and sent Barry Manilow and adult contemporary underground. As a direct result I would have to say my 6th grade year was one of my worst, most depressing years. Barren of musical pleasure, I feel into a funkless funk. In order to be acceptable to others, I was denying myself and it was heartbreaking. I taught myself a powerful lesson that year. Other people are stupid and their opinions should have no bearing on my own musical journey. They have nothing to do with what I need to do. I took back Cher (not Sonny…a compromise for the sake of cool – at the time I remember thinking Is Cher going to be entertaining enough solo to keep me interested?) and I started buying nerdy records like there was no tomorrow. I starting making my own compilation tapes. I started aerobics with my older brother's girlfriend and made mixed aerobics tapes (lots of Donna Summer and Olivia Newton John), collections of songs I liked taped from the radio (adult contemporary 70s and early 80s pop) and of course, Cher compilations.
Jo (Chicago): Strangely enough, I did not buy Cher's "Take Me Home" back then. Apparently the "underground" phenomenon you talk about had taken hold of me -- I can't pinpoint when -- but I went through a period of pretending I'd outgrown Cher (and most certainly Sonny & Cher). You may remember in my essay for the Cher 'zine. I mentioned learning a lot about sex -- or at least the part of relating in a less conventional, fun & funny, sexually charged manner -- from Sonny & Cher. Later I didn't want a constant reminder of my own naivete.
Then, I realized I'd begun taking for granted the Cher songs I'd loved for years, not so much consciously listening to them but slipping into the frayed favorite garment they'd become. Why I thought there was anything wrong with that, I can't say. Good thing I have a smidge more maturity now to understand just how centering that old pair of jeans that fit you just right can be.
I unofficially started collecting music when my father did some moonlighting as a bartender. One of his responsibilities was keeping the jukebox stocked with the latest hits. I used to go with Dad to a record shop; and while he was buying for the bar, he would pick me up whatever 45s I wanted. My early music tastes were framed in terms of singles. I'd go home and listen to the latest Beatles, Supremes, Petula Clark, The Fifth Dimension, Manfred Mann, Herman's Hermits . . . I don't remember wanting full LPs by any of those artists at that point. It was all about singles.
My mom was a fan of Dick Clark's American Bandstand, so we watched that religiously. We also watched Shindig and Hullabaloo, not to mention The Ed Sullivan Show. I remember being fascinated by Janis Joplin and would probably have become a fan if my mother hadn't been so appalled by her (I hadn't yet hit my rebellious years). Today I own a boxed set of Janis music on CD to make up for lost opportunities. As I recall the first record I really wanted was The Beatles' "I Want to Hold Your Hand," so on a rudimentary level they were my first experience of "collector consciousness."
Some tunes that appealed to me then, for whatever reason, definitely qualify as my first guilty pleasures: The New Vaudeville Band's "Winchester Cathedral." Sam the Sham & The Pharaohs' "Woolly Bully." Tom Jones' "What's New Pussycat?" Dion's "Abraham, Martin & John." Barry McGuire's "Eve of Destruction" (although this one has an eerie timeliness about it today). I also developed a major crush on Righteous Brother Bill Medley and wore out my copy of "You've Lost that Lovin' Feeling."
I became an official collector of LPs when I went nuts for Sonny & Cher in the early 1970s. Okay, so it was hard to justify Sonny as a singer (except that, obviously, Cher's voice can make anyone's work in a duet), but we faithful knew as we were wearing ruts in our copies of Cher solo LPs that we'd be vindicated one day.
Sonny & Cher were the first artists I decided to like well enough to try and buy everything they recorded. Suddenly, I had stacks of LPs, not to mention posters and photos I cut out of magazines to stick on my bedroom walls. My parents watched The Sonny & Cher Comedy Hour, but thought I'd crossed the line with my obsession. Friends at school were into teen idols of the day -- first Bobby Sherman, then David Cassidy; one wanted to convert to Mormonism so she could marry Donny Osmond; another was quite proud of having impure thoughts about Barry Cowsill. I got a lot of flack from them (what nerve!). Sonny & Cher were a married couple, for God's sake; their humor was too adult (even for the Cowsill fan). They weren't doing safe teen bubblegum songs anymore. How could I like them? I responded by digging in and becoming a more committed fan, even wearing a homemade S&C button to school on my jacket (the nuns would have confiscated it had I tried to wear it on my uniform).
In 1972 my folks took me to see Sonny & Cher in concert. I smuggled in a rather sizable cassette recorder in a suede shoulder purse and managed to capture a very poor-quality recording of the show (which, unfortunately, I no longer have -- what a collectible!). None of my friends at school was the least bit surprised that I, an obedient Catholic girl, had bucked the theater's regulations and slipped past the burly security guys in service to my addiction. I took the teasing; it didn't snuff my fan-aticism. I was developing the thick skin we Cher fans have needed through the years to weather the slings & arrows of outrageous critics. Even so, up to this point no one had actually tried to "refine" my musical tastes.
2. Girls Taking Off
How did your collections broaden as you got older? Did anyone guide you?
Nerdia (LA): I was a little girl declaring "I dig Cher!" and then someone came along saying, "Oh dear, we have to take care of this alarming Cher diggery!" then trying to veer my attentions to more respectable artists. My response was "okay, I'm open to that, too; but I still dig Cher!" which turned me into this weirdly eclectic collector due to the exposure of these anti-Cher influencers, my two older brothers.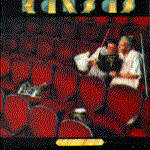 They brought home records with really interesting album covers, from Sgt. Pepper's to Styx's Pieces of Eight to that Kansas record with all the red theater seats in the fold-out cover. From the start, they relentlessly teased me about my record collection. But I was stubborn. Realizing their tactic was not working the way they had hoped, they changed course, genuinely concerned as they were for my musical welfare. They were determined to lead me to a better path through education. My oldest brother would quiz me on local rock radio songs when he drove me to school and would teasingly hit me on the head if I missed one. My other brother took a more integrated approach. On nights when I was excitedly preparing to make yet another aerobics tape of Olivia Newton John and Donna Summer songs, he would come in and take over the stereo to play me his own college party mix tapes. He would say, "You know this song" and I would say "No, I've never heard that song before in my life."…"Yes you have," he would insist and he would play the song and sometimes I would recognize it from the radio, sometimes I wouldn't. But the door would invariably open and I started to learn how to explore.
Despite my normal resistance to the pressure, I honestly liked rock radio. The first song I remember liking was Aerosmith's "Dream On." This lead to a whole new segment of compilation collecting I today call "brother music," music my brothers like but none of my peers were listening to: Foreigner, Kansas, Bad Company, Styx, REO Speedwagon, The Beatles, The Babys, Litter River Band, Aerosmith, Journey, Boston, Cheap Trick.
But I let go of none of the nerdy crap. The whole point of it, I always felt, was to find my own way. I never again cared what anyone else thought about it.
Jo (Chicago): I entered a "cluster period" of my life in the early to mid-70s when I suddenly became aware of artists I wanted to collect. Around the same time ('72 or '73) I chose one of the first biographies of Judy Garland for a high school English class assignment. I dug up a recording we had around the house (the soundtrack from the movie Till the Clouds Roll By) and, from the moment I heard Judy sing, "Who?" I was hooked. It was a sound that broke my heart. There's something about that tender mix of fragility and power, wrapped in such sweetness that still takes me aback with its ability to touch on a heartbeat level. I even joined the official Judy Garland fan club, based in London, and quickly made friends with a guy who was living not far from me in Chicago and was on his way to amassing an impressive Garland collection. Steve would later author Rainbow's End: The Judy Garland Show. If he didn't have an extra copy of something, he knew someone who did. We even went to a Garland convention together. I bought three original 1950s Judy LPs there -- I think for $5 a pop -- they're still among my most cherished Garland collectibles.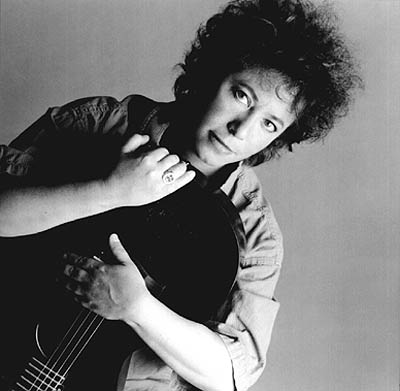 I found Janis Ian in 1975 with "At Seventeen," and quickly collected all her LPs. Her lyrics spoke to both my teen and artistic angst, gave me a unique woman's voice to explore difficult emotional themes. I was an emerging feminist who wanted to be a writer, and I loved that Janis could turn an experience not necessarily her own into an intimate expression of a truthful female realization.
This is what appeals to me most about my collections: they synthesize a lot of the searching I've done, fears I've had, sadnesses I've carried, joys I've soared on -- with a realness, sometimes uneven and unpolished; sometimes achingly shiny with purity, that is, in each case, inimitable.
Of course, there's tremendous vulnerability in collecting music that speaks to you on this level. Purchasing records can invite more speculation about you than buying personal items at a pharmacy. For some of us female collectors, dismissive sexism comes with the territory. At one record store that always made me feel like an estrogen-infected intruder, the card slotted for Janis Ian included a description of her as a "sob sister." At least they didn't have the audacity to insult Billie Holiday that way -- instead they judged by omission, stocking only a token taste of her catalog.
My brother Mike, 4 years younger than I, thought I should be listening to artists that spoke to him: Elton John (I liked him anyway, but didn't connect with him the way Mike did). Stevie Ray Vaughan (I liked his song "Cold Shot," but really could have lived without going to the concert Mike dragged me to). Jimi Hendrix (a little bit goes a very long way for me). Rickie Lee Jones (ditto…Mike had a crush on her, so there was more going on in his recommendation than his concern for my "musical misdirection"; my main impression of her was that she was frustratingly inarticulate -- hello, lyrics are important to me!).
Nerdia (LA): My brother really pushed The Beatles when we were young. And I'm glad for that. None of my peers really recognized their significance accurately. But then years later he went into a popular country phase because he could only get AM country stations on his car radio. The only thing he could get me into was old Dolly Parton. We listened to "Travelin Man" together. I eventually gave away the Kathy Matea CD he bought me...it was just taking up space on my shelf! Right now he's in a band and likes music with surreal lyrics, like "Drops of Jupiter" by Train. Years of writing workshops have convinced me surreal lyrics are a cop out if they're nonsensical for no purpose. Sometimes surreal free association is pretty and evocative but you can form that glob of surreal nonsensical clay into something better if you tried.
Jo (Chicago): Absolutely! You hit the nail on the head. I share with you the writer's need and responsibility to communicate something meaningful and have no patience for song lyrics that shut me out rather than draw me in. I'm not saying I only appreciate music that reflects my own viewpoint or life experience. But I gain nothing when I'm turned off by carelessly globby lyrics -- I'm not inclined to grope through the muck for some purported gem of wisdom.
A guy I dated gave me a Peter Gabriel mix tape, which was pleasant enough, but mostly just got me wondering again why it is guys have no problem going beyond sharing what they like to expecting to trigger an epiphany in you.
Nerdia (LA): I know. A few guys gave me music tapes in high school and college but I was put off by the "apropos-of-nothing" arrogance of the gesture. Like "were we even talking about music?" Looking back, it occurs to me they had no idea what I was listening to, what I was about or what I would like. They didn't even ask me. I paid no heed at the time. I just filed them under "tapes to listen to if time permits" where they sit collecting dust to this day.
My college boyfriend had the right idea. He put the seed of R&B into my head by just playing it for himself while I was around. My interest didn't bloom until a year or so after we broke up but then it blossomed big. I remember he had a Luther Vandross record, which led me to Patti Labelle. He had The Jackson 5 which took me into Stevie Wonder.
Jo (Chicago): Soon after becoming a Janis Ian fan, I realized Cat Stevens had done a lot of things I really liked (other than "Morning Has Broken," which religion classes in high school completely ruined for me). I loved the cult-fave flick Harold & Maude and made a point of collecting Cat's soundtrack contributions.
I discovered Eurythmics purely by accident. Was in a record store one day when they were playing the then-newly released the Sweet Dreams (Are Made of This) LP. The song that caught my ear was "I Could Give You a Mirror." I asked the clerk who the artist was. I thought he said, "Arrhythmics," so it took me a while to find the album.
I became a Melissa Etheridge fan when my best friend Julie bought the Yes I Am CD. With the first cut, the power of that rough-edged voice and kick-ass music got under my skin. Interesting contrast between Annie Lennox's imploding and Melissa's exploding passions.
Julie and I are both nuts about 1930s & '40s big band music. She loves Glenn Miller. I'm a big fan of Artie Shaw -- never get tired of his version of "Begin the Beguine." My love of swing is a byproduct of my Garland consciousness. More recently, I've enjoyed the "neo-retro" stuff Brian Setzer did post-Stray Cats and am sorry he put the Orchestra on the back burner.
Do you play an instrument? Has that influenced the choices you make in collecting music? I used to play the piano as a child (never enjoyed it -- I'd wanted to play the drums, but that was very definitely NOT FOR GIRLS).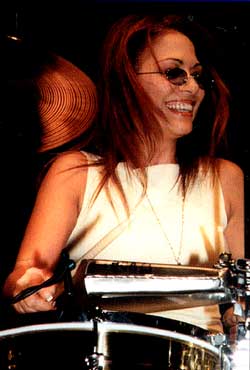 Nerdia (LA): I played clarinet (I can't even spell it because I hated it) for six months. Then I played piano for a year or two until my piano teacher freaked out and murdered her husband (stabbed him, burned him and dumped his body in a ditch). No kidding. I wasn't practicing anyway.
I too wanted to play the drums. I too was told as well that girls didn't play drums. Imagine my surprise when Sheila E hit in the 80s. I love drums in rock songs...the melodrama! I also love the piano...it always breaks my underused heart string.
Continue: Page Two: Girls & Mix Tapes; Girls in Record Stores
Ape Culture and all associated pages are
ŠApe Culture 1998-2007 and evermore.