How to Cope When Your Human
Lies to You
or
How to attend a film festival for free when all you've got are good looks
and charm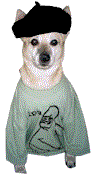 By Helga S. Ladd as told to Anonymous

Co-editor Nerdia's canine companion reports on her runaway trip to the 2003 Palm Springs Film Festival
If you're canine and have never been to Palm Springs, what on Lassie's Earth are you waiting for? Get that paw dialing! Over the Martin Luther King holiday weekend I escaped for four days into the warm, welcoming sands of the Coachella Valley and the glamour of the 13th Annual Palm Springs International Film Festival where I met such luminaries as Carol Channing, Stephen Daldry, and Lynn Redgrave.
Some of you may be wondering how an elderly bitch who doesn't drive and has no credit cards could find herself basking in the high life for four full days of swimming, tanning, catching world premiere film events, and hobnobbing with celebrities. Well, it shall be my pleasure to tell you how. But first, a little backstory to get you up to speed...
In early December my human companion, Nerdia, kept pepping me with how jealous she was that I would be spending the holidays at a fashionable L.A. area spa while she bravely faced the standard familial turmoil which plagues her pack back East. She claimed not to look forward to her irritable relatives from Massachusetts, Pennsylvania and New York intersecting for a week of tense gift-swapping, harried road trips, and perfunctory engagements ad nauseum. What a ruse! Looking back, I can't believe I actually pitied the girl as her departure date loomed and she busily wrapped presents for the "troublemakers" (her word, not mine) with whom she would be spending the much-dreaded week.
I know, I know, right now you're probably saying, "Helga, you're a brilliant and sensitive woman--how could you fall for the oldest trick in the book?" And I admit, with some trepidation, that my trusting canine instincts got the best of me in this situation. For you see, while Nerdia ate and drank and got all merry, while she visited friends, shopped tax-free, and pampered herself, my oft-ballyhooed "spa" turned out to be none other than a common kennel! In the words of that immortal Polish genius, Conrad, "The horror, the horror!"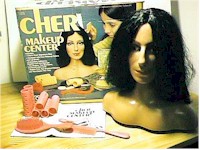 And not just any kennel, mind you, but one that permits the likes of birds, hamsters, and, yikes, rats, to cohabitate with man's best friend. You see, that Nerdia is one duplicitous wench. For weeks she deliberately talked in code, loudly telling her friends over the phone that "Helga is going to have a glorious time at the spa," repeatedly bragging about all the amenities at The Cahnelle Club (notice her sneaky faux-francaise pronunciation) right next to the Hyatt. What a fool I was to fall for such euphemistic clap-trap. But to call her a bitch would be to insult my own kind! Of course, she knew that if I knew where I was headed to celebrate the birthday of Christ, I would have bloody well protested, taking a nice long acidic piss (pardon my French) all over her rare Cher make-up head which currently goes for over two hundred bucks on E-bay.
I do not want to give my faithful readers nightmares over what transpired at the "spa," but I will say that I found myself trapped for seven unseemly days among one motley crew of four-legged plebes. My next door neighbor, ahem--hardly a conversationalist. With terrible conjunctivitis and breath to match, PeePee-DeeDee (I kid you not), a dim-witted, aging bichon frise, could only fixate on what might be on each day's menu. For hours that crud-eyed fool would verbally fantasize in vain for pepperoni pizzettes and chocolate soy-milk. By the third day I had to say, "Sista, get real! Open those pus-eyed pupils of yours! Kibble it is."
True, my friend Christopher came by to visit one afternoon--a delightful and much needed distraction from my angst (he's so handsome; I love lavishing him with kisses). But alas, our unfettered time together proved a respite too brief to console my tender, aching heart. Each night I dreamt of Nerdia being force-fed bull scrotum and yak ear wax, which helped, but the peace it gave me was always short-lived. By my scheduled mid-morning "stretch and fetch" my existential laments had returned in full force.


Clipart reenactment of Christopher and Helga at the kennel
By the third day I kicked my self-pity to the corner of my cage, and resolved to avenge Nerdia's holiday criminality. Thus, the plotting began. I knew it behooved me to stay calm, cool and collected when she and I were reunited, lest she suspect some devilish doings awaited her on the horizon. I am ashamed to admit, however, that I could not refrain from a vicious attempt to bite her when she greeted me at the airport. A misstep, perhaps, but as an initial release of my well founded hostility, it proved to be both gratifying--and clarifying. I knew then I had to hatch something grander, more damning, more delicious than even a hunk of her newly manicured hand.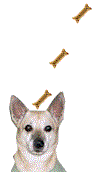 Nerdia is smart, beautiful and articulate--I can't deny it. These are her strengths, and the only way to attack them would be to capitalize on one of her weaknesses. But how? How in Old Yeller's name would I do it? And then one night when I was working out with Christopher on the cross-country cardio machines at L.A. Fitness, inspiration struck me like Newton's proverbial milk bone falling from the tree. There above us, close-captioned for the hearing impaired, were Betty White and Tawny Kitaen making strudel on the Food Network, and at that moment I knew what had to be done. I would target: a.) Nerdia's innate female jealousy, and b.) her maniacal interest in popular culture, especially anything related to Cher.
My plan started to take shape: I would harpoon her dual weaknesses by triumphantly crashing one of the entertainment industry's hottest events of the year, a media extravaganza founded by none other than Sonny Bono (and which she could not cover owing to large Christmas credit card bills). And to make the revenge that much sweeter I would utilize the growing stature of Nerdia's magazine to make it all happen!
On January 15th, while Nerdia was busy toiling in the cut-throat world of agricultural software down in Torrance, I sat down at our home computer, carefully recalled her password--Mo' Better Meatty Meat Burger (thank Lassie I remembered that second 't' in "Meatty!")--and called up all the highly confidential Ape Culture financial records and statistics. From this information I fashioned a bevy of official-looking documents: a letter "written by" Nerdia assigning me to editorial coverage of the Festival; a confusing and nonsensical, but highly convincing, spreadsheet of demographic readership figures; and a superb article written by Christopher, the by-line of which I changed to my own name. I then called the Festival Box Office, asked to be transferred to the Press Desk, and with a fabulous mix of authority and nonchalance informed Lisa, the gal who answered, that I would be in town covering the last four days of the festival for Ape Culture, and would she help me iron out the details of screening and symposium access? When she claimed unfamiliarity with the publication, I proffered a few choice comments which recolored her suspicion/ignorance into a badge of imbecilic shame, a badge that of course she desperately wished to discard (you know the egos of those cineastes), thereby leading her to do a 180. She fairly fell over herself to register the famous writer Helga S. Ladd, and sprinkled promises to assist with any and all administrative details upon my arrival in a few days.
Speaking of badges, once I concluded my call with the newly solicitous lackey--I mean, the lovely Lisa-- at the Press Desk, I snuck out on the deck, hopped over the railing (no small feat at my age) and headed out to Kinko's in Marina del Rey where I created an amazingly officious press pass, laminated and all. On one side I had Ape Culture's renowned logo and on the other, my business card with photo. I could barely contain my excitement with how well everything was falling into place. On the way home I didn't even stop to terrorize school-age children, so intent were my deliberations over which collars to pack.

The night before my departure I barely said a word to Nerdia. Which was difficult since the new Star Search with Arsenio was on. It took my every ounce of discretion not to bark out, "Nah, nah, nah, nah, I'm going to Palm Springs, and you're not." Somehow I kept my snout shut. Nerdia asked me a few times why I was smiling, since the comedians on the show weren't that funny. How could I not smile? I knew that while I was sidling up to Franco Zeffirelli beneath the hot desert sun, luxuriating in a scintillating conservation about what it was like to work with Cher on Tea with Mussolini, she'd be planting her pale white ass on the couch to watch the Golden Globes (maxed out credit cards = no new dress = no getting by Joan = no red carpet coverage by Ape Culture this year!). As a parting gift I made sure to tinkle on her favorite sofa cushion to perfume it for Sunday night's lonely festivities.
While Nerdia slept the morning of January 17th, I gathered up my documents, sunglasses, Ban de Soleil, beach towel, breath mints and lavender peignoir (if Connie Francis taught me one thing, it's that you never know who you might meet "Where the Boys Are…" in Palm Springs). Christopher was leaving at 6:00 A.M. to catch a 9:15 film, so I caught a ride with him and was out of the house before Nerdia even got up. As I left no note, I can only imagine her shock and despair when she found me missing…dognapped?…spontaneously combusted?…in her empty living room. Her cries to the many framed posters of Cher would have to remain unanswered for four long days.
Christopher kindly offered to put me up while we were in town together, but as he was staying at a clothing optional resort, I had to decline. I know I've got a damn sexy body--the considerable width between my legs is remarked upon for a reason--but I didn't think I could tolerate the excessive attention I was sure to invite. After all, I was here to watch films, relax, eat well, eat--I mean meet--fellow celebrities, and worship the sun--not spend every waking minute fighting off the erections of every man in sight and the jealous stares of their wives.
Consequently, I went down to the senior center. Palm Springs is primarily populated by retirees, and gay men, including many gay male retirees. At the Center I knew I could meet some nice old nelly gentleman who would host me without ulterior motives regarding my body. Thus, I met Nelson P------, who has become dearer to me in four short days than Nerdia has in fourteen long years. As a long-term residence of Palm Springs, and a former costume designer for Paramount, Nelson was nothing less than civic and social serendipity. Not only was he an excellent guide and companion, but the Frette sheets on his guest bed were to die for! As if I could ever sleep on standard pile carpet again!
When Nelson and I arrived at the Press Desk Friday morning I was quickly and graciously attended to. A mere mortal shells out $350.00 for an all-inclusive pass to the Festival, a member of the press, $125.00. With a little bit of sweet-talk I managed to knock this figure down to the ever more attractive $0.00. That's right--ZERO dollars. Nerdia would be furious at the mention of such a windfall. With my shiny press badge draped around my exquisite neck I then set out on my film-going odyssey, anxious to catch some Norwegian, Vietnamese and Welsh films so that I wouldn't have to be needlessly fatigued by reading subtitles.
After screening sundry documentaries, feature films and shorts each day from morning to night, my favorite film was, paws down, Nine Good Teeth (USA, 2002, 80 minutes), an extremely entertaining and often emotional documentary which explores the life of Mary Mirabita, a 102 year old Brooklyn-born spitfire of Italian heritage. Directed by Mary's grandson, Daniel Halpern, the film recounts Mary's life history as one of thirteen children born to immigrants from the small Italian isle of Stromboli. Halpern conducts interviews with Mary, as well as her only daughter, Maria, her nephew and two surviving sisters. What emerges is an extremely candid glimpse at Mary's life as daughter, wife, mother, and in later years, the feisty central figure of a large, extended family.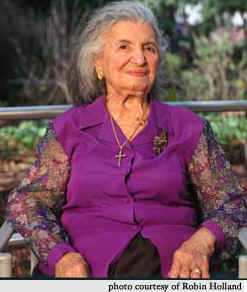 A woman of sensational vim, Mary, at the age of 102 trucks on as the image of self-sufficiency. She maintains her own household, makes her own breakfast, prepares lasagna for family meals, all the while dispensing biscuits of wisdom (and some often bawdy stories). She even asserts, in one candid exchange with her grandson, that she does not doubt that she is still capable of achieving orgasm if the circumstances are right. When she shares such information, it's not with a self-serving sense of humor, but rather with a refreshing directness--one of many unvarnished takes on her and others' strengths and foibles.
This is a lady whose only infirmity is a slight limp requiring the use of a cane. Her mind is as sharp as a spiked collar. Never does she repeat herself, never do we see an ounce of forgetfulness. She is not afraid to talk about mistakes and regrets alongside delicious joys. And so with humor, anger, and often revelatory emotion, Mary limns her own twilight self-portrait. The additional interviews with relatives, and judicious editing of old family home movies, help to balance and further enliven the proceedings.
In a life which spans the entire 20th century and bits of the 19th and 21st, Mary Mirabita makes us regard the details of our own lives as she shares the shiny facets of her own. What emerges in the end is a story that extends beyond the extended life of one woman; yes, Nine Good Teeth brings Mary Mirabito close to our hearts, but it also leads us to think about, to question, a raft of complicated issues--the immigrant experience, the ravages of war, the frailties of marriage and the rigors, joys and mistakes of parenting.
Moreover, I think this film struck a profound chord with me not only for the tremendous vitality, gusto and wry sense of experience with which Mary Mirabito conducts her life, but for a more mundane personal reason On June 17th, Barry Manilow and I will be facing another birthday. He's gliding through middle age. I, on the other paw, will be turning 105 (15 human years), and I could not help but marvel at the eerie parallelism of my watching Nine Good Teeth in January 2003 at the age of 102, the same exact age as its subject. Like Mary, I know the joys of autumnal orgasm. And like Mary, I still love a good lasagna. And not to be vain, but I have oodles of good teeth.
Still, the commonality of our ages continued to nag at me throughout the festival, like an old shoe I just couldn't stop chewing on. I had to wonder: was it kismet, mere coincidence, or a Message from Above? Nelson suggested that we should look for financial backing from one of the studio executives attending the festival, so that maybe I too could serve as the subject of a film. My birth mother's abandonment of me, my ensuing colorful history, the untold hardships in the household of Nerdia, my talents as an oboist--so many chapters, so much rich, raw footage for a young filmmaker with a vision. Currently Nelson and I are in talks with some development people from Dreamworks and Fox Searchlight, but nothing final has been hammered out yet. (Editor's note: Remember, you heard it first in Ape Culture.)
With negotiations in full swing, I feel that for further insights into the cinematic strengths and shortcomings of the festival I must direct you to my friend Christopher's observations. Also, I have to admit that as the days and nights of my revenge progressed, my interests and commitments moved more towards the social, culminating in the closing night party at Bob and Dolores Hope's lovely home. At $300.00 a ticket, it was the place to be on Sunday night, hotter than any rowdy indie shindig at Sundance. And let me tell you, as a broad of some vintage, with 34 good teeth and a tongue to match, I'll take Bob Hope naughty in the powder room over Liev Schreiber, nude but actorly in a chalet, any day.


Helga & Nerdia

Are you a pet with similar stories of angst? Tell us about it.
Other articles about and by Helga:
Read Helga's Fat Pet Story
See Helga model Ape Culture couture
Vote Helga for Governor of California
Visit Helga's homepage
Ape Culture and all associated pages are
ŠApe Culture 1998-2007 and evermore.



Click here to learn about
the Ape editors' book
Check out the Ape Blog for the latest Ape Culture News and Reviews