Divas Live 99
A Look Back in Anger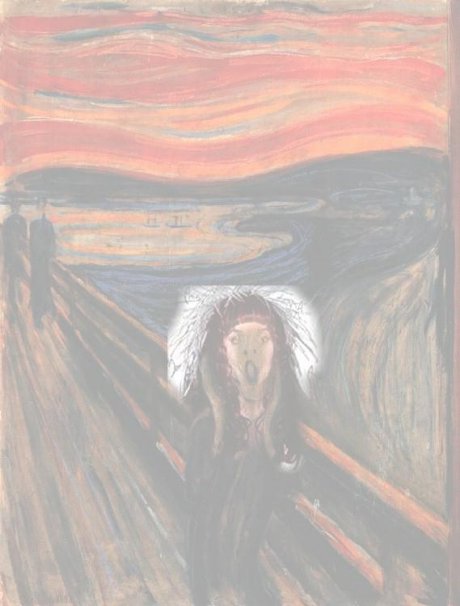 Bobbi Kristina, five-year-old daughter of Whitney Houston and Bobby Brown, sat silently on stage behind her mother as Miss Houston conducted herself with furious showmanship during VH1's Divas Live 99 broadcast. At one point, Miss Houston joked that her child was a diva-in-training, yet the little girl appeared both terrified and confused by all the attention, and was unresponsive when her mother attempted to involve her verbally. Indeed, Bobbi Kristina looked positively relieved when given permission to leave the stage. Her stupefied look seemed to say "be afraid, be very afraid," a sentiment we should all seriously consider lest VH1 should attempt next year to foist on us a Divas Live 2000.
While you read this there is a good chance that VH1 is in the midst of rerunning Divas Live 99, the multistar concert held at New York's Beacon Theatre in April to benefit the network's Save the Music Foundation. Last year's inaugural Divas Live was the network's highest rated programming event ever; common sense dictated that a sequel (and massive "encore" exploitation) was in order. Too bad this year's "extravaganza" was comparatively inferior in nearly every respect.
In fact, what might be considered the highlight of the evening was not even musical: an opening skit showcased three gals from Saturday Night Live impersonating last year's divas dissing this year's divas on the eve of the 1999 telecast; not only were they spot-on in their florid jibes (particularly Ana Gastmeyer riffing on Celine Dion's earnest excitability, and Cheri Oteri channeling Mariah Carey's dim/smug undercurrent), they provided, through the content of the sketch, a frighteningly accurate prediction of the night's impending failures. Over the next two and half hours the inadequacy of the new line-up, so skillfully lampooned by the SNL comediennes, unfurled before our eyes. Surely, this was not the intention of the producer who commissioned the skit.
Nevertheless, the spoof unwittingly provided a kind of litmus test which VH1 executives would be strongly encouraged to employ in their discussions of future DIVA line-ups well before they subject the American public to another wheezy cavalcade of neglected opportunities. The cardinal rule of this test? If you can't spoof a diva, she ain't one to begin with. Case in point: would anyone recognize someone spoofing Brandy? At this juncture, Miss Norwood, while talented, simply isn't distinct enough, in terms of her voice, appearance, personality, or artistic achievement to command the title "DIVA," or even "diva." Hell, the girl just turned twenty. Selecting her on the basis of successorship, a kind of diva-in-waiting (which is what the VH1 execs would have you believe) is a load of baloney: you are or you ain't. Case closed.
At this point we should acknowledge that tagging someone like Brandy (or Faith Hill, or any number of the telecast's "special" guests) as a diva propels the word itself ever closer to the vast void of linguistic ciphers. The term diva appropriated from its legitimate operatic context somewhere in the mid-to-late Eighties and bastardized into a kind of faux-hip moniker for petulant female superstars (Diana Ross and Barbra Streisand full-time, Madonna on occasion, etc.), has been further diluted in the past decade to include performers (primarily singers) who are major presences on the charts irrespective of temperament. In 1999 the term does not even require longevity as a criterion. As the word teeters on the edge of meaningless, it points to the larger dumbing down of popular culture parlance. In such an atmosphere hyperbole and vapidity shake hands and agree that a single mention in a national magazine promotes one from mere "modelhood" to "super-modelhood." Purveyors of this perverse mix of linguistic bloat and hollowness pepper their reporting with "cutting edge" banalities and gleefully append über to a vast array of industry subjects who hardly warrant the prefix. No doubt, the shady pontificates of such usage -- who delight in raising expectations while simultaneously lowering the bar -- populate the VH1 boardroom and were assembled in the Beacon theater for the concert. How else to explain the highers-up granting Cher permission to lip-synch and the wave of idiots in the audience who afforded her a standing ovation for her pre-recorded vocals.
The show started off okay, with a brilliant choice to commence the concert with a close-up of Tina Turner's celebrated gams stepping out of the dark plush of a limousine in front of the Beacon. The camera then followed Miss Turner in one uninterrupted tracking shot as she passed the hooting throngs assembled streetside, strutted through the lobby and through the double doors which magically opened into the auditorium, and then continued down the aisle, slapping fans' hands all along the way, before climbing the stage in her black stilettos and grabbing the microphone as the dramatic chords of "Simply the Best" (her latter day anthem) welled up and strained to be let loose by her voice. It was an electrifying way to begin. True, deep down we knew that Tina didn't fly six hours from her home in Switzerland, arrive at JFK perfectly coiffed, disembark the plane and hop into a limo which whisked her to the Beacon and its throngs of diva-rabid fans. But in moments such as these we willingly partake in the illusion because the illusion is so exciting, a joy to sustain.
Miss Turner's opening four song set (a committed but far-from-earth-shattering entry in her canon of performances) concluded with a "Proud Mary" overly excessive in its leisure. Cher joined in quite near the end of this long number, contributing little more than glorified back-up. I mistakenly assumed it was a teaser for a duet after the commercial break. After all, Tina and Cher are old buddies, Miss Turner having been a frequent guest on Cher's various 1970's television shows. Their rousing rendition of "Proud Mary" in matching, fringe-flying, baby blue sequined Bob Mackie dresses, circa 1975, is a classic diva duet.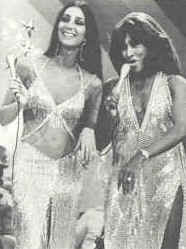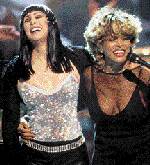 1975 vs. 1999
There was no after-commercial duet and things went downhill after Tina left the stage. In fact, the toboggan violently crashed with Cher's lip-synched version of her global smash "Believe." Am I mistaken, or was not the evening entitled Divas Live 99? Oh, no, excuse me -- Divas Live '99. How could I forget how the enormous tentacles of hype for this event extended into the realm of titular capitalization? Yes, yes, I know, part of the charm (gimmick?) of "Believe" is that little bit of "fun" computer alteration to Cher's voice at the end of each verse, but after watching her hit the comeback trail and lip-synch this hit on every talk show across the land for the past few months, forgive me if I was disappointed/shocked/disgusted that Cherilyn LaPierre Sarkisian Bono Allman had no qualms appending Vanilli to her long list of surnames.
Let us consider for a moment the creature called Cher. Despite her embarrassing and minimal contribution to the evening, she certainly earned her berth at this event. Love her or loathe her, there is no one quite like her. The exotic looks, the life-long stampede into all forms of media, the colorful "private" life, and, of course, that distinctive voice -- all these things conspire to make her a true American icon. A large part of Cher's cachet -- aside from her much celebrated ability to "comeback" repeatedly -- is that her dramatic, multi-faceted "package" remains unique some thirty-five years after bursting onto the pop culture landscape; as a result, she long ago claimed her place in the pantheon of superstars such as Bette Midler and Barbra Streisand. The woman perseveres.
So how could this savvy diva be so stupid to think that her audience is so stupid that they would prefer she forego a live performance in order to preserve some dubious minor special effects from the radioedit of her song? Ergo, if Cher doesn't feel obligated to sing "Believe" live at Divas Live(!)99, I guess it means that the fans who are expected to shell out $75.25 or $60.25 for seats at her summer shed tour (ticket venues and prices announced the morning after the concert -- ah, the coincidence of it all) should brace themselves for more of the same lip-synch malarkey.
(Ed. note: Cher did actually sing Live at both Jones Beach and Madison Square Garden and the tickets were $75.00 but $25.00 of that went toward a donation to the Children's Craniofacial Association.)
Should we simply ascribe such a phenomenal faux-pas to laziness on Cher's part, or should we extend her the benefit of the doubt? Was it her own lack of confidence in her voice, or perhaps a technical snafu behinds the scenes? In the weeks prior to the VH1 telecast Cher spoke openly about chronic stage fright. Was she indeed panicked by this event? How else to explain how little she gave? And yet during her appearance on Larry King Live the following evening she expressed no misgivings about the length or quality of her "performance." Unabashed, she was. Apparently, she's happy with the shoddy job she did and thinks we should be too.
Cher's short, dubious set, her absence from the evening's multi-diva finale, and her embarrassing lack of collaboration with the other artists, was indicative of the weak commitment and enervated imagination which dogged the show. Indeed, the structural mathematics were frightening. If one discounts Cher's minimal contribution to "Proud Mary," you are left with her singing one song -- "If I Could Turn Back Time" -- and lip-synching another. Set that beside young Brandy's meager dole of two songs and one confronts the unconscionable fact that two of the gala's four headliners got away with contributing four numbers in total (out of eighteen).
Which brings us to the unpardonable decision to let Elton John and Leann Rimes, billed as "guest" performers, suck up five numbers between them (approximately one third of the show), at which point the disappointing content and misrepresented outline of the evening became all too apparent.
When Elton's name began popping up in the ads for Divas Live 99, I had to try hard not to groan. Elton had been awarded the tongue-in-cheek distinction of serving as the evening's "honorary" diva since he is, after all, male. You get the pseudo-syllogistic logic, don't you? Divas are campy, Elton is a homosexual (gays just worship all things diva-esque), and he was both campy and diva-esque in his 70's heyday, therefore Elton is an honorary diva and a perfect fit (unlike his suit) for the show.
Once he was penciled in, one could only hope that he would be a good sport and reference his past -- perhaps show up in full vintage Elton regalia in honor of the night's spirit. No such luck. What we got instead was drab Sir Elton, the "serious" composer, the man still mourning for Diana and Versace, plunkered down behind his piano shilling songs from his freshly minted musical Aida (record in stores now, Broadway show imminent).
Before unveiling the stodgy mid-tempo "rocker," "Like Father, Like Son," Elton duetted with Miss Rimes on Aida's melodramatic ballad "Written in the Stars," the most interesting characteristic of which is that when sung by John and Rimes the song becomes a love duet between a sixteen-year old girl and a fifty-two year old homosexual. Miss Rimes then sailed into her huge hit "How Do I Live." Alas, if we can not yet rightfully deem Brandy a diva, there is certainly no room on the shelf for Leann Rimes, who, despite a stunning voice, is hardly electric as a live performer.
Sir Elton's belated addition to the evening's mix was not the only pre-show sign of trouble. Things had started to look a little rickety when the slew of "special guest stars" was announced and the original, at-the-time impressive, triumvirate of Tina/Cher/Whitney was hatched into a quartet with the tardy addition of Brandy to the final "official" line-up. Apparently, after giving us five divas last year, the network didn't want us to think the well had gone dry. But that's exactly what did happen. VH1 favorite Bette Midler was probably dismissed because of her age (you can hear the boardroom debate: "...we just signed Elton; we can't possibly have four over-fifty divas. We'll skew too old."). So instead they haul in Brandy, who's clearly out of her league, in order to get the teen market interested, and then only permit her two songs. Who should be angrier, Brandy or us?
Last year's Divas Live, while creatively packaged and heavily promoted, exceeded all of VH1's expectations in terms of viewership. But there was some justification for its success. Like this year, the selection of divas cannily crossed a number of musical boundaries. You had your legendary elder diva (Aretha Franklin), your adult contemporary diva (Celine Dion), your country diva (Shania Twain), your pop/Latina diva (Gloria Estefan) and your R&B diva (Mariah Carey). Yet one key difference was that members of the first line-up were each allotted a decent number of songs to sing.
One may even admit that, strictly speaking, the diva qualifications of these artists were in some cases questionable. Gloria Estefan, while enormously successful, is clearly no temper-tantrum prone snapqueen. She invariably conducts herself in a sane, generous, down-to-earth (dare I say, approachable) manner; the same might be said for Celine Dion who was then graciously riding high on the cataclysmic success of the future Oscar and Grammy-winning "My Heart Will Go On." And at the time of the broadcast, Shania Twain, while undeniably talented and sexy, had yet to explode in terms of crossover appeal or claim the honor of creating the two best-selling albums by a woman in the history of country music.
Ultimately, the pedigree issue proved incidental as the commitment and artistry of all five women and the solid architecture of the show's format prevailed. Each women sang three to five songs, many of which were collaborative. The roster was not cluttered with an excess of "special" guests. The only guest was Carole King, a songwriting giant, but hardly a diva in the performing sense of the word. Yet her inclusion was a brilliant choice, as she offered a satisfying weave to the evening. Miss King wrote "The Reason," the lead song on Miss Dion's latest opus, and the two ladies sang it together with obvious energy and joy. Later, in perhaps the evenings's finest moment, King accompanied Celine, Gloria and Shania on piano as they reworked her chestnut "You've Got a Friend."
In those five minutes the potential of the VH1 Divas Live concept reached fruition: where else could you see such a disparate collection of singers band together to explore the beauty of a classic song? The way in which the assembled divas tackled the multi-vocal arrangement of King's song with skill, panache and pleasure made clear that they had not only rehearsed, but also possessed some genuine interest in singing together. Although VH1's own pop-up video for the evening's finale of "You Make Me Feel Like a Natural Woman" (a Carole King composition indelibly associated with Miss Franklin) would eventually reveal that there were was some diva-esque, ego-flying theatrics behind the scenes, all five divas did indeed contribute to the mix. And unlike this year's fleeing trio of Tina, Cher and Elton (where did they rush off to?), Carole, Aretha, Gloria, Shania, Mariah and Celine all stayed till the end.
In contrast, this year's production proved itself an endless series of discarded opportunities. Little more than a year ago Brandy starred in a TV-movie version of Cinderella; Whitney Houston played her fairy godmother. On numerous occasions Brandy has mentioned to the press what a privilege and pleasure it was to work with Whitney. So why didn't they sing together? Either Miss Norwood's quite the little liar or the producers had nary a creative blood vessel in their collective heads. Indeed, why bring Mary J. Blige aboard (yet another "special" guest) to duet with Miss Houston when Brandy was probably cooling her heels backstage?
Despite four "head divas" and innumerable "special" guests, it was as if nearly everyone involved was merely there to make "appearances" rather than create actual performances. Indeed, it was only when Whitney Houston hijacked the final forty five minutes of the show that some diva worthy excitement was generated.
But first, a little background: Miss Houston's first studio album in eight years, "My Love is Your Love," received a mixed critical reception and debuted outside the Billboard Top Ten (opening -- and peaking -- at #13) in the particularly competitive sales period of December. The album's first single, the much ballyhooed Mariah Carey duet, "When You Believe" from the Prince of Egypt soundtrack, was a resounding flop with listeners, failing to crack the Top 40 in radio airplay. The album's second pop single, "Heartbreak Hotel," did eventually climb as high as #2, but overall the relaunch of Houston into the music marketplace has proven a rather bumpy affair.
With her project's initial expectations tattered (or is it smashed?), Miss Houston and her handlers presumably saw Divas Live 99 for what it was: both a worthy charity event and a much needed venue/opportunity through which to inject some heat into her marketplace reentry. And generate some heat she did. It remains to be seen if the Divas Live exposure will reignite her record sales for more than a short burst, but if it doesn't generate major impact in that respect, it won't be for lack of effort. Whitney got down at Divas Live 99, and it looked like she had a good time doing it.
Her animated, costume-changing, fast-talking, genre-crossing contribution to the evening also addressed the fact that the Whitney Houston of late prefers that you not think of her as the preeminent American balladeer of the last fifteen years. For years, as if trying to rub away some of the elegant shine her hugely successful ballads bestow upon her, Miss Houston, in interview after interview, has strove to cultivate a flippant, tough-talking persona--one that will, by design, lend her greater credibility in the urban market, the ranks of which have gotten much tougher and tighter since the days of "How Will I Know" and "The Greatest Love of All." Nor does she want you to think that a loving childhood amid a stable, musically established family residing in the upper middle-class suburbs of New Jersey has curbed her fondness for the word ain't and sassy, streetwise theatrics.
It's never quite clear whether Miss Houston honestly thinks she is the urban homegirl she would have us believe (though I tend to think she does, however delusional that may be). And even though this constant image-wrangling comes across as a little irritating, and very calculated, it is nevertheless highly compatible with the machinations of true divahood, and was thereby put to good, appropriate use by Miss Houston during the VH1 concert.
Her opening number was a busy, high-energy rendition of her recent club smash (and just-released pop single) "It's Not Right, But It's Okay." In a vacuum-packed, hot-pink leather pantsuit Houston strutted, preened and whooped as a bevy of her homegirls (clad in equally tight hoochie-mama denim and tank-top ensembles) synchronously flapped about in choreography worthy of any current Jay-Z video.
Whitney then mentioned how Aretha (who happens to be her godmother) tore up the house last year and then launched into a cover of one of her "favorite" Aretha songs, "Ain't No Way" (like I said, the girl can't resist ain't). A duet with Mary J. Blige, "Ain'ts" was a lot of throaty give-and-take that walked a fine line between honest emotion and ornate hollering. But again, it served the evening well, giving us a gospelized glimpse at what it means to be a diva. Miss Houston was also the only performer to truly work the audience in between numbers. Once again, a good diva move.
Once Miss Blige left the stage, Miss Houston glided into the buoyant title track of her new album, "My Love is Your Love." Next came "I Will Always Love You," the biggest hit of Miss Houston's career (and to this day the best selling single by a female artist in pop music history), which she sang in an elaborate, elastic fashion. Her previous televised performances of this modern classic have been stately, elegant and powerful. But for Divas Live she thoroughly reinterpreted the song, tailoring it to the evening's context by punctuating it--in diva-like fashion--with scatty interludes, dramatic pauses, and suitably stretched syllables.
Her fifth and last number, "I'm Every Woman," served as the concert finale, at which point Miss Houston was joined on stage by the night's other performers (with the notable exception of the aforementioned elder departees). It was, however, Houston and "surprise" diva Chaka Khan (who first made "I'm Every Woman" famous in the 1970s) who commandeered the number. The remaining divas contented themselves with serving as a kind of de facto chorus.
So, yes, Whitney Houston took charge from the moment she stepped on stage till the moment the credits rolled. But she obviously spent some time considering what to include in her set. And she rehearsed. That simple. The woman created a show within a show. The applause she received was warranted. But she alone could not save the evening.
One question looms large: after all the hype, and all the disappointment, who will bother to tune in if the VH1 powers that be jerry-rig a millennial "DIVA event" next April? (Oh, I forgot, singing/dancing, photogenic ex-Mousketeer newcomer Britney Spears has seen both her debut album and first single vault to number one on the Billboard charts this winter. Is it too early to sign her up for next year's DIVATHON?) Actually, in the weeks following the show, VH1 execs revealed that there were no definite plans for a diva-cast next year; indeed, that such an event was unlikely, as they didn't want to tire out of the format. Guess what, fellas: ya already done so. These statements issued to the press suggest that the network wasn't entirely blind to the evening's shortcomings; but, of course, such glimmers of self-awareness did not prevent VH1 from trumpeting its success in various trade-ads in the coming weeks. Netting 9.5 million viewers (almost 50% more than last year), the event permitted VH1 to lead all other cable channels in prime-time viewership for the first time in its decade-plus existence. And be prepared: the network estimates that after reruns eighteen million Americans will have been subjected to it.
For those who enjoyed last year's telecast but were disappointed by the lackluster performances of this year's line-up, perhaps VH1 execs would offer as consolation the old adage "I guess you had to be there." This would explain the well-received parade of decidedly unmusical (who picks these people?) but decidedly attractive actresses (Ashley Judd, Sarah Michelle Gellar, Elizabeth Hurley) who served as the evening's emcees/cheerleaders and occasionally gushed about how everyone was having such a fabulous time. The "you had to be there" conceit was reinforced by the numerous pans of the eclectic, celebrity-laden audience, offering smiley glimpses of Donald Trump, Susan Lucci, Paul Shaffer, and Martha Stewart, among others.
Only Donatella Versace looked unimpressed. She was the real life equivalent of the SNL spoofers who opened the show. Yet the repeated close-ups of her indifferent visage seemed less an ironic comment on the evening's hodge-podge blandness, than a desperate commitment on the part of the cameramen ("Damnit, Joey! We've got to catch her with a smile at least once! This is, after all, Divas Live 99! You want this gig next year, don't you? Goddamnit! So, try again after the next Jennifer Love Hewitt ad...") to preserve the inflated feeling of the telecast. Too busy tapping their toes to the pre-recorded bleats and bleeps of "Believe," it looks like they plum forgot that Donatella is good friends with Madonna and knows a hard-working diva when she sees one.
Share your feelings on VH1's Divas here.
Read reviews of other Diva-laden specials.
Ape Culture and all associated pages are
ŠApe Culture 1998-2007 and evermore.



Click here to learn about
the Ape editors' book
Check out the Ape Blog for the latest Ape Culture News and Reviews