The 2003 Palm Springs
International Film Festival
To many film enthusiasts January means not only the start of the New Year, but also the arrival of The Sundance Film Festival, with its edgy indie fare and high glam quotient. This year was the 20th anniversary of Robert Redford's brainchild, and more than ever it remains the place for undistributed, intelligent films to appear in the hopes of securing a distribution deal. Yet for all the fanfare--creative and financial--which buoys Sundance's presence in the public's mind, there is another major film festival in January that perhaps does not receive the attention it deserves.
Now in its fourteenth year, The Palm Springs International Film Festival shares far more with Sundance than three overlapping days on the calendar. It too offers a well-chosen mix of modestly budgeted, ambitious films and a wide array of compelling documentaries. Peppering the schedule are also "Spotlight Screenings" and features in "The Masters Series"--dual showcases for art house fare by major directors soon to be in wider release.
In at least one respect Palm Springs surpasses Sundance--and perhaps any other American film fest--and that is in its monumental coverage of foreign language films. Among the 200 films screening this year, more than half were from abroad, including features from India, Poland, Norway, Turkey, Venezuela, Yugoslavia, Germany, Bangladesh, Bulgaria, France, Thailand, Sweden, Iceland, Israel, Denmark, Iran, Brazil, and the Czech Republic.
The late Sonny Bono, who before becoming a member of Congress, served as Mayor of Palm Springs, had the clout and commitment to initiate and oversee the festival when it began in the early 90s. He knew that in a world in which you can spend 365 days of the year at one festival or another, there need be a way to distinguish his adopted city's festival from the scores of others dotting the globe. His solution--make Palm Springs the destination for independent, international fare. In this way, the festival has become both a marketplace for foreign films looking to land a U.S. or international distribution deal, and an exciting clash of content and technique representing myriad cultures. This year's slate was no exception to that mission; indeed, nearly all of the films submitted by their respective countries for consideration as Best Foreign Language Film in this year's Oscar race were screened during the twelve days of the festival. Forty five films!
So many films, so little time
How does one go about selecting which films to see when you have a veritable smorgasbord --200 pix (each screening at least twice), some starting as early as 9:00 A.M., others ending after midnight? Pick a category--documentaries, European language, Bollywood--and you could very well view anywhere from two to ten such films per day. With this embarrassment of riches at hand, it is easy to feel somewhat overwhelmed by all the options.
One of the guidelines I used for selecting films to attend were finding those which investigated the fluid boundaries of gender identity, and its attendant impact on social and familial dynamics. Even with such a relatively narrow key for content, there was no shortage of choices.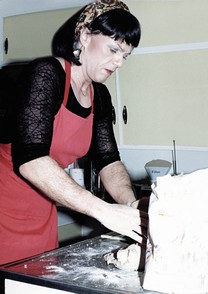 The first film I saw was All About My Father (Norway, 2002, 77 minutes), the subject/ direction of which appears to be a first in the field of documentaries. Twenty-six year old director Even Benestad set out to make a film all about his father Esben, a well-respected doctor, sportsman and politician in their hometown…who just happens to live a considerable part of his life as Esther Pirelli, a transvestite activist. Esben makes no secret of his dual identity and Esther is seemingly accepted by the community at large. But those who love Esben/Esther most deeply--his children, his former and present wives--how truly accepting are they? This question, and its complicated, even murky, answer propel the film.
Esben is profiled at home, at work, at play and on the political front. We see him applying his make-up; sailing in full drag with big muscles on difficult waters; speaking to major applause at a conference for transgender rights, his second wife Elsa at his side. We see him comfortably putting on manly, muddied gear as he sets out early one morning to paint and repair the underside of his sailboat, and still later, at ease in bra and panties, his penis expertly tucked away.
The genius and beauty of Esben's existential position is that he does not feel he must be exclusively male or female; he has no interest in being a "feminine" man, nor in becoming an actual woman through transsexual surgery. He asserts that he is female, and male. He views himself as a man who is "equal parts man and woman." His body is merely the vessel carrying these two distinct interior selves, an assertion confounding to many around him.
Ergo, what makes him most fascinating as a transvestite is what he is not; that is, when dressed as a man, he is fully masculine in the conventional sense of the word, just as he is exuberantly "feminine" when in female guise. Gestures, voice and manner decidedly shift, but core markers such as humor, sensitivity and ideals remain intact.
Yet, while Esben/Esther views his identity as largely integrated, his adult children struggle to understand his duality, most notably his daughter, Elisabeth who speaks repeatedly of her fear of losing her father, the man, to Esther; she "can not bear" the idea. Both she and Even explain how they can relate to Esben as Esther, but not to Esther as their father. This conundrum is at the heart of the family's dilemma.
Beautifully shot in black and white, the film is painstakingly composed, but never to the point of distraction. Quick interstitial stop motion sequences of Norwegian exteriors swollen with saturated color provide punctuation to the interview segments.
One of the most harrowing sections of the film is footage of Even's mother (Esben's first wife) who recounts what it was like to discover her husband's secret life as a cross-dresser, its ensuing damage to their marriage, and the reevaluation of her life which it triggers many years after their divorce. These segments are shot in cropped close-up, focused tightly on the woman's pained eyes as she relives her past. We are not privy to the particulars of her mouth, the part of her hair, so close is the camera's field of vision. While this sounds claustrophobic and static, in practice it's anything but; intimate and animated are more apt.
Benestad is clearly at one with his camera, and as a documentarian he is not afraid to ask difficult questions of his subjects. But, in the end, something naggingly opaque drifts across the film. A quandary emerges: although all the members of his family speak with great candor about their relation to, and perception of, Esben/Esther, they are such an intellectualizing bunch that at its conclusion the emotional texture of the film feels rather imbalanced. Although arguments and observations are put forth freely by father, daughter, son, step-mother, they often remain philosophical in nature (unlike the stories of Esben's first wife), leading one to question whether such complex discussion becomes a sophisticated way to avoid the raw bones of the matter, the wounds which link these people in love and anger, bewilderment and understanding.
In this respect, All About My Father, while always interesting, walks a fine line between the satisfying and frustrating. Still, it is well worth recommending, as its visual flair, unusual subject, and committed inquiries make it quite unlike anything you might have ever seen.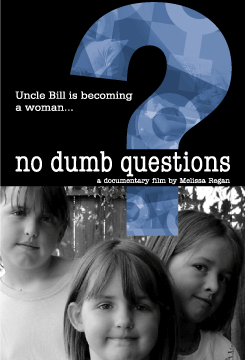 If the interviewees of All About My Father present a truth somewhat hampered by its intellectualized conceits, no such barriers inhibit the subjects of Melissa Regan's documentary No Dumb Questions (U.S.A., 2001). At 24 minutes, No Dumb Questions is the shortest film I viewed in Palm Springs, and yet its concision is part of its strength. Its subjects are three sisters, ages six, nine and eleven, who speak with alternate hesitation and probity about the impending transformation of their Uncle Bill into Aunt Barbara through transsexual surgery.
From a technical point of view, No Dumb Questions is strictly "documentary"; more of a document or report, than a "film." It is competently edited but shot on video in truly rudimentary fashion. Yet its technical limitations remain almost beside the point, so refreshing and illuminating (and often hilarious) are the insights the three young girls offer about the fixity--or lack thereof--of gender, and its repercussions.
In preparation for their Uncle's first visit as Aunt Barbara, the girls' parents insist that there are "no dumb questions," and encourage them to ask about anything and everything. This leads to questions both surgical and social, and comments on everything from public restrooms and school politics to fashion implications, and, of course, love and prejudice. They describe not only their own feelings, but also their observations about how others relate to men, women, and those who have to have "a switcheroo," as the six year old casually puts it.
Although their ages determine varying levels of articulation, what clearly unites the girls is an expressive freedom stemming from the open-minded and supportive environment in which they are being raised. These three share a sense of camaraderie and intimacy, an ability to finish each other's sentences, and to disagree with equal parts ferocity and sensitivity.
So much of what they have to say is simply said; let me be clear: not that what they say is simple, but rather that it is simply said--not an ounce of the disingenuous taints their observations. These three are feeling and reacting, facing questions and surprises, and we remain privileged to accompany them, however briefly, on this journey of discovery and reassurance.
None of the girls self-censor, and it is through the expressive freedom of their thoughts that we are able to glean so much. One of the most startling facets of the film is how the impact of social conditioning from the "outside" world--i.e., awkwardness, concern or fear about transsexualism--increases in almost direct proportion with each girl's age. In fact, the youngest niece, at age six, is nearly indifferent to the issue right from the start. Her imagination, so viable and open, understands her uncle's wish (and right) to become a woman as something simply to accept, rather than judge.
The power of such a position is palpable, and alludes to Rousseau's notion of the childas innocent beast. To her credit filmmaker Regan does not feel the need to point out this, or any of the film's numerous other revelations, via talking head shots of psychiatrists, social workers, etc. She lets the girls talk--and how they do!--and we are rewarded with the genuine pathos they summon without fear. Indeed, while the film's brevity is part of its strength, one could not help but wish to spend more time witnessing these remarkable young girls and their eye-opening view of the world.

With Bellissima (Poland, 2001, 69 minutes), I moved from tender and progressive parenting to a vision of motherhood gone awry. Selected as one of three young filmmakers "to watch," Artur Urbanski was given $150,000 by a Polish televisionnetwork and commissioned to create an hour long project. Raising his ambition, he set out to make a feature length debut film in 17 days. The sometimes lurid, occasionally digressive, often familiar, but wholly interesting Bellissima is the result.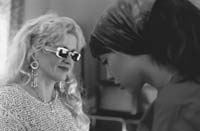 Held together by the firecracker performance of stage actress Ewa Kasprzyk, it follows Elzbieta, middle-age proprietress of a working class hair salon, as she sets her sights higher for her beautiful 15 year old daughter who has the requisite looks for couture fashion modeling. With her big bleached hair, talon-like nails and proclivity for loud arguments, Elzbieta first seems a bit of a monster, and one worries that the character will devolve into caricature. But Kasprzyk very capably shades her performance, so that Elzbieta's cheap glamour and worn vulnerabilities, her chronic love and desperation, all coalesce into a fully etched characterization.
It is a persona reminiscent of Brenda Blethyn's Oscar-nominated portrait of blowsy stage-mother, Mari, in Little Voice. Here the acidic neediness is more tempered; one is forced to acknowledge that this selfish woman does want a better life for her daughter. Whether this desire is the engine or caboose to her own vicarious (and substantial) needs remains the big question. The strength of the writing and Kasprzyk's performance help sustain the challenge of deciphering this difficult equation.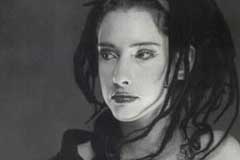 As Maria, the daughter, Maria Goralczyk is less effective. Her undeniable beauty serves the story, but there is a placidity to the performance that does not quite work. The central drama of the film rests on Maria's various stages of reluctance in becoming what her mother envisions. Her pouty, often silent disconnections with these wishes do move the story along, but are not satisfying enough in terms of character. I was never quite convinced that Maria knew why she was rebelling against Elzbieta's plans (is perhaps that adolescent not-knowing the point?), but I believe that the movie would have us believe it is because she fears becoming too much like the vulgar, appetite-laden creature that is her mother. Unfortunately, this intention is not fully served by either Goralczyk's performance or the underwritten aspects of her character.
I saw this feature with my friend James. Prior to the screening, I offered him a one sentence synopsis of the film, something along the lines of "Ruthless Polish stage mom does what she has to do to get her reluctant daughter to the top of the modeling biz." He rolled his eyes and said, "Let me guess. Sex, drugs, death, etc., etc., follows…" Well, yes, James. And let us not forget abortion, molestation, illegal adoption, a menage á trois and numerous broken curfews. Urbanski's film encounters no melodramatic situation which it does not embrace, but this is part of its charm, for these elements are not merely piled atop another, but rather, conceived and felt. The story remains convincing despite itself.
But after throwing in everything but the kitchen sink, the filmmaker does trap himself. The telescopic ending, where things are tied up rather too neatly (and without adequate explanation) is the film's greatest weakness. Nevertheless, Kasprzyk keeps the film aloft on her tight-dressed shoulders, and it remains a game entry in the catalog of films about controlling mothers, one more worthwhile companion for Gypsy, Little Voice and Mommie Dearest.

If Bellissima posits modeling as a dangerous illustration of consumerist aspiration, Pretty Boys (Canada, 2002, 47 minutes) balances this image as it documents the slow rise (and staunch persistence) of a young male model at the beginning of his career. Filmmaker James Dunnison follows a twenty-one year old lad from the working-class hinterlands of Canada, who, once scouted by a vacationing "booker" seizes the chance to hit it big in the competitive world of male fashion modeling.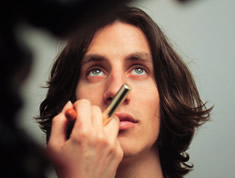 Very skinny and "born with this big nose and nice lips," Kelly Kreye is neither Marlboro Man nor preppy blond beauty. His look is very "contemporary," "edgy," and "today," to use the parlance of the assorted industry insiders who in zippy interview segments provide behind-the-scenes insights (rarely dumb, often lacerating).
Kelly's eyes have a sexy, sleepy look, but they are wide open. What makes him such an appealing subject is his unexpected humility and pragmatism. He understands that success is more than just good genes; that it must emerge from equal parts luck, professionalism and the competent handling needed to secure opportunities.
And he is not alone. There is the world weary nineteen-year-old from England, cigarette dangling from his bee-stung lips, who nods to the tenuous demands of the business, who knows he's lucky that last year the decision-makers were looking for "thin, blonde, sickly looking boys," a persona which he captures perfectly. This shrewd self-awareness and unblinking view of the industry provides makes for compelling surprises. Whether this pale, spindly Brit who made a decent penny last year will still have an "in" look this season, or find himself washed up (at least temporarily), is one of the capricious issues the film hunts. It is clear that Dunnison is not out merely to skewer models as vapid egoists; rather, he presents them as hard-working professionals who face a lot of uncertainty, professional and emotional.
As Kelly travels to Europe to compete for runway slots in the couture designers' annual Spring collections, we see just how challenging the industry can be for a newcomer. Submissions by agents translate into a limited number of "go-see" interviews, which may become "on-holds," which then might turn into actual bookings. The numbers in this procedure are ever-diminishing and all the travel expenses are footed by the models themselves. A "throw your hat in the ring" expedition may require weeks of hopping all over Europe, a dozen or so go-sees, a few "on-holds," and maybe only one or two bookings. A lot of time and chance for a little bit of money. Or perhaps a lot. That's part of the allure. And so the model must have skin which is not only beautiful but rather thick. The frequent rejection and the winnowing vagaries of the process demand it.
So, sure it's tough, but Kelly Kreye will be the first to tell you not to cry for him. He realizes there are privileges: travel, the chance for lucrative bookings, a daily sense of adventure, and the opportunity to meet creative people, elements which more than compensate for the boredom, loneliness and financial insecurity that are also part of the job. He considers himself lucky, and we are lucky to see a film so evenhandedly directed and produced.
Pretty Boys is a documentary in the best sense of the word, one which does not set out to tear apart its subjects with glee, nor idolize them. It takes a glamorous topic and dissects it through careful, attentive filming, sharp editing and a straightforward joy in exploring a subject well removed from the quotidian, and yet resonant in its many human dimensions.

Other recommended films to look for from the 2003 Palm Springs Film Festival:
OCD: The War Inside (Canada, 2001, 72 minutes; David Hoffert, Mark Pancer, directors) Often devastating glimpse at the lives of six patients as they battle obsessive/compulsive disorder. Follows subjects ranging in age from nine years old to well over sixty. Compassionate documentary has visual pizzazz, substantial insight and, believe it or not, a great deal of humor.
Hold My Heart (Norway, 2002, 92 minutes; Trygve Allister Diesen, director) Divorced father unexpectedly kidnaps his seven year old daughter whose rightful visitation he has been denied by her emotionally scarred mother. Confidently combines the genres of road movie, family drama and police procedural.
OT: Our Town (U.S.A., 2002, 76 minutes; Scott Hamilton Kennedy, director) Documentary of inner city school in Los Angeles area where a resurrected drama club attempts to stage the school's first theatrical production in twenty years. The vehicle, Thornton Wilde's homespun classic, Our Town, becomes a test of commitment, initiative, cultural relevance and limited resources for both teachers and students alike.
Spellbound (U.S.A., 2002, 72 minutes; Jeff Blitz, director) Expertly crafted documentary chronicles the road to success for eight competitors representing their home states in the National Spelling Bee. Suspense prevails throughout. Utilizing the Bee as a microcosm of American culture and ambition, the film offers a revealing look at the racial, ethnic and socio-economic diversity of the contestants. We see how home life influences--for better or worse--participation, preparation and performance in the highly competitive spelling bee, a trajectory in which 9,000,000 annual competitors are whittled down to a showdown of 251 in Washington D. C. each May.

Have you seen any of these movies? Want to add your two cents?
Ape Culture and all associated pages are
ŠApe Culture 1998-2007 and evermore.



Click here to learn about
the Ape editors' book
Check out the Ape Blog for the latest Ape Culture News and Reviews