Kelly Osbourne
with The Sexy Magazines
Irving Plaza
New York, NY
November 26, 2002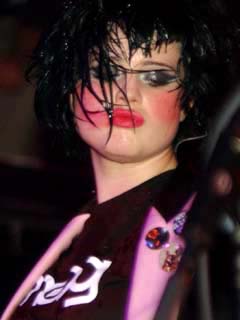 I knew that, at age 30, I'd be about 15 years older than the majority of the crowd, but I bought a ticket to this show anyway. After all, it was only $10, and as an Ozzy fan, I felt like I should support his offspring. Plus, I like Kelly. I think she's sassy, funny, and a great role model for teen girls. It makes me smile to see her on the cover of Seventeen, even if they do airbrush out her baby fat. The jury is still out on whether or not Kelly's accidental singing career will last once The Osbournes' TV popularity has faded, but if this gig is any indication, she's got the pipes and star quality to make a go of it.
I arrived around 6:45 PM, as the show was slated for an early start time of 7:00 PM, no doubt in deference to the schedules of Kelly's young fans. It was a school night, after all. The 18-year-old Kelly had signed copies of her debut CD, Shut Up!, earlier in the day at the Virgin Megastore in Union Square, but I passed on that event. A small crowd had gathered near the foot of the stage, but the venue was still pretty empty. I proceeded to the bar to get a drink, only to be told they were only serving soda pop on the ground level as it was an "all ages" show. The bartender directed me upstairs, and I found a real bar there and a handful of over-21 fans. I claimed a spot in the middle of the balcony and scanned the VIP wing of the balcony in vain for the familiar faces I knew from the TV show.
Just after 7:00 PM, The Sexy Magazines took the stage and played 30 minutes worth of alterna-pop inflected with an 80's sensibility. Their singer had a lot of style and writhed around on the stage. They reminded me of a cross between The Strokes and The Tubes. Kelly came out from backstage to watch them from the balcony, along with Melinda the nanny. Kelly cheered like crazy for the band, and they got a pretty good reception from Kelly's fans too.
Around 7:45 PM, a large TV screen dropped from the ceiling, and the second season premiere episode of The Osbournes screened to roaring laughter and applause. At the rate the concert was unfolding, I figured I'd have no problem getting home in time to catch the show on MTV that night, which was a good thing because the acoustics coupled with Ozzy's on-screen mumbling made the show difficult to hear. Midway through the screening, I noticed some action in the VIP section, and saw Ozzy, Sharon, Jack, Aimee, and Robert being whisked to their table, surrounded by an entourage and camera crew. People immediately began yelling at them to get their attention. Jack waved a few times to the crowd below. He was accompanied by a tall blond chick, but I didn't see any cuddling going on.
Kelly took the stage at 8:15 PM, to a loud ovation from the 3/4 full theater. Kelly's website claims that not only was the show sold out, it sold out in 15 minutes. I think that claim is somewhat dubious as I was able to buy my ticket online about 3 hours after they went on sale. Still, it was a pretty good-sized, very enthusiastic crowd for an artist who has only had one hit so far--a cover of "Papa Don't Preach" that was included on The Osbournes Family Album, one of the countless product tie-ins to the TV show.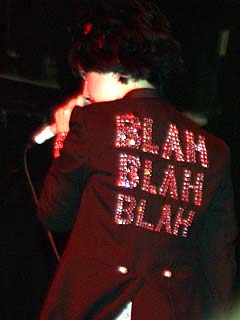 Kelly kicked off the show with her new single, "Shut Up!" She and her band (including a chick drummer, despite her protestations to Jack in the first episode that she didn't want chick bandmembers) played with a lot of energy. Kelly didn't seem nervous at all, unlike Ozzy who seemed almost too nervous to watch as he sat hunched over and peered over the edge of the balcony. Kelly looked great, wearing jeans, T-shirt, converse shoes, and a jacket that said "blah blah blah" on the back. If message clothing is coming back in vogue, does that mean I can dig my "Choose Life" and "Relax" T-shirts out of the closet?
Jack videotaped the performance, while Ozzy and Sharon watched intently. Ozzy stood up to cheer in between each song and beamed with fatherly pride. The family support must have helped Kelly, as she really gave it her all, whipping through most of the songs on her new album including "Contradiction" and "Right Here." After the second song, she started pouring bottled water on her head. She also sprinkled the crowd. This must be genetic, as Ozzy likes to spray the crowd with a water cannon and dump buckets of water on himself at his concerts. I noticed I wasn't the only Ozzy fan in the crowd, as other grown-ups behind me began to yell requests: "War Pigs!" "The Wizard!" "Paranoid!"
At first, Kelly let her guitarist do the talking, and he introduced the songs, but later she took to the mike with confidence. Introducing the song "Too Much of You," she said, "This is a song about masturbation, so I want all you guys to put your fists in the air and all you girls to put two fingers in the air." They were giving away condoms at the merchandise stand, and someone threw one onto the stage. Kelly picked it up, opened the package, and blew the condom up like a balloon, which she then tossed into the crowd while encouraging the crowd to make their own balloons. Yes, that's the cheeky Kelly we've loved since the episode where she railed against her sister for booking her an appointment at "the vagina doctor." Kelly's in-your-face sexuality mixed with her punk look and attitude and healthy-looking body makes her a welcome addition to the teen music scene--an antidote to the Britney, Christina, Mandy, and that other Kelly (Clarkson).
Midway through Kelly's set, Sharon got up from her table and began to work the room, chatting with the various record label and press people in the VIP section. This didn't surprise me, as business always seems to be at the forefront of Sharon's mind. She's quite petite and pretty in person. Kelly also seems smaller than she does on TV. Ozzy never budged from his front row seat, supporting Kelly all the way through the gig.
Kelly closed her 45-minute set with "Papa Don't Preach," bringing some audience members onto the stage to help her sing it. One girl she brought on stage held up a sign that read "Christina is a dirrty whore!" As badly off-key as most of these kids were, Kelly didn't allow them to throw her performance off. She had the whole building rocking, like a mini Joan Jett. For an encore, she and her band performed "Shut Up!" again, which was a little disappointing. I would have liked to hear them cover one of her dad's songs. Kelly concluded the show with a stage dive. As proud papa Ozzy would say, "RAWK and Rolllll!!"
Kelly Osbourne's official website
Other Ape Culture concert reviews, including many Ozzy reviews
Ruminations on The Osbournes - an essay
Take the "Which Osbourne Are You?" Quiz
Does Kelly rock? Tell us what you think.

Ape Culture and all associated pages are
ŠApe Culture 1998-2007 and evermore.



Click here to learn about
the Ape editors' book
Check out the Ape Blog for the latest Ape Culture News and Reviews