Black Sabbath Reunion In-Store Appearance
Virgin Megastore - Times Square
New York, NY
October 19, 1998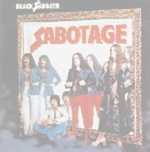 It's pretty cool that the original members of Black Sabbath have ironed out their differences and are going on tour. It's damn cool that they're doing a number of in-store appearances throughout the US and Canada to support their new double album, Reunion. But the pain that the Virgin Megastore puts the fans through in order to meet the band, that's not cool at all.
According to the full-page ad in The Village Voice, you first had to show up at the Megastore on Sunday morning to pre-purchase the CD. Then you'd get a special VIP pass for the signing. They would start giving out the passes at 9:00 AM. Then you'd get to come back the next evening and the meet 'n greet would begin at midnight, when the CD would technically be released. Those with VIP passes would be guaranteed to meet the band.
So, I roused myself at a very unnatural hour on a Sunday morning and drove into the city. I got to the Megastore at 8:30 AM and was stunned to see a line already around the block. I've been through these things before - most recently for Ozzy Osbourne when he signed The Ozzman Cometh but I didn't think there would be a huge line just for the passes. I parked the car at a meter and got on line, thinking it wouldn't take that long once they started letting people in. I forgot the Virgin Megastore policy: "Give the fans what they want - but make them suffer for it." The store has a bank of ten registers, but they made the Sabbath fans go to one customer service counter to pre-purchase the CD and get the pass. They only had two cashiers working there, while the registers up front were deserted! So I had to wait in line for almost three hours to get my pass. Of course my parking meter expired while I was on line and I was hit with a $55 ticket! I thought about presenting the ticket to Ozzy for his signature, but decided to be a good citizen and pay it. I consoled myself by admiring the VIP pass, which was a very official-looking laminate featuring the same art as the Reunion album cover.
The signing was Monday night, and I was faced with a dilemma. Since I live in the 'burbs but work in Manhattan, I take the Metro North train everyday. The last train leaves at 1:20 AM. Since the signing wasn't starting 'til midnight, would I be able to make the last train? The cost of garaging my car for almost a 24-hour period would be insane, and I didn't want to face another parking ticket. So I decided I'd go to the Megastore right after work, get at the head of the line, bring a good book, wait, pray the signing would start on time, and run to the last train, if necessary.
Monday, I left work on time and made it to the Megastore around 5:30 PM. There were about twenty or so people already waiting--less than I expected. I met some cool people on line. In front of me, a couple from Argentina debated over which CDs to get signed and talked about camping out for days to get tickets to shows in Argentina. Behind me, a construction worker from Ireland told me about all the metal shows he'd seen in the UK. He had attended the December 5, 1997 Black Sabbath reunion show in Birmingham, England where the new live CD had been recorded.
The crowd was rowdy. Several guys handed out beer, which we shrouded in paper bags and drank on the street. There were cops around, but none of them seemed to care. Some guy sang Slayer songs incessantly. A crew from a public access cable show taped us screaming and yelling and managed to get the whole line to join in on a "War Pigs" sing-a-long. We serenaded a giant photo of Babe, the pig, on one of the Times Square billboards. The good thing about spending seven hours on line in Times Square - there's plenty to keep you busy. You can watch TV, check your stocks, mock tourists. We liked lying to clueless people who came up and asked what we were waiting on line for, giving responses like Celine Dion, Placido Domingo, or soup. There were some hard core fans in the crowd, like the woman wearing a half shirt with O Z Z Y in sequins across her boobs. She had carved a pumpkin to read Black Sabbath. Everyone was excited and happy, not just because of the beer. Metalheads may not roam the earth like they once did, but they're not quite extinct. There's a definite community of spirited fans.
Around 11:30 PM, they let us into the store. Our passes were checked and we were funneled down to the basement where the signing would take place. The line snaked around the video department. A small table had been set up on an elevated platform for the appearance. Of course, some true VIPs from K-Rock (or wherever) were allowed to cut into the front of the line at this point - the bastards. I began to worry a bit about making my train, but at this point I was too excited to really care. Megastore employees handed out the new CD and we flipped through the booklet looking for the best picture to have signed. Rumor had it that they would only sign the new CD. I hoped that wasn't true, because I'd brought the Sabotage album from 1975. I wanted to get that record signed because I'm entranced by the guys' strange costume choices. Ozzy wears a black paisley muumuu, something he should have worn when he plumped-up in the 80s, and Bill Ward wears his girlfriend's red tights and a leather jacket.
Just after midnight, the guys emerged from behind a curtain and the crowd went nuts. Ozzy & Co. took their places behind the table and the Megastore security staff started shuffling us past them. I noticed that they were signing things besides the new CD, but just one item per person, so I presented my Sabotage album to a Megastore employee. He handed it to Bill Ward, the drummer, who was first at the table, followed by bassist Geezer Butler, guitarist Tony Iommi, and vocalist Ozzy Osbourne. I shook hands with Bill, who was very friendly and seemed thrilled with the turnout or maybe just thrilled to be alive, considering his recent heart trouble. He had shaved his head down to a buzz cut. Next, I shook hands with Geezer, who was also friendly. Geezer and Tony look like they're in a time warp with their curly black 70s hair. I won't hold that against them, however.
My record had already been signed by all four guys before I even got up to meet Geezer, because people clogged up the line trying to talk to Ozzy, who seemed pretty incoherent. I witnessed a brief exchange between Ozzy and the woman who'd carved the Black Sabbath pumpkin. He stared at the pumpkin with a really goofy grin on his face. When I stood in front of Tony and Ozzy, they were talking to each other and not even looking at me. The Megastore staff tried to move me along. I felt like Ralphie in the scene in A Christmas Story where he gets to see Santa, forgets what he wants to ask for, and the elves throw him down the slide without an ounce of compassion. Confronted with Ozzy, I was just as awestruck and speechless as Ralphie. All I could do was stare at his tattooed knuckles and watch his hands shake as he signed stuff. He had handlers around him giving him things to sign and he wouldn't write anything besides his name. One guy asked him to write "I am Iron Man" but he said he didn't have time.
So, I grabbed my autographed album, and headed up the escalator, taking one last lingering look at the band. I was disappointed with myself for being too chickenshit and full of Wayne's World-style feelings of unworthiness to speak to Ozzy, but I was still thrilled just to have seen these four godfathers of metal up close. When I got outside, it was 1:00 AM, and the line was still stretching around the corner. I don't know if every fan got autographs, but I know the band was doing their best to see everyone. I took the not-so-crazy train home.
Linkage:
Joe Siegler's very thorough Black Sabbath page
Epic Records' official Reunion site for Black Sabbath tour dates and info
Other Ape Culture Concert Reviews
Post a comment about seeing Ozzy with Black Sabbath.
Ape Culture and all associated pages are
ŠApe Culture 1998-2007 and evermore.



Click here to learn about
the Ape editors' book
Check out the Ape Blog for the latest Ape Culture News and Reviews