How To Tell If You Are At Ozzfest Or Dodge Poetry Fest
(Or, how I learned to love Rita Dove as much as I love the man who bit the head off a dove)
With the number of festivals that besiege the typical fun-seeker during any given Summer, it's important to know where you are. Below we describe two very different festivals we attended this summer: Ozzy Osbourne's annual heavy metal caravan known as Ozzfest and the less well-known but also rockin' Geraldine R. Dodge Poetry Festival. We have also included a handy table to help you understand the differences between these two events. Please remember, at Ape Culture, we support both poetry and Ozzy Osbourne, as well as Ozzy Osbourne's particular brand of poetry.

What is Ozzfest?
By Coolia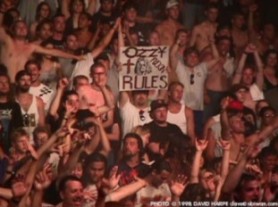 In case you have been living under a rock for the past 6 years (as opposed to rocking out), I will explain to you what Ozzfest is. Ozzfest began in 1996 as the brainchild of Sharon Osbourne, who used to be only somewhat infamous in metal circles as Ozzy's shrewish wife but now is beloved by millions and a People magazine cover girl thanks to the popularity of another one of her brainchilds, MTV's reality series "The Osbournes." Inspired by the success of a one-date Ozzfest in 1996 and Perry Farrell's Lollapalooza tours, Sharon decided to put together a rolling metal festival in 1997 and position her husband as its godhead.
The first Ozzfest tour garnered a lot of press due to the inclusion of Marilyn Manson on the bill and the controversy he brings with him. Several cities requested that Manson not play, but Ozzy stood by his man/woman/hermaphrodite and kept Manson on the tour. The press and the high-octane bill which featured Type O Negative and Pantera made the tour one of the year's biggest successes.
Since then Sharon has kept Ozzy on the road every summer and each Ozzfest has landed among the summer's top grossing tours. Many bands have made it big thanks to side stage or early afternoon main stage slots on Ozzfest including Limp Bizkit, Drowning Pool, and Disturbed.
In addition to the music which takes places on up to 3 different stages, there are carnival games, piercing and tattooing booths, information booths where you can pick up free condoms or join the marines, and lots of food and beer options. There is also an autograph tent where some of the musicians meet fans and sign their stuff.
This year, I saw Ozzfest in Holmdel, New Jersey. Highlights of the day for me were seeing Kelly Osbourne duet with Andrew W. K. on "She is Beautiful" and seeing System of a Down for the first time. P. O. D. proved mildly disappointing as they seemed to have some technical difficulties that caused poor sound quality. I thought Drowning Pool played a terrific set and were really on the verge of making it big--I was saddened to hear that their singer died on the tour less than a month after I saw them. Ozzy played a strong set and he was in good voice. His heartfelt rendition of "Mama, I'm Coming Home" really moved the crowd of tough metalheads, as he dedicated the song to Sharon who was at home undergoing chemotherapy. Unfortunately, it rained for the last 3 hours of Ozzfest, so that made for mudpit moshing and a big mess. We missed Rob Zombie as we had sought the only shelter available to those of us peasants on the lawn--the women's bathroom. Next year I'll be back but I'll make sure to get a reserved seat.



What is the Dodge Poetry Fest?
By Nerdia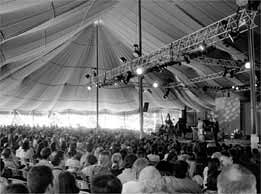 There are living poets. Believe it or not.
And they give live shows called "readings". Sometimes as many as 40 people show up. I know this because I have seen such things and have come back to tell you about it.
You won't see any underwear flinging around (well, maybe at The Nuyorican) unless you're talking about the symbolic underwear flinging in the erotic poems of Ovid. You will see poetry groupies but more often they will be bespectacled and disheveled. Spandex and thongs....yeah....you won't be seeing that.
A typical reading goes like this: a host introduces a poet with some stale accolades often written by a grad student. Then the poet comes on stage to polite or even enthusiastic applause, does a little introduction and reads about a half-hour of poems and after really deft passages, people in the audience can be heard to make short grunts (the poet-audience's equivalent to "amen" or "right on" or "you said what I feel in my soul when I'm in that particular situation you just described, man"). The session ends with a short Q&A and then the poet moves to the back of the venue to sell and sign books. They typically sells about ten copies. This is because the other poets who attend readings like this are cheap. Usually because they are dirt poor...or trust-funded but still inexplicably cheap.
The Geraldine R. Dodge Poetry Festival, otherwise know as Dodge Fest, is the largest Poetry Festival in North America, takes place every other year in Waterloo, New Jersey, and is often called the Woodstock of Poetry (mostly by it's organizers).
The festival takes place at The Village of Waterloo, a slightly rundown restored 19th century village complete with a Blacksmith Shop, Apothecary, Grist Mill, Saw Mill, Gunsmith, and Pottery Barn. As restored historical villages in New England go, stick with Old Sturbridge Village in Sturbridge, Massachusetts, or Plimoth Plantation in Plymouth, Massachusetts.
At Dodgefest, they are adamant that this is not a writers conference or a book fair. But mostly, writers go and buy books. The book tent is one of the great perks of the whole shindig. Everyone who reads there sells poetry there, their translations, their textbooks, their essays.
More fun can be had at the big tent readings, little tent readings, open readings, and multiple "conversations" on poets and the craft of poetry. The Big Shew always take place in the Village's Concert Tent, a smorgasbord of modern living poets reading their wares. Approximately 2,000 people can attend these A poetry crowd by definition is a wonder in itself -- there's lots of love in the room. But the poetry grunt en mass can be kind of off-putting.
Most of the heated "conversations" usually take place in the tiny Church and this is my favorite part of Dodge Fest. Poets and readers crammed from wall to wall, arguing about poetry and the life of poets. Philip Levine led a good discussion in 1996 and the W.S. Merwin chat in 1998 was memorable for the predictable pop culture bashing. To Merwin's credit, he reality-checked the whining. But the chats are usually interesting as the audience volleys the proverbial mental beach ball around.
The open reading usually takes place in the dark and dreary Gristmill. Stay away from the dark and dreary Gristmill. It's headache-making, with every self-absorbed diary transcriber reading from long-winded opuses on Russian Faberge eggs. It's painful even for those of us who delight and occasional peddle in our own bad poetry.
For a good book on Dodge Fest and the poets who appear there, pick up the poet groupie Bill Moyers' book, Fooling with Words. He's like the Pamela des Barres of poets. And no less annoying. His book interviews poets from the 1998 Dodge Fest including former US Poet Laureate Stanley Kunitz, Coleman Barks, Mark Doty, Deborah Garrison (of the popular book A Working Girl Can't Win), zen poet Jane Hirshfield, and former US Poet Laureate Robert Pinksy.

You know you're at Ozzfest if...




You know you're At Dodgefest if...




People gather at a corporate-sponsored amphitheatre and sit on a balding hill amid patches of brown grass that had been destroyed by the moshing masses of previous concerts
People gather at a pleasant, green, recreated historical village and tarry to and fro to readings in tents, a chapel, a gazebo, and a blacksmith's hut

People get shitfaced on Coors Light and argue about Dio vs. Ozzy

People get overly caffienated on herbal tea and argue about Petrachian vs. Shakespearean sonnets
Ozzy bites the head off a dove


The governor of New Jersey bites the head off Amiri Baraka


As 80s hair band music plays in between sets, you hear Warrant use the metaphor of cherry pie to signify womankind
Adrienne Rich uses the metaphor of a tree to signify womankind.
Women offer their breasts for Zakk Wylde to sign

Women offer their first edition copies of The Compass Flower for W. S. Merwin to sign
Bottled water: $5.00

Bottled water: $4.95 (poets are poor, after all)

There are long lines to get ID bracelets to buy booze

There are long lines to purchase the latest issue of Ploughshares
Metalheads beat up nerds

Poets verbally beat up fans of
Bill Moyers
A band member ODs and dies

Everyone is afraid 97-year-old
Stanley Kunitz might die
15-year-olds with connections in the biz wail about teen angst on the side stage


15-year-olds struggling to make connections with their peers wail about teen angst during the open mike in the gazebo

You eat a hot dog and fries
You eat hummus in a pita
A sideshow performer amuses the crowd by hammering a nail up his nose

Billy Collins amuses the crowd by reading a poem that mocks poetry clichés
Women bare their breasts

Women bare their inner pain in sestina form

$10 bootleg T-shirts are sold in the parking lot

$20 macramé satchels are sold in the parking lot

People sneak in weed, mini bottles of Jack Daniels, and switchblades

People sneak in incense and clove cigarettes

Looking at the crowd, you finally realize who buys the T-shirts for sale at Spencer's Gifts

Looking at the crowd, you finally realize who buys the batik-print sundresses for sale at Pier 1 Imports

You run the risk of getting hit by a randomly thrown beer bottle in the parking lot

You ran the risk of having an apple thrown at you if you read a poem that contains sing song rhymes

A mosh pit forms at the steel-toe-boot-clad foot of Rob Zombie as he stomps to the front of the stage

A worship pit forms around Lucille Clifton as she orders a tofu dog from a concession stand
Grunts of "Fuck yeah!" can be heard emanating from metalheads as bands finish their songs

Grunts that imply "oooh your quatrain described perfectly just what I feel inside" can be heard emanating from poetry fans as poets finished their sonnets

At the end of the day, metalheads toke up before driving home

At the end of the day, poets toke up before driving home


Who's Who at Ozzfest 2002
"Now you live inside a bottle
The reaper's travelling at full throttle
It's catching you but you don't see
The reaper is you and the reaper is me"
Rob Zombie
Since disbanding White Zombie and going solo, Rob has recorded two excellent albums and directed a horror movie called House of 1000 Corpses that has been shifted from studio to studio because it has been deemed too gory for public consumption. Personally, I can't wait to see it--it's got to be good if it comes from Rob and it also stars horror heroine Karen Black of Trilogy of Terror fame!
Black Label Society
Zakk Wylde, best known as Ozzy's guitarist with the bullseye guitar, has cast aside his cuteness in favor of a long beard and viking aesthetic. He fronts a fierce band named for his favorite beverage: Jack Daniels. Ozzy has let Zakk open up the mainstage for the past 2 Ozzfests, and in return, Zakk named Ozzy the godfather of his son (how's that for a religious role model?).
P.O.D.
These Chicano Christian nu-metal practitioners lit up the charts with their second album "Satellite." Their acronym stands for "payable on death." Their Christian message is much more subtle than Stryper's and thankfully they don't wear yellow and black leather outfits.
Down
This band is a side project featuring Phil Anselmo, the lead singer of Pantera, and member of Corrosion of Conformity, Crowbar, and Eyehategod. While not bringing anything particularly fresh to the moshpit, they do rock pretty hard in the old school tradition of Led Zeppelin and Black Sabbath.
System of a Down
These Armenian boys play furious political metal in the tradition of Rage Against the Machine (and their band name also has four words). They also have wacky beards. Their most recent album Toxicity has been on the charts for over a year, largely due to heavy MTV airplay of their video for the song "Chop Suey."
Andrew W. K.
This band isn't too smart but they're fun. Most of the songs on their album are about partying and have "party" in their title. But the frontman is extremely energetic and grubby. They are a great band to get shit-faced and bang your head to. Note the skillful use of repetition in the poetry of Andrew W. K in his anthem "Party Hard."
"So let's get a party going (let's get a party going)
Now it's time to party and we'll party hard (party hard)
Let's get a party going (let's get a party going)
When it's time to party we will always party hard
Party hard (party hard, party hard, party hard
party hard party hard, party hard, party hard...)"
Drowning Pool
This fierce Texas band graduated from the sidestage of Ozzfest 2001 to the mainstage of Ozzfest 2002 on the strength of their anthem "Bodies" which was beloved by WWE wrestling fans for its refrain, "Let the bodies hit the floor! Let the bodies hit the floooor!" Tragically, their singer, Dave Williams, died of heart disease during the Ozzfest 2002 tour, leaving the fate of the band uncertain.
Adema
This young band from Bakersfield, CA have had great success with the debut album and hits including "Giving In" and "The Way You Like It." Thanks to strong support from MTV, radio, and constant touring, they won a spot on the main stage of Ozzfest 2002 and their strong performance showed they belonged there.

Who's Who at Dodgefest 2002
Stanley Kunitz

As old as Methuselah, Kunitz recently turned 97 and has had many NYC celebrations for recent birthdays. I attended at least 2 celebratory readings, myself. Kunitz is a wonderfully charming and entertaining presence. He is always asked to read the well-anthologized "Touch Me". It's like his greatest hit. Here's an excerpt where he describes crickets trilling:
"marveled to hear so clear
and brave a music pour
from such a small machine.
What makes the engine go?
Desire, desire, desire."
Read his poem: The Snakes of September
Robert Pinksy
Former US Poet Laureate Pinsky is noted for recently translating Dante's Inferno. Many poet groupies think he's cute but he's a little on the dull side for me. His book of essays, The Situation of Poetry, has been sitting on my bookshelf for years. I just can't seem to face it.
Robert Hass
Former US Poet Laureate Hass is married to Brenda Hillman who also read at Dodgefest. Hass wrote Twentieth Century Pleasures: Prose on Poetry, a familiar textbook in college bookstores.
Rita Dove
I like Rita Dove. Her book Thomas and Beulah (the story of her grandparents' migration to Akron, Ohio) really turned me on to the book-length poem/genealogy poem. Her insights on poetry in interviews are always concise and interesting and I hope someday she publishes a poetry handbook like almost everybody else has.
One of my favorite Rita Dove poems is "Geometry" from The Yellow House on the Corner. I have a soft spot for poems about science…especially this kind of spiritual science:
"I prove a theorem and the house expands"
-----
"above the windows have hinged into butterflies,
sunlight glinting where they've intersected.
They are going to some point true and unproven."

Gerald Stern
Stern has been around for a while...he's almost a golden oldie, a poet from another era. A little old school for me.
Amiri Baraka
Baraka is more performance oriented, political poet. His presence at the Dodgefest always adds a kick of entertainment to the tribe of monotones. His recent scandal involves a poem he read at Dodgefest 2002 that implied that Jewish people may have had foreknowledge of the September 11 bombings. This was a scandal that greatly surprised me because I didn't realize people were even listening to poets make incredulous statments these days. Read all about it in the news: a Jewish group speaks out; New Jersey Governor asks Baraka to step down as poet laureate of New Jersey (Did you even know there was a New Jersey Poet Laureate? No...I didn't think you did.)
Billy Collins
Current US Poet Laureate Collins is very popular in free verse, NYC circles. He is a very straightforward poet who sometimes beats his extended metaphors to death like a long SNL skit. Collins uses a small handful of words, but his bare simplicity and humor grows on you. His poems have a brand of melancholy that is subtly moving, and his poems can be heartbreakingly brave. His spoof "Sonnet" is a good example of his wit. He has written my favorite poem to date: "Serenade" from his anthology Sailing Alone Around the Room: New and Selected Poems.



The 2002 Strolling Dodge Fest Poets
Yes, poets walk among us! Unlike other artists, poets mingle. This may be because they get acutely lonely in their garrets. Or more likely, most people don't recognize even the most famous of celebrity poets on the street. It's relatively safe. These are some of the poets who were spotted cruising Dodge Fest.
Edward Hirsch
Mr. Hirsch recently chose the book of an Ape Culture contributor for a chapbook publication which led a longer form of the book to be picked up for publication by CavanKerry Press this year. Look for Sherry Fairchok's The Palace of Ashes on bookstands soon.
Read some Edward Hirsch online: from The Hades Sonnets

li-young lee
I bought my copy of The City in Which I Love You at Dodge Fest in 1998 but didn't like it much…I felt it was willfully internal. I gave it away to Ms. Fairchok (see above).

Lucille Clifton
She gave a small reading at Sarah Lawrence while I was there. I bought her book, The Book of Light, and liked parts of it. It has some arresting lines like from the poem "climbing"
"maybe I should have wanted less.
maybe I should have ignored the bowl in me
burning to be filled.
maybe I should have wanted less."

Coolia's Picks
Ozzfest has already featured so many great metal bands that I have trouble coming up with bands I'd like to see on the bill. Here's a few:
KISS - I know, I know, they already had 3 or 4 farewell tours, but how about one more go-round? Kids who like Mudvayne and Insane Clown Posse should be exposed to the metal makeup originators. And Ozzy would appreciate some company when he goes for the senior citizen discount dinner at Old Country Buffet. Here is some of the poetry of KISS from "Heaven's on Fire":
"Feel my heat, takin' you higher
Burn with me, heaven's on fire
Paint the sky with desire
Angel fly, heaven's on fire"
Poison - Sharon tries to book acts that represent the full spectrum of metal but she has so far neglected the hair band era. Maybe she would like to forget the 80s, since that was the decade in which Ozzy bleached his hair, wore sequined gowns, and tried to strangle her.
The Donnas - These broads rock in the tradition of Joan Jett and Lita Ford. I didn't see any women on stage at Ozzfest 2002, besides Kelly Osbourne.
Steel Dragon - This band doesn't really exist, but it does feature Ozzy's and Black Label Society's guitarist, Zakk Wylde. Steel Dragon is the band from the movie Rock Star and I really dig their songs on the soundtrack. It would be fun to see them performed live (fronted by a shirtless Mark Wahlberg of course).

Nerdia's Picks
Someday I hope to see my favorite poets at Dodge Fest, including:
Stephen Dobyns - a dry academic reader but his narrative style and humor won me over in poems like "Spiritual Chickens" from his book Cemetery Nights.
Sometimes Dobyns pulls a tragic overhaul in his poems, as in another favorite about bull fighting, "Querencia". You can read these two poems in: Velocities: New and Selected Poems 1966-1992 and his how-to book Best Words, Best Order: Essays on Poetry.
I also dig the science poems in Albert Goldbarth's book Heaven and Earth: A Cosmology and the long-poem ghost/relationship poem "Two Domains" from his book Beyond ("There is no such thing as a ghost without a problem").

Pablo Neruda wrote another one of my favorites - Sonnet XVII from One Hundred Love Sonnets. As love poems go....it's not half bad. But he's dead so he probably won't show up.
This year I read Anne Carson's book-length mythology, Autobiography of Red. The long series of poems had me completely spellbound. Loved it!

Ozzfest links
Ape Culture's reviews of Ozzfest and other metal shows
Poetry links
For a daily poetry primer, check out the web site Poetry Daily.
Be sure to check out the archive there.
Read about the Dodge Fest through the eyes of Bill Moyers.
Have you been to either festival? Tell us about your experiences, preferably in verse.
Ape Culture and all associated pages are
ŠApe Culture 1998-2007 and evermore.