IPN @ Ozzfest 2000
Mars Music Ampitheater
Palm Beach, FL
July 2, 2000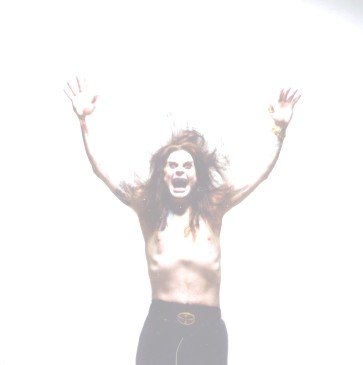 Two stages, nineteen bands, eighty two performers, five thousand (plus) fans, and only one day; Ozzfest 2000, is one of the best "festapaloozas" this reporter has ever been to. What follows is a straight forward, no holds barred, nicely divided report of the events that "OF2K" is.
Timing: Make certain that you arrive much earlier than what the tickets state. This reporter for one was upset that Disturbed went onstage at 10:15 am. Take a look at your stubs, they may state, "gates open at 11 am" as ours did. Whatever they state, forget it. You will miss one (or more) of the best bands on the tour.
Midway: Concert t-shirts, CDs, food, beer, games, people, water sprays, and more. You will definitely want to get the new Ozzfest CD. Play some of the midway games and win shirts, CDs, inflatable alcohol bottles, and all kinds of other stuff. We also recommend the "Arepa stands". These little fried corn bread and mozzarella treats are the bomb. However, make certain they don't have insects (such as mosquitoes and cockroaches) frying along side of them. We found two such stands.
What to bring: Cash…. lots of it. As fun as Ozzfest is, it is expensive. Be prepared to pay $14 for two (so called) large soft drinks and two (average sized) hot dogs. We recommend a couple coming to the fest have $50 on tap for food and drink alone. We saw too many fans at the end of the night begging for change so that they could get a bottle of water. Also, if you plan to get goodies have a lot more cash. Have $200 (or more) ready to pick up a nice collection of music, shirts, and fan gear. Cameras are allowed at this show as well so have them at the ready to catch all the band members who will be just walking around the grounds. We spotted members of reveille, Shuvel, Pitchshifter, Pod, Incubus, Godsmack, Disturbed, Deadlights, and Kittie just hanging around. If you see someone handing out stickers, tapes, or other band paraphernalia: Ask if they're in the band. Chances are they are. Bring a "sharpie" marker and anything you want signed. (They will sign arms, heads, the stuff they're handing out, and other assorted items…. but wouldn't it be a lot nicer if you had that new poster or CD you just bought with you?). Sun block/tanning lotion is another good idea. Florida was scorching hot (91 degrees, with 100% relative humidity and a tanning index of 10). Wear clothes you don't care if they get wet (even if there's no rain in the forecast).
(Drugs) Sex, (Drugs), Drugs, (Drugs), and Rock (Drugs) and Roll (did we mention Drugs?): Over 25,000 ounces of beer was sold at this great festival, and the straightforward promotion of marijuana "was in the air". Even the master of ceremonies made pro-weed statements. Having the ability to walk the entire grounds, we took advantage of the situation. It was a rare time when one couldn't smell a little "magic scent" in the air. If there is really such thing as "contact high", everyone in the place had one… As for sex? Well, there was plenty of music about it. I do have to say that Palm Beach is home to a lot of beautiful ladies. May I recommend that if you are female and attending Ozzfest this year that you should feel free to walk about in that new bikini you just bought? There were certainly plenty of sunbathing ladies this year at Mars Music Amphitheatre (did I mention you should bring your camera?).
DISTURBED: We missed these guys, but a quick survey of the folks that were on the scene all stated that we missed something fierce and incredible. The lead-singer of this band can really wail as well as hold a note! If you like real singing in the metal, don't miss the boat on this ultra-psycho metal three piece. Get there early. We give this band the "most original sound" award for OF2K.
DEADLIGHTS: When we arrived the Deadlights were already onstage and ripping into their first set. Somewhere between Saigon Kick and Geezer, the Deadlights feature a violent fusion of melodic riffs and lyrics with skull crushing ones. They have earned a certain 10 on the "mosh index".
PITCHSHIFTER: Can you say "awesome"? These guys came to the stage to take care of business. Opening up right away with a barrage of aerial and aural assaults. The energy this group possesses is epitomized in singer J. S. Clayden's aerial collection of spinning roundhouse kicks that he performs as perfectly executed as his lyrical work. On stage these guys has more inertia than a Mack truck at 100 miles per hour…. Off stage they are cooler than ice cubes. Right after the show, members came out to the side of the stage to sign autographs and mingle with fans. Pitchshifter wins the fans award.
SLAVES ON DOPE: Coming into this show we knew little of this "newer" band. The slaves put on a heavy as an anvil show for certain. Be prepared to stomp in the pit, these boys had it open starting with their first song. The slaves are an interesting bunch falling somewhere between Cannibal Corpse and Cro-Mags. They bring back much of the old hardcore metal sound, a little refreshing these days.
CRAZY TOWN: In your face rap-metal times two. The first act on the main stage was a good one. Boys in the Hood meets (early) Beastie Boys meets Faith No More. These guys are taking a number of flavors and combining them to make something a little different. If you like the rap-metal scene be certain not to miss these guys in all of their NWA-style flair.
REVEILLE: This band is living evidence that Boston can produce more than Ska groups. Reveille's show is ultra-entertainment. They may be a young band, but these guys really know how to get the crowd rocking. Imagine Rage Against the Machine with really big nuts, nastier guitars, and a big dirty bass. That's a close to Reveille…they've got a bit of their own sound in the mix as well (no wanna-bee here).
QUEENS OF THE STONEAGE: I'm still uncertain about the show the queens put on; I think these guys would be the best band to get beer and food during. The music was good, however the show was certainly low energy. Keep in earshot…get some snacks. Their sound falls between ZZTop, Smashing Pumpkins, and Blur.
TAPROOT: Best young band of Ozzfest 2K. Take a dull axe. Point the blade up. Swing it as hard as you can toward your forehead. These youngsters from Ann Arbor certainly know how to bring on the pain. The second stage pit swelled to a size only comparable to Kittie. If you like it "bring on the pain" heavy, don't miss Taproot. Best described as 311 meets Tool.
P.O.D. (Payable On Death): Funk metal born again. Their performances were hyped in the likes of CMJ. All I have to say is, CMJ under accredited them. POD put on a show that had the entire lawn section moshing. POD puts on an interesting funk-metal slam show that is almost the most original sounding I've heard.
SHUVEL: Definitely the coolest band off stage of OF2K, Shuvel is a don't miss act. Sonically, they fall between Public Enemy and Fear Factory. A great heavy show of a different sound to break things up a bit. Take a good look at these guys. You will definitely find these guys handing out band propaganda before and after the show.
METHODS OF MAYHEM: First thing first. Take everything (and we mean it) you know about Tommy Lee already, and throw it into the trash. This show opened with Tommy, a second drummer, and a live DJ ripping into what could only be described as old school Public Enemy. The tattooed, hat-turned sideways, guitar-toting rock star has definitely changed himself into something else. A few years in prison, plus mid-life crisis, plus the influence of friend TiLo has made a new monster out of the old one. However bizarre as it may seem…these guys tore the place to the ground. Take Chuck D (Public Enemy) and mix it with the Insane Clown Posse and you have TiLo/Tommy's sing/rap style, 311/Public Enemy drum riffs, synthesis, and DJ work, and add God Lives Underwater/311 Guitar stylings…. You will eventually find the raucous sound of MoM. Their show was ultra high energy with the duo of Tommy and TiLo not once slowing the pace of their running, hopping, jumping, kicking, playing, and singing. A freak show of a different type, and a damn good one at that.
PRIMER 55: This band picks up where Limp Bizkit leaves off. Very similar in sound, Primer 55 throws the funk metal rap combination into overdrive. If you liked Limp Bizkit's rendition of George Michael's Faith, then keep your ears peeled for these guys. Also, be prepared to take surges from the mosh pit. The pits in Palm Beach literally exploded when Primer ripped open their first set.
INCUBUS: Still uncertain how Incubus fits in at Ozzfest? Their stage performance will answer your question. Putting the pedal to the metal behind their tunes, Incubus came to the stage prepared to rumble. The live band is about 3 times heavier than their weaker recorded selves. Interesting enough, their radio-typical punk/alternarock sound was well done live.
KITTIE: These girls certainly know how to bring on the pain. The stage show itself was quite a bit on the slow side, however I believe that most of this is do to stage fright (welcome to 8,000 people staring at you). This being the first show, it would be expected that by the third or fourth appearance they'll have things up the speed. What the show missed was well made up for by the tunes. Keeping it tight, loud, and hard seemed natural for these girls.
STATIC X: An interesting play list. Start clean and get bigger, heavier, nastier, and dirtier. The singer had to cool down the monster-sized pits at the back of the amphitheater halfway through the show. Be prepared to stomp face and push it. Static X leaves the stage with an old Ministry biggie.
SOULFLY: We missed much of these guys due to Ozzfest turning into Mudfest. What we did see and hear was fierce. Putting on a performance that would make Cannibal Corpse look like elevator music. Never knowing Soulfly had such power made this performance incredibly enjoyable. Be prepared to have fun, when the Ministry replacement comes through.
GODSMACK: As good as Godsmack was last year, they were double this year. The slow stage show was replaced by a rock star demonstration at the highest level (complete with spinning drum stand and self-moshing on stage). As expected, they play all the radio releases and a few other favorites. Not too many surprises, just heavy as hell Godsmack.
PANTERA: Reinventing the steel is a great name for this band's most recent release. Somewhere lost between old school hardcore thrash metal, and the modern day pulse of alterna-metal, Pantera pulls off the impossible: changing their sound without sounding like sellouts. The conquistadors of metal put on a performance that you won't soon forget. The play list includes songs from every album. The single symbol showing that these boys means business is the entire wall of monitors in a big steel cage crossing the width of the back of the stage. Note to the band: I loved the bottles of Kendall Jackson Cabernet Sauvignon. They made the performance.
OZZY: The myth, the man, the legend. Ozzy's performance was nothing less than complete. Rumors and previous performances had shown the man as "getting tired and old". This show he put on in West Palm Beach had shown no such thing. He cranked out every hit from "Iron Man" to "No More Tears." On top of belting out two full hours of raw Oz-power performance, he put on a show that was incredibly entertaining. I won't ruin the surprise, but I will say "5 fire hoses, and one really big water cannon, and a barrage of videos…. including Britney Spears". Stay until the end if you can, it's worth the wait.
In the end I feel that the $50-120 price of Ozzfest is well worth the price. The bands, awesome… The shows, incredible… The memories, unforgettable… All I have left to say or recommend is bring your friends and share your experience. Make new friends. Have a blast.
Official Ozzfest site
A review of Ozzfest 98
The Gentleman of Leisure visits Ozzfest 98
Heavy Metal Love haikus, featuring Ozzy and Pantera
Other Ape Culture Concert Reviews
Post a comment about Ozzfest 2000.
Ape Culture and all associated pages are
ŠApe Culture 1998-2007 and evermore.