Black Sabbath/Pantera/Deftones
Nassau Coliseum, Uniondale, NY
February 6, 1999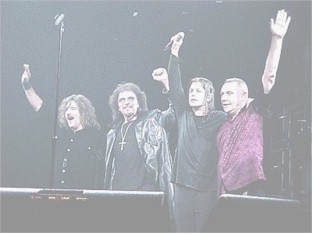 Clap your fuckin' hands and BOOM! You're back in the seventies. The place is Nassau Coliseum. The fans, guys with long-in-back-short-on-top hair and chicks with fringed leather jackets, just want to get high. The lights dim, dry ice clouds the stage, and from below, the members of Black Sabbath slowly rise on hydraulic platforms. You don't need Ozzy's prodding to make you go extra, extra, extra, fuckin' CRAZY.
I'm more of a solo Ozzy fan than a Sabbath fan, and I'm too young to be able to impart a lot of history and comparison/contrast into this review. I did see 3/4 of the original Sabs at Ozzfest 97 (Ozzy felt drummer Bill Ward wasn't up to speed for that tour) and enjoyed the experience, more for the retro light and laser show that made me feel like I was trippin' out at the Fillmore than for the music. But, after purchasing Reunion at a Sabbath signing and listening to it a lot to get ready for this show, I developed an appreciation for the band's catalogue beyond the hits "Paranoid" and "War Pigs" that Ozzy sings at every show. It's good, weird shit. When it comes to metal pioneers, Led Zeppelin may be Lewis and Clark, but Sabbath is at least the Donner Party.
Sabbath showed they have no fear of competition by picking two high-octane opening acts, Deftones and Pantera. Deftones kicked things off with a strong set, though I could do without the singer's primal screams. Then came Pantera, who got a big response from the younger concertgoers. Singer Phil Anselmo, sporting Danzig-esque sideburns, talked too much, but he's not boasting when he calls his band "the fuckin' kings of modern fuckin' metal." Phil and his amazing guitarist, Dimebag Darrell, downed shots of whiskey in between songs. New Metal cohorts from Biohazard and Type O Negative stood in the wings and joined in on several songs. Pantera's set lasted for about 45 minutes and highlights included "Becoming," "This Love" and the anthemic "Walk." They praised Sabbath and sampled the history of metal, toying with Metallica riffs and covering "Cat Scratch Fever."
Just before 10:00 PM, the lights went out and a montage of classic Sabbath footage played on the video screen. Then the band appeared and the place went nuts. Bill Ward, shirtless and huge, sat behind the drums, looking like Marlon Brando in Last Tango in Paris. Bassist Geezer Butler stood stage-right all in black, while guitarist Tony Iommi stood stage-left wearing his trademark long black leather coat (doesn't he get hot??). And in the middle, in a black T-shirt and black stretch pants, Ozzy Osbourne glared at the crowd and asserted his needs thusly: "Go CRAZY for ME!"
First, they played "War Pigs," call and response style, with Ozzy taking the lead on "Generals gathered in their masses" and the crowd answering with "Just like witches at black masses." This system must help Ozzy conserve his voice, which despite a recent bout with the flu, seemed stronger than it did last summer at Ozzfest. The second song was "N.I.B." which gives a recovering Catholic like myself chills with lines like "My name is Lucifer, please take my hand." Then came "Fairies Wear Boots" and "After Forever" and "Electric Funeral."
Ozzy took off his shirt after the third song. I noticed a couple of new tattoos. He looks damn fit for a debauched guy who just turned fifty, but really pale. And I was close enough to see that his chest had been waxed, making me wonder if he's eliminating body hair in preparation for a run at the Tour de France or to qualify for the 100 meter butterfly in the next summer Olympics. The fact that the man is still standing, even if he is shaking, after pouring so many chemicals into his body for so many years makes me believe he is capable of anything.
Ozzy did his leapfrog thing all night, never seeming to tire, though he tooks breaks between each song. He dumped water on the crowd a few times and constantly harangued us with his typical dialogue: "Go fuckin' crazy," "Get louder for me," "Let me see your hands," and "I can't fuckin' hear you." Although he shuffled around the stage like a mischevious toddler during songs he knew, he stood with his eyes glued on the teleprompter for the less-familiar. When he introduced his bandmates, Ozzy got on his knees and bowed before Tony, who was all-business, though he did smile a few times. Geezer's thumping bass and Bill's thundering beats propelled the songs. The guys really seemed to be having fun up there.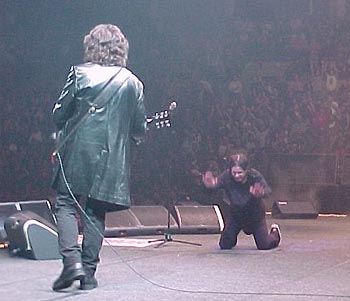 The middle of the set was reserved for the drug abuse doubleheader of "Sweet Leaf" and "Snowblind." High Times cover-boy Ozzy introduced "Sweet Leaf" by saying he could smell the weed. After "Into the Void," they played the less popular "Dirty Women," and a lot of people sat down for the first and only time during the show. After the raucous "Children of the Grave," torches ringing the stage were lit and the mood darkened for the ominous "Black Sabbath," definitely the highlight of the show. Ozzy looked possessed as he stared into space, like he was trying to focus on that "figure in black who points at me." He cut loose with that evil laugh. As Alex would say in A Clockwork Orange, "Real Horrorshow." They wrapped things up with fireworks and the classic "Iron Man," though Ozzy failed to plug the new version of that tune he recorded with Busta Rhymes.
We clamored for an encore, while Ozzy mocked our desperation from offstage: "We can't heeeeeeeear yoooooouuuu." Finally, they came out and ripped through "Paranoid." Pyrotechnics went off and confetti rained down as the song ended and they came together, locked hands and took a bow. After they exited, all smiles and vowing to return, a tape of "Changes" played to bring the room down. My ears rang for two days, but it was so worth it. Rumor has it, they'll headline this summer's Ozzfest and the black magic will continue. Oh lord yeah!
If you see just one satanic rock show this year, let it be Black Sabbath!
Some Links:
Official Reunion site for Black Sabbath tour dates and info
Joe Siegler's comprehensive Black Sabbath page
Other Ape Culture Concert Reviews
Post a comment about seeing Black Sabbath live.
Ape Culture and all associated pages are
ŠApe Culture 1998-2007 and evermore.



Click here to learn about
the Ape editors' book
Check out the Ape Blog for the latest Ape Culture News and Reviews