The Official Home Page of The Edgar Winter Dog (aka Hugs)
Hello dear fans,

My name is Edgar. You may recognize me as "Hugs", the up and coming star of stage and screen due to my much-lauded appearance on the Animal Planet game show, Who Gets the Dog?. I graciously accepted this gig in the fall of 2004 when I was lounging on my bed at the Perfect Pet Rescue Shelter (or Dog Hostel) in West Los Angeles. The show's rigorous talent scouts chose me out of a line up of wacky shelter characters due to my fabulous "I'm always on" personality and "interesting, you know, like Seal" good looks.

Suddenly, I found myself cast as the dog of the hour in a show where I got to choose where I wanted to live. I was able to sample three homes for 24 hours during which humans scrambled and begged to get into my good graces for a change. I didn't even have to work my mojo for attention from these people.

Things were lookin' up. After some hard contemplation and consultations with my consultants, Merrill Markoe, Tamar Gellar and Dr. Dean Graulich, I chose to live at the lovely but modest estate of Ape Culture in the charming West Los Angeles neighborhood of Palms.

I hope the statistics below will satiate your hunger for more information about my likes and dislikes and marital status. I have also answered a Proustian questionnaire to provide further illumination.

Love,

Edgar


Hugs, October 2004, at adoption


Edgar, January 2005

My stats
Real Name: The Edgar Winter Dog (after the famous albino rocker I resemble) – Edgar for short
Nicknames:
Edgar BILL (pronounced like Flavor Flav pronounces his name every time he enters a room)
Funny Bunny (Mary's, because he's a funny lookin bunny)
Large Head Ed (for obvious reasons)
Edgar William Bill Esquire III (for that extra bit of dignity)
Gotti Hotti (due to my naturally spiky hair)
Gaseous Clay (pig ears encourage flatulence)
My Distinguished Features Include: While my lineage is uncertain, I appear to be a whole farm in one beast. I have cow lips, a rabbit's feet and fur, and I grunt like a pig, causing my people to tease me by declaring "Who Gets the Pig?" and then laughing hysterically as if they've said something even remotely funny.
My Record for Destroying a New Toy: 7 minutes, 13 seconds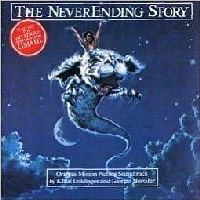 People Who Have Called Me "Cute" Counter: 67
People Who Have Said I Look Like Falkor the Luckdragon from The Neverending Story: 1
Scandalous Things I've Said: "Mr. Winkle can kiss my furry butt."
Photos and Videos of me in my natural habitat
Please download Quicktime and click the links below to watch these 15-second videos.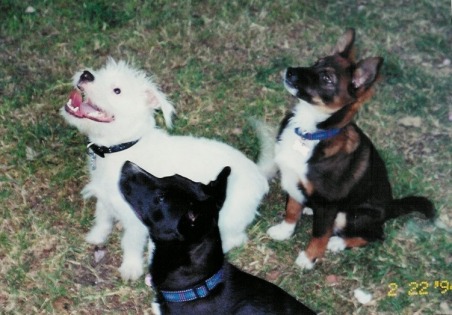 Me and My girlfriends, Kizzy (brown dog) and Zella (black dog)- Pimpin' aint easy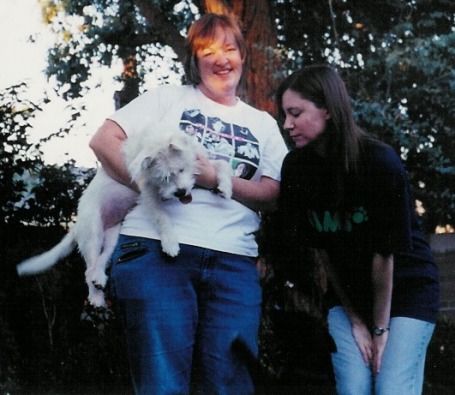 My fan club presidents, Julie and Mary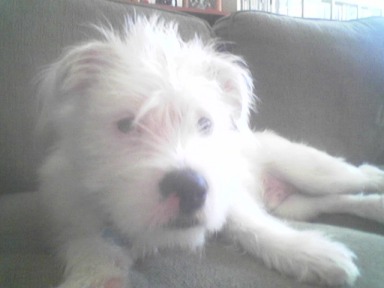 My centerfold in Playdog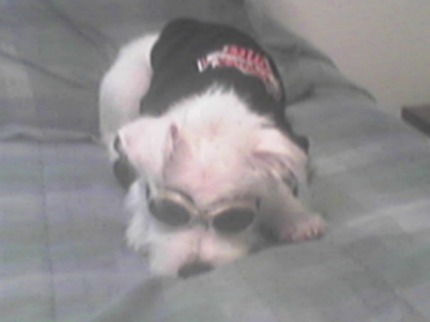 My premiere party outfit

Proust Questionnaire as answered by The Edgar Winter Dog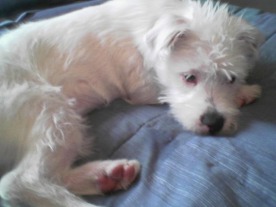 I am filled with ennui, yet my Gotti Hotti hair is perfect
Your most marked characteristic?
Some would say my large head, big mouth, pink spotted nose, copious ear hair, spiky Gotti Hottie hair (no gel required), or cow lips, but I think it's my pink-rimmed eyes that give me a perpetually hungover countenance.
The quality you most like in a man?
Tireless ability to play tug of war
The quality you most like in a woman?
Lickable elbows
What do you most value in your friends?
Endless energy for playing and a joie de vive.
What is your principle defect?
I'm pigment-challenged
What is your favorite occupation?
Surgeon, operating primarily on stuffed toys to remove the offensive squeakers
What is your dream of happiness?
A roomful of greasy pig ears and dried, petrified cow faces
What to your mind would be the greatest of misfortunes?
A dearth of greasy pig ears and dried, petrified cow faces
What would you like to be?
The next Benji, or at least Boomer
In what country would you like to live?
Scotland. I know I have some West Highland Terrier in me somewhere. I would like to explore my ancestry as well as sample fine single-malt scotches.
What is your favorite color?
Pink - as in my eyes and the spot on my nose
What is your favorite flower?
Does grass count? I like to roll in it when it's been freshly fertilized. Ah, the fecundity of nature!
What is your favorite bird?
The Cardinal - i'm a big time St. Louis Cardinal fan.
Who are your favorite prose writers?
Julie Wiskirchen
Who are your favorite poets?
Mary Ladd, Christopher Brisson, Sherry Fairchok
Who is your favorite hero of fiction?
Spot. As I am constantly on the go, I understand the impetus behind the directive "Run, Spot, Run."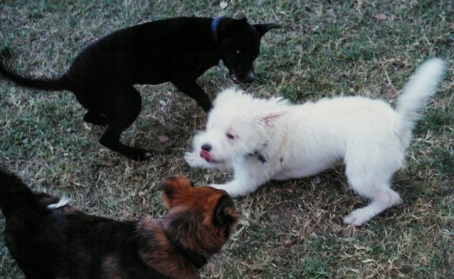 Who are your favorite heroines of fiction?
Lassie, although if I were her I'd leave Timmy in that damn well. He's nothing but trouble.
Who are your favorite composers?
Sonny Bono, Gene Simmons. They were my earliest musical influences.
Who are your favorite painters?
Warhol. He was pigment-challenged too. If only he were still with us, I would use my TV royalties to commission a series of silk screens of Alpo cans.
Who are your heroes in real life?
Perfect Pet Rescue - the kind souls who plucked me from the Downey animal
shelter
What is it you dislike?
Computers - they distract my owners from tending to my needs and wants
What natural gift would you most like to possess?
I'd like to have my balls back. Who took them? Do you have my balls? Did Yoko Ono eat my balls?
How would you like to die?
I came close to death once when I chewed up and swallowed a cell phone charger. I think I'd prefer to go in a mudslide at the dog park.
What is your present state of mind?
Bored and frustrated with these questions. I would prefer to be tugging on something.
To what faults do you feel most indulgent?
I have been known to bite my owners on their posteriors.
What is your motto?
Life is short. Eat more dried, petrified cow faces.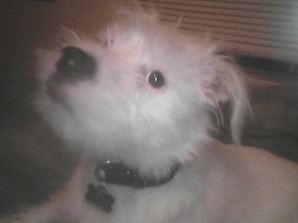 Whachutalkinbout, fans? Send fan mail!

Thanks for visiting my web shrine. Remember, I'm not just a dog; I'm a major award. Welcome to my world. Hugsworld.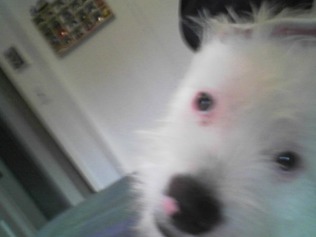 Read about how Ape Culture "got" Edgar on Animal Planet's Who Gets the Dog?
Read our response to criticism that the show is cruel to dogs.
Read the HugsGram - Edgar's personal newsletter for his fans
Check out the official Who Gets the Dog? website including the follow-up on Edgar
Leave your fan letters for Edgar here.
Ape Culture and all associated pages are
ŠApe Culture 1998-2007 and evermore.