Tutor to the Stars Burns Her Bum in LA
Day 1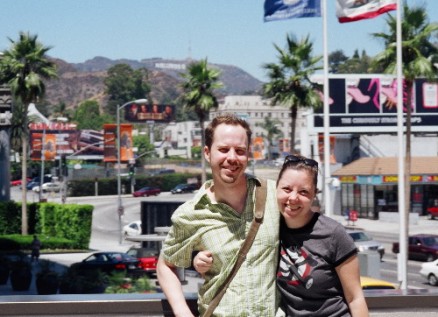 I was off, about to meet the Gentleman of Leisure at Coolia's and Nerdia's new bachelorette pad in LA.
My usual ride to the airport, my friend Christian, was out meandering in Germany, so I took a $94.00 car service, which was about the price of my flight. Sergio, my esteemed driver, and I talked the entire way to the airport, and he shared many anecdotes about himself. He told me about his hobbies, which include samba dancing and flying private airplanes. He seemed normal, until he slyly mentioned that he's a Jehovah's Witness. He explained that there's hope, because all deceased people will come back to Earth, and we will have a peaceful, one-world government. "Call me again if you need a ride back," he says. Right. He gave me a mini-bible that instructs me how to rear children in the eyes of God, and I rushed off to the Jet Blue e-ticket counter.
Thanks to Sergio's speedy driving, I arrived at the airport really early, so I got breakfast and devoured my new book, The Nanny Diaries. It's a real page-turner, but a bit far-fetched. I feel that I'm a good judge of the world the book describes, since I teach children of the rich and/or famous at a hoity-toity private school and also tutor them inside their palatial mansions. That's why they call me Tutor to the Stars.
As I boarded the plane, I became impressed with Jet Blue's efficiency. I received cool earphones and a pillow and a blanket without even asking. Like all the passengers, I had personal Direct TV, so I was well-entertained. I also liked the Real Time Tracker, which indicated which state I was flying over, allowing me to feel like I was making progress during the long cross-country flight. It always answers the question, asked by many famous tutees while on a field trip, "Are we there yet?"
Throughout the flight, I found myself watching 80s reruns of The Newlywed Game. It was great to watch couples with bad hair hitting each other with their answer cards. I also entertained myself by reading many articles about Bennifer and Jenniflec, which included a captivating and fascinating story about J Lo's surprise birthday party. It was certainly more entertaining than reading the psychology journals that I should have been reading for work.
I finally arrived at Long Beach Airport. It's a tiny airport--not much glitz, but a lot of charm. It was far less intimidating than the New York airports that I'm used to. My boyfriend, the Gentleman of Leisure gallantly picked me up. "Let me gather you luggage for you," he said while trying to take my arm. "Oh, for God's sake, I can do it myself!" Unfortunately for the Gent, I was a little grouchy from the long flight. He took my bags anyway, and we rented a car. Gent pushed for the Lincoln Town Car, but I protested, so we ended up with a basic, compact Japanese car.
We met our esteemed Ape Culture editors and headed off to downtown Long Beach for dinner at Mum's. The atmosphere was sleek and trendy, and the sushi was excellent. They did, however, price gouge us by charging exorbitant amounts. We met our surly waitress, who looked like the British doctor in ER. She seemed bitter, because she didn't get the part. Gent politely complained to her, "Pardon me, but this wine glass seems to be a bit soiled. May I please have another?" This sent her into a rage. She looked at the glass and said, "It's just the lighting in here, but I'll get you another if you insist." "Well, I never," he said, "I hope she doesn't spit in my food!" After that, ER chick said something angrily to the sushi chef. He looked at the other chef, and plainly mouthed, "Bitch!" I can't say that I've seen a sushi chef say that before.
Day 2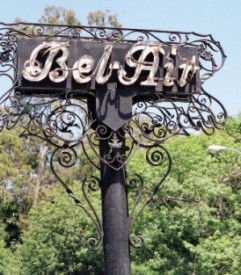 Gent and I decided to drive around and see some sights. I didn't need a star map, due to my star connections, so we nosed around, I mean, visited, the gated community of Bel Air to meet some of my employer's friends. Unfortunately, no one was home. Yeah…that's it, they weren't home.
Since no one could remember how important I am, we went to the trendy Silver Lake section of LA, where we were warmly received at the Casbah Café on Sunset Boulevard. They had a vintage clothing boutique adjoining it, friendly wait staff, delicious lunch specials, and a funky, intimate atmosphere. Gent was pleased, but a bit put off by the punk rockers dining next to us, loudly talking about their band's performance the night before.
We went to another vintage clothing store next door, where we met some hipsters with a great sense of style. They suckered me into spending too much money, while they transformed me from a New York stylin' chick to an LA stylin' chick. Poor Gent was sitting on the couch waiting for me, reading Custom of the Country by Edith Wharton, when a dachshund in the store decided that she loved him (or at least his arm) perhaps a little too much. "I think it's time to get some respite and go back," he said, as the dog became quite excited by his arm.
That night we saw the play Wigfield, featuring Strangers with Candy veterans Amy Sedaris, Stephen Colbert, and Paul Dinello at the El Portal Theatre in North Hollywood. It's about a down-in-the-dumps town that seems to have a lot of pride. Or in their words, "The can-do town that just may not." (Huh?) It was mainly hilarious, but I was disappointed in the actors who were still reading from their scripts and choking on their lines. Granted, the play was billed as a "reading," but for $40 I expect a little more. After that, we dined at the Airstream Diner, an homage to trailer living that seems a bit out of place in Beverly Hills, until you notice the prices. The food was good for late light snacking, and the atmosphere was cool.
Day 3
The next day, the four of us decided to do some serious sight seeing. On the way, we stopped at Nick Metropolis, The King of Collectable Furniture. Notice that they don't use the word "vintage" in their title, and rightly so. The outdoor furniture center consisted of a few unique pieces but mostly 1990s furniture passed off as authentic 1970s furniture that's, well, crappy. We arrived and admired the giant plastic hand chairs, in a variety of bright, primary colors, which the owner said cost a whopping $270! "Quick, they're going fast," he exclaimed to us. We took our pictures in the chairs and left.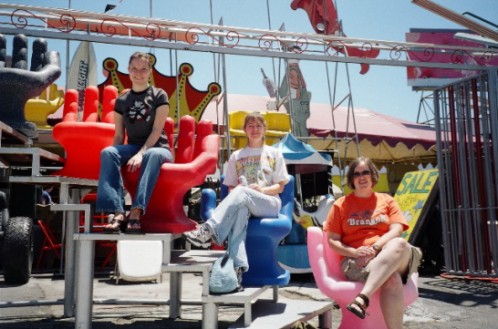 We then checked out Hollywood Boulevard and saw the Hollywood sign, the Walk of Fame, and Grauman's Chinese Theatre. Nerdia wrote down the location of Sonny's and Cher's star on the Walk of Fame, while Gent tried in vain to get a tour of the historic theatre. "Sorry sir," they said, "But you're over-qualified to go on the tour. Only those with limited knowledge of movies can attend. Also, we've seen you here many times before. First time visitors only!" So Gent just pressed his nose against the glass and peered in.
We ate lunch at the Pig and Whistle, a refurbished pub in a historical location adjacent to the Egyptian Theatre. Many old Hollywood actors ate there in between shoots. Gent gave us an in-depth historical account. At first I was impressed with his knowledge, until I saw that he was just reading the history of the restaurant off the back of the menu. The food was just okay, but it's worth the trip if you want to get a sense of old Hollywood.
We headed back to the car, and Nerdia gazed in awe at the mural of movie star alums on Hollywood High School's facade. "It's Cher!" she exclaimed. We got to the car, and Coolia feared that she had a parking ticket, due to the mysterious piece of paper on her windshield. It was a note from someone who wanted to buy her battered 1992 Toyota Corolla, complete with Ozzy decals and "I'd rather be driving my Studebaker," bumper sticker. "Oh come on," she said, "It's got to be a joke!"
We headed back to the bachelorette pad, driving past Nick Metropolis again. Amazingly, the giant hand chairs were still there, hours later.
That evening, Gent, Nerdia and I drove up the coast past Santa Monica Beach and up to Malibu. Nerdia came to a screeching halt after we stumbled across Cher's home. I tried to use my star connections to get in, but to no avail. None of my star friends travel in the same social circles as Cher's. I tried.
We stopped in Malibu at a Mexican cantina to get some margaritas. This restaurant got an "A," so we felt safe to eat there. Los Angeles restaurants are required to post their health code ratings in their front windows to let patrons feel they're making a good choice. Despite the alleged clean bill of health, we knew we were in trouble, though, when the owner tried to light area warmers (in LA, in the summer) on the patio. He set an outdoor umbrella on fire, which was quickly extinguished. We went in and sit next to a gigantic family with twenty (ok, five) kids who were all screeching. Gent held his ears while I tried to explain to him that there was a hair in my food. "Well, I'm not complaining this time," he said. So we just didn't give them a good tip, and we headed back. So much for that "A" the health inspectors gave them.
Day 4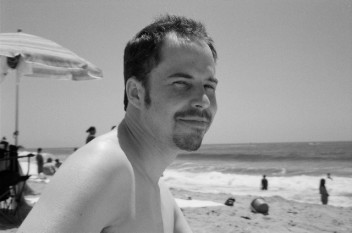 Gent was oversleeping, so I jumped on him to wake him up. "Oh dear, did I fall off my horse playing polo again?" he mumbled. "No, you just drank too many margaritas, let's go to the beach!" We packed up and headed to Trader Joe's to get some SPF 45 sunscreen. "I don't have my sun umbrella, I'm going to whither from heat exhaustion. I'm quite Irish and pale, and I'll need my shades," Gent moaned amongst the granola and tofu aisles.
I ignored him as we treaded to the shores of Santa Monica Beach. "This place is like the desert, what sort of pleasure is gained from this? Can't we frequent the local museums?" he complained. "No, it's Monday, they're closed, now suck it up!"
Never mind Gent's comments--I felt it was a beautiful beach with a boardwalk going across. It's a great place to rollerblade or ride your bike. There are some serious exercisers though, so don't get in their way!
We settled on a spot and I tentatively stripped down to my Tommy Hilfiger bikini. All of a sudden I heard a strange popping sound, and my bikini top suddenly loosened! I quickly covered myself with my arms, only to see my top in my lap. "Oh, what is it?" asked Gent, looking up from his Edith Wharton novel. "Oh my God! Put it back o-on, please!" I cried. Gent calmly replied, "You've accidentally exposed yourself! Stop crying, and allow me to fix it. It's not a big deal. Many women go topless along the French Riviera." I rolled over, while Gent adjusted my top. For the rest of the afternoon, he edged away from me on the blanket and continued to read Custom of the Country. As we left the beach, we noticed the damaging effects of the sun on my skin. "Oh, why don't you listen to me, you flighty dumpling, I see that you've burned your bum," said Gent.
That night, Coolia, Gent and I met two of Gent's friends in Beverly Hills at a restaurant called The Farm. No, it's not a farm with a red door and cows, but an upscale health restaurant that with delicious, fresh food.
We met one of Gent's friends, who asked the sleek host at the door. "Excuse me, is this 'The Barn?' " "No, try, 'The Farm?'" he replied testily. If you want to check this place out, you'll enjoy it. Just refer to it by its correct name, or else they'll get peeved.
Afterward, Gent's LA friends wanted to experience the cool LA bar scene, so we went to Nic's Restaurant and Martini Lounge around the corner. They have dim modern lights, skinny waiters and waitresses in all black, and thick, plush couches. No one is allowed to smoke. The prices are $12 for a martini. Hmmm, just like New York. We all agreed that this place has the most delicious martinis ever. Try the chocolate martini with Kahlua.
We chatted until late, then we headed back to the bachelorette pad one final time and watched Chinatown to sum up our LA experience. Gent was enthralled, but I fell asleep as he was explaining the history behind the film. Forget it, Gent--It's Chinatown!
Day 5
Gent and I left thank-you notes for our hostesses who had already left for work, and we then returned to Long Beach Airport. We boarded the Jet Blue plane, again with efficiency. We continued to read our respective books, while I took occasional breaks to check the Real Time Tracker. I was squirming in my seat due to my sun burned ass, but otherwise, the flight was pleasant. We got back to Kennedy Airport, where our brave friend Blossom picked us up. "I had to circle the airport five times. The security guards treated me like a terrorist and wouldn't let me park out in front!" Yeah, we knew we were definitely back home.
Read more stories featuring the Gentleman of Leisure
Gentleman of Leisure and the Broad of Kitsch do New Zealand
Gentleman of Leisure Reviews Dining in Yonkers, NY
Gentleman of Leisure Reviews Ozzfest '98

Read more Ape Culture travelogues
Share your LA travel tips here
Ape Culture and all associated pages are
ŠApe Culture 1998-2007 and evermore.



Click here to learn about
the Ape editors' book
Check out the Ape Blog for the latest Ape Culture News and Reviews