The Gentleman of Leisure and the Broad of Kitsch do New Zealand
October 4-17, 2000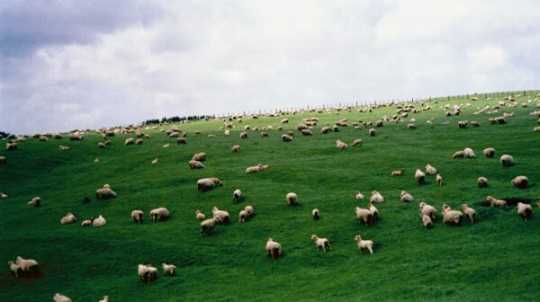 Day 1 - Welcome to Auckland
I flew from Sydney to Auckland on Wednesday afternoon and met The Gentleman of Leisure, who had arrived from New York a few hours earlier. He greeted me with a sign that read "Coolia." We picked up a Pegasus rental car for a bargain price and headed into the city. Ever the Gentleman, he had secured our accommodation for the evening at the Hotel Albion. I hadn't told him that the word hotel means pub in Australia and New Zealand, so he was a tad disappointed to discover the room wasn't exactly posh. Instead of a mint on our pillow we had a bullet hole in the window. Auckland struck me as a mini-Sydney, picturesque and surrounded by a beautiful harbor. We had dinner and drinks at the Loaded Hog near the wharf. The city seemed to shut down at night, so we ventured out to a nightlife area on Ponsonby Road that had a number of groovy bars and cafes.
Day 2 - Auckland Chainsaw Massacre
The next morning we shifted over to the YHA, figuring if we were going to get a dumpy room like the one we had in the Albion we might as well pay next to nothing for it. We visited Mount Eden which offered panoramic views of Auckland. Cows were grazing on this hill in the middle of the city. These would be the first of many, many cows we'd see over the course of the next 2 weeks. After that, we proceeded to One Tree Hill, which is a hill with one tree on it, hence the name. It is a sacred hill to the Maoris but for some reason has a monument to a dead European on top of it. The monument claims he did a lot for the Maoris but some Maoris seems to disagree--Maori activists make routine trips to One Tree Hill at night and attack the one tree with chainsaws as a protest. We noticed the tree was surrounded by a fence and had a large bandage around it. Less than a month after our visit, the tree was removed due to the damage. We visited the Auckland Museum because the Gentleman of Leisure starts to get the shakes if he's away from a museum for more than 48 hours. That night we had drinks at my company's Auckland office and then dinner at a Korean restaurant. We shopped at a record store called Real Groovy which lived up to its name. It was cavernous and full of bargains, particularly as we were traveling on healthy US dollars. I bought a few used CDs and an Easy Rider T-shirt featuring my celebrity obsession, Jack Nicholson
Day 3 - When You See the Glow Worms for the First Time, You'll Understand Why You Came this Way
We decided Auckland was nice, but basically a city like any other city. We were here to see sheep, dammit! And we'd have to get beyond the city limits. We drove 2 hours south to Waitomo Caves, noted for their glow worms and for tour guides who run rafting trips through the caves. This is the only place in the world where you can have this experience, so we went for it. We chose to go with Black Water Rafting. Their brochure claimed it would be "soft adventure" but it seemed pretty darn hard to us. We suffered the indignity of wearing ill-fitting non-watertight wetsuits and jumping off a platform into murky freezing water. This was practice for the jump over a waterfall that we'd be doing in the cave. The water level was quite high due to recent rainfall, so the water was moving pretty rapidly in the cave. The hardest part for me was early on when we had to float as flat as we could on our inner tubes as the cave ceiling was right above our heads. This was a tad claustrophobic. The waterfall jump was exhilarating and fun and we were rewarded for our efforts with a leisurely float through a cave where we could gaze at glow worms dotting the roof like constellations. The experience chilled us to the bone so the tour company provided us with hot tomato soup and bagels when we returned to the office. Although the Gentleman of Leisure normally prefers gazpacho to Campbell's tomato soup, he was pleased as punch to sample the hot beverage and managed to polish off two bowls. With full tummies, we continued to Rotorua, stopping on the way to see the Big Sheep and Big Dog which were buildings made out of corrugated iron. The Big Dog was the town visitor center--a useful Big Thing. In Rotorua, we checked into Cactus Jack's hostel. Rotorua is a volcanic city noted for its bubbling mud pools and hot springs. The town smells like sulphur, or rotten eggs. We ignored the smell and had a nice dinner at the fancy pants Rendezvous restaurant, followed by drinks and live music at the Pig N' Whistle. It was good to see Maoris and white folks mingling together in the bar. New Zealand, though far from peaceful coexistence, seems to be less polarized than Australia.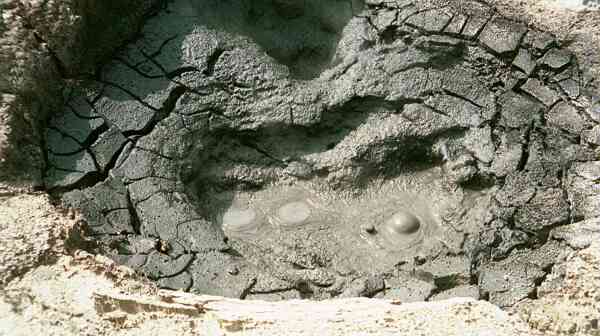 Day 4 - Your Flesh Looks Tasty to Me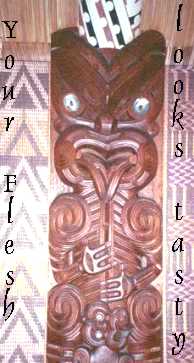 The Gentleman of Leisure decided to sleep in, so I spent the morning at the Agrodome, a farm tourist attraction. At the Agrodome, I watched a sheep shearing demonstration and learned about 19 different kinds of sheep. I met some people from my hometown, St. Louis, who posed next to a ram in honor of our Superbowl champion St. Louis Rams. The Agrodome offered several other attractions, including the Zorb, a big round clear orb. Zorbing is a Kiwi invention and Zorbers are strapped into the Zorb and rolled down a hill. I was intrigued, but still recovering from the soft adventure of black water rafting, so gave it a miss. The Gent and I visited the Rotorua museum which was very informative about Maori culture and about the volcanic eruption that had rocked the area 100 years previously and destroyed the pink and white terraces, the area's former tourist attraction. That night we attended a Hangi, a traditional Maori feast, at the Tamaki Maori Village. Our bus driver taught us to say "Kia Ora" (a Maori greeting) and advised us not to laugh at the Maori warriors when they stuck their tongues out at us. I had been seeing all these postcards with Maori warriors on them flicking their tongues around like Gene Simmons and wondered what that was all about. The bus driver informed us that the sticking out of the tongue was the Maori way of telling their enemy: "Your flesh looks tasty to me." The ersatz village was well-presented and the Maori group sang, danced and performed a war chant called the Haka which is well-known in New Zealand because it's the cheer for the New Zealand rugby team, the All Blacks. The feast was delicious, featuring meat and vegetables slow-cooked in a Hangi, an outdoor rock stove. We stuffed ourselves like ticks.

Day 5 - To Hell and Back
We toured the Hell's Gate thermal site, so named by George Bernard Shaw who felt the place gave him a preview of his afterlife. There were lots of bubbling mud pools and scorched earth. It's unlike anything I've ever seen and very freaky. Then we went to the Buried Village, which is a recreation of a town and a Maori village that were buried in ash when the volcano erupted. We finished off our Rotorua visit with a trip to the Polynesian Spa where we relaxed in hot pools ranging from 30 - 40 celsius. These pools are noted for their healing powers and the Japanese tourists sure seem to love them. We continued on our way to Napier, passing many farms and pastures. We arrived in Napier around 9pm and found all the restaurants were closed, except for one Indian place. We felt bad for keeping them late, but the meal was great.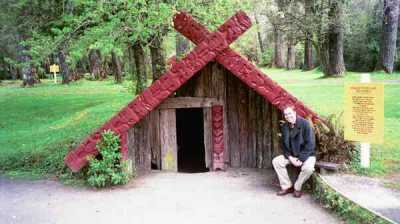 Day 6 - Is this New Zealand or West Egg?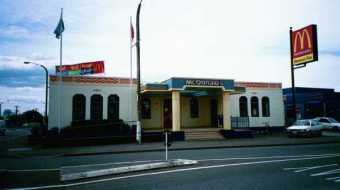 Napier is a charming city on the North Island's east coast. It is noted for its Art Deco architecture and is considered by many experts to be the best-preserved Art Deco town in the world. The city was leveled by an earthquake in the 1920s and rebuilt in the style of the day, Art Deco. We visited the visitors center and took an informative walking tour to learn about the various styles. Our amusing and deviant tour guide jaywalked and pointed out a brothel and other controversial attractions that aren't on the map. We weren't surprised when she revealed her son plays in the New York band Luna--clearly, rock 'n roll rebellion runs in the family. We had lunch at an Art Deco McDonald's and drove on a self-guided tour through a suburban neighborhood of Art Deco homes. It felt like stepping back in time and we found ourselves looking for Jay Gatsby. We had dinner that night in a fantastic Indonesian restaurant and spent the night at the decent YHA.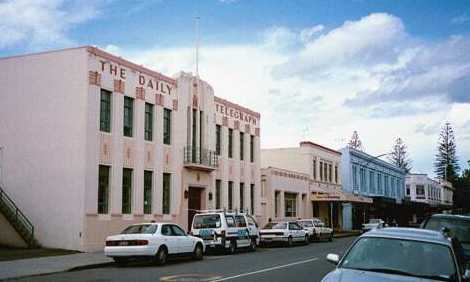 Continue reading about the Gent's and Broad's New Zealand trip - Week 2: From Big Kiwi to Big Kauri Trees
For more articles about travel in Australia and Japan, check out the Apes Abroad index

Ape Culture and all associated pages are
ŠApe Culture 1998-2007 and evermore.



Click here to learn about
the Ape editors' book
Check out the Ape Blog for the latest Ape Culture News and Reviews