Chat Room Review of the 2002 Grammy Awards
Stuck in an Award Show You Can't Get Out Of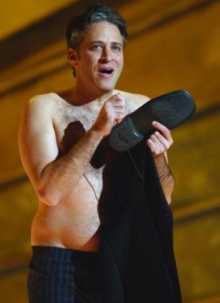 [coolia] Bono could have shaved. They're starting with U2...setting the tone for the night?
[coolia] Jon Stewart getting frisked and stripped. that's pretty funny.
[Marilyn] Anyone know where I can score some smack?
[coolia] best pop vocal by a duo or group - U2 "stuck in a moment." Bono is just cracking jokes, seems confident he'll win more, a bit jaded.
[coolia] Lady Marmalade ad nauseum - Pink looks like a Nagel print/punk rocker. Christina is busting out all over...she's got some pipes though...omygod..Patti LaBelles breasts are enormous...she's totally smooshed into that dress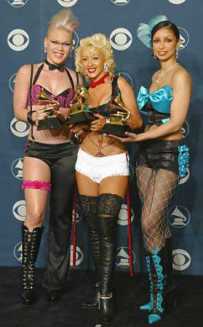 [CharoFan] Patti looks like she's raided Aretha's closet and she gives Aretha a run for her money as the hippo of soul
[Marilyn] Is Pink looking butch?
[coolia] do you remember that artist Nagel from the 80s? she looked like one of his prints, mixed with a punk rocker.
[Marilyn] Is Christina still a skinny crack whore?
[coolia] yes, Christina looks skeletal
[chica] I got to comment on a fellow LATINA who tried to outsing Patti ever so briefly.
[coolia] they are a bunch of strumpets. i dont like Christina's hair. Pink would fit in on st marks place
[Marilyn] Hair by Dee Snyder
[chica] not as bad a Britney's Coal Miner's Daughter hair
[coolia] Britney has midwest prom hair
[coolia] did they compete over who would wear the least clothes?
[coqueta] well it wasn't who had the biggest boobs
[coolia] Patti would win that in a walk!
[Marilyn] This will be Kylie's show next year. She is the anti-Alanis, an enema to flush away 90's Prozac chick rock.
[coolia] but i like Alanis' new song
[Marilyn] It's about the SAME guy she was moaning about on "You Outta Know." MOVE ON! Talk about wallowing in self obsession.
[coolia] its not easy being a child star, just ask Dana Plato
[chica] love hurts
[coolia] who is this singing...i wasnt paying attention. maybe Train?
[coqueta] Train
[coolia] generic
[Marilyn] THE BEST SOY LATTE THAT YOU'VE EVER HAAAAAAAAAAAAAAD
[coolia] they will be one hit wonders
[chica] Trisha Yearwood is wearing Lane Bryant
[coqueta] does every band who performs get a grammy after they go on?
[coolia] it must be rigged. who is this singing?
[coqueta] who is this that's singing, she asks. he's latin. that's all that matters
[coolia] i was about to say who are the back up hoochies..then i realized
[chica] it's Destiny's Child
[coolia] they are bilingual! talented!
[coqueta] why in the hell is DC singing a "latin" song?
[chica] for a minute there i thought Beyonce was Mariah accessing her latin roots
[chica] they all just wanna be Selena
[coolia] Lucinda Williams looks very east village
[chica] damn, Lucinda looks like Iggy Pop
[coolia] Ja Rule! what a trio. Pamela bustin' out all over
[coqueta] when isn't she?
[chica] I love the glitter, but what the hell is she wearing?
[chica] tough category, why do they have Pam Anderson there at all?
[chica] she's just thanking all men, what's up with that?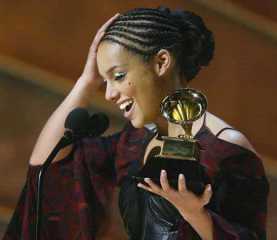 [coolia] i dont have her album and i'm sure its brilliant and all but i think Alicia Keys is overexposed. she better watch out or she will become Macy Gray...nobody cares about her new album
[CharoFan] I mean what is that outfit? A wife beater, jeans, and some gauze ripped down from a hotel curtain.
[Nerdia] Maybe she's making a statement.
[CharoFan] Yeah, I don't know how to dress. That's her statement.
[coqueta] she's like all over and i've only heard that ONE song
[chica] now they bring the old crooner Tony Bennett on to add some class after DC. damn, Billy Joel looks way older than Tony.
[CharoFan] Oh my god.
[Nerdia] Speaking of hippos...
[CharoFan] He looks like a beached walrus. Wow, Grandpa Joel.
[Nerdia] I'm tired of Billy Joel singing Billy Joel. Why are they butchering the song I love.
[CharoFan] This is not a tinkly song.
[coqueta] i didn't get the whole Nelly-N'Sync-Justin (I think I'm Michael Jackson) thing
[chica] i think Sade was robbed, who the hell is Nelly Furtado anyway??
[coolia] the fake Nelly
[CharoFan] Billboard factoid: the 2 Nellys were on the chart simultaneously and there had never before been a Nelly on the chart in music Nellistory
[chica] has anyone told Jon Stewart he is not funny?
[coolia] Yakov Smirnov references are comedy killers
[coolia] i wanna hear "i'm a man of constant sorrow". i never see Emmy Lou Harris on stage alone..she's always part of a giant posse..like at lilith fair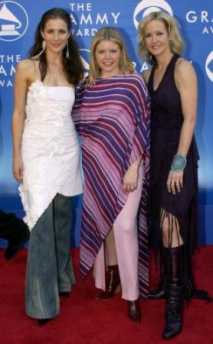 [coolia] ohmigod..Dixie Chicks...they're making the fat one wear a blanket. hasnt she heard of Lane Bryant??
[chica] doesn't she know chubby girls shouldn't wear horizontal stripes?
[chica] lane bryant...even culture-specific the avenue is better than the blanket
[coolia] she could try dress barn plus
[coqueta] or the plus section at wal mart
[Nerdia] 3 Dixie Chicks - 3 bad outfits
[coolia] i wonder what Joan Rivers will say about that blanket
[chica] and Sheryl Crow looks like Heidi Fleiss
[coolia] we've made it halfway
[coqueta] woohoo
[chica] here goes Alicia's one song
[coolia] this is so played out
[coolia] oh it's a medley with her other song. i dont think she has star power
[chica] i think that she is in danger of becoming Macy. she might have to advertise album release dates on her clothes
[coolia] why the TV stars? something different about me: i don't love Raymond
[coolia] giving TVs away to people in the front rows doesnt really have much of an effect. they're rich dammit.
[coolia] perform and win...the trend continues
[chica] it's all rigged
[chica] there is no element of surprise
[coolia] ick frat boy music...Dave Matthews
[coqueta] ok he needs to hurry up his set
[chica] Waylon Jennings tribute from Kid Rock, i'm surprised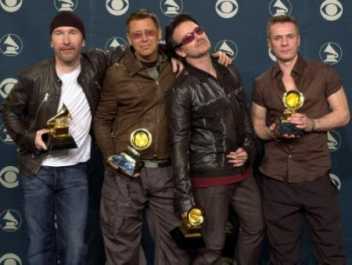 [coolia] Kid Rock actually knows his music..he was talking about the importance of "O Brother Where Art Thou" in the pre-show and he digs Hank Williams Jr too
[chica] damn. i never would have guessed it
[coolia] Bono again. eradicate third world debt.
[chica] yes, yes we should
[coolia] i'm more interested in the awards that don't make it to the TV broadcast. someday i hope to win "best album notes" for "the complete Duran Duran box set"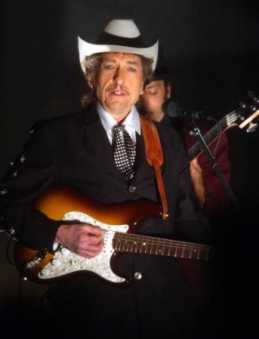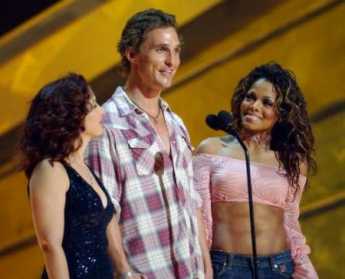 [chica] Bob Dylan. his set needs subtitles.
[coolia] he looks like death
[coolia] look at Janet's abs of steel!
[chica] somebody please feed Janet
[coolia] and stop her from doing obsessive sit ups. or is that the work of the ab energizer?
[coqueta] i heard Britney does sit ups in her dressing room before going on stage
[coolia] i heard she does 1000 per day
[chica] i do one, when i get outta bed
[coolia] Mary J Blige...she's cool
[coqueta] give Mary some love
[coolia] another Netaid vet
[chica] who wasn't at netaid?
[coolia] goals i still have from netaid...eradicate third world debt...clean up the water supply...get back those 8 hours of my life...
[CharoFan] I got chills. That's one of my Top 5 Grammy performances of all time along with Sheila E and her glow in the dark drumsticks singing "Glamorous Life," Ricky Martin, and Denise Williams singing "My God is Amazing" acapella.
[CharoFan] Look at Celine's face...that look says it all.
[CharoFan] What's with this pirating lecture? It doesn't seem like the audience is behind this.
[Nerdia] It makes me want to go out and pirate. It just sounds too inappropriate and venomouos for this show. He may have a point but he's going about it the wrong way.
[coolia] Elvis Costello...as Bono
[chica] what is up with Gwen's hair? i think she looks like Pebbles Flintstone.
[coolia] that's funny..i dont like Gwen..but that song is infectious. hey baby hey baby hey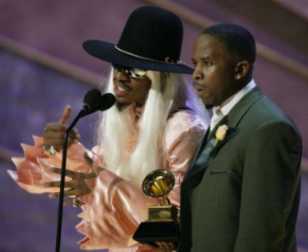 [coqueta] Outkast! Sorry Ms Jackson, i am for reaaaaal

[coolia] nice pink outfit. forevah? foreveh ever?
[coqueta] he always wears pink
[chica] he looks like transgendered, black malibu barbie
[coolia] i'm not looking forward to seeing Alan Jackson
[coqueta] country hatah
[coqueta] it's country time
[chica] propaganda, propaganda
[coolia] Alan Jackson is a hoosier
[coqueta] that explains it
[coolia] there's a mullet under that hat
[coqueta] do you know the difference between Iraq and Iran?
[coolia] ?
[coqueta] that's what he said
[coolia] oh i thought maybe there was a punchline coming
[coolia] isnt the show running long? i wonder if Black Sabbath won best metal performance
[coqueta] no, Tool got it.
[coolia] damn. well, at least Ozzy has the reality show to fall back on.
[coolia] is Stevie Wonder wearing Lane Bryant?
[coqueta] Celine looks like she's at the Britney midwest prom
[coolia] totally
[coolia] they wrote the winner card in braille for Stevie. that's very inclusive.
[Nerdia] India Arie, who is she? That's really cool what she's saying about loving yourself.
[coolia] We should pay attention to these lyrics and take back all the shallow comments we've made about everyone's appearance tonight. Of course, then there would be nothing left to this review.
[coolia] U2's "Walk On" as record of the year. I agree. I love the song and the album. It's my 9/11 recovery album.
[coolia] not more PTL. A gospel finale...is this the grammys or mother angelica?
[coolia] Lane Bryant chorus line!
[coolia] well, that was pretty good i guess, overall. better than the AMAs
[coqueta] much better
[Nerdia] Thank god the musical performances held the show together because the host didn't.
All photos borrowed from Yahoo's compilation of AP and Reutersphotos.
Read our chat room reviews of the Oscars, AMAs, VMAs, Golden Globes, etc.
Discuss award shows and Lane Bryant fashions in the Ape Culture forum.Add comment.
Ape Culture and all associated pages are
ŠApe Culture 1998-2007 and evermore.