Chat Room Review of the 2002 American Music Awards
We chatted to stay awake

Starring: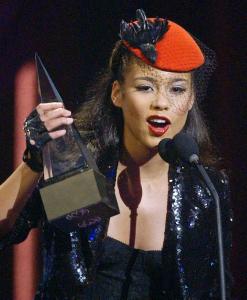 [Nerdia] I thought the opener was good...a good poke at fashion...good of Dick Clark to debase himself in a blue dress like that...I'm more in his corner for the lawsuit now...by the way, many peeps in the press speculated that the reason Cher was boycotted (press term) at the Grammys last year (not asked to perform after "Believe" was the biggest hit of 99) was because she had appeared on the AMAs...so this has been going on since last year at least.
[Jamonit] Alicia took out her braids! She's cool.
[Coolia] alicia keyes is in danger of being overexposed, and i'm not just talking about her navel.
[Nova] frankie moonis...its muniz...say it right.
[Coolia] the country stars always seems out of place at these things.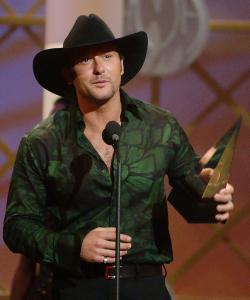 [Coolia] ugly shirt tim mcgraw. "this has been a great year for us?" hello..9/11 much? I guess it's 2002 so we don't have to reflect and be sad anymore.
[Nova] destinys child win pop album of the year! i like them.
[Jamonit] What's with the indian motif, Destiny's Child? (and does byoncee look a little chubby??)
[Coolia] beige must be really in
[Nova] It is. I read it in Teen People. Beige and native american motifs are in.
[Nerdia] Did you see the kickin' female drummer behind "Lenny's fine ass"? (Janet Jackson's words, not mine).
[Coolia] is that sheila e?
[Nerdia] I don't think so.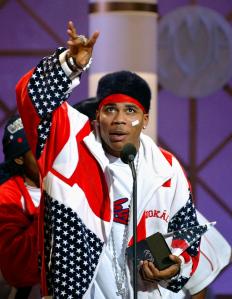 [Coolia] nelly won! nelly beat shaggy! represent! represent!
[Nerdia] Loved Nelly winning an award. Loved hearing his shout out to St. Lou. That was so great. Could have lost the Nelly2 (furtado).
[Coolia] She's like a bird and I'm ready for her to fly away.
[Nerdia] What is Carottop doing there?
[Coolia] I don't know. He seems to have a date. How disturbing. I guess that old adage is true--for every old sock there's an old shoe.
[Coolia] britney not baring her navel
[Jamonit] Britney Spears still sux. And how gross is Justin standing up and clapping. And what a horrible actress. she should be embarrassed.
[Coolia] I'm embarassed for Kim Catrall, but they do look like mother and daughter.
[Coolia] Justin looks a little hard to me. Look at his eyes. Looks like he's clapping because he has to keep up the illusion of young pop love.
[Nerdia] Britney's song was lame even by Britney standards. Enjoyed her shout out to Stevie Nicks fashion though. If Cher hadn't done exactly the same thing, I was gonna say showing movies of yourself behind yourself singing is really stuffing your uncontrollable vanity down our throats. That was really big furniture she had onstage. I didn't think she sang that well either as her two backup singers were out-singing her.
[Coolia] Alicia Keys again.
[Nerdia] The night belongs to Alicia Keys. I was very happy about this. I like her street talk balanced by her dignified demeanor.
[Coolia] Her hat is disturbing me and I actually find her street talk annoying. I don't think it's 2 Legit.
[Nova] whos allowed to be fat and a pop star? only men. and missy elliot, because she's butch.
[Coolia] limp bizkit, best "alternative?" does alternative exist anymore? in my day, alternative was king missle and love and rockets. i don't think linkin park and limp bizkit are alternative in the least.
[Coolia] what's the ratio of ugly male musicians to beautiful female ones?
[Nova] lee ann rimes is growing up.
[Coolia] I didn't even recognize her.
[Nerdia] Garth Brooks. zzzzzzz. Hey, a white person thanks god!
[Coolia] I like Garth okay, but maybe that's because he's a KISS fan.
[Jamonit] LUUUVED Usher's Robot Strip Dance.
[Nerdia] Happy to see gospel getting some props since I was into that last year. Did you see Donnie McClurklin? He's the guy that does "We Fall Down." I was rooting for him. He didn't win.
[Nerdia] What's her name won. And she wasn't singing a gospel song. That was 5 minutes of the daily guru.
[Coolia] her name is yolanda adams - i guess when you win awards you can say god does awesome things for you. the rest of us tend to think that god has a sick sense of humor and when we die, we expect to find him laughing (now that's an "alternative" song!).
[Nova] snoop dog and don juan have chalices.
[Coolia] even celebrities have to get drunk to make it through this show.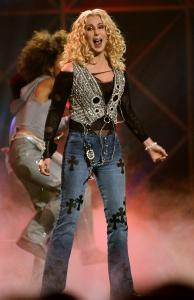 [Nerdia] Cher. If you're gonna lip synch....sigh....if you're gonna lip synch two years after you were last lambasted for lip synching on a live show....a full year after everyone else has stopped lip synching on live shows because it's a really lame thing to do...why even bother with the pretense of wearing a microphone! I was uninspired by the performance from a great new album of tracks I AM really inspired by. She has said she'd rather shoot herself in the mouth rather than just stand there and sing a song because that's too boring, I guess, but what she did last night was not very interesting. It's like she puts more energy into what she's going to wear than the performance. The singing is the thing. If you don't like to sing live, stay off of live shows. I still love the song though. Much better than "Believe". But then I was the sole person on earth who didn't like Believe. I love the "broken hearted, battle scared, I'll be by your side" part. It reminds me of a swashbuckler for some reason.
[Coolia] but cher looks good, although she's still wearing something ripped and chainmailesque after all these years.
[Nerdia] She looked good with that wig...and she is thinner. And her face isn't all collapsed like the Star is claiming...I think Jenny McCarthy was referring to that at the end. At least she's starting to experiment with the color white.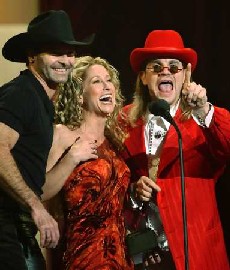 [Nova] tricky pony wins - we thought that was kid rock when they presented.
[Coolia] Jennifer Love Hewitt looking hideous with 4 thugs.
[Nova] could we have another anorexic white woman with black guys around her?
[Coolia] nsync over U2??? justin says "quit booing..u2's going to get grammys." what kind of a world do we live in where n'sync beats u2?
[Coolia] they should not be using their presenting roles to plug their projects. that shit aint right. macy gray started a bad trend and now they're all completely obnoxious.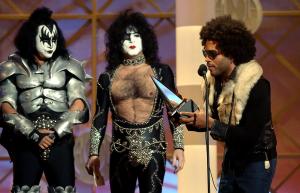 [Coolia] KISS! Gene shoehorned himself into that outfit - i'm glad to see lenny win and that he's paying proper respects to KISS.
[Coolia] MJ...not performing as previously promised, instead giving a weird spaced out speech and thanking marlon brando as his "other father." gimme a break. he keeps surrounding himself with freaks. does that make christian brando his brother?
[Nerdia] I noticed there seemed to be kind of a subtle racial divide....particularly in fashion. and shout outs.
[Jamonit] P.Diddy, Puffy, whatevah the the** your name is, don't MC ever again!!
[Nerdia] I liked the balance of the Puff Daddy and Jenny McCarthy as hosts. Her banter was cool enough to keep up with him. They weren't very funny...but that's okay. At least their banter sounded real.
[Coolia] Overall, boring as hell.
All photos borrowed from Yahoo's compilation of AP and Reuters photos.
E Online's coverage and a list of all the winners
Read our chat room reviews of the Oscars, VMAs, Golden Globes, etc.
Discuss award shows and shameless celebrity self-promotion here.
Ape Culture and all associated pages are
ŠApe Culture 1998-2007 and evermore.