NetAid
Giants Stadium
Rutherford, NJ
October 9, 1999
At age 12, I bought both the USA for Africa and Band Aid 45s, though I must admit to favoring Band Aid's "Do They Know It's Christmas?" because Simon LeBon and George Michael lent their voices to that cause, and it was so cute the way Simon's voice cracked on his solo. Then I sat on the couch, transfixed, and watched the entire Live Aid broadcast, awed by the convergence of all those stars and cursing the fact that I had no way of getting to Veteran's Stadium or Wembley. So, when I heard about NetAid and the names attached to the concert, I bought a ticket, figuring here was my second chance. In fact, I bought a ticket the day they went on sale, sure the event would sell out. What did the rest of the tristate area know that I didn't? How did they know it would be excruciating? The stadium was so empty, you would have thought the state high school girls' field hockey championships were being played instead of a big name charity concert.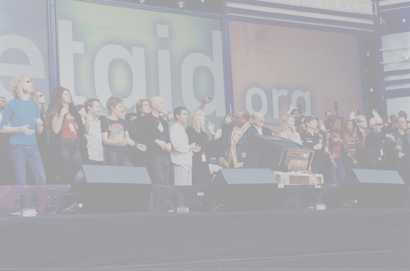 The show started about fifteen minutes early, 4:45 PM, as the sparse crowd was filing in. The superstars filled the stage, locked hands and practiced Bono's and Wyclef's NetAid single "New Day." The lyrics were projected on the giant video screens so we could join in for the "unity moment." At 5:00 PM, New Jersey went live and the video screens showed the simultaneous concerts in a raucous, packed Wembley Stadium in London and a more sedate, but full theater in Geneva. After all three worlds joined in on the song, we listened to speeches from Michael Douglas, UN Secretary General Kofi Annan, and the president of Cisco, the company that had created the NetAid website, an e-charity phenom that can handle more traffic than even the most state of the art websites like Ape Culture. My attention wandered during this talky stuff, but it couldn't wander far since neon signs onstage flashed the NetAid goals.
Eradicating poverty
Helping refugees
Saving the environment
Securing human rights
Relieving debt

So, I figured, it's going to be a perfect world when I leave this stadium. NetAid.Org will probably even eliminate post-concert traffic.
After the opening hymn and statement of purpose, Bono came out with an acoustic guitar and a string section from Julliard, conducted by Quincy Jones. Wearing a military jacket and cap, Bono looked like a comrade of General Mao. He sang "One" which sounded amazing with the orchestral backup. Then he left the stage and he wouldn't be back for another seven hours. It was all downhill from there.
Italian superstar Zucchero came out next and nobody cared. He played a couple of songs. I was hoping for "Nessun Dorma" but I guess I was thinking about another large Italian crooner. The stadium was still not even half full. Madison Square Garden would have been a better choice. I think the performers felt a lack of energy from such a small crowd and their performances reflected that.
Set changes were quick and painless. We either watched performances from the other concerts or videos of the poor people we were in the process of saving. New Jersey's own Meryl Streep introduced a story about Kosovo and she also introduced someone I'd really like to see eradicated along with poverty--Jewel. Jewel knows all about poverty, see, because she once lived in her van. Relieve my suffering! Eradicate Jewel! Jewel instructed us not to drink bottled water (which was being sold at the stadium) and played a new song which she recorded to benefit an organization that is cleaning up water in the third world. Thankfully, she only played three songs and she didn't have time to yodel.
Counting Crows took the stage, plugging their new album by playing two new songs in addition to two old ones. Then came the ubiquitous Sheryl Crow, looking like a ragamuffin who might need relief with her hair sticking up every which way, except waifs can't afford leather pants. She played four songs including "Everyday is a Winding Road."
Quincy Jones, wearing a hideous sweater from the Bill Cosby collection, introduced Mary J. Blige who did her best to get the puny crowd up and moving. But it was just a lost cause. I don't know how the TV cameramen made the place look lively--must have been special effects from Skywalker Ranch. After Mary J., Puff Daddy emerged in smoke and put on a show that was definitely the best set of the night. He brought out surprise guest Slash, looking like he had been cryogenically frozen since 1989, wearing the same black hat with his face obscured by the mop of curls. Puffy also brought out Jimmy Page. Why use a sample when you have the real legend in da house? I wondered if he would get Sting to join him on "I'll Be Missing You." No such luck, but he brought out Lil' Kim and a full choir to back him on that elegy for Notorious B.I.G. Using pyro and including all these guest stars helped to draw the attention away from Puffy, an adequate rapper at best. But I have to applaud him for using his thirty minutes to put on a really big show instead of just playing a prefunctory set.
Sting proved quite charitable, sharing half of his set with Algerian singer Cheb Mami. I hadn't heard Mami before, but I really liked his voice and his new-agey songs were catchy and easy like sunday morning. Sting played two songs by himself, including that old chestnut "If You Love Someone, Set Them Free." Quite a few people were yearning to be set free at this point, about four hours into the concert.
I think my section of the stadium was at its liveliest during a set change as we watched and sang along to a video of Bryan Adams singing "Summer of 69" in London. I often felt jealous of the London crowd who got to see David Bowie, Eurthymics, George Michael, and Robbie Williams.
After Sting, Jimmy Page came out and jammed through some Led Zeppelin classics. He played a double-barrelled guitar. The Black Crowes' singer Chris Robinson joined Jimmy and sang the vocals on "Whole Lotta Love" and "In My Time of Dying." Unfortunately, Jimmy yielded the stage to the Crowes who played a full set of their own songs, as the clock approached midnight. People left in droves and the stadium was 3/4 empty by the time they finished their set.
Busta Rhymes injected some fun and outrapped Puff Daddy, but most of the crowd was too tired to whoop. His machine-gun rap attack impressed me, as he was even quicker in person than on his recordings. He was joined by members of his Flip Mo' Squad on hits like "Whoo-ha (Got You All in Check)" and "Gimme Some More."
Wyclef Jean finished us off with a too-long set. His relentless attempts to instill some enthusiasm in the listless crowd were just annoying. Eventually he brought out Bono, who could have flown back to Dublin in the time it took this concert to unfold, to reprise their song "New Day." By this time, it was almost 1:00AM --it truly was a new day.
On the way out, in an attempt to relieve poverty in Jersey City, I bought a bootleg T-shirt that been reduced from a pre-show $20 to only $5. Think globally, act locally. I wondered, why did this concert suck so bad? Too much ambition? Are we too jaded? Let's review the NetAid goals that were flashed as constant reminders along with the NetAid web address.
Eradicating poverty
Helping refugees
Saving the environment
Securing human rights
Relieving debt
Big goals, but it was never really explained just how the organization planned to accomplish even one of them. I mean, think back to Live Aid. That concert was just about the famine in Ethiopia. All the money raised went for food for the Ethiopians, who Bob Geldof had seen starving on TV. And then the Ethiopian government stopped the food in customs and it was never delivered to the people. All that global effort for nothin'.
In 1999, we still remember that failure from fifteen years ago. We're cynical, less likely to jump on a charity bandwagon, especially one as vaguely defined as cyberspace. Did my $50 go to cleaning up water or securing human rights? I'll never know. I just hope it went somewhere good. I wish the NetAid folks the best and I eagerly await their perfect world, but instead of sitting through a concert like this one, I'll just send a check next time.
Read more about it:
Read more of Ape Culture's concert reviews.
Ape Culture and all associated pages are
ŠApe Culture 1998-2007 and evermore.