Macy Gray
Sydney Entertainment Centre
Sydney, Australia
May 9, 2000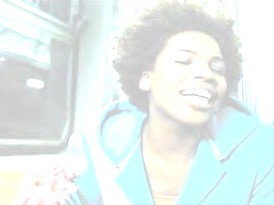 When I arrived in Sydney in late February, Macy Gray's single "I Try" was all over the airwaves and quickly ascended to #1. Sydneysiders couldn't get enough of Macy's album and sent her second single "Still" up the charts. When she planned her Australian tour, she was originally scheduled to play smaller venues like the State Theatre (site of Bardot's first concert), but promoters upgraded to the larger Entertainment Centre. She sold out two shows there. You'd think this sudden blast of popularity would be pretty overwhelming for a new artist, but 29 year-old Macy didn't seem nervous. I guess having a big band on stage with you (10 people--2 percussionists, 3-person horn section, keyboardist, turntabulist, guitarist, bassist, 2 back-up singers) helps. They were a big funky family.
I missed the opening act. I did hear a bit of their final song while queuing for a hot dog and they sounded sorta techno. The crowd seemed indifferent. I took my seat just before Macy and her big band took the stage wearing vintage coats, looking like they'd just raided the thrift store. Macy took off her red wrap coat to reveal a silver flared pantsuit. She wore big sunglasses and her afro reached for the stars. Everyone in her band had their own style, most notably the guitarist who wore all white and a white turban. They looked like extras in a Lenny Kravitz video.
Macy kicked things off with "Why Didn't you Call Me?", the first track off her smash debut album On How Life Is. Her distinctive voice sounded great and filled the whole venue. Her band was impressive, particularly the horn section who incorporated bits of theme songs from TV shows like Sanford and Son and other familiar clips into song intros and instrumental breaks, adding to the subtle sampling on the album. They played the theme from Rocky to wake us up and get us moving for the second song "Funky for You." Macy revealed the potty mouth that earned her album a parental warning sticker during a sexy monologue/scat routine before breaking into "Sex-o-matic Venus Freak" and "Caligula." She told us, "Say Sex! Say More Sex!" and we responded with enthusiasm. She humped the microphone. Yeah, baby, yeah!
"We've come all the way from LA just to fuck with you all," she said, and then she encouraged us to fuck with her. The crowd was pretty mellow over all and that seemed to bum Macy a bit. Most of her songs are mellow, funky and recall classic 70s R&B. It's good music to chill to, not necessarily to bust a move to.
While playing most of the tracks off her album, Macy broke up her set with a few inspired covers: "Brand New Key" which echoed the 70s grooves and sexual playfulness of her own songs, "With a Little Help From My Friends," and "Que Sera Sera (Whatever Will Be, Will Be)" which was well-suited to her raspy growl (and I mean raspy growl in the best possible way).
Macy's band took center stage on an instrumental jam while she went backstage to change costumes. Her guitarist played a furious solo with his mouth while managing to keep his turban on. Macy came back in a retro orange pantsuit and implored us to get off our asses. She has great stage presence and I found myself marveling again at the "wisdom" of the Grammy awards. How could they have awarded Best New Artist to Christina Aguilera and not Macy?!?
For the encore, the band came out wearing white T-shirts and white pants. They stood in a row at the front of the stage. Half their shirts lit up to reveal the word SCREAM. We did. Then the other half lit up to reveal the entire command: I SAID SCREAM. I thought this was a clever gimmick. For the encore Macy sang "I Can't Wait to Meet You" and an extended version of "I Try" interrupted with more dirty talk that would make Poison proud and the call and response, "Say fuck me baby!"
She only played for about an hour and a half but the show was really packed with great songs. Considering she only has one album, she probably exhausted her material. The lighting and musicians were top notch and Macy performs with confidence and style. It was a great funky evening and Macy Gray is a funk force to be reckoned with. I can't wait to see what she comes up with next.
Read more of Ape Culture's concert reviews.
Post a comment about Macy Gray.
Ape Culture and all associated pages are
ŠApe Culture 1998-2007 and evermore.