Lookout, World... Popstars take Parramatta!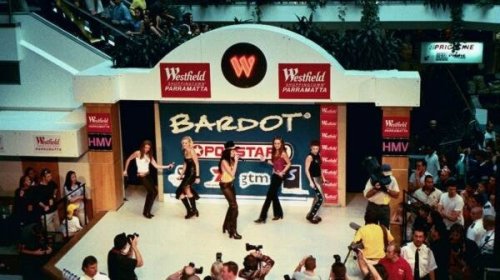 As James Earl Jones said in Field of Dreams, "If you build it, they will come." And so, several thousand people--mostly pre-teen girls and their dutiful parents--assembled at the Westfield's Parramatta mall to see the first live performance of Bardot, a pop band they'd seen hatch on Australia's most popular TV show, Popstars
Those of you not in Australia may require a little background. For years, we've watched kids on MTV's Real World hurling themselves at the camera and hoping that fame will be a by-product. Only a few have gone on from the show to achieve some measure of notoriety. Eric Nies hosted The Grind and, well, Rachel made the final round before getting cut as a panelist on The View. Some smart folks in England came up with a way to really harness the power of reality television as a star-making machine. They filmed a show about the creation of a pop band from the open call auditions, through rehearsals, recording, and first concerts. Now Australia has taken the idea and run with it, giving us a dose of Popstars every Sunday night. The show really took off. Unfortunately, I missed the beginning of the show because it pre-dated my arrival in Sydney. I didn't see the cattle calls or the final cuts. I'm told girls with weight problems were told they were rejected because their dancing just wasn't good enough.
Finally, five perfect specimens were selected and began rehearsing together. There's Katie, the sporty one with the short red hair and cyberpunk style. Sally hails from Adelaide, where she's supported by a large Greek family. Belinda is quiet and pretty and I don't know much else about her except that I confuse her with Sally because they both have long brown hair. Blonde Sophie is the most popular, judging by the crowd reaction at the mall. She's most attractive when not talking. Her previous experience includes a stint as Marilyn Monroe in a variety show at a Gold Coast theme park called Movie World. The fifth original member was Chantelle, but she was kicked off the show (what would a reality show be without a kicking-out-a-member episode?) because other popstars suspected she was stealing from them. Such drama! Chantelle was replaced by Tiffany, who always wears a cowboy hat. In fact, if she doesn't take off that damn cowboy hat, I'm afraid the band might turn into the Village People.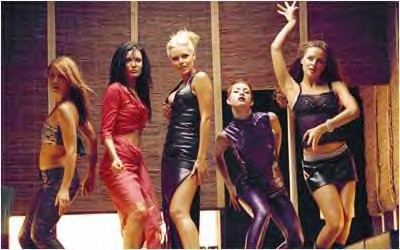 Popstars-mania was fed by the media, as newspapers broke the story of Chantelle's thievery before the episode aired and as the girls' public appearances were snapped. The show became must-see TV. We watched the girls learn the lyrics to "Poison," rehearse it, record it, shoot the video. Even casual viewers couldn't help but have the song memorized before the single was even released. I have to tip my cowboy hat to Warner Bros-they've really marketed this "band" masterfully. The show's title is an edict--you will buy the album, you will make these girls pop stars.
The girls chose the name Bardot (And God created...pop?) and argued with stylists over their clothes, determined to preserve their individual looks (why can't I tell Sally and Belinda apart?). On one exciting episode, a stylist nearly convinced Katie to shave her head! We breathed a sigh of relief when she decided against it. A Sinead O'Connor look-alike in a pop band would just be too weird. I mean, N'Sync are already pushing the limits of pre-teen hairstyle tolerance with the one kid with the afro and the other one with the stupid braids.
And so, I took the train out to the 'burbs to see the girls in the flesh. I gathered from my Sydney co-workers that Parramatta was not a happenin' place. But it is one of the largest suburbs in Western Sydney and the mall was immense. I didn't even make it from one end to the other. Five levels of consumer fun!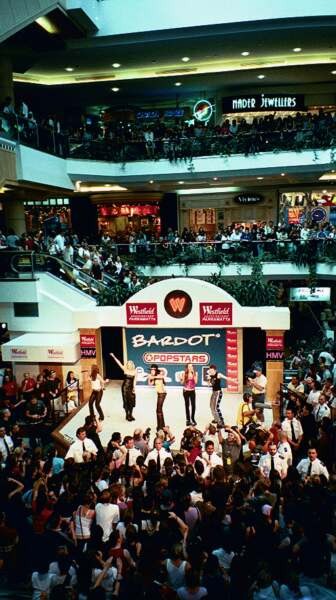 I arrived around 10:00 AM and Bardot was not due to hit the stage until 1:00 PM. Already, there was a large group assembled, snaking around a barricaded queue in front of the stage. The girls (and they were mostly girls) in these prime spots had bought the Bardot single and would be the first to get to meet the girls who would be signing after their performance.
I meandered down to HMV where Bardot posters were all over the store and the single was on display. I decided not to buy it-I'd wait to see them perform but there was no way I'd wait to get their signatures. There's only so much pre-teen screaming this ex-teen can take. I went back to the staging area and secured a spot along the railing on the first level above the stage. I figured that would be the best vantage point. I spent the next two hours elbowing kids out of my way as they tried to squeeze in front of me. The crowd swelled and more security guards were added, along with paramedics. It started to get quite warm, especially in the crowded area in front of the stage, and a few girls fainted. People were packed along the railings on all four upper levels. "Poison" and its B-side played incessantly during this waiting period. There was no escape.
Bardot's manager appeared and girls screamed for her and asked her for autographs as if she were a pop star herself. Well, she is a TV star, I guess. I recognized some of their other handlers and their Warner Brothers boss hovering near the stage. Anticipation built as the manager got on stage and assured the crowd that Bardot would be out soon and that they would stay until every last single had been signed.
At 1:05 PM the girls took the stage amid screams of New-Kids-On-The-Block-ian proportions. They sang five songs, which really surprised me. I only expected two. I have to admit they sounded pretty good, as pop stars go. They were singing along with tracks, but they were really singing. However, they were not very coordinated when it came to dancing. Sophie seemed especially sluggish, almost sedated. Perhaps they just need better choreography, but they really weren't together. The pre-teens screamed for them anyway and seemed totally satisfied.
A week after this gig, "Poison" debuted at #1. Bardot celebrated the release of their album by playing their first gig on April 28 at Sydney's State Theater and Popstars covered it on a special 1-hour episode. Is World domination next? Are they Australia's answer to the Spice Girls? One Hit Wonders? It remains to be seen. Chances are, Warner Bros. has already made their money back and more, since the single went to #1. Mission accomplished.
I'm left thinking about another female teen sensation who toured malls--Tiffany. I think she's alone now.
Post a comment about Popstars or Bardot.

Ape Culture and all associated pages are
ŠApe Culture 1998-2007 and evermore.