Drowning in Metal Sludge at the Download Festival
June 10-12, 2016

By Julie Wiskirchen
This year's Download Festival would have been more accurately called Drownload or Brownload Festival. We endured three rainy days in a field next to the East Midlands Airport. We did hear some great music but I'm not sure it was worth the suffering.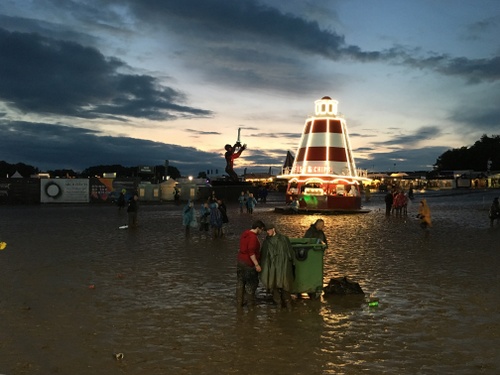 Friday, June 10
We took the 10:00 AM Big Green Coach from Victoria Station in London to Castle Donnington. The journey took about three hours as there was a lot of traffic getting out of London. We got the last two seats on the bus, so my boyfriend Dave was near the front behind a couple who made out for most of the journey, and I was in the very last row squeezed between four teens. Upon arrival, we walked about ten minutes to reach the entrance to the campground. Nobody searched our bags at all. We exchanged our tickets for wristbands and proceeded to the "Ready to Rock" campground. Because we were coming from the US, we thought it would be worth the extra money to rent the tent, sleeping bags, and airbeds and have them set up for us. I also knew from my trip to Glastonbury in 2013 that these special campgrounds had nicer bathrooms and showers. The Ready to Rock area wasn't very big and had no pub or hangout area, but the private showers were great and so were the deluxe portapotties (like movie set bathrooms on a trailer). This area was also guarded, and you had to have a special wristband to enter. As the concert takes place right next to the East Midlands airport, we could hear planes taking off and landing and it felt like they were right over our tent. But nobody expects a good night's sleep at these festivals.
As Dave hung back to set up our tent, I did the thirty-minute walk from the campsite village (this area had food stalls, amusement rides, vendors, and bars) to the arena. Again, security didn't even look in my bag as I entered the arena. I headed to the main stage to watch Baby Metal. These Japanese girls were dressed in sort of gothic French maid outfits, backed by a capable band and they put on a high energy, well-choreographed show. In the middle of their set, around 3:30pm, it started to rain hard. I put on my poncho and was already wearing my wellies. The rain was cold and hard. It felt almost like hail. And it proceeded to rain for the rest of the day and into the evening. I headed over to the Maverick Stage because it was under a tent and I watched a bit of Fort Hope and and then all of The Wildhearts. I dug the Wildhearts and thought they had great energy.
I went back to the main stage for the Lemmy tribute, which was a twenty-minute video of clips of Lemmy and the artists who knew him best, and his son too. The festival renamed the main stage as The Lemmy Stage this year. Motörhead had been scheduled to perform. I went to one of the few seating areas and sat at a picnic table to enjoy a beer and a duck burger, then I went back to the Maverick Stage to watch Gutterdamerung. This is a star-studded silent film directed by Bjorn Tagemose, featuring Lemmy, Grace Jones, and Iggy Pop among others. It was shown with live band accompaniment, with the band behind the screen. Performers came out and acted out their scenes to match what was happening on the screen, kinda like a screening of The Rocky Horror Picture Show. A highlight was the surprise appearance of Henry Rollins. Perhaps other stars came out later, but I needed to go get a spot for Rammstein so I left early.
One thing I disliked about Download was that nobody else plays at the same time as the headliners, so the entire crowd (as many as 110,000) gathers at the main stage. This is in contrast to other festivals I've attended like Coachella and Glastonbury, where there are usually several big names vying for viewers in the headline time slot. We had some trouble seeing the stage from our spot. Rammstein raised all our damp spirits with their usual blend of industrial metal and showmanship. It had been sixteen years since I saw them outdoors (at Big Day Out in Sydney) and I realized being outside gave them the freedom to go even bigger with the pyro. There were flames shooting for the top of the stage and from the top of the sound platform in the middle of the crowd. The rain let up for a little bit but by the end of this first day, everything was quite muddy and puddles were forming. Luckily, our tent had stayed dry but many others who were camped downhill weren't so lucky. It was a relief to take off the heavy wellies and sleep.
Saturday, June 11
We awoke for brunch in the campsite village and went to a 24-hour breakfast place that wasn't very good but was the only place with tables under a roof. It was raining again. We tromped through thick mud and it became clear that walking would take a lot of effort, like walking on the sand at the beach. If you stood in one place, you kinda got stuck. There were some early bands that sounded interesting, but I had trouble mustering the energy to head to the arena in the rain. We finally headed to the arena @ 2:00 PM and I got a spot near the Lemmy Stage to watch Sixx:AM. They were fun to watch and the songs had more positive messages than I would have expected. The crowd treated Nikki with reverence. After sitting for a few beers, we watched Megadeth, and they were great. Dave Mustaine brought out Nikki Sixx and they performed "Anarchy in the UK" together since they had both recorded it. "Peace Sells" was a highlight of the set for me, delivered with gusto.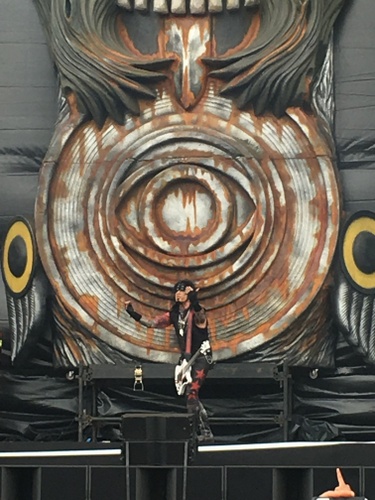 We visited the Dogtooth Stage to be under a tent for a while and listen to a band called The Shrine from Venice Beach. I have to say the singer turned me off with his warm up chatter in which he told the crowd he was from Venice which has been ruined by Google and Snapchat (who have large offices there) and where nobody surfs anymore. As an ex-Googler who worked in that office but knew very few colleagues who actually could afford places in Venice, I get tired of this rhetoric. Their first couple songs sounded pretty good, but we peeled out to get a spot for Black Sabbath. We bought some cheap camping chairs and planted ourselves way up the hill, far from the stage. It was raining hard and our energy was low, and we didn't feel like trying to squeeze into the crowd. Some people had been holding positions for seven hours or more, despite the rain. As I sat in my chair, in my poncho, I could feel rain still managing to hit me and drip under the sleeves. My jeans were wet and so was my jacket under the poncho. My feet were sweating in the wellies so my socks were damp. I googled "trench foot" so I could be cognizant of the symptoms. It wasn't cold, thankfully, but it was altogether miserable. I'm from the Midwest and have lived in New York, so it's not like I'm not used to rain, but walking through a rainstorm to get somewhere is one thing - hanging out in rain for 5-10 hours is quite another. Did I mention it was Dave's birthday? Not exactly how he hoped to be celebrating. Amazingly, we got through this whole festival without a single argument!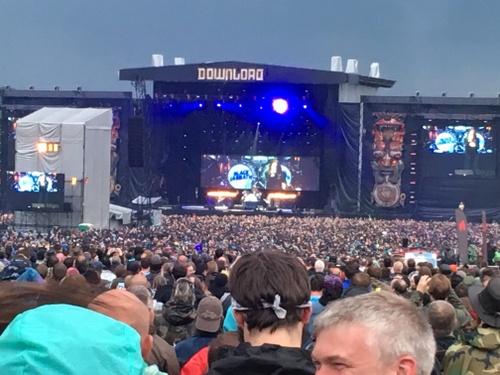 The rain broke briefly during Black Sabbath's set. They were great, but Ozzy didn't seem to have his usual spark. His voice broke and he didn't say anything personal about being at the festival or even "Hello, Download." We saw them in Vegas in February and it had been a much more energetic and intense performance. Perhaps the rigorous touring schedule is too much for them in their golden years. Toward the end of the set, we moved up closer to get a better view. The set ended at 10:30 PM. I feel the curfew at Download is awfully early. Bands at Coachella can play until midnight and sometimes longer. They did have some cover bands, a movie tent, and carnival rides in the Village for those who wanted to carry on partying.
On the long slog back to the campgrounds, we saw many guys peeing on the side of the path or against the fence. There was litter everywhere. Things were getting uncivilized. Much like I had seen way back at Woodstock 99 - if people are having to live like animals, they will behave like animals. But, generally, people were having fun, and I didn't see a fight the whole weekend.
Sunday, June 12
We slept until 11:00 AM or so, and it started to rain again. I decided to skip the early bands and stay in my tent and read. The lack of sheltered places to sit in the village was a real drag. It was impossible to sit on the muddy ground. By now there were many puddles and at times it was like wading through a muddy river. So we just stayed in the tent, warm and dry, but sad as we read the breaking news about the Orlando mass shooting. It was a disconnected feeling to be online learning that horrific news while most friends in the US are still asleep. It also made me think about the lack of security at the festival, but at least guns are harder to get over here.
This was definitely our laziest day, and we had some lunch in the village and didn't make our way to the arena until it was time to see Disturbed on the Lemmy Stage at 5:00 PM. I'm a big fan of Disturbed and they didn't disappoint, rallying the damp fans to raise 10,000 fists in the air. They gave us a moment of contemplation with their hit cover of "The Sound of Silence." For a fun medley of covers, they brought out Lzzy Hale from Halestorm ("I Still Haven't Found What I'm Looking For"), former Iron Maiden singer Blaze Bayley ("Baba O'Reilly"), and Ben Burnley of Breaking Benjamin ("Killing in the Name"). I feel they could have really rocked a headline set and wished they had more than an hour to play.
There were some lakes of muddy water near the main stage and people were diving and rolling in it. By this point, many had just chosen to become one with the mud.
Next up on the Lemmy Stage was Nightwish, and I really liked their symphonic metal. Lead singer Tarja Turunen has an awesome, powerful voice. I had to cut out of their set a bit early to head over to the encore stage and catch Jane's Addiction. Somehow I had never seen Jane's Addiction before, so I got over there thirty minutes early and secured a spot in the front. It was a blast to see them do their classics as well as a cover of "Rebel Rebel" in tribute to David Bowie. Perry Ferrell looked sharp and was flanked by a trio of dancing girls.
I left Jane's Addiction toward the end of their set to reunite with Dave and find a spot for Iron Maiden. It was still raining - sorry to be repetitive, but it was. It appeared quite a few people had left early, and I can't say I blame them. Dave didn't know anything about Iron Maiden, but I thought he would appreciate seeing Eddie and some of their stage effects, as well as some of the classic tunes. Unfortunately, the beginning of the set was weighted heavily toward new songs that most of the crowd didn't know. Bruce Dickinson came out in khaki pants and a black fleece shirt, looking like he was ready to go to Home Depot, not headline a metal festival. He looks so odd next to the rest of the band who still have long hair and the 80s metal look. Later in the set, he did do some costume changes, but by this point Dave was bored so we went and rode the ferris wheel. It was actually kind of fun to watch a bit of the set from the ferris wheel and get an overview of the festival. And they finally played "Fear of the Dark" while we were revolving.
Afterthoughts
I went to Glastonbury two weeks later, where I encountered more rain and mud. Of the 25 days I was in the UK, I spent nine days wearing wellies. I have to say Glastonbury made more of an effort to make people comfortable. They had metal walkways and put down a lot of wood chips. We were still trudging through mud, but at least there were some recognizable paths and not many huge puddles. And they even scraped all the mud off the large staircase we had to climb to get to our campsite at Worthy View. Of course, Glastonbury no doubt has a bigger budget, but I think Download could have tried harder.
There are also a lot more seating areas around the Glastonbury site, even some benches where you can have a view of the stages. It is really exhausting to deal with the mud and not be able to find a place to sit and rest, and it's not fun to drag around camping chairs from stage to stage. Food options were more diverse and generally better at Glastonbury too, but then Glastonbury is much larger.
Would I return? I don't know. The weather is always going to be a gamble. I think we coped as best we could, considering we live in LA and we probably saw more rain that weekend than we do in a typical year. We couldn't see nearly as many bands as we hoped, once it became so exhausting to move from stage to stage. I was hoping to check out a lot of new bands. I also think having a younger band as one of the headliners could inject some more energy into this festival. It was a dream of mine to go to a big metal festival, and I'm glad I did it. And my calves are much stronger from all that walking in the mud!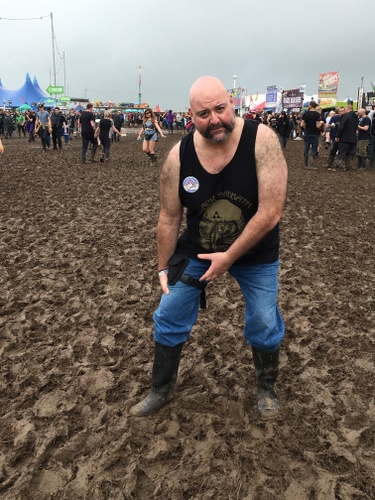 Check out more photos and videos from Download 2016
Read reviews of Coachella 2016, Woodstock 99, and Glastonbury 2013
Check out Ape Culture's other concert reviews
Ape Culture and all associated pages are
©Ape Culture 1998-2007 and evermore.



Click here to learn about
the Ape editors' book
Check out the Ape Blog for the latest Ape Culture News and Reviews