Coachella 2016 Weekend Two: Crochet Tops, Cut Offs, Axl Enthroned, and Prince Tributes
April 22-24, 2016

By Julie Wiskirchen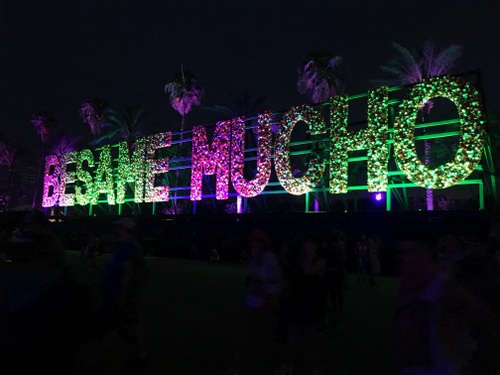 This was my ninth trip to Coachella but sadly thus far I have only written about my first time - Coachella 2003. What a different world that was! We could buy one-day tickets. We stood in the same spot for about seven hours so we could have a good spot for RHCP (watching Sonic Youth, Iggy Pop and White Stripes before them wasn't exactly torture). And it took so long to get out of the parking lot that I worried I would miss my 7:00 AM flight from LAX back home to NYC! In fact, the traffic was so painful that I didn't return to Coachella until 2009, but I have gone every year since.
My Coachella friends and I have our routines. We rent a cool mid-century house in Palm Springs with a pool and hot tub. We usually don't go to the festival for the early bands and instead do some grilling and chilling at the pool. We have vacillated between Weekend 1 and Weekend 2. They both have advantages. Weekend 1 will deliver celeb sightings, and you can be the first to see the buzz performances, but it's also such a scene that it can be oppressive if you are not part of the mob in crochet tops and cut off mom jeans. Weekend 2 tends to be a little more laid back and more about the music. There are usually more surprise guests for Weekend 1, but you'll see some during Weekend 2, too. This year, Prince died the day before Weekend 2 began, so Weekend 2 became very purple. Nearly every artist we saw did a Prince song or at least mentioned him. It made it a special weekend.
Friday, April 22
We arrived in time for Mavis Staples, who played at 2:10pm in the Gobi Tent. I love the mix of music that Coachella offers, and it was a treat to see this 76-year old gospel icon from the Staples Family Singers. She revealed she has been performing for 66 years. She still sounds great and has a lot of energy, and I loved her colorful kaftan. She sang a few bars of "Purple Rain" in tribute to her "adopted son, Prince." She had recorded two albums on the Paisley Park album.
After that, we visited the Craft Beer Barn to check out the awesome selection of beers. We had some Ace pineapple cider that was delightfully refreshing. Then we went over to the Mojave tent to watch Miami Horror. Theses aussies were a lot of fun, showed their 80s influences, and filled the afternoon with good, danceable vibes. After that, we mellowed out to Lord Huron, sitting in the beer garden between the outdoor and coachella stages. And we stayed there for The Kills, who delivered an energetic set. It was dinner time, so we headed back to the Craft Beer Barn and I got a roast beef sandwich and fries from Top Round that wasn't warm and was a bit skimpy on the meat considering the $19 price tag for that combo. I love their restaurant in LA, but mainly for the frozen custard which they didn't serve at Coachella although I'm sure it would have been a big hit in the heat. The wind had kicked up quite a bit that afternoon, so we wore bandanas and sunglasses most of the day and evening.
We caught some of M83's set on the Coachella stage and then got a good spot near the front for Sufjan Stevens. Sufjan's set was one of my favorites of the weekend and not at all what I expected. I saw him last year, and the show was pretty somber, revolving around the songs about his parents on his most recent album Carrie and Lowell. But he came on stage in a crazy neon outfit, put on giant feathered wings, like something from Clash of the Titans and romped through an engaging set. There were bros standing near us who were just saving their spots for the next act that would grace that sage - Jack U - and they were baffled by Sufjan and felt they must be tripping. He delivered a twenty-minute rendition of "Impossible Soul" before closing with my favorite song, his big hit "Chicago," which really describes how I feel at Coachella, the sense of freedom and camaraderie that can bring you to tears. But he wasn't done. He brought out Gallant to sing "Purple Rain," leading to more tears.
After Sufjan, we ventured over to the Mojave Tent to catch Savages. I had seen them at Glastonbury 2013 and been impressed. Now they seem even tighter and more vicious. These girls really rock! I was bummed that I was tired from the day and from holding my ground up front at Sufjan, so I sat through their set. I bet it was totally visceral to be up close.
Back over at the Coachella stage, I caught the first half of LCD Soundsystem's headlining set. It was a lot of fun to dance to "Daft Punk is Playing at My House." They also did a really nice Prince tribute with a jamming rendition of "Controversy." I don't know their songs well and they all started to run together for me. We went back over to Mojave to try to see Purity Ring, but the tent was overflowing. Every year there's at least one band that is booked in too small of a space, and this year Purity Ring was the one I noticed. I retreated to the mostly empty Gobi tent to see a couple songs by Danish metal/rockabilly band Volbeat. They were good and it's too bad there weren't more people checking them out. In a year where Guns N' Roses was the main draw, it would have been an opportunity for Coachella to book more metal acts. There were only two - Volbeat and Deafheaven - and they both were given undesirable, very late time slots.
Saturday, April 23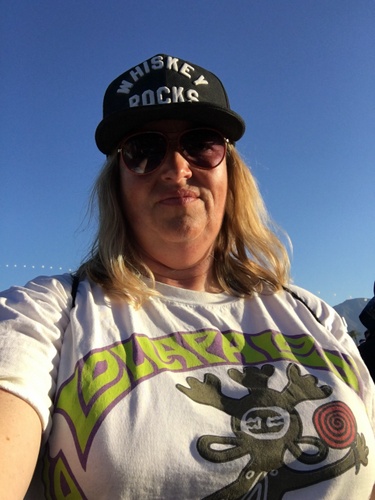 We spent the morning and early afternoon hanging out at our house, enjoying the pool and BBQing, then headed to the festival in the late afternoon to catch Lush. I wore my Lollapalooza 92 T-shirt - commemorating the only other time that Lush and Ice Cube were on the same bill as far as I know. Glad I kept it! Nobody noticed the shirt, but I realize the shirt is older than many of the attendees. It was great to see Lush back together and they delivered their shoegaze classics as well as a catchy new tune. After that we went to the beer garden and watched some of Rhye which was mellow but cool.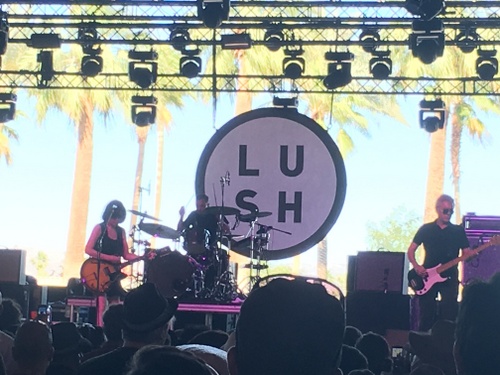 Then we headed to the main stage to see CHVRCHES. They had an energetic set, and the singer radiates a lot of personality. She brought up the subject of Trump and said they liked visiting the US and hoped we wouldn't elect him and make things unpleasant. I left the CHVRCHES set in the middle so that I could go watch all of Courtney Barnett's set on the outdoor stage. I really like Courtney because she is just totally herself and her lyrics have a lot of humor and realness about them.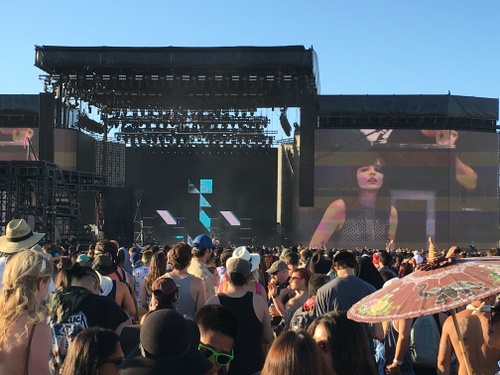 We went back to the Craft Beer Barn for dinner and got so comfortable that we missed the beginning of Ice Cube's set. I discovered an indoor restaurant hidden in the back of this beer garden that was showing the main stage acts on TV, and only then did I realize Dr. Dre had joined Ice Cube on stage. We rushed over and were able to catch the end of the set, including an appearance by Kendrick Lamar. I maneuvered my way down front and toward the center during the end of Ice Cube's set and then got a bit closer after he finished, seeking a good spot for Guns N Roses. I ended up in front of the sound booth, with probably about 40 rows of people between me and the stage. The truly dedicated fans had stood there all day in the heat and watched many bands they didn't care about to get the front spots. I saw people from Mexico, Central America and Europe who had made the trek to see GNR.
GNR took the stage, opening with "It's So Easy," and it was truly thrilling. I had never seen them live back in the day and I didn't dream I'd ever see a reunion. "Mr. Brownstone" and "Welcome to the Jungle" followed soon after, and the hits kept on coming. Axl's voice was much better than I expected. He said that being in the throne (due to a broken foot), although it sucks, allows him to focus all his energy on his voice. He screamed with intensity through the whole 2.5 hour set. His barbaric yawp was really showcased on "Live and Let Die."
Slash was great as always - a highlight was incorporating "The Love Theme from The Godfather" in his guitar solo. They played all the hits and unfortunately also played newer stuff from Chinese Democracy. I felt the set was a little overly long for a festival show, but I can't really complain. Axl was wheeled on and off the stage a few times by a sexy nurse and he would make some costume changes (T-shirts, jackets, hats). There's no chemistry between the band members and they barely interact on stage. You can tell this is a money grab more than something they really are excited to be doing, but they still played all the songs with gusto. It was worth it to me to see them together and hear these classic songs live.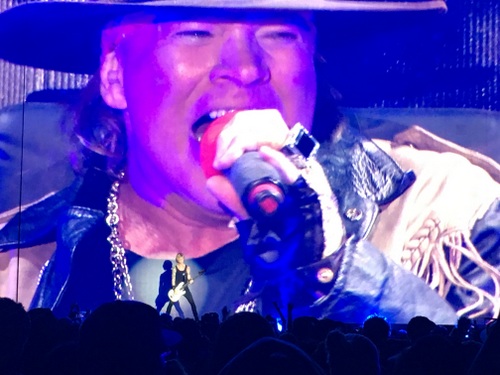 They dedicated the show to Prince, and Axl said he had Purple Rain on laserdisc, musing that most of the crowd wouldn't know what a laserdisc was. They said they didn't have time to prepare a Prince cover song. We didn't get the Angus Young appearance that happened at Weekend 1, with the announcement of Axl singing in AC/DC, but we did get a slightly longer encore with "Don't Cry," "Used to Love Her", "The Seeker" (cover of The Who song), and "Paradise City." Afterward I felt elated but totally drained, and it was a very long walk back to the car through a crush of human traffic. I generally try to leave Coachella before the headliner finishes to avoid this, but I couldn't miss a moment of GNR.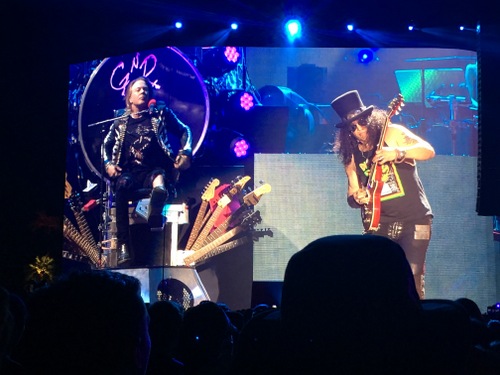 Sunday, April 24
Although I was exhausted from getting home @ 3:00 AM due to the GNR traffic, I got myself up and back to the festival in time to see Prayers at 1:40 PM in the Mojave Tent. I had watched a few of their YouTube videos and been really impressed at the visual style and the "cholo goth" aesthetic. There was a small crowd that got a bit larger as the set rolled on, and I dug the songs and singer Leafar's intensity. After the set, Leafar got into the crowd and posed for selfies and shook hands with everyone. There are some advantages to going early - you can manage to have an intimate experience at a giant festival.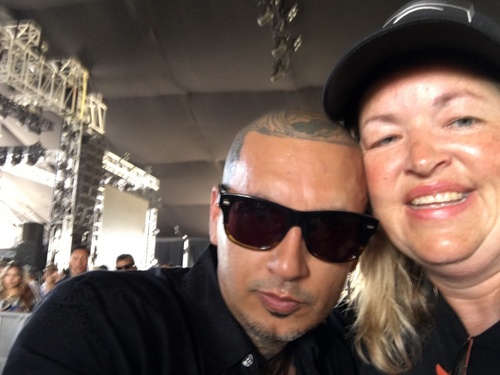 After satisfying my Sunday obligation with Prayers, I watched Nathaniel Rateliff and The Night Sweats on the main stage. They were very entertaining and displayed solid musicianship. It was fun to see a big band for a change. They also revealed they had played the New Orleans Jazz Fest the night before, jamming until 2:00 AM with the Preservation Hall Jazz Band, so I was impressed they made it there and had energy.
My friends arrived and we watched Rancid from the beer garden. This was a fun set of punk classics capped off with "Ruby Soho." It was also sweet that Lars Frederiksen brought out his 16-year-old son who was enjoying his first Coachella and gave a plug for the kid's band. Then we went and kicked back and listened to Pete Yorn in the Gobi Tent. Pete's set was being broadcast on Sirius and he played a lot of his older stuff. He did a brief cover of "Nothing Compares 2 U." We took a break for beers and found a comfy restaurant booth in the restaurant I'd discovered the day before. We were able to see some of The 1975's set on TV in there. I like that band but wasn't feeling up to joining all the screaming girls watching them live. They're kinda like an indie boy band.
I then went to watch Chris Stapleton in the Gobi tent. I'm not much into country music, but I like his songwriting and classic country sensibility. Stapleton's wife Morgane is a talented singer and songwriter in her own right and she performs alongside him, but I have to say their stage dynamic creeped me out. I think they are going for a Johnny and June Carter Cash vibe, but the way she stares at him intensely throughout the set and barely looks at the crowd is unsettling. She should be trying to engage the crowd but it makes it seem like he needs her to be obsessed with him in order to perform. She came across like a devoted sister wife. Anyway, the tent was quite full for his set, which was nice to see since you don't see much country music at Coachella.
We watched some of Beach House which was so mellow that it almost put me to sleep, and then got a decent spot for Sia's main stage show. This was an incredible show, where Sia had dancers on stage who performed in sync to their movements in pre-recorded videos she showed. Sia herself just stood like a statue at the back of the stage and sang. Her voice was amazing, and I felt uplifted by the encouraging anthems. But I also felt this show would have been way more effective in a smaller venue where you could see the dancers better. The main stage area is vast and we were toward the front, but it was still hard to appreciate the synchronicity. I can imagine it wasn't very engaging for the folks in the back. We skipped Calvin Harris and headed back to our rental house to enjoy the hot tub and relax.
It was another great Coachella where I found some new bands and got to see one of my oldest favorites (GNR). I do feel a little out of place there, being in my 40s in a crowd of mostly millennials. But, putting aside that discomfort and getting beyond the hype of the fashion parade and celebrity attendees and parties, I always find some great new music, and that's why I keep coming back. As The Little Prince once said, "What makes the desert beautiful is that somewhere it hides a well."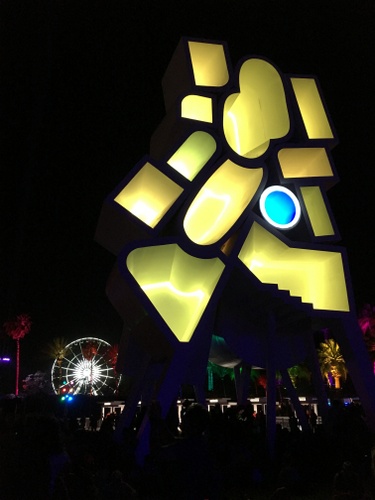 Check out more photos and videos from Coachella 2016
Read reviews of Coachella 2003, Woodstock 99, and Glastonbury 2013
Check out Ape Culture's other concert reviews
Ape Culture and all associated pages are
©Ape Culture 1998-2007 and evermore.