Glastonbury Music Festival
Worthy Farm
June 26-30, 2013

By Julie Wiskirchen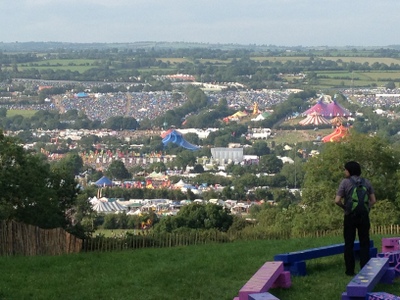 When I tried for Glastonbury tickets last Fall sometime around 1:00 AM Pacific time, I couldn't believe my luck when I got through! Thus began preparation for something that I realize now I couldn't have really prepared for - I just had to experience it. Glastonbury was the biggest, most amazing festival I've attended. To me it was like a combination of my favorite festivals - Burning Man, Coachella, and the OC Fair. I was overwhelmed to have all of that in one place for 5 glorious days!
Wednesday, June 26

My friend KiYun and I took the tube to the bus depot. Our bus left about an hour late. There was a fleet of buses headed toward Glastonbury. We passed Stonehenge on the way and had nice views of the English countryside during the 3-hour journey. Upon arrival, it was a little unclear how to catch the next bus that would take us to our campsite at Worthy View. This was the first year they were selling spaces at Worthy View, a site up a hill from the festival where the tents would already be set up and rental camping equipment was available. We found a line for shuttle buses to Worthy View but there were already about 30 people in line ahead of us and they were doing the shuttling with only 2 ten-person vans that took almost an hour to make the round trip. They did apologize for poor planning, stating that they didn't anticipate so many people camping at Worthy Farm would take the bus. I have no idea where they got that reasoning. I think we waited about 2 hours for a van. There was really no way to walk there, since we'd have to walk through the festival and that entrance to the camping wasn't open yet, or walk a very long way around to the camping entrance.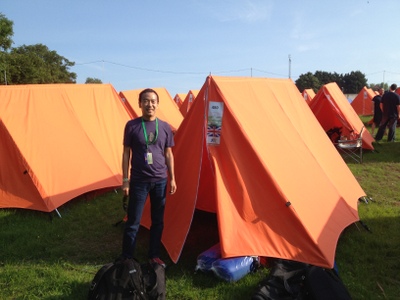 Once we made it to Worthy View, we were excited to get to our bright orange tent, located very close to the exit to the festival. We got our rented air mattress and sleeping bags. Worthy View had nicer "honey wagon" type bathrooms and showers, as well as a restaurant and pub. It also had amazing views of the festival. We pondered the view before descending the hill and were amazed at the sheer size of the festival.
We climbed down the 250 meter hill and I could tell that going back up was not going to be easy for me. Most of it was steep steps. We then made our way past the general campgrounds that were already pretty full. Tents were placed back-to-back. I felt really glad we had chosen Worthy View to have a little personal space.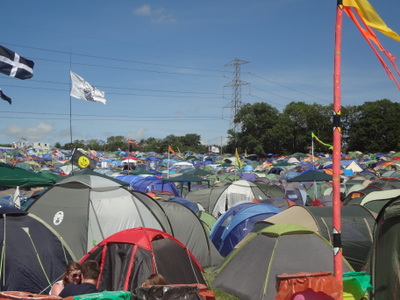 We oriented ourselves by finding the different stages and exploring the different areas. This was the only time I made it over to the Shangri-La area, which is the all-night party land, and it was early evening before things were popping off. I was impressed with the sets and art. There were so many different food vendors and pubs. Foods from around the world were available - New Mexican, New Orleans, Thai, Sushi, Pig Roasts, Sausage Rolls, Liquorice World, etc - that's what reminded me of the OC Fair.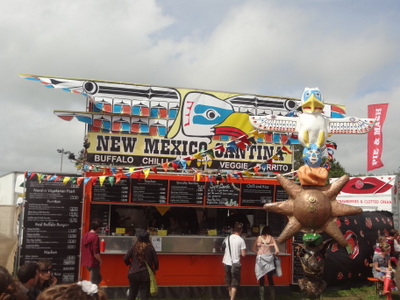 Main stage music wouldn't start til Friday, but pubs already had bands playing and there were some circus acts and performance artists doing their thing. We got some dinner and watched a band in the Avalon cafe, and then saw Julien Temple introduce his film Glastonbury After Hours, all about the Shangri-La and Arcadia nightlife scenes. We hadn't known about these areas, and I could see definite parallels to Burning Man nightlife. Yet somehow I knew I would be too tired from standing and watching bands all day to deal with the crowds and dance all night. Around midnight, we made our way back up the hill and quickly fell asleep.

Thursday, June 27
I didn't check the weather forecast, so I messed up my plan for the day. I had planned to relax, read the program and a book for most of the day, and then head down to the festival for late afternoon for more exploring and food. But rain started around 2pm and kept going all night. It wasn't too hard of a rain, but I found myself not interested in mucking around in it. I hadn't bought wellies because the forecast was dry. There were plenty of vendors selling Wellies at the festival. In fact, the vendors sell just about everything you could possibly need, so don't worry about forgetting things when you're packing. KiYun went out and braved the rain, but I just stayed in the pub tent all day and went to bed very early like 10pm. I could hear the dance areas below. Rain was not dampening spirits. The English are certainly used to it. If there was live music to see, I would have braved it, but, honestly, after already having toured Barcelona and London and Wimbledon for over a week, I needed a day to do nothing.

Friday, June 28
I woke up on Friday feeling very refreshed. It had rained all night and the ground was pretty muddy. I still didn't have wellies, squishing along as I walked. I made my way to the shower tent. Although there was a line, it only took about 10 minutes to get into the group changing room and then a few more minutes to get a shower in the group shower room. I thought the showers were clean and efficient. You do have to be naked in a room full of other naked women, but this is no biggie to me. I hear the wait for showers is much longer in the general camping areas. Feeling clean and awake, I descended the hill and walked very slowly over muddy ground to get to the biggest stage, the Pyramid Stage, to see Haim kick things off. I nearly slid and fell a few times, so I took it very slowly. As I was making my way over there, I noticed a big crowd had formed around The Other Stage, the 2nd biggest stage. I walked over and discovered a surprise set was happening by Liam Gallagher's band, Beady Eye. Can't say I was blown away, but it was a cool surprise. I watched a few songs and then walked over to catch Haim. I had not heard of these 3 sisters from the San Fernando Valley until I started prepping for Glastonbury, but they have had airplay on BBC and are more popular in England than at home. We walked right up close to the front of the stage and had a great view. I really liked the harmonies and the chemistry between the sisters. Oldest sister Este went offstage at one point and when she came back, they said she was having a Diabetic episode, but she managed to finish the set. I look forward to a full-length album release from Haim. By the way, it's pronounced "Hy-em" like l'chaim as opposed to "Hame" like Corey.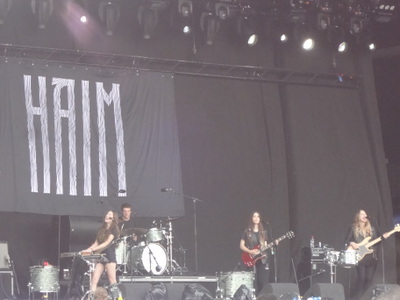 We stayed up front for Jake Bugg, who attracted a larger crowd. He seemed very calm in the face of the giant crowd, and everyone sang along to his catchy tunes. Afterward, we ventured over to Williams Green to a smaller stage inside a tent to watch Savages. This all-girl post-punk band from London got the crowd revved up. They were definitely one of the hardest, most intense acts of the festival. I took a dinner break and some time to visit the phone recharge tent. By now the sun was out and the ground was drying. Since the rest of the forecast was dry, I decided to skip buying wellies, although my sneakers were soggy and muddy all day and I worried a bit about getting trench foot.
I ventured over to the Other Stage to catch Tame Impala. It was a tough schedule conflict - Tame Impala, The Vaccines, Palma Violets - but I went with the Aussie lads. I got pretty close to the front and the crowd got really packed. I've seen them at Lollapalooza 2012 and at Coachella 2011 and 2012, but this was their most polished set. Afterwards, I went over to the West Holts stage and sat on benches at the back to watch part of Tom Tom Club. They were one of my first concerts in 1990 - the Escape from New York tour with Blondie, Ramones, and Tom Tom Club! It was nice to sit on a bench. I thought that was a great thing about Glastonbury - lots of seating available at pubs and random places, so you don't just have to sit on the ground (which was still kinda damp at this point).
In the evening, we went to the Acoustic Stage to watch Glen Hansard. Glen was very fussy about the sound, and the set was late getting started. He also stopped and started a few times during the set, tweaking the sound. He had a lot of musicians and I enjoyed his songs although he seemed a bit uptight with all the complaining. I would notice over the course of the weekend that most bands I saw at the Acoustic Stage had sound issues. After Glen, Sinead O'Conner took the stage. I was a bit torn because I wanted to see her, but I also wanted to see Chic with Nile Rogers. So I only ended up seeing a couple of Sinead's songs, but KiYun said she sounded great and played most of her hits.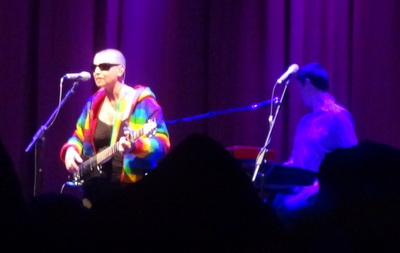 By the time I walked back over to West Holts, there was a huge crowd assembled for Chic. I stood pretty far back. I didn't really have the energy to fight my way closer, but it was definitely less fun being in the back. Nile is a charismatic frontman and he led the band through a hit parade. There were no surprise guests - much rumored Daft Punk did not show up for "Get Lucky." But the crowd had a great time dancing to all the disco hits and 80s hits and contemporary hits from Nile's storied career. Nile wrapped up around midnight and I made my way back to the campground. It felt like something of a death march after being mostly on my feet for 12 hours and dealing with crowds. I was amazed at the younger folks who still had tons of energy and were headed to dance til dawn. Maybe they didn't watch bands all day like I did. Or maybe they had chemical assistance. I had to remind myself that I am 40 after all, and I can't do it all. I certainly had a full day and I think I fell asleep as soon as my head hit the pillow.
Saturday, June 29

I think I slept almost 10 hours and I woke up sore. My ear plugs did a great job drowning out the DJ noise from Arcadia below us and I slept great. We decided to catch The Staves, kicking off the action on The Other Stage at 11:30am. They had beautiful harmonies but the songs didn't stick with us. It kind of amused me that one of the British girls in the band was wearing a Gilley's t-shirt. We then got some food and headed over to catch Laura Mvula on the Pyramid Stage - loved her voice. After that, I walked over to the Acoustic Stage to watch Zac Brown Band. I had only seen him on TV in his special with Jimmy Buffett, although I know he's very popular in the US. The tent was only about half full, so apparently he's not as well known in the UK. Zac and his band blew me away with energetic guitar and violin playing and catchy tunes. Their cover of "The Devil Went Down to Georgia" was smokin'. I was feeling a tad homesick and this was the perfect antidote.
Next I caught most of Elvis Costello's set on the Pyramid Stage and it was a hit parade. Elvis seems like he hasn't aged. KiYun and I picked a spot that was kind of midway back in the field and centered and decided this would be our spot for the Stones. He stayed to stake the claim and I left to head over to the John Peel Stage for Johnny Marr. I was stoked to see Johnny in a UK crowd, and the experience was something like church - lots of the faithful singing along so much when he did Smiths songs that you couldn't hear Johnny. There were 4 really drunk guys near me who were just besides themselves with glee while watching the set and their enthusiasm was infectious. Johnny packed the tent. He probably should have played a bigger stage. Afterward, I went back to look for KiYun while Primal Scream was playing but couldn't find him. The crowd had gotten very packed, even though we were quite far back from the stage. I wished we had one of those giant flags that many people bring to keep their group together. People were definitely getting in position for the Stones. Primal Scream brought out Haim to sing backup, and that was fun to watch.
After their set ended and the crowd scattered a bit, I found KiYun and we waited about 90 minutes in our spot. More and more people crowded in. We stood our ground, and everyone screamed when the music started and the Stones came out. They opened the set with a hit parade of "Jumping Jack Flash" and "It's Only Rock and Roll" and they didn't let up for 2.5 hours. I can't really describe the emotions I felt, seeing the Stones for the first time in a crowd of nearly 100,000 fans. Highlights for me were "Gimme Shelter" with an amazing singer, the guitar playing of surprise guest Mick Taylor, and just watching the interplay of Mick and Keith. Their energy was astounding. The phoenix on top of the stage rose and flapped its wings. There were fireworks and confetti, although the music would have been more than enough on its own.
Exhaustion hit me after the set and I also found myself suffering from crowd fatigue. It was very slow to get out of the Pyramid Stage area, since most of the 130,000 total festival attendees had been watching the Stones. We stopped for a while in Arcadia and watched acrobats twirling from the fire-breathing spider. It was quite awesome and again I wished I had more energy to soak in that scene, although the music isn't my favorite. Once again, I tackled the climb to camp and collapsed in my tent.

Sunday, June 30
I slept in a bit and dealt with a slightly longer shower line, but still not longer than 30 minutes wait. We headed down the hill to catch First Aid Kit, first band of the day on the Pyramid Stage. I love these Swedish sisters and have seen them at Coachella and Lollapalooza. It's hard to believe they aren't from Nashville. Their set was the perfect mellow start to the day and we all sang along on "Emmy Lou".

Afterwards, I tried to watch Palma Violets at Williams Green but the tent was overstuffed. I did a little souvenir shopping and then went back over to the Pyramid stage for Kenny Rogers. I was totally excited for Kenny, as I'd never seen him and he was one of the first musicians that I liked as a kid. "The Gambler" was the first song I learned by heart and I used to perform it when my parents had guests. Kenny still sounds good and his witty banter made the show extra-entertaining. After "Ruby", he told us that we did a bad job of singing along and that the crowd in Morocco had done better even though they don't speak English. That seemed to fire up the crowd and we did much better on "The Gambler" and "Islands in the Stream." Kenny finished his set early and then came back out and said he had time to play either "The Gambler" or "Islands in the Steam" again and we could vote, but when the vote was too close to call, he said he'd play them both! Pandemonium broke loose. My only criticism of Kenny is that I wished he had brought a female back-up singer for the duets like "We've Got Tonight". He had a big band so surely he could afford one more plane ticket.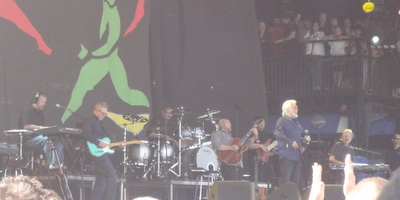 Continuing my "Oldies Day", I went over to West Holts to watch Sergio Mendes. Sergio's crowd was small, so I walked right up to the front row. I was on my third cider of the afternoon so I danced and sang along to "Mas Que Nada" and "The Look of Love". Sergio had great female back-up singers and a rapper who helped make his music more contemporary. I then caught Evan Dando's set at Avalon, where everyone in the crowd was my age. Evan didn't interact much but played some ear-pleasing new material as well as old Lemonheads favorites.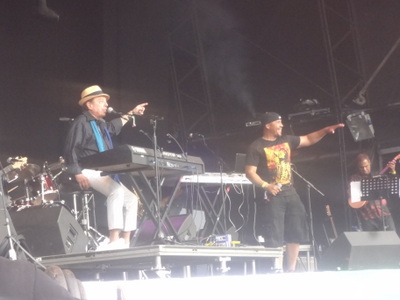 This was the only day that I got a little drunk. I hadn't been drinking much at the festival, mainly because I didn't want to use the long drop toilets (think "Slumdog Millionaire"). But, in retrospect, I should have drunk more - it would have made the overcrowding easier to deal with. It's always annoying to be around drunk people when you're sober, especially when they are constantly bumping into you. Many people were drunk the entire festival and probably don't remember much. It's one festival where you can bring as much alcohol as you like, so people brought in wheelbarrows full of it. This also led to a lot of littering of cans and food all over the fields. But I guess that's just something you have to deal with at festivals of this scope.
To close the fest, I chose Bobby Womack over Mumford and Sons or Lucinda Williams, and it probably wasn't the best choice. Bobby played two sets - the first was his entire new album, which most of us didn't know. He then took a 30 minute break before coming out and playing his soul classics like "Across 110th St." That part of the show was good, but I was annoyed by the long break. He lost a good amount of his crowd due to the break. Still, I don't know when or if I'd have another chance to see him, so I'm glad I did.
Again, I was too tired for the after-hours stuff and retreated to my tent. On Monday morning, we packed up our gear and embarked on our last long walk down the hill and across the farm to the bus parking lot. We had to wait about an hour past our scheduled departure time for the bus. There was a lot of traffic, and our bus had a problem and we had to detour to change buses on the way. The new bus had no air conditioning, so it made for a long, uncomfortable ride. We were very excited to get back to KiYun's apartment and shower. Sleeping in a real bed felt great that night too.
All in all, I had a terrific time at Glastonbury. It was always a dream of mine to go to one of the big UK festivals, and I'm glad I picked this one and got to see the Stones. It was inspiring to see a diverse crowd of all ages enjoying the music. I hope to go back again someday! Thank you Michael and Emily Eavis and all the organizers for putting this amazing event together!


Visit the Official Glastonbury site
See all my pics from Glastonbury
Check out Ape Culture's other concert reviews
Ape Culture and all associated pages are
ŠApe Culture 1998-2007 and evermore.