Big Day Out
Sydney Showground
Sydney, Australia
January 26, 2001
I could think of no better way to celebrate Australia Day (public holiday commemorating Captain Cook's arrival) than by moshing with 54,999 of my closest friends in 33 C (approx 90F) heat. Thus, I took the train to Olympic Park for the Big Day Out concert. My friends and I arrived around 12:00 PM and waited in a long queue to have our bags checked, just like at the Olympics. Except this time kids had colored their hair bright hues not to support their various nations, but just because it seemed like a Big Day Out thing to do. The sun beat down on us as we crowded together and there was slight pushing from the rear of the crowd--this was just a sign of mosh pit moments to come.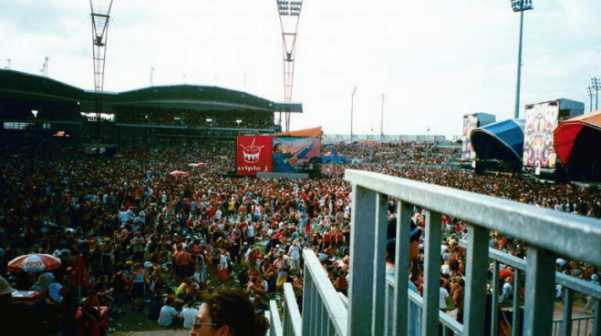 Inside we went to the stadium where I'd watched Cuba beat the US in baseball. 28 Days was onstage encouraging the crowd to "Rip It Up." They played an energetic set to a decent-sized crowd and a frenzied pit. Most of the people in the stadium were clustered in the upper decks where there was shade. The blue and orange stages were side-by-side in the stadium, and the bands alternated on them throughout the day to provide a continuous flow of tunes. There were several smaller stages and dance venues, including the huge Boiler Room which featured top DJs. All in all, this made for a great set-up, except there was only one video screen in the stadium.
When 28 Days finished we went outside and enjoyed a $7 frozen cocktail. We wandered around the grounds, checking out the goths, the punks, the 12 year-old Limp Bizkit fans. The food selection was better than average, with an international food court where we ate chicken satay rolls. My goal for the afternoon was to stay out of the sun as much as possible and people-watch.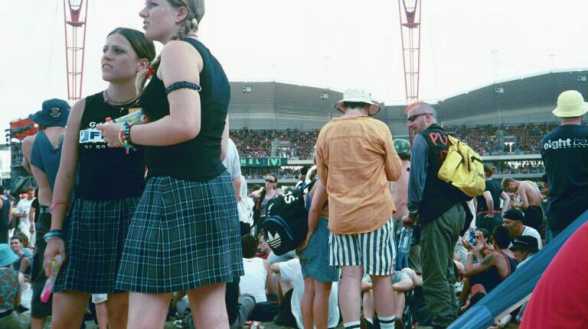 Schoolgirls mingle with punks
Queens of the Stone Age took to the blue stage at 3:30 PM. I was psyched to see them because I really dig their album. The ex-Kyuss members play metal with a sense of humor and pop sensibility. The Queens played a strong set of tunes from their album Rated R. The crowd was pretty small and mellow, no doubt due to the heat and the fact that the band hasn't yet enjoyed the critical buzz they're getting in the US. But everyone jumped around enthusiastically to the anthemic "Feel Good Hit of the Summer" with its litany of drugs.
Next we forsook Killing Heidi, having seen them before and heard their catchy hits "Weir" and "Mascara" too many times since arriving in Oz last year. We wandered over to the smaller, indoor green stage to catch The Avalanches. This Aussie band's infectious musical concoctions charmed the large crowd. Any band who samples dialogue from Polyester on their album is okay by me. Unfortunately, the crowd was so large and the stage so low, it was impossible to see the band from where we were staying. I've heard they have a lot of energy on stage and I hope to see them in a smaller venue. They played many of the sample-laden electronic pop tunes from their new album Since I Left You.
Then it was back to the main stage to catch PJ Harvey. With her sultry voice and maroon cocktail dress, she formed a sharp contrast to the metal dudes and punks who had preceded her. Polly Jean played tunes from her critically-acclaimed new album and some older classics. People listened from the stands but only a small crowd gathered in front of the stage, so I was able to get a good view. Her rendition of "Down by the Water" gave me chills. She's really not suited to playing stadiums, but she has enough presence to carry it off.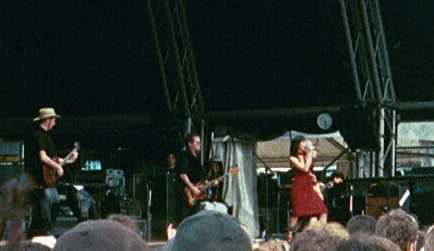 We moved up in the stands to watch Placebo. They're a UK band who have never really taken off in the US but I'm not sure why. They have great riff-laden tunes and attitude. The pit was a-swirling and they pleased the crowd with older material like "Friend in Need."
Throughout the day, Triple J, Australia's alternative radio station, had been counting down the 100 hottest songs of the year on the stadium scoreboard. At this point they revealed the #1--Powderfinger's "My Happiness." Powderfinger had the #3 song too--"My Kinda Scene" (from the M:I-2 soundtrack). This revved up the crowd for their set. At this point, I moved down to the front of the orange stage, where Rammstein would be playing after Powderfinger. Consquently, I couldn't see any of Powderfinger's set, since they were on the blue stage next to the orange stage. But I really liked what I heard. They are refreshingly attitude-free, joking "if we have the number one song in the world's biggest music poll then that must make us the number one band in the world." They thanked the crowd for having the patience to watch them so attentively while waiting for Rammstein and Limp Bizkit, but they were being a bit too modest. This was no lame opening act, but the biggest Australian rock band of the moment. They rumbled through a set of hits including "Passenger" and "These Days" and the aforementioned Triple J favorites.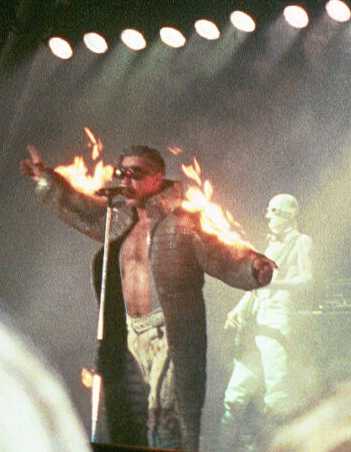 There were just two rows of people between me and the stage, as the last flash pots and explosives were set up on the stage in anticipation of the arrival of Rammstein. For something completely different, they blasted Peter Allen's "I Go To Rio" during this set break. I bopped around and sang along amid many goths who were not exactly in the mood for Carnival. I don't often venture into the pit, especially for bands this hard and skinhead-friendly, but I really dig Rammstein. I saw them last year in New York and earlier this week at their solo show at Sydney's Enmore Theater and this time I wanted to get up close. What can I say--Rammstein's lead singer Till Lindemann is hot in more ways than one. Rammstein took the stage and the crowd surged forward around me. I struggled to hold my ground and get some photos. They kicked off their set with their signature song "Rammstein," a sort of anti- "Hey, hey we're the Monkees" ditty. Till wore goggles with a laser pointer targetting the crowd. In their white bondage suits, Rammstein struck various art metal poses. Till's long silver coat burst into flames and he turned around to show his back to the crowd. With his arms outstretched, he looked like a burning cross. Rammstein is KISS meets Devo, with a little dash of Ministry. Theirs is a really big show with pyrotechnics, flaming microphone stands, sparking boots, flamethrowers, and more.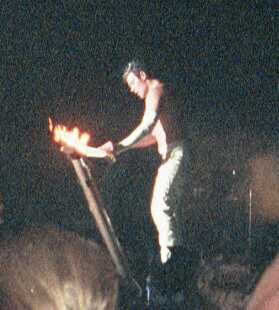 I only lasted in the pit for about 3 songs. I kept getting hit in the head by the shoes of crowd surfers and once by a beer can that wasn't quite empty. People were pushing forward and pushing in from the sides and I felt like my internal organs were being compacted. And it was bloody hot. I was covered in sweat and it wasn't all my own. I sought refuge, staying up close but moving to the side. Rammstein played most of the tracks from their album Sehnsucht and earlier material like "Asche Zu Asche." Although they only sing in German, many of the hardcore Aussie fans could sing along to all the songs, not just their big hit "Du Hast." I would have liked to have heard them do their Depeche Mode cover, "Stripped," but no such luck. At one point in the show, the beefy Till took the keyboardist Flake around the stage on a chain and then ordered him onto a platform where he took Flake's pants down. Till then unleashed a large dildo from his pants and mimed as if he were sodomizing and then pissing on top of Flake. Poor Flake. He endures this at every show--I've seen Rammstein 3 times now and the schtick doesn't change. Till then pissed for about 5 solid minutes (not sure where he hides the water hose) on the crowd and around the stage. The crowd loved it. After shooting a flaming arrow into the sky and twirling around the spark-shooting bow, Till closed their set by punctuating the music with flamethrower blasts. The heat was quite intense. The band left the stage after muttering "Thank you. We love you." in English and the flamethrower remained on stage, still burning. Now that's what I call rock n' roll! Rammstein's impression will linger on the punters long after their sunburn fades--they blew Limp Bizkit away.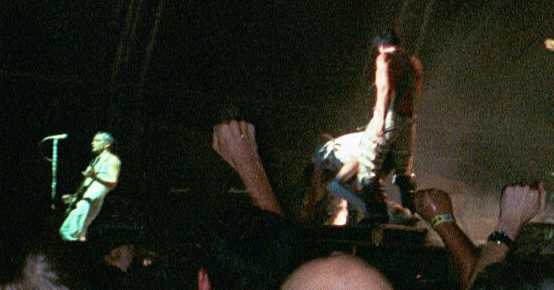 Exhausted, I munched on a hot dog and downed some water outside the stadium, where several people were laying, passed out limper than a bizkit. I went back up to the stands to watch Limp Bizkit from a safe distance. It didn't appear that any of the 55,000 bodies that had crammed into Olympic Park had left. Most of them were crowded in front of the stage. Limp Bizkit came out and had to stop after a couple of songs because the crowd had grown too intense and was pushing forward. Visions of Woodstock moshed in my head. They were silent for about 10 minutes as people were carried out over the barrier and they encouraged the crowd to take a step back. They played a few more songs and had to stop again. When they resumed, they played some of their more mellow songs. The fire department came in to cool off the crowd with water cannons. Limp Bizkit played my favorite song of theirs, which isn't really a song of theirs: George Michael's "Faith." We discussed amongst ourselves why this band causes so much chaos, more than harder bands like Rammstein and Metallica, and decided it was because the band is so juvenile with Fred Durst's weak voice and their mix of rap and metal that appeals to the lowest common denominator of rock fans--namely jocks, 14 year-old boys, and chuckleheads. I'll admit to singing along as they played some of their catchier tunes like "Nookie," "Rollin'," and "Take a Look Around." They're not all bad, but they're not deserving of the cult of worship they attract. Toward the end of their set, Durst declared that this would be their last appearance on the Big Day Out tour and I was confused because I knew they were scheduled to do the whole tour. I found out the next day that because a girl had a heart attack in the pit and 6 others were seriously injured, Limp Bizkit had pulled out of the tour. They felt the security was inadequate and declared that Big Day Out staff had done nothing to improve it thus far on the tour. These were the first major injuries, but the crowds were smaller at the earlier New Zealand and Gold Coast shows. I have to say they are showing more responsibility for their fans than they did at Woodstock.
Fireworks went off as Limp Bizkit closed their set with "Nookie." We were too tired to venture over to the smaller stage to catch the Go-Betweens or to fight our way through the throng in the Boiler Room to hear DJ Carl Cox, so we headed for home, with visions of East Germans en flambe slam-dancing in our heads.
Postscript: Five days after the show, Jessica, the 16 year old girl who had a heart attack in the mosh pit, passed away. She never regained consciousness after having been pronounced clinically dead at the scene but revived by paramedics. Thus, Big Day Out has been dubbed "Bad Day Out" by the outraged Australian media. Limp Bizkit has returned to the US to get on with their lives, and the tour has rolled on without them. Although nobody can take the blame for a heart attack, perhaps Jessica's death will serve as a wake up call to tour promoters unwilling to pay for extra security, to a band whose music brings out the worst in people, and to all those idiots out there (and you know who you are) who mistake the concert arena for a Braveheart battlefield. My sympathies to Jessica's family.
Read more of Ape Culture's concert reviews
Post a comment about Big Day Out or concert violence.
Ape Culture and all associated pages are
ŠApe Culture 1998-2007 and evermore.



Click here to learn about
the Ape editors' book
Check out the Ape Blog for the latest Ape Culture News and Reviews