Two Broads Abroad in Paradise

"This must be just like living in Paradise. And I don't wanna go home." - Van Halen
August 18 marked a historic day in the annals of Ape Culture-dom. Traveling Jam, Apes Abroad in Japan correspondent, and Julie Wiskirchen aka Coolia, Apes Abroad in Australia correspondent, had a summit meeting in Sydney. After finalizing new policy for Apes Abroad, we embarked on an expedition to the Sunshine Coast and Gold Coast, accompanied by Nova, feminist/artist/dual nose ringist.
We flew to Coolongatta, the Gold Coast airport, picked up a Thrifty car and drove up the coast. We were headed for Noosa but first were compelled to visit yet another Australian Big Thing , the Big Pineapple in Nambour. We paid $8.50 for the Sunshine Plantation tour, boarded the "Fascinating" Sugar Cane Train led by a man, whom Coolia classified as a "yobbo" (that's australian for "hoosier" or "redneck").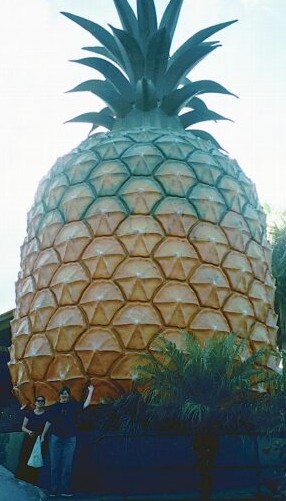 Said yobbo showed us how to grow our own pineapples. They called this a "farm show."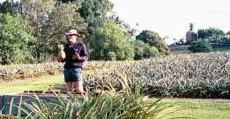 This was very interesting for approximately 2 minutes, but is certainly wasn't worth 8 and a half Australian dollars. Granted we skipped the petting zoo owing to Nova's plans to "realize her dream" and visit a koala sanctuary, but hell, a little more than a view of a pineapple plantation and a yobbo talking for five minutes would be nice. Kudos, however, to those who wrote the happy music that played while we rode the train. This music was like the bastard son of the themes from Bridge on the River Kwai and Green Acres. Unfortunately, the Sugar Cane Train theme was not available as a CD single in the well-stocked Big Pineapple gift shop.
The 16-meter-high Big Pineapple is a fiberglass structure that you can enter. Once inside, you can ascend a swirly stairwell to an observation deck. Inside the Pineapple are plaques declaring the benefits of sugar to your body. The problem with the Big Pineapple is that it's not THAT big. So, the observation deck only afforded us a view of the parking lot, the Nut Mobile, the highway and the pineapple fields. Maybe we could see mountains, but our memory is hazy, due to sugar abuse.
Also on the grounds of the Big Pineapple was the Big Macadamia Nut, an added bonus. We passed on the Macadamia Nut Factory Tour because we were told the factory was not operating that day. Although we were sorry to miss our one and only chance to ride the Nutmobile, we thought a tour of a dormant nut factory would not be worth the extra $10 they were charging. When Big Things are over-commercialized, they tend to lose some of their charm. We hate to see Big Things exploited.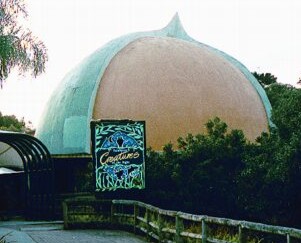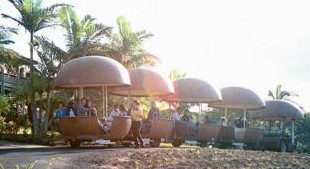 After leaving the Big Pineapple, we headed to Noosa not realizing that the inaugural Noosa Beach Party was happening that weekend. We had not booked a motel room since we had been told that Noosa was an unspoiled and not-so-touristy beach town compared to the highrise-infested Gold Coast area. After much driving, we began to empathize with the trials and tribulations of Mary and Joseph, only we were not pregnant and definitely not holy and not blessed as we ended up at the XXXX/gambling parlor/drive-thru liquor store/dive motel in Noosaville. We might as well have been in a complimentary motel room in Reno. Traveling Jam schmoozed the desk clerk and scored us the second to last room. As dive hotels go, this one more than qualified. In addition to being named XXXX (after an Aussie beer, not because rooms were sold in 15 minute increments) the beds sagged, the bed spreads were pastel and from the 70's (Traveling Jam recalled having the same one at age 6), there were cigarette burns in the floor and although we can't quite recall, there must have been paneling.
After attempting to find a Lonely Planet endorsed restaurant that didn't exist (why does this always happen with Lonely Planet...let Traveling Jam tell you the stories about China) we found ourselves in Beach Party Central, on the Noosa strip. We dined at a chain Mexican establishment called Montezumas. Why any restaurant would want to associate itself with the Aztec king who is most commonly connected to intestinal distress in the liquid form is beyond us. The food at Montezumas was below decent and we're all actually surprised we didn't end up with the Revenge of Montezuma. Also the restaurant had the curious custom of making diners order drinks from the bar which forced Coolia to queue for fifteen minutes as Traveling Jam and Nova stuffed their faces with the less than decent food. And after all that the margaritas tasted like Mr. Clean. Heartburn was had by all.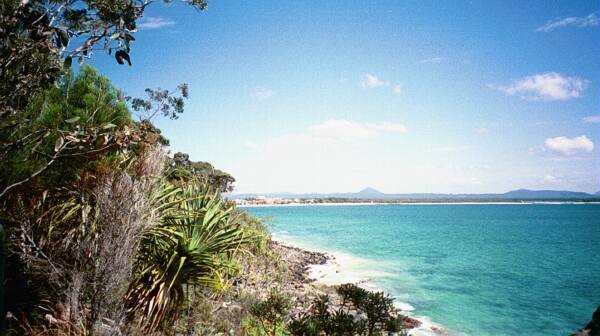 The next day found us in Noosa National Park, a small but beautiful park with a beach on one side, rain forest and eucalyptus forest on the other. We searched in vain for koalas, aka Dropping Bears, but apparently they were too busy shagging as it was mating season. We did see wild turkeys and not one, but three goannas, large lizards that eat things other than eucalyptus and are not known for sleeping 18 hours a day and falling out of trees.

After a leisurely walk in the park, we headed to the Beach Party just in time to participate in the Noosa Wave. We also witnessed the sand sculpture competition. The 80s band Mental as Anything played and the Aussies were happy, particularly those in the large XXXX beer tent.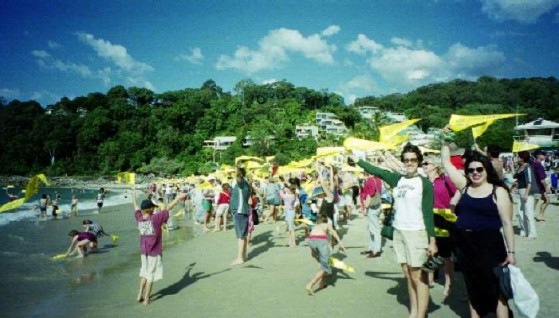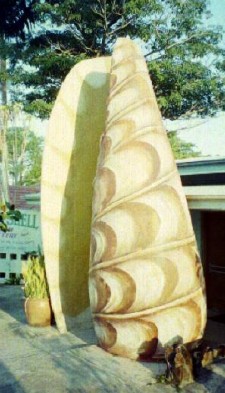 We ate at the laidback Le Monde café where Traveling Jam had brown rice which fixed her Chinese/Montezuma's Revenge intestinal problems. On the way out of town we stopped in the nearby town of Tewantin for a photo at the Big Shell. Unfortunately, the gift shop was closed. We noticed signs for "House of Bottles" and were intrigued enough to follow them. We discovered that the Big Stubby was just around the corner from the Big Shell! Stubby is the Aussie name for a small bottle of beer. The Big Stubby is 8.5 meters high, constructed of 17,000 stubbies and decorated to look like a bottle of Bundaberg ginger beer. The amazing House of Bottles was built by bottle collector George Clifford of 35,000 bottles and houses a bottle museum which unfortunately we could not tour because we arrived at 4:50PM and they were about to close and not in the greatest mood, probably because they'd had to work and missed out on the Noosa beach party. Apparently in the backyard of the House of Bottles there is a Wee Stubby, a miniature child-sized House of Bottles. Awe inspiring!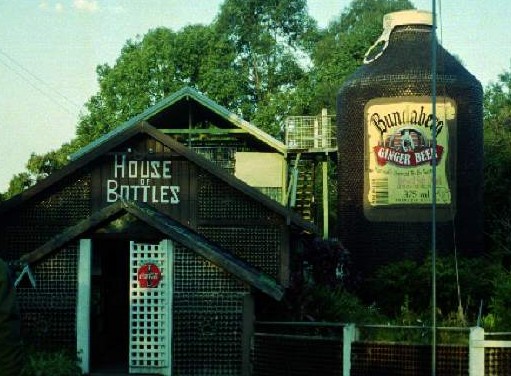 That night we drove back down the coast to Surfers Paradise, the number one holiday destination for Australians. We arrived at one of the gazillions of high rise apartment complexes, The Breakers, and were greeted by its manager, Gary, who asked Coolia where she was from and had not only heard of St. Louis, Missouri, but had actually been there and visited the National Bowling Hall of Fame. Gary had toured the US visiting sports Halls of Fame to research building the Australian Sports Hall of Fame. We were dazzled by the posh apartment which was decked with white carpet, Nagel-style prints and pastel-colored everything. We had a deck with an ocean view.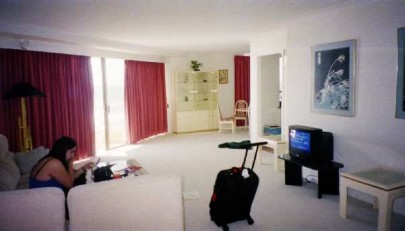 Were we in an episode of Miami Vice? Were our boyfriends Crockett and Tubbs? The beach was there, the pastel was there, even the Ferrari poster in the "children's" bedroom was there. However, no cocaine was to be found and certainly no stubble-faced, sockless men. We reveled in the cheesy luxury. All tuckered out from our day at the Noosa beach party and drive to Surfers (pronounced Surface by Aussies), we went to bed dreaming of Dreamworld, the amusement park we'd visit the next day.
Due to budgetary constraints and the fact that we are now so old that we get more headaches than thrills from amusement park rides, we chose to only visit one of the Gold Coast's three amusement parks. We passed on Movieworld, since we had visited Fox Studios in Sydney and Universal in the States. We also skipped Sea World because we've watched Shamu jump through hoops in the US. Dreamworld won our business because it provided both theme rides and the opportunity for Nova to realize her dream of cuddling a koala. Cuddling koalas is a major industry for the Gold Coast and we had brochures from quite a few wildlife sanctuaries that promised this hands-on experience. The Crocodile Hunter, Steve Irwin, and his wife run the Australia Zoo in the region, but since the brochure pictured Steve cuddling a crocodile but did not promise koala encounters nor guarantee a Steve Irwin encounter, we gave it a miss.
Our day at Dreamworld began with a $50 entry fee which included a complimentary coffee (with purchase...some restrictions do apply). Dreamworld is a minor theme park by US standards and reminded us of Knotts Berry Farm and Silver Dollar City. It offers several roller coasters including the "Tower of Terror" which rockets you from the start up a 39 story tower and then allows gravity to zoom you back to the station. On the same pole as the "Tower of Terror," there is the "Giant Drop" which claims to be the tallest free fall ride in the world. We scanned our "Dream Guide" and map and decided to "follow Nova's dream" and visit Koala Country first. We walked past dingos who howled, perhaps crying for their keeper to deliver the morning's fresh babies (ie, breaky (that's australian for breakfast)). Dreamworld had more koalas than we'd seen in any one location. We would guess there were around 50 of them sleeping in eucalyptus trees in several different enclosures. We waited in a short queue at the koala photo station. Traveling Jam, ever the tree hugger, quizzed the cashier about koala worker rights. The cashier assured us that they only work 30 minute shifts, had been trained for this job since birth and were, in fact, "dependent on the cuddles." Our minds at ease, Nova and Coolia paid $14 for the photo opportunity. Traveling Jam passed, fearing the koala might vomit on her. Watching the koala being passed from tourist to tourist, she kept thinking about the age-old parental warning: "If you keep picking up the puppy, he's going to throw up." We wondered what color koala vomit would be and if the koalas vomited when they dropped out of the trees. The koala keeper confirmed that they do drop out of the Dreamworld trees sometimes when they fall asleep. We didn't ask about koala vomiting habits.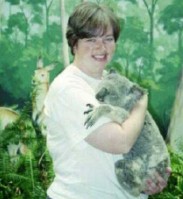 There were two koalas on duty, one nice and plump and the other a bit scrawny with mangey infected ears. We prayed for the healthy one and were lucky to get him. Our koala handler told us our koala's name was Coomera. Traveling Jam said, "Doesn't that mean Sweet Potato?" and the handler said, "No, that's the name of the town where Dreamworld is located." Traveling Jam's friends from New Zealand call sweet potatoes kumeras but apparently that is not the common slang in Australia. Nova was instructed to place one hand on top of the other in front of her waist and the handler plopped the lethargic marsupial on top of her hands and draped its unresponsive arms around her neck and shoulder. Then she instructed Traveling Jam and Coolia to place their hands on the koala in a "cootchie cootchie coo" pose. The same process was repeated for Coolia's photo. Coomera crapped when he was lifted off of Coolia. Koala crap looks like slightly larger rabbit turds. That night, Coolia discovered a brown stain on her T-shirt. She was uncertain if it was from Coomera's dirty bum or if she spilled some curry on herself at dinner.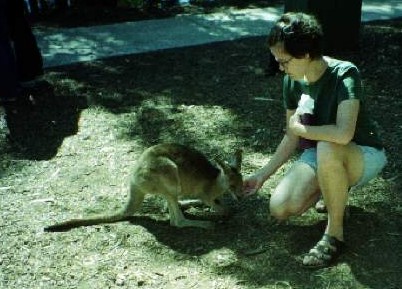 After the awe-inspiring Koala Cuddle, we wandered around the zoo area of Dreamworld. Coolia purchased some Kangaroo food and we headed over to the kangaroo area. The roos, obviously having been fed constantly for quite some time, were unimpressed with the pellets we offered them. The zoo also featured wombats, a huge slumbering crocodile and emus.
The cutesy part of Dreamworld finished, we decided it was time for the adrenaline segment and headed over to the Giant Drop. Nova, being deathly afraid of roller coasters, convinced us to try this ride. Traveling Jam was feeling a bit dubious having experienced the Free Fall at Magic Mountain in Los Angeles and not enjoyed it. After a short wait we were soon placed in the cart and instructed to remove our loose shoes and glasses. We began our ascent--39 stories into the air. Traveling Jam and Coolia immediately regretted their decision to partake in this ride as the car slowly rose and the people below got smaller and smaller. Nova just delighted in the whole thing. Eyes closed, palms sweating profusely we waited at the top for what seemed an eternity and finally we were dropped 120 meters. The feeling was not unlike time stopping as someone sucked all the air from your body, detached your head and relocated your internal organs to your throat. It was not pleasant and we were not amused. The fall lasted all of 5 seconds, but felt more like fifteen. Traveling Jam reported feeling that if the ride didn't stop soon, she would surely go insane. We left the ride wobbly-legged and shaking, wondering what the hell was so amusing about this "amusement." Despite the short lines, we had absolutely NO desire to repeat the Drop.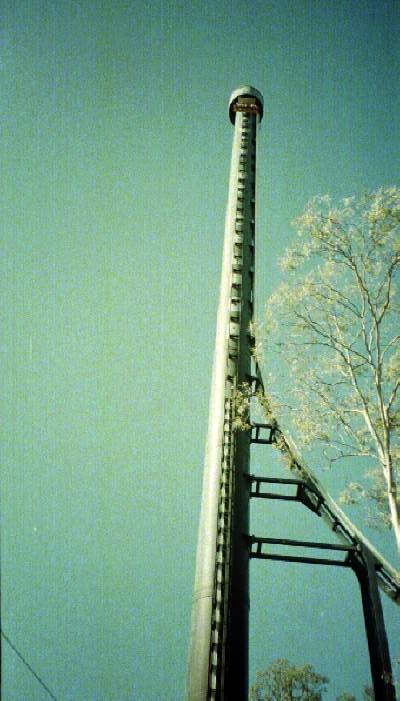 After a quick recovery we decided to take our chances on the Tower of Terror. This ride featured an "escape pod" that accelerated from zero to 160kph in seven seconds. It's very similar to the Mr. Freeze ride at Six Flags. It was quite a rush and we did it twice. Another highlight of our day at Dreamworld was the Australian Country Jamboree which featured animatronic koalas, kangaroos, crocodiles, and even a bunyip singing Aussie favorites such as "Waltzing Matilda," "Hopelessly Devoted to You," and "Tie Me Kangaroo Down." We also enjoyed a cruise on the "Murrissippi" river which was half serene cruise around a murky man-made river and half wacky comedy show about some no-good bushrangers, their ma, the sheriff, and some gold bars hidden in an outhouse. Except for the Giant Drop, Dreamworld sure was dreamy.
That night we visited the central tourist strip of Surfers Paradise and had dinner at an Indian restaurant where we were the only guests. We toured the overpriced Wax Museum which had the nerve to charge separate entry fees to the wax museum and the chamber of horrors. Because this set us back $15, we decided to pass on the nearby Ripley's Believe It Or Not. The wax museum wasn't so great as the "famous people" were lined up as if they were in the gallery on the Sgt Pepper album. There was no reason for such juxtapositions as John F. Kennedy and Whitney Houston (although it was, we must admit, a damn good Whitney likeness).
The chamber of horrors was much better especially since we were given a guided tour by a gray-haired British expatriate who possessed vast knowledge about medieval torture practices. He described every iron maiden, chastity belt, rack, and rat torture with blood lust and gleeful depravity. We had the displeasure of encountering a Midwestern, bible-belt-bred couple who professed their beliefs that US prisons were too lax and that a return to some of the torture practices might be a good idea. They said that they thought lethal injections were too kind and that criminals should die with pain and in front of live audiences, just like in the guillotine days. We felt so proud to be American.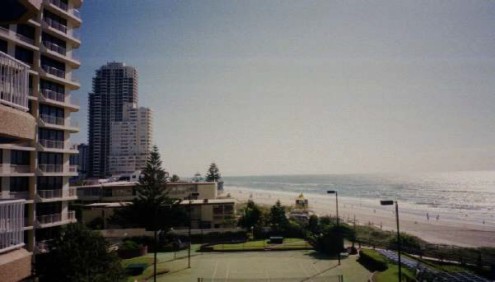 On Tuesday, we hit the beach. We braved the chilly water and body surfed. The waves really kicked our asses but it was fun. In the ocean we encountered a New Zealander who was on holiday. We compared notes on the tourist attractions we'd visited and he informed us that New Zealand consists of 2 islands and that the kiwi is a flightless bird. At first we thought he was "taking the piss" (mocking/teasing) but then we realized that Kiwis just don't expect people, especially Americans, to know anything about their lil' country. We lounged around in our posh apartment, eating Doritos and ice cream and watching daytime TV. Aussie daytime TV offers Oprah, Ricki, and Jerry. These talk show hosts are US ambassadors to the world. We were reassured that trash TV isn't a peculiarly American commodity when we watched an Aussie chat show called Beauty and the Beast. The show is reminiscent of The View, except the panel consists of one obnoxious male (The Beast) and three female blond harpies. We marveled at Jeannie Little's uncanny resemblance to Tammy Faye Bakker. Coolia realized she wasn't missing anything by working and generally being unable to watch Aussie daytime TV.
That afternoon we drove about an hour to Brisbane, aka BrisVegas, a gleaming city on the banks of a river. We drove around the city and up to a lookout point, then had dinner in the alternative neighborhood, Fortitude Valley. After dinner we went to a bar for a blaxploitation movie night. The first feature was Black Shampoo which featured naked chicks and appalling gay stereotypes. We will not soon forget the torture scene where the evil white gangsters sodomize a squealing gay hairdresser with a hot curling iron. The second movie, The Human Tornado gave us Rudy Ray Moore as Dolemite, on the run from a mean white sheriff after being caught in bed with the sheriff's wife. This movie had some amusing moments, particularly the dream sequence where a white broad imagines four naked black men going down a slide. We left the bar thinking that this would be the sort of joint where we'd make lots of New Best Friends if we were spending more time in Brisbane.
We intended to spend our last day in Surfers Paradise at the beach but a cloudy day led us to the outlet mall, the staple of any resort town anywhere in the world. We didn't buy much but took in a movie-The X-Men -which was better than we'd hoped. On the way to the airport, our Finnish taxi driver ran out of petrol and asked us if we'd help push the van out of the intersection. Fortunately, a passing motorist stopped to help the driver push so we just looked at our watches and wondered if this was fate's way of telling us we were meant to remain in Paradise. Sadly, we had three non-refundable tickets to leave Paradise, so that's what we did.
Leave a comment about koala hugging exploitation and freak Pineapples.

Ape Culture and all associated pages are
ŠApe Culture 1998-2007 and evermore.