Cheap Trick
with Trixie Delight
Live by the Levee
St. Louis, MO
July 22, 2006
The highlight of the St. Louis Summer used to be the VP Fair, now called Fair St. Louis, When I was a kid, the Fair was huge and always brought in big name acts for free concerts under the Arch. I saw Aretha Franklin (who wore a bright yellow dress that made her resemble the sun), Tom Jones (who complained the humidity was frizzing his hair), the Beach Boys, ELO, etc. These days, St. Louis has stripped down the fair into a shell of its former self. It's 2 days instead of 3, has no air show, and this year's headliners were Hootie and the Blowfish. On the plus side, they're taking the money they saved and turning into a weekend concert series bringing shows and fireworks to the riverfront on weekends in July and August. That's how I finally got the chance to see Cheap Trick.
The VP Fair concerts used to be under the arch and everyone sat on the lawn on blankets. Now these Live on the Levee shows are right next to the river. This allows people to sit on the arch steps, a ready-made bleachers. It's a good system, but next time I'll bring a seat cushion. Boy, were our butts sore after sitting on the concrete for a few hours. These events also include food vendors who set up on Eads Bridge , referred to as "Eats Bridge" . This weekend, they had to set up closer to the stage because the bridge was closed because the Switzer building partially collapsed onto it during the big storm that knocked out power to most of the city for 3-10 days. Fortunately they had power for the concert, and I appreciated that the $6 Bud Lights and $3 bratwursts were easily accessible. There was also a family fun village for the tots. When not wondering if their parents were all right because they caught them listening to their KISS records, the kids could jump in a bouncy house and enjoy other amusements.
A local cover band, Trixie Delight, opened the show. As we did not have a very close up view, we spent the first couple of songs trying to figure out if the lead singer was a man or a woman. They were more grunge than androgynous new wave, and the singer appeared feminine but she unleashed amazing recreations of deep-voiced male vocals. It was a girl, we concluded, and a look at their website affirms its Kelly Wild. She was the standout talent in a very capable cover band. I would love to see her try out for American Idol to see what Simon would do with her. She may not fit his image of a pop star, but she definitely has the pipes to get to the Hollywood round. Eventually, she implored her band to play some girl songs and she rocked a couple of Heart tunes, including "Barracuda" which was a good lead in for the main attraction.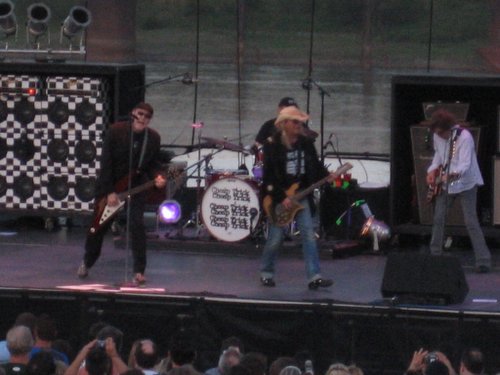 Cheap Trick took the stage, still swaggering after all these years. Rick Neilsen's first of many guitars was a miniature version of himself. Drummer Bun E. Carlos looked in better shape today than in the 70s. I remember looking at him in Cream Magazine and thinking he looked more like an accountant than a rock drummer. Bassist Tom Petersson took a backseat to the other larger personalities on stage. Robin Zander looked fit and sported a Bret Michaels-esque cowboy hat. They played with energy and got the crowd behind them quickly. They played such classic hits like "Dream Police" and their theme song from That 70s Show.
Their 90-minute set was a mix of classics and new material from their new album Rockford. None of the new songs caught my fancy instantly, but it always takes me a few listens. I would say the strongest tune was "If It Takes a Lifetime". Robin elicited shrieks by announcing "I want YOU to want ME" before breaking into that timeless booty-shaker. A highlight of the set for me was hearing "Surrender", which has always been my favorite song of theirs, although I'm still not sure what exactly the command "surrender, but don't give yourself away" would entail. If anyone has followed that advice, please leave a comment. Anyway, they played it for the millionth time with gusto.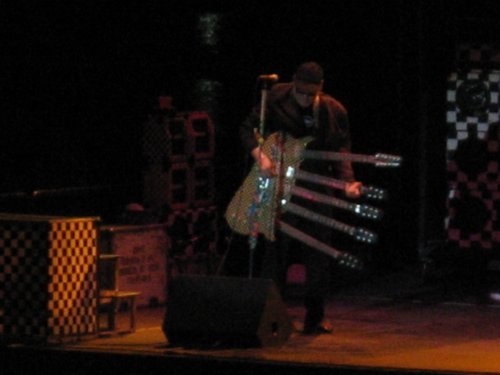 Rick brought out a guitar with 5 arms for the encore. He must have more guitars than Carrie Bradshaw had Manolos. Rick seems to take more of a lead role in the band than Robin, handling most of the patter with the crowd.
The show concluded with fireworks launched from a barge, as shows on the riverfront always have. Some things never change, and why should they?
Trixie's Delight official website
Read other Ape Culture concert reviews
Seen Cheap Trick live? Add your thoughts here.
Ape Culture and all associated pages are
ŠApe Culture 1998-2007 and evermore.



Click here to learn about
the Ape editors' book
Check out the Ape Blog for the latest Ape Culture News and Reviews