The Divas That Wouldn't Die!!!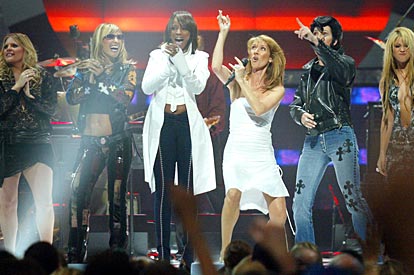 Like Zombies...they're coming...they will put you to sleep and eat your braiiin!!!!
What would a divas show be if not bad? Could the material world as we know it stay intact with a divas show that was actually good? Would the entertainment industry implode or something? I guess so...or the producers of Divas Live would have made some much needed changes by now.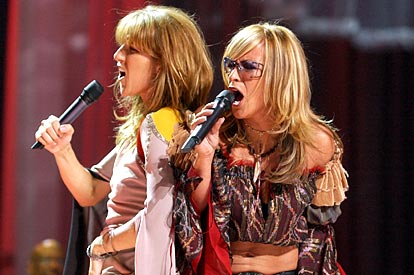 This year's divas actually had kewl outfits...flowing sleeves seemed to be the theme.
Lately, I was beginning to wonder if I harbored some deep-seated prejudice against Divas Live shows. I don't think this is true. This tiny ray of hope always germinates deep within my heart each time a Divas show starts. Three out of the last four Divas shows have actually had really kickin' opening numbers - Tina Turner's limo walk-in from 1999, Mariah Carey's Diana Ross tribute of 2000 and this year's Celine Dion/Anastasia duet of an AC/DC anthem - numbers that sparkled with vitality, creativity and promise like a hot sweaty balloon soon to be popped by the inadequacies of not-quite-ready-for-prime-time divas. The list of uncooked divas that pack these shows is endless: Nelly Furtado, LeAnn Rimes, The Dixie Chicks (what the hell?).
For instance, Mary J. Blige is a breathtakingly outstanding live performer...but not quite a diva, no Diana Ross or Mariah Carey. Mary is too solid, too heavyweight, almost too good to be a diva. Her hit "No More Drama" is precisely anti-Diva in its very message, although show-stopping on its own merit (see her chilling, awe-inspiring Grammy performance of 2002).
Who are we kidding here anyway? Divas Live has never really been about Divas. It's about pushing the latest product. PR heavy. Diva Lite. I don't know why we bother to scratch our heads over it anymore....except that every year I get caught up in the possibility of what a Divas show could be...the promise of an Event with a capital E, Barbra Streisand on The Judy Garland Show, LaBelle or Tina Turner on The Cher Show. More 1960s and 70s Variety Show and less 1990 MTV Awards. Couldn't we just show clips of real Divas from the past? Back when Divas were free to be, roaming wild and matched up inappropriately, yet uniquely, on a smorgasbord of variety shows. Kate Smith, Tina Turner and Cher singing Beatles medleys...where else are you gonna see some bizarre combination like that? This is the kind of promise the first Divas show ruined us with: Divas taken out of their normal habitats and put together to sing songs they would normally never sing. That lure of paradise we seek! Not Cher singing her latest single. We can see that anywhere. Although we're happy Cher sang live this time, don't get me wrong. Very happy.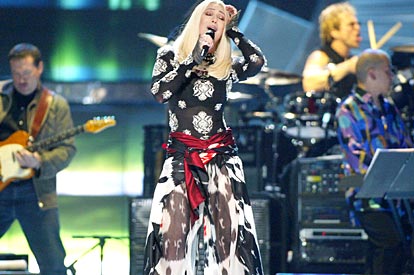 James calls this the Gateway Computer Outfit.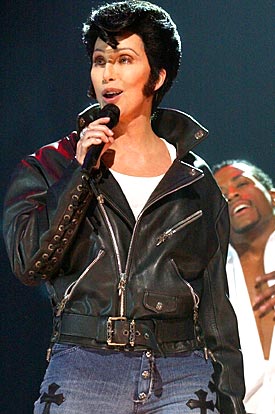 And the Cher as Elvis number at the end...the entire Elvis medley at the end...was right down the correct Diva alley. Only for this show, the medley came a little too little and a little too late. As good as it was, it just left you all the more unsatisfied over the rest of the show.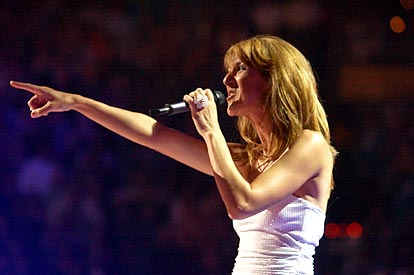 Only Celine Dion seemed to comprehend what it means to play Diva. Her dramatic theatrical performances and collaborations were the best of the show. But she can't pull dead diva weight all by herself or counter-balance an over-abundance of special guests forcing uneventful moments down our throats. And enough with the special guests already. It's like these divas can't play nice together so they create these little collaborative mini-concerts within diva shows...and the disconjunction shows.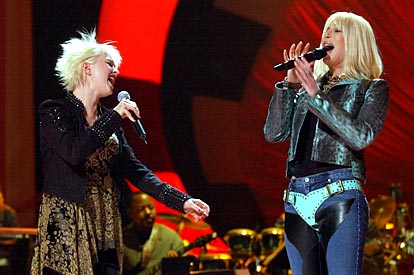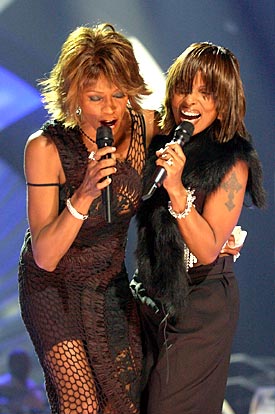 Attack of the 5-Foot special guests: Whitney Houson... a sober reminder of when bad things happen to good divas. Cher and Cyndi Lauper...Cyndi tries to ruff-up Turn Back Time but Cher's song remains the same.
And what about poor Ellen. She started off with a such a funny bang, a Madonna-inspired self-assured bang. But like all comedians hosting music shows, she petered out. When the audience doesn't respond with enthusiasm, the comedian, feeling as if they aren't going over well, usually responds by phoning the rest of it in. By the end of the show, Ellen was sending out stink bombs.
Comedians, I'm convinced, make poor music show MCs and it's not their fault. A rock crowd is a bad crowd for good comedy. The music audience isn't their audience, not self-deprecating enough with their fragile egos and well...sometimes....how can I say it...not....um....smart enough. Okay I said it. Not to say there aren't smart musicians....Mark McGrath rocks Celebrity Jeopardy...but you just won't see the latest pop stars quick to chuckle over ironic quips about their industry. Rosie failed. Jon Stewart failed. Ellen failed. Jamie Foxx did okay last year but he did okay by being crass with raunchy jokes - which I have nothing against, by the way - but crass is the thing that works and works fast with the Kid Rock/P-Diddy crowd.
And what about that DivaTown? Changing the venue lost some intimacy I didn't think I was having with these divas shows. I missed the panning shots of celebrities who are there to be seen...like Donald Trump, who's been at almost every Radio City Music Hall Divas show from the beginning of time. There's an element of "I got good tickets because I'm famous" that was swapped for a more democratic, Vacationers-at-Vegas-crowd, now sunk in the shadows of the MGM Grand. I took those celebrities-to-be-seen for granted and now I'm robbed of my chance to mock them! There's no way I'm going to pick on innocent midwestern Vegas travelers...travelers who couldn't get tickets to Cirque du Soleil and had already seen Siegfried and Roy.
What can I say? Another day, another Diva. All this scrapped-together, make-do, trendy diva-ness rings a false note yet again. Where's dead Elvis when you need him?
All photos from VH-1
Share your feelings on VH1's Divas here.
Read reviews of other Diva-laden specials.
Ape Culture and all associated pages are
ŠApe Culture 1998-2007 and evermore.