AC/DC
with The Living End
Sydney Entertainment Centre
Sydney, Australia
February 9, 2001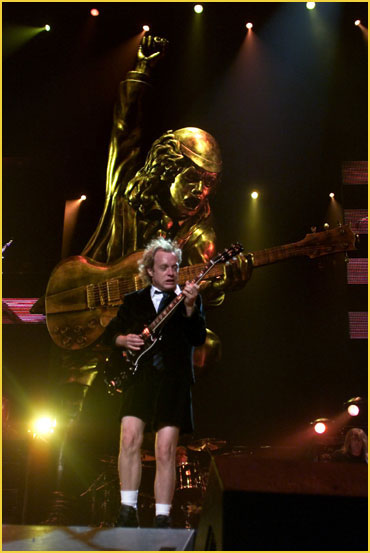 During my formative years at Our Lady of Good Counsel grade school, I knew AC/DC only as the most frequently carved initials in the school desks. Those burnout youths who didn't have the patience to carve Lynyrd Skynyrd or Black Sabbath with their geometry compasses always opted for AC/DC. Over time, I learned the Aussie rockers were responsible for the wedding reception chestnut "You Shook Me All Night Long" and countless other anthemic metal tunes. During my metal years (my early 20s until today--my eternal adolescence) I purchased the seminal Back in Black album and became a low-level fan. I find the shrill voices of the late Bon Scott and his replacement Brian Johnson to be a bit hard to take over the length of an album, but I do love the tunes and those classic riffs. I will always associate the band with grade school, though, and a grade school mentality and aesthetic. I mean, look at Angus Young's schoolboy uniform after all. That speaks volumes.
I was not going to miss the chance to see the band in their home country, where they are affectionately known as "Acca Dacca" (another example of the Aussie tendency to give something a nickname while actually making the name longer than the original, cf cricketer Shane Warne being referred to as "Warnie"). I plunked down $80 for one of the 6 sold-out Sydney shows. Remarkably, since they are considered over the hill, the band set a record for ticket sales at the Entertainment Centre, only to see the record broken a month later with Kylie Minogue's 7 sold-out shows.
The crowd consisted mostly of middle-aged men back in their black AC/DC shirts from the 70s and 80s. Most had mullets. Some brought their kids, second generation fans who were probably more interested in the opening act, The Living End. This 3-piece Australian band played an energetic set of rockabilly punk. The stand-up bass player twirled his checkered instrument around as if it weren't outsized and cumbersome. Their anti-authority hit "Prisoner of Society" with the repeated line "We don't need no one like you to tell us what to do" was chanted with enthusiasm by the younger contingent of the crowd. This simple anthem provided a good segue way for AC/DC, a band that has built its career on simple anthems.
Touring in support of their latest album Stiff Upper Lip, AC/DC unveiled a really big rock show. The stage had a long runway which enabled perennial schoolboy guitarist and metal icon Angus Young to run up and down as tirelessly as a Tasmanian devil. Angus wears the schoolboy uniform because he dropped out of school as a teenager to join the band. Given his frenetic on stage antics, one might hypothesize that Angus was having trouble in school due to undiagnosed ADD. The stage had a clear section so a camera down below could capture an unusual angle on Angus and support the heavy metal theory than an Angus Young in motion tends to stay in motion. AC/DC doesn't deny that it's really all about Angus, and its his name the crowd chanted to summon the band to the stage. This tour featured a giant golden statue of Angus that anchored the stage, complete with devil horns, glowing eyes, and breathing smoke. Yes, they have created a craven image of a metal god, and yes, the diminutive axe-master lives up to his divine status.
I was surprised to see the band kick off the show with "You Shook Me All Night," their biggest hit, but it proved a good choice to get the crowd engaged from the get-go. They changed the lyrics to state that "she was knocking me out with those Australian thighs." Everyone stood up and pumped their fists in the air and had a boogie. The second tune was "Stiff Upper Lip," the title cut from their new album with the typically randy and dumb AC/DC lyrics "I got a stiff upper lip and I shoot shoot shoot from the hip." They kept up the intensity with a number of big hits early in the set including "Thunderstruck" and "Shoot to Thrill."
Just in case people didn't understand exactly what they were talking about in the song "Hard as a Rock," they accompanied the song with a video montage of sexual imagery such as trains going through tunnels, animals doin' it like they do on the Discovery channel, and rockets taking off. This typifies the amusingly juvenile spirit of the band. There's a reason Butthead wore an AC/DC T-shirt. The music is not for everyone and it's not going to challenge you intellectually. It just rocks, man. Some would say it kicks ass. I wouldn't disagree.
During "The Jack," the camera panned around to various chicks in the crowd who had that mythical quality known as "the jack." Only one lass complied with the crowd's urging to "show her tits." I guess that's what it means to have "the jack." AC/DC's appreciation of females continued with their rendition of "Whole Lotta Rosie" which was accompanied by a giant inflatable puppet of Rosie, the rather big-boned and voluptuous titular character dressed in a teddy and garter belt, who danced along.
The gimmicks just kept on comin' as a giant black bell inscribed with the band logo was lowered from the rafters for "Hells Bells." Brian swung on the bell over the crowd. The setlist was stocked with metal classics like "Back in Black," "Highway to Hell," and "Let There Be Rock" testifying to the legendary status of the band. All were played with fire and energy as if they had just recorded them yesterday. Angus and Brian are the outgoing members of the band, thriving on the energy from the crowd and giving 110%. Bassist Cliff Williams and guitarist Malcolm Young (Angus's brother) stood in one position for the entire show. I wondered if they were growing roots to the stage until "Dirty Deeds Done Dirt Cheap" which required them to move to microphones to utter the staccato back-up vocals "dirty deeds and they're done dirt cheap." Still, they play capably and not everyone can have the spotlight. Brian and Angus seem to have a playful relationship with Angus twice knocking off Brian's cap to reveal his balding pate. Brian finished each song like a trooper but then quickly went to find the cap and put it back on. Angus did his traditional striptease to free himself from the schoolboy uniform and flashed the crowd a glimpse of his boxers which were adorned with the Australian flag.
For the encore, they brought out the heavy artillery. Cannons blasted during "TNT." They closed the show with what one would expect to be the opener, the rallying "For Those About to Rock, We Salute You," complete with more cannon fire, more smoke emanating from the giant Angus statue, and more screeching from Brian. A confetti launch concluded the proceedings, and the show clocked in at a very respectable 2 and a half hours. I definitely felt like I got my $80 worth with this night of simple pleasures, balls to the wall rock, guitar wizardry, and mullet-spotting. I know. It's only rock and roll. But, I like it.
Read other Ape Culture concert reviews
Seen AC/DC live? Add your thoughts here.
Ape Culture and all associated pages are
ŠApe Culture 1998-2007 and evermore.