Music to my Ears: a Tribute to Timothy White
featuring Don Henley, Brian Wilson, Sheryl Crow, John Mellencamp, James Taylor, Jimmy Buffett, Roger Waters, and Sting
Madison Square Garden
New York, NY
October 8, 2002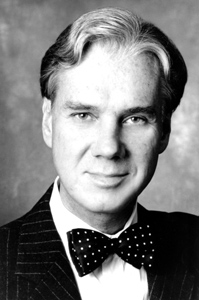 Dazzled by the star power in the lineup, I bought a ticket for this event without having a clue as to the identity of the object of the tribute: Timothy White (pictured at left). Fortunately, James Taylor kicked off the evening by introducing a video about White's life. I learned that he had been an influential rock writer in such magazines as Rolling Stone and Crawdaddy before moving on to write several important rock books (including well-respected biographies of Bob Marley and James Taylor) and becoming the editor of Billboard. At the age of 47, White died of a heart attack, leaving behind a wife and twin boys. This concert was to benefit them.
Sometimes these star-studded marathon concerts are slow and disappointing (c.f., Netaid), but this was an event that made me glad to be living in New York. These artists only played together on 2 nights--1 in Boston and 1 in New York. The evening lasted 4 hours but never dragged, as each artist expressed his or her affection for White with videotaped tributes and impassioned live performances.
After James Taylor introduced us to White, Brian Wilson took the stage. Wilson is something of a battered relic. I respect his career and am glad that he has emerged from the sandbox, but he looks a little shell-shocked and sad on stage. His voice wavers just as it did when I saw him a few years ago at Neil Young's Bridge School Benefit. Wilson kicked off his set with "California Girls," which got the crowd on its feet, and then he played my favorite Beach Boys song "God Only Knows." This haunting ballad was the perfect choice for the occasion. He played three more feel-good classics: "Do It Again," "Help Me, Rhonda," and "Surfin' USA."
Next up was Jimmy Buffett, who I have seen repeatedly, including this past summer in Camden, NJ in a thunderstorm. Buffett looked very New York in jeans and a tight black T-shirt. It was hard to verity from my 300-level seat, but it appeared he was even wearing shoes. It also seemed like he had been working out--he looked almost buff. Buffett started his acoustic set with "Far Side of the World," the title cut from his latest album. He then pleased the sizable percentage of Hawaiian-shirt-wearing concertgoers with "A Pirate Looks at Forty" and "Margaritaville." He left the stage after only 3 songs, leaving us parrotheads with our feathers a bit ruffled, hopeful that he would come back later in the show.
Roger Waters then took the stage to a long and enthusiastic ovation. He started his set with Pink Floyd's "Wish You Were Here" and then played a new song, "Flickering Flame." Don Henley joined him on stage with no fanfare for a spectacularly contemplative rendition of "Comfortably Numb." This was the first of several "dream team" collaborations of the evening. The evening's biggest applause to that point greeted Waters as he took a bow and left the stage.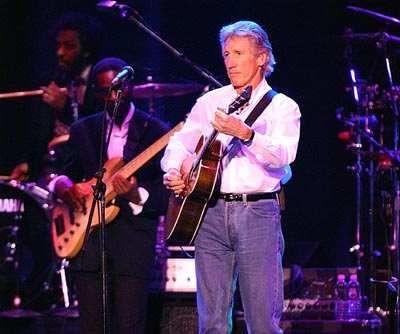 James Taylor kicked off his mellow set with "October Road" and "Stop Thinking About That." Then Jimmy Buffett joined him onstage to duet on "Mexico," a song that Buffett covered on his Fruitcakes album and frequently plays in concert. I would have to say this was the highlight of the concert for me, as I love that song. Taylor concluded his set with a lullaby, "You Can Close Your Eyes," and Sting joined him on this song.
After a short intermission, Sheryl Crow took the stage and got everyone back into a rockin' mood. I've seen Sheryl a few times at these festival/benefit type shows and I like her songs, but I don't think she adds much to them in live performance. She played "Soak up the Sun," "If It Makes You Happy," "Home," and "Steve McQueen." Sheryl did a good job of raising the energy level, but I think she was a little out of her league in this company.
Don Henley played next, backed by his own band, one of Eagle cohorts (Timothy B. Schmidt), and a gospel choir. Don was one of the first concerts I attended when I was in high school during his Age of Innocence era and I have fond memories of that show (Edie Brickell and New Bohemians opened!). So I was excited to see him and hear his gravely voice again. Don kicked off his set with the gospel standard "How Can I Keep From Singing," in an attempt to put a joyful spin on the grave reason for this musical gathering. Schmidt moved up on the risers with the choir as Henley led them in a rendition of David Gray's "Shine." Next Henley took us back to the days when everyone wore or coveted Ray Ban Wayfarers with "Boys of Summer." Henley motivated the crowd to stand up with Bob Marley's anthem "Get Up, Stand Up." Sting and the choir joined him for this song.
Sting then played his own set. I have to say he looked the best of all the performers....that yoga and tantric sex must do the trick. Sting started off sharp with a raucous "Roxanne" and continued his super-hits set with "Fields of Gold" and "If I Ever Lose My Faith In You." For his finale, he crooned "Every Breath You Take," making everyone in the arena long for a Police reunion. I would say it was a close call between Sting and Roger Waters as to who won the battle of the bands, and the crowd sang along and gave Sting a loud ovation.
As he was one of White's closest friends, John Mellencamp played the final set, kicking it off with a rockin' rendition of "Paper in Fire." He then played a rearranged, slow version of "Small Town," which brought focus to the lyrics but lacked the punch of the original. He also played "Robert Johnson Blues" and "Peaceful World." Mellencamp then brought out a guest star that I hadn't seen since the days when Mellencamp was known as Johnny Cougar--Patty Smyth, formerly of Scandal. They harmonized on "Pink Houses." I was hoping for "Jack and Diane," but I won't complain. Mellencamp played with his usual passion and intensity, helping the crowd stay with the show as it approached the 4-hour mark.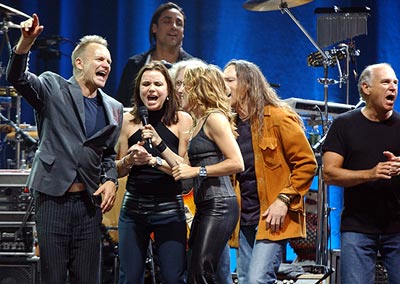 For the finale, all the performers gathered on stage for extended jams on "This Train is Bound for Glory" and "Everyday People." I left the arena feeling I had been a part of a truly amazing evening and glad I had contributed to the estimated $1.5 million that these musicians raises for Timothy White's family through these 2 concerts.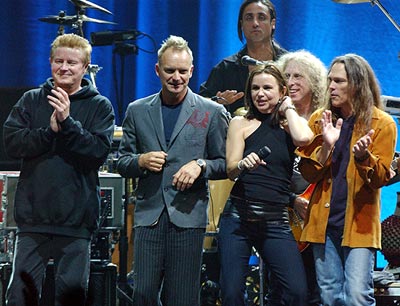 Other Ape Culture Concert Reviews including reviews of Jimmy Buffett concerts
Post a comment about Timothy White.
Ape Culture and all associated pages are
ŠApe Culture 1998-2007 and evermore.