Bridge School Benefit Concert
Shoreline Amphitheater
Mountain View, CA
October 30, 1999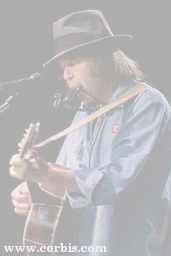 Woodstock '99 taught me that sometimes you have to suffer for good music. This 8-hour Bridge School Benefit concert gave me a refresher course. When the show started at 5PM, the temperature was in the 70's, but as night descended, a damp chill set in and the temperature dropped to the 40s. The coffee line began to resemble the line at the box office when the tickets went on sale. I lost feeling in my extremities, but I didn't consider leaving early. It's not every day I get the chance to sit on the lawn and watch a festival show like this one, a lineup packed with legends and great bands, not a weak link or one-hit record-company darling in the bunch. This festival wasn't sponsored by a radio station. Here your $35 ticket goes to a worthy cause and you can see the beneficiaries onstage in the VIP seats.
We arrived around 4PM and found the lawn was already blanket-to-blanket. The 20,000 seat venue must have been oversold. We planted ourselves way up at the top of the lawn and made comments like "That ant with the silver hair...is that Emmylou Harris?" until it got dark enough for the video screens to shed some clarity. At 5PM, Neil Young's wife Pegi, a co-founder of the Bridge School, welcomed us and introduced the students and alumni who were seated onstage with their parents. The Youngs started the school, which is dedicated to children with several physical and speech impairments, in 1986, and their son Ben was one of the first students. This 2-day show was the thirteenth benefit concert.
Mr. Young, wearing a fedora, jeans and a sportcoat, and sideburns that seem to be alive, kicked things off with a three-song appetizer: "I am a Child," "Good to See You," and the haunting "Heart of Gold." Lucinda Williams followed with a five-song set. Neil and Emmylou Harris joined her on "Greenville" and "Sweet Old World."
Smashing Pumpkins' Billy Corgan and James Iha came on to inject the proceedings with a little edge. The mordant Corgan covered one of my most favorite U2 songs "Stay (Faraway, So Close)" and the crowd sang along. Billy "Pay No Attention to the Man Behind the Curtain" Corgan lent the spotlight to his bandmate Iha, who sang lead on two songs. They brought out exiled drummer Jimmy Chamberlin and got louder, debuting a crunching new tune. All in all, these Pumpkins played a strong set, though I would have liked to have heard some of their bigger songs in this stripped-down setting.
To keep the alterna-vibe going, Green Day batted next. Billie Joe Armstrong and friends looked almost comical with their acoustic guitars and bass, but they delivered a high energy, hit-packed set. Their brand of punk has pop sensibilities, and jangly tunes like "She" and "Longview" lost nothing when acoustified. Green Day also debuted a catchy new song: "Warning." Billie Joe freestyled on a kazoo before they closed their set with "When I Come Around" and "Time of your Life."
When I bought the Barenaked Ladies single "Brian Wilson," an irreverent ode to the great depressive that contains the refrain "Lying in bed, just like Brian Wilson did," I just never expected I'd actually see the guy onstage. I had seen the Beach Boys do a free show at Fair St. Louis about ten years ago, their voices cracking through the high notes, their smiling faces assuaging the crowd, "No, Brian's not here...but look, we've got John Stamos!" I prefer a legend who may not be playing with a full deck to a cast member from Full House, and, apparently, I'm not alone because the crowd went nuts for Brian. Straight outta the sandbox and on the road to support a new album, Brian sat on a stool, projecting a medicated smile and a vacant stare. He's got a strong backing band who have the vocals to handle the high notes he can no longer reach. To be honest, he can't reach many notes and he was often off-key. Maybe it was his full head of dark hair, maybe the blank expression and slurred speech, but he reminded me of Ronald Reagan and that bummed me out a bit. But Brian's crowd-pleasing set of Beach Boys classics turned my frown upside down. I stopped hearing the wrong notes and just cruised on the good vibes.
Although he played one song from his recent album, "Lay Me Down" (a tribute to his late brother Carl), Brian devoted his set to the classics: "California Girls," "In My Room," "Help Me Rhonda," "Surfer Girl." His rendition of "God Only Knows" was truly beautiful. Eddie Vedder, Neil, and Sheryl Crow joined Brian for "Surfing USA," and he closed his 45-minute set with "Good Vibrations." The sedate crowd was at its most active during Brian's set. For the next couple of hours, the music was pretty mellow and people stayed seated, huddled together for warmth.
Off with the hawaiian shirts, on with the flannels Pearl Jam played next. Eddie and company played a too-short 30-minute set and scant hits, though they did oblige us with "Last Kiss," "Wishlist," and my favorite "Elderly Woman Behind the Counter in a Small Town." Eddie's voice sounded great. I just wish he would have played longer and played a song or two from Ten. "Jeremy" would have been appropriate.
Eddie's growl was succeeded by Tom Waits' barbaric yawp. Most audience members had stunned, gape-mouthed expressions on their faces during Tom's set. I overheard comments like "Get that guy a lozenge" and "Clear your throat" and even "Get off the stage" -- pretty harsh for this peaceful crowd. Waits sputtered and fumed, hunched over his piano like an old woman who never drank her milk. I know the man has his legion of admirers, but I just don't get it. He does make me feel better about my own singing voice and I will admit that he has presence. He was creepy and appropriate for Halloween weekend.
Around the six-hour mark, Neil Young came back for his regular set. He had changed into a sheepskin vest and flannel shirt and he sat surrounded by guitars, a guitjo, a banjo, and a piano--all of which he played during his 8-song set. Highlights were "Harvest Moon," "Souther Pacific," and "Old Man." The placid Young thanked everyone for coming and seemed amazed by the talent that had answered his call this year.
It was nearly midnight, and we were cocooned in our blankets, unwilling to move when Sheryl Crow opened with "All I Wanna Do." All I wanted to do was see The Who and get back to my heated hotel room. Nothing against Sheryl, whose music I really admire, but I had already seen her twice in three months--at Woodstock 99 and Netaid. Sheryl and her band turned and played a couple of songs to the Bridge School kids which got them clapping and smiling, ahtough they must have been exhausted by this point. With a violin and cello backing her, Sheryl delivered strong renditions of hits like "Strong Enough" and "Leaving Las Vegas." She shared the stories behind other less popular tunes.
Very few people had left early, despite the weather, so quite a roar greeted The Who. Reunited for their first tour in ten years and as unlikely to be acoustic as Green Day, the band delivered a smashing finale. Pete Townsend blistered through solos. John Entwhistle took the lead on "Boris the Spider." Roger Daltrey lacked some of the old oomph but did a good job on a solo version of "Who Are You." Zak Starkey, Ringo's son, proved capable on drums. It was thrilling to hear so many classics: "Substitute," "Pinball Wizard," "I Can't Explain," and "Won't Get Fooled Again." I must have had the stunned expression of Tommy on my face. Townsend seemed playful and a bit randy, pretending to squash Boris the spider, joking about Tom Waits, leading Daltrey in a brief Johnny Cash medley. Still the bad boy, Pete blurted "Fuck" only to cover his mouth and look sheepish, realizing there were children present.
The Who closed their set with the apt "The Kids Are Alright" before the other artists joined them onstage to cover Bob Dylan's "I Shall Be Released." We stumbled to our car, maybe not a magic bus, but we had plenty of good vibrations to carry us home.
Some Links:

The official Bridge School website
Visit this site for more information on the Bridge School
and a complete history of the past benefit concerts
Read more of Ape Culture's concert reviews.
Post a comment about Neil Young.

Ape Culture and all associated pages are
ŠApe Culture 1998-2007 and evermore.



Click here to learn about
the Ape editors' book
Check out the Ape Blog for the latest Ape Culture News and Reviews