Her Name is Kylie; She is a Showgirl
Sydney Entertainment Centre
April 16, 2001

Kylie's On A Night Like This tour has been the hottest concert ticket in Australia this year, blitzing all competitors, and outselling previous tours by contemporaries Madonna and Janet Jackson.
Following in the wake of the multi-platinum triumph of Kylie's Light Years album, the show was always expected to outdo the success of 1998's relatively modest Intimate & Live tour--but the terminally cynical Australian media and non-fans alike have been taken aback by the unprecedented success of the show.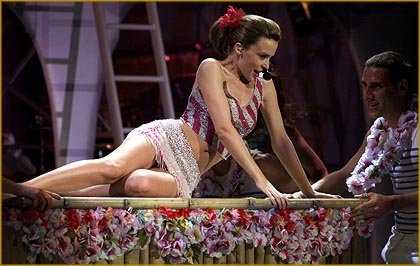 One hysterical AC/DC fan wrote to a major Sydney newspaper complaining of "unfair" comparisons between the two acts, insisting Minogue had only outsold the heavy metal cadavers' Australian tour due to their alleged unavailability for further shows. A clearly startled Alice Cooper was forced to remove a sequence from his own nostalgia show that mocked Minogue, wisely replacing her with Britney Spears.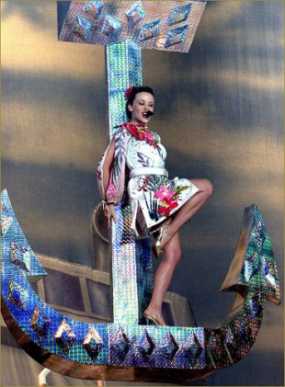 The crowd on the first night of Kylie's record 9-night run at the Sydney venue was largely comprised of men and women in their late twenties and early thirties, ranging from screaming queens in crop tops, to former bubble-skirted, bubble-permed suburban chicks--many of them now career women.
The ecstatic response that greeted the screening of Kylie's Pepsi commercial on giant video screens before the concert stood testament to the blind adoration her audience now feels for their goddess. Most of them had stuck with her--from the harsh days of 80s bubble-gum stardom to the new cool of 21st Century Kylie, morphing into different forms along with their pop proxy.
The crowd cheered a video montage documenting Kylie's many image transformations and musical phases and then greeted Kylie with a deafening roar when she finally descended from the rafters on a giant anchor to perform the Light Years favorite, "Loveboat." Demonstrating all the pop class and refined camp she and collaborators Guy Chambers and Robbie Williams captured in the studio, Kylie's energetic performance on the elaborate cruise liner set was colorfully supplemented by a mixed-gender troupe of dancers well-versed in booty shaking.
The pure pop brilliance of Kylie's late 80s Stock/ Aitken/ Waterman hit, "Hand On Your Heart," instantly shone through and was warmly greeted by fans. It was the first of many songs performed in the show from an era Kylie once shied away from even acknowledging. But this show saw Kylie embrace her past with a gusto only hinted at on her previous tour. Kylie delivered hit after classic hit, slotting them effortlessly between songs from her current album.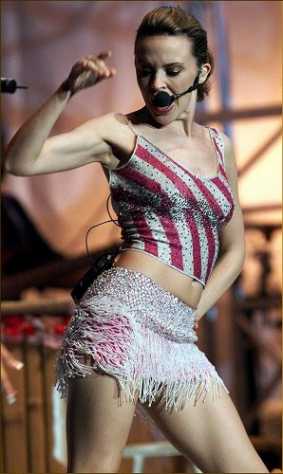 Pop trash classic "I Should Be So Lucky" and gay disco standard "Better The Devil You Know" were sensationally reinterpreted, with a Garbo-esque Kylie crooning atop a grand piano in top hat and tails. In one fell swoop, showgirl Kylie effortlessly achieved what Madonna had tried--and failed--to do on her "Girlie Show" tour.
While the set list was light on numbers from Kylie's two deConstruction albums, the singer displayed impressive new vocal strength during an acoustic rendition of "Put Yourself In My Place" and the vocally-challenging "Confide In Me." As a special treat to Australian audiences who had embraced the Impossible Princess album while it clogged bargain bins in Europe, opening night audiences in both Brisbane and Sydney were treated to a barnstorming performance of "Did It Again"--a track not included in European shows.
Kylie's strength has always been dance-driven pop, but the rock anthem "Kids" was undoubtedly one of the highlights of the show, regardless of the absence of duet partner Robbie Williams. The song was given a truly impressive burst of fire by the amazing contributions of backing vocalists Lurine Cato and Sherina White, raising the roof with their gospel-honed talents.
The rather pedestrian cover of Olivia Newton-John's classic "Physical" that was cut from the Moulin Rouge soundtrack failed to impress many fans as a bonus track on the tour edition of Light Years, but unexpectedly came to life on stage during a sultry performance that seemed to depict sexual awakening on a jungle gym.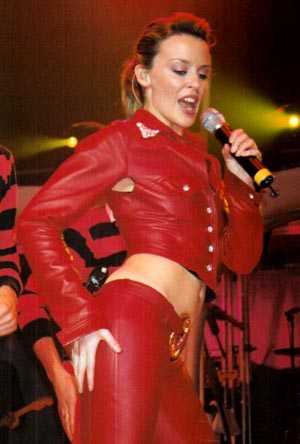 By the time Kylie finished her set and departed the stage, I wondered how there could possible be any appropriately anthemic material left for a memorable encore. All questions were answered when Minogue returned to the stage, which had been dramatically transformed into a Sci-Fi movie set for the title track of Light Years. The dance floor favorite was effortlessly followed by the nearly decade-old S/A/W masterpiece "What Do I Have To Do," and the song that made it all possible--her 2000 return to form, "Spinning Around."
Get out of her way, indeed. All doubts were cast aside. Kylie is queen.
The "On A Night Like This" tour showcased Kylie as an artist finally confident in her talent as a stage performer, and reveling in her unique brilliance at delivering pure pop. Now confident about the quality of her back catalogue after several lost years courting the style press, Kylie apparently realizes her rightful place in pop history.
And judging by the sneak preview she offered fans of her next album--a hypnotic and sexy piece of adult pop called "Can't Get You Out of My Head"--she can feel secure about her future as well.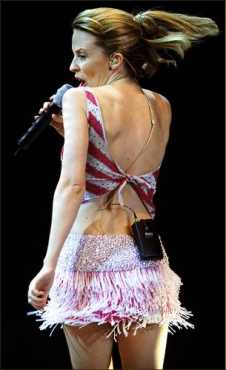 Setlist
Kylie Overture
Loveboat
Koocachoo
Hand On Your Heart
Put Yourself In My Place
On A Night Like This
Your Disco Needs You
Medley - Step Back In Time, Never Too Late, Wouldn't Change A Thing, Turn It Into Love, Celebration
Can't Get You Out Of My Head -
I Should Be So Lucky
Better The Devil You Know
So Now Goodbye
Did it Again
Let's Get Physical
Butterfly
Confide In Me
Kids
Shocked
-ENCORE-
Light Years
What Do I Have To Do?
Spinning Around
Kylie Minogue sites:
Limbo
Sayhey forum
Official Kylie Minogue Site
Matthew Denby's feature on Kylie's comeback

Ape Culture and all associated pages are
ŠApe Culture 1998-2007 and evermore.