Girlfriend Drags Gent of Leisure to a Deborah Gibson Concert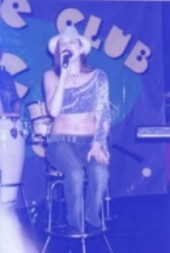 It was 1988, and I was 13. My parents bought me a ticket to see Debbie Gibson at Radio City Music Hall. It was my first concert. I thought it was cool that my parents dropped me off, instead of actually coming in with me. Clad in braces and jean jackets with the sleeves rolled up, my friends and I raided the candy counter and screamed all night. I swore Debbie actually saw me in the audience.
When I saw the ad that said Deborah (not Debbie) Gibson was going to be singing at Culture Club, I knew I had to go, but who would dare to go with me? Of course, my devoted boyfriend, The Gentleman of Leisure! I had to drag him, kicking and screaming, but I made it his duty as my boyfriend to go with me. As you can well imagine, he was less than pleased. He begged me to reconsider in favor of a quiet night at home watching an I, Claudius marathon on PBS, but I was adamant. He just couldn't shake my love of Debbie.
Culture Club is a dance club in New York City, dedicated to honoring the 80's. The club has murals of forgotten 80s stars on the walls, and 80s memorabilia all around, including a hanging Rubik's Cube. There are bleachers where you can sit, to give you that, "I remember when I had to sit on the bleachers by myself, because I was a loser" feeling. Not that I would know how that felt or anything…
As we approach Culture Club, the Gent and I reminisce about the various times we have frequented this place. Although I have had better experiences than he has, we both decide that Culture Club generally sucks. I revel in the recollection of the time that I came here for my birthday, and Fake Boy George did a shot with me and pinched my ass. To this day, I'm still not quite sure how I feel about that.
We get on line and pay our oh-so-economical cover charge of $30 each. I am fairly sure I could have purchased an Electric Youth perfume gift set at Walgreen's for that sum of money back in 1988. Two gigantic bodyguards are at the door armed with flashlights and fast math skills to check ID's. Also greeting us at the door is Fake Boy George. "Oh God, please don't pinch my ass again," I think to myself. Fortunately, he doesn't recognize me.
A limo pulls up, and I shout, "It's Deborah!" When I realize I'm the only one who has said anything, I feel like a dork. The scary bodyguard sees my excitement, and moves me along into the club. So close!
We get into the club, and it's super-crowded. We check our coats, and head for the bleachers. That aforementioned loser feeling sets in. Gent and I scan the crowd. The place is overwrought with 80s junkies stuck in a time warp. I can see getting dressed in 80s clothes for fun, but these people seem to really dress this way everyday. I see clothes that I'm pretty sure you can only get on eBay, like tight acid washed jeans with high velvet boots worn over them, and guys with mullets and leather jackets with spikes. I look over at Gent, who looks overwhelmed, glassy-eyed and scared.
We begin to hear music, and we see Fake Boy George, makeup and all, running toward the side stage, and dodging people in the crowd. He seems to be having a bad night. He gets up there and lip-synchs "I'll Tumble For You," while putting on those famous Boy George dance moves. "This is truly bad," declares Gent. I agree.
Finally, Deborah hits the stage. Clad in 80's gear, she is not. Clearly Deborah has tried to modernize her image. Looking buff, she comes out confidently, decked out in a Britney Spears-esque outfit. She wears low waist pants, an opaque, glittery off the shoulder belly shirt, and mafia style hat tipped over one eye (a hat of course, but no vest this time). Gent 's glassy-eyed expression changes from one of fright to one of a kind of hazy calm. "At least she's cute," he says.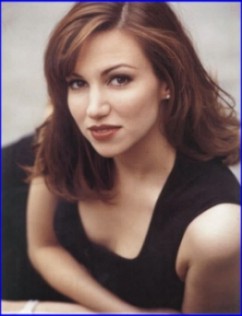 Deborah opens by saying, "It's all cheese, all night!" At least she's honest. She opens enthusiastically with her perfume anthem, "Electric Youth." Most people cheer, and some dance. I'm getting into it myself, but Gent just gives me a weird look. I decide that her singing is great, but I think that she's been on Broadway too long, because her voice is too loud for the club. Her dancing is also Britney-esque, with more provocative and suggestive dance moves than we're used to. This is a bit weird to see while you're listening to "Electric Youth."
She breaks into "Only in my Dreams," then doesn't hesitate to plug her appearance in Cabaret on Broadway. She sings a danceable new song called, "I Don't Want to Be Your Secret." She then does an acoustic version of "Out of the Blue," which sounds a little out of tune.
Now it's time for the infamous "Foolish Beat." This song inspires guys in their early to mid 30's to hold up lighters and sway--a rare sight normally reserved for heavy metal power ballads like "Every Rose Has Its Thorn" or "Silent Lucidity." Gent 's concise analysis of this phenomenon: "They probably want to get laid." I look for people moved to tears, but don't see any.
"Shake Your Love" is next, which generates a really big crowd response. You can almost hear the crowd thinking, "Oh yeahhh, I remember this."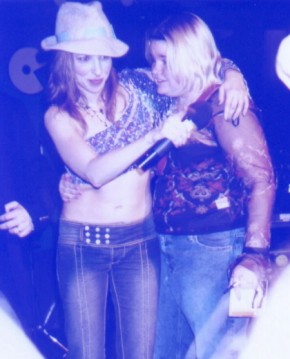 Finally, for the grand finale, she sings "Lost in Your Eyes." She is reduced to playing it on a Casio. I am disappointed not to see her rebellious climb onto her white grand piano, like she did back in the day. It just isn't the same. She then sings it again as a reprise, only this time she pulls some interesting characters up from the audience. I'll never understand how Deborah chooses her fans to pull up from the audience. What is it based on? Are they planted? The lucky audience members seem to be fanatical Broadway wannabes and American Idol rejects trying to upstage her.
Then, it's over. We sit on the bleachers for a while and watch people drift away, while other continue to dance or go upstairs. "Do you want to go?" I ask Gent, attempting to relieve his torment. He just nods and starts going down the bleachers, sparing me a recitation from Dante to explain which circle of Hell he is in at this moment. As we head back to the coat check room, we notice a giant mural of Deborah on the wall, complete with her signature. It makes me feel a little sad and old, yet nostalgic. The gent declares the artist is "no Caravaggio." As I walk out, with bodyguards glaring at me, I reflect on something Deborah said during the show. "I'm not ashamed of my past, the 80's were good to me." That's Deborah for ya, always giving us those positive messages.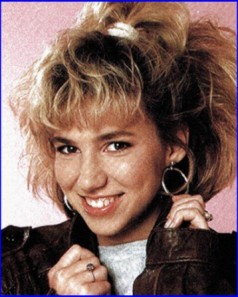 Deborah linkage
The official Deborah Gibson website
Another Deborah Gibson fansite
Other Ape Culture concert reviews including second looks at teen idols like David Cassidy and Leif Garrett
Further adventures of the Gentleman of Leisure

Share your memories of Deborah and your feelings on the fashion combo of hats and vests.
Ape Culture and all associated pages are
ŠApe Culture 1998-2007 and evermore.