The Worst Noel: Hellish Holiday Tales
Collected Authors, Harper Collins 2005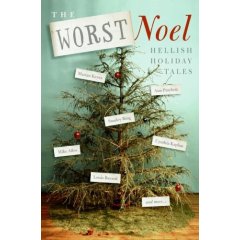 In The Worst Noel: Hellish Holiday Tales, assorted authors, most of whom have new or upcoming books to promote, gather to share their Christmas and Hanukkah nightmares. The basic premise of the book seems to be that reading these essays will help us to feel better about our own unwanted fruitcakes, both the gift kind and the relatives-you-see-once-a-year kind. I read the book poolside in Cabo San Lucas, Mexico, having a relaxed and completely unannoying Christmas, so I couldn't really feel the authors' pain. I did find many of the essays to be amusing if disposable - much like a real live Christmas tree!
Quite a few of the essays are about Jews grappling with Christmas. There was a lot of hatin' on Hanukkah in these essays, and a recurring theme of the worst Noels being the ones where Jewish kids were forced to unwrap presents like socks for eight not-so-crazy nights by their born-again Jewish parents who had previously celebrated Christmas. Of these essays, the funniest was Cynthia Kaplan's "Donner is Dead", about a ski trip that goes awry when the family car strikes a deer.
Probably the most famous writer in the book, Ann Patchett, presents "Birthdays", about how her stepfather spoiled Christmas by pouting because he had a Christmas birthday. There are some touching moments in this essay, although it too falls prey to dwelling on cliches, which is nearly unavoidable when writing about Christmas. Other unoriginal essays tackle the pitfalls of dry holiday hams and the clerical hassle involved in sending Christmas cards.
I enjoyed Stanley Bing's novel Lloyd and his inventive and funny imbedding of PowerPoint graphics in the fiction, and I also enjoyed his melancholy essay "The Bite Before Christmas", about having Christmas dinner in a diner because he's on his own for the first time in years, after the dissolution of his marriage. He finds some humor in the sadness, whereas Ann Giardini's essay about her last Christmas with her dying mother is just depressing.
Louis Bayard's essay "Survivor", about his failed job interview to be Rudy the Reindeer at a mall only made me think of David Sedaris' "Santaland Diaries" from his collection Holidays on Ice. This book aspires to the wackiness and whimsy of the Sedaris book but never quite reaches it, although John Marchese's "Blue Christmas: The Tour" comes close. He describes his disastrous holiday visits to various girlfriends' families over the years, culminating in this visit to his fiancee's born-again Christian relatives during which they sang "Happy Birthday, dear Jesus" over an actual birthday cake. Now that was a holiday image I hadn't seen before, and it made me laugh.
One of the book's goals is to introduce readers to new writers and encourage them to buy the writers' books. Most of the essays didn't stick with me and I can't say I've added any of the authors' books to my Amazon wish list. However, the book did make for entertaining poolside reading and it helped me get into the holiday spirit while I was in sunny Mexico. It's always hard to feel Christmasy when the weather outside isn't frightful, but this book made me feel like I was sipping eggnog instead of margaritas.

Share your thoughts on the book or your own hellish holiday tales here.
More reviews of things people have sent us
Ape Culture and all associated pages are
ŠApe Culture 1998-2007 and evermore.