Holiday Blights - LA
Christmas on Candy Cane Lane in Woodland Hills, CA

Californians won't let the lack of snow stop them from having a holly, jolly, electric-company-pleasing Christmas. We found a neighborhood in Woodland Hills known as Candy Cane Lane where, since 1952, keeping up with the Joneses has involved large expenditures on lights, plastic snowmen, inflatable penguins, and animatronic Santas. Unlike the similar neighborhood we'd visited in Brooklyn, these Valley decorators favored movie and cartoon themes including Toy Story, The Incredibles, and Lilo and Stitch - Hollywood is just over the hill, after all.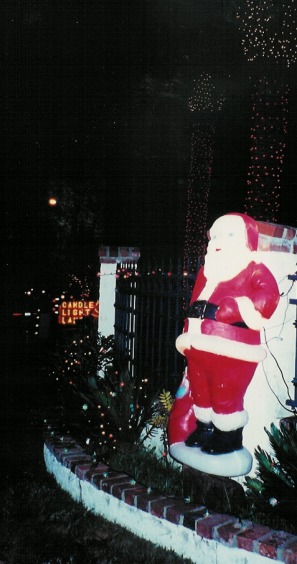 Abandon All Taste Ye Who Enter Here

A plastic santa and a small "Candlelight Lane" sign welcome visitors, as bejeweled palm trees sway in the background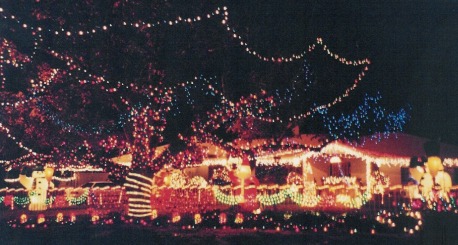 Joy OD'd

A celebration of American excess; illegal Mexican labor most likely spent days stringing all this crap up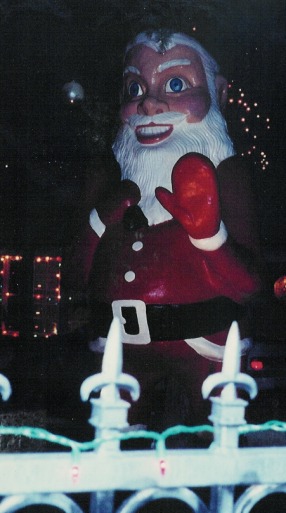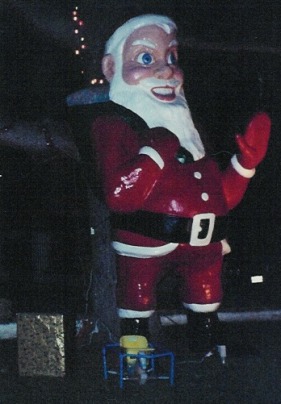 Godzilla vs. Santa

A 20ft Santa Tiki God invites passerby to rub his belly, if they can clamber over the fence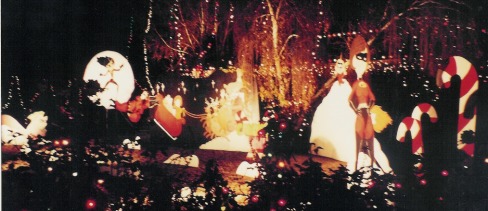 LA Christmas: Apropos of Nothing

It looks a lot less chaotic and more awesome in person, we promise. Have The Incredibles moved to the North Pole? Or is some valley-dwelling cartoonist just promoting his latest wares?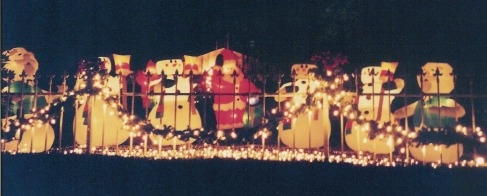 Curves, North Pole Franchise

Although you may not be able to tell, these hefty holiday icons are jazzercizing. Note the exhausted expression of the twin Burl Ives snowmen.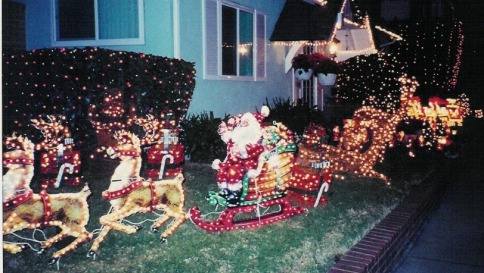 Christmas Conga Line

Santa encourages passerby to come on and ride the train. You'd hate to be at a railroad crossing waiting for the end of this one.




Coloring Inside the Lines

For some reason, I really don't like it when people outline their driveways and roofs with lights. I don't have a reason for feeling this way. I just thought I'd share.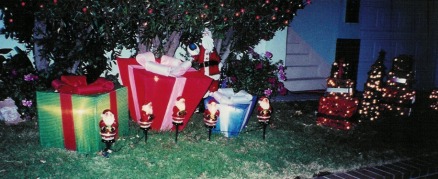 Would You Like to Keep the Box or See What's Behind Door #3?

Watch out. Those Santa lawn darts have been known to kill people.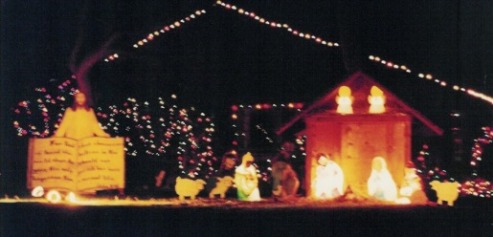 John 3:16 - It's Not Just for Sporting Events Anymore

Next to a glowing plastivity scene, an adult Jesus holds a bible open to "For God so loved the world, that he gave his only begotten son, that whosoever believeth in him should not perish, but have eternal life" (John 3:16). This yard exists to keep people from being too happy about Christmas and remind them about the crucifixion. Didn't Mel Gibson cover that already this year?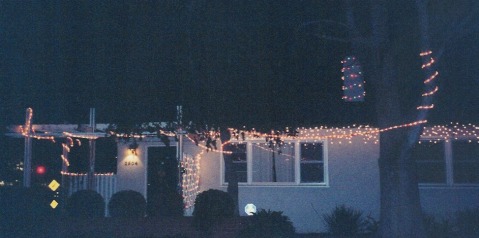 Sloppy Work Annoys God, Part I

Those lights strung from tree to tree to house could decapitate either visiting angels or reindeer flying through.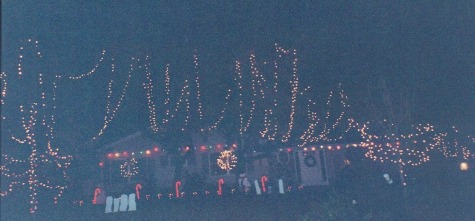 Sloppy Work Annoys God, Part II

Is that a display commemorating sloppy light-stringing or the joys of tee-pee-ing vandalism?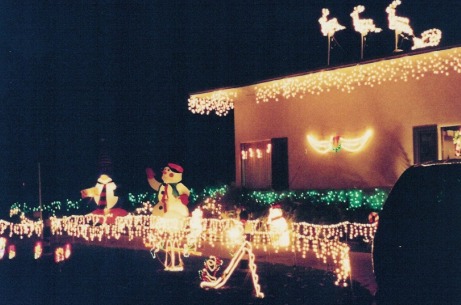 Heart Glows for Holidays

It takes thousands of watts of energy and an attic full of asbestos to get a glow like that.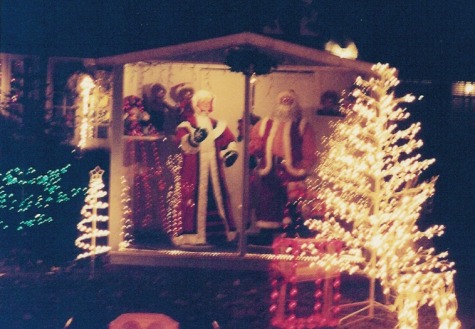 Clauses Who Live In Glass Houses Shouldn't Get Stoned

They might be enjoying the panoramic view right now, but Santa and Mrs. Claus are going to feel pretty exposed if they decide they want to get it on.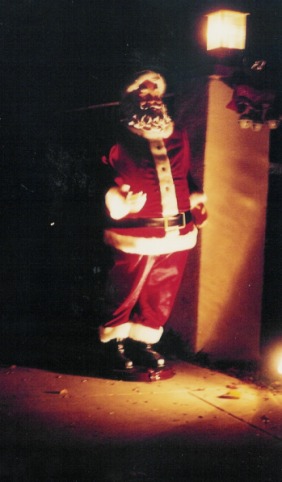 Don't Take Candy From Strangers

Even if he's dressed like Santa Claus, don't take candy from him and run like the wind if he asks you to sit on his lap...especially because he's wiggling in an inappropriately sexual and drunken manner and mumbling something inaudible about the reason for the season.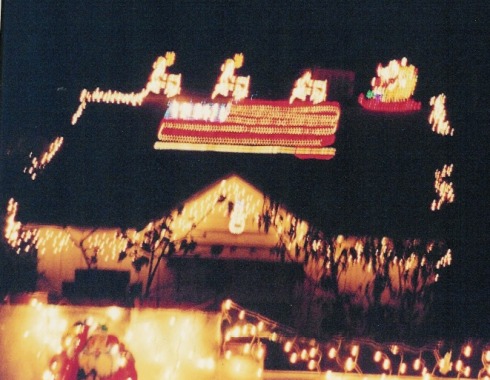 Stars & Stripes Signal to the Aliens of Outer Space

...lest extraterrestrials forget, we ARE the superpower. We're surprised Santa hasn't turned his sleigh back around in disgust, with his German heritage and all.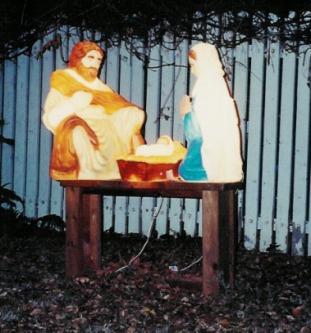 Plastivity Simplicity

Electronic overkill all over the block makes one nostalgically fond of this yard with only one simple worn plastic electric nativity expressing this message: from a single dim watted bulb, crap can glow.

If you decide to visit Candy Cane Lane...
Official event hours are 7pm-9pm. Residents request that visitors drive by no later than 10pm on weeknights, 11pm on weekends. Exit Winnetka Avenue off the 101N freeway, head north and turn right on Oxnard Street. Please don't feed the inflatable penguins.

Check out our photo essays on Holiday Blights in Yonkers, NY and Dykers Heights, Brooklyn's Christmas yard displays
Read Profiling Santa: Growing up Jewish, Max Burbank learned everything he needed to know about Santa from those delightful Rankin/Bass specials.
Hate Christmas office parties? Dodging It's a Wonderful Life on TV 24/7? Tell us what Christmas blights really stick a Santa-butt up your chimney - in the Ape Culture forum!
Ape Culture and all associated pages are
ŠApe Culture 1998-2007 and evermore.