Keeping up with the Clauses
The Pressure of Christmas Decorating
in Dyker Heights, Brooklyn, New York
You ain't seen Christmas lights until you've been to Dyker Heights. Each year, the mostly Italian-American residents of this neighborhood compete to have the biggest, best, and brightest Christmas yard displays. Some even hire professional Christmas display designers (is that a trade you can learn at ITT Tech?). An estimated 100,000 pilgrims cruise the neighborhood each year, basking in the glow of the glorious excess.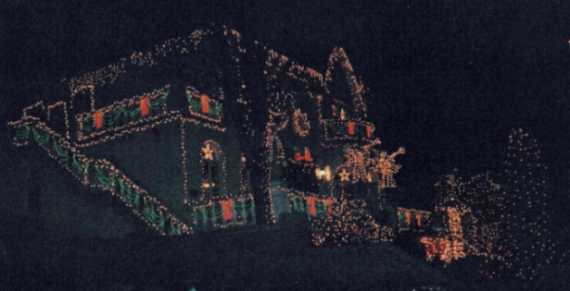 Lite Brite Memories
With its painstakingly precise outline done in lights, this house reminds me of something I would have dreamed of creating on my old Lite Brite, but not knowing how to make it, I would have given up and just copied that simple clown that was on the box.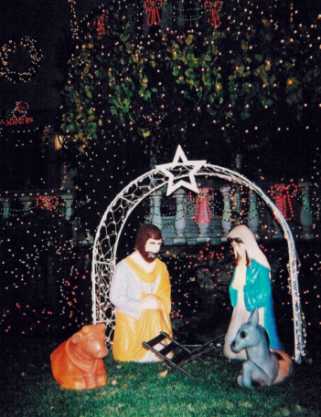 Plastivity
Plastic Mary and Plastic Joseph wonder who stole Plastic Baby Jesus. Plastic donkey and Plastic cow aren't too concerned.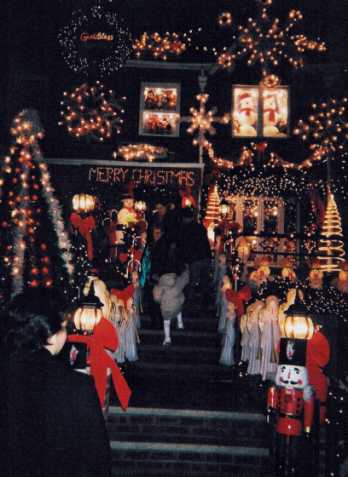 Keeping Con Edison in Business
It's because of houses like this one that the Wichita Lineman is still on the line.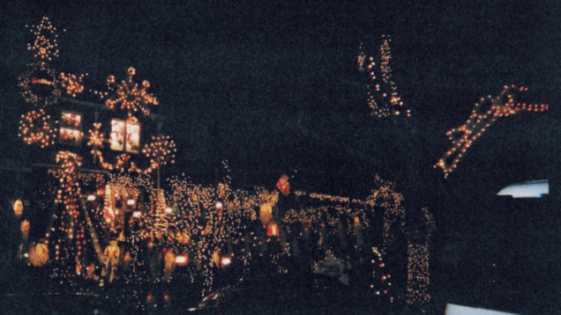 Keeping Con Edison in Business, part II
The view of the house above from across the street. Lest you think too much money is being spent on these monstrosities, be advised that someone dressed as a snowman stood in front of this house taking donations for charity.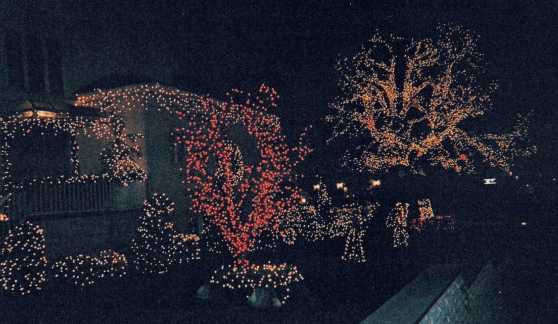 Christmas on the Great Barrier Reef
Thousands of lights affixed to trees and bushes make this house resemble a coral reef.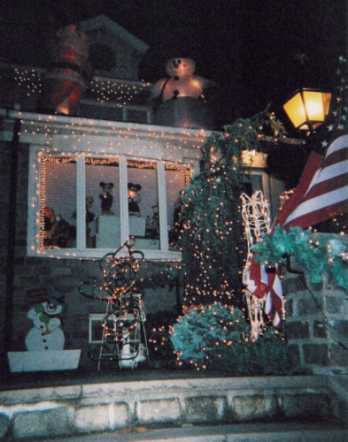 Mickey's Christmas Nightmare
Mickey and Minnie Mouse scream for help from their window prison, as a giant inflatable snowman and giant inflatable santa move in for the kill.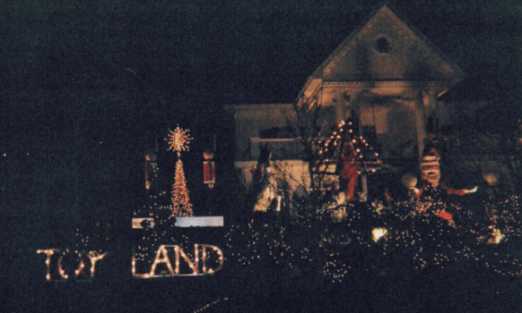 Toyland
Animatronic toys and a giant motorized Santa are showcased in this Nutcracker-themed display. Nutcracker music is piped in to complete the effect. Why pay $75 to go to Lincoln Center when you can just drive by this house for free?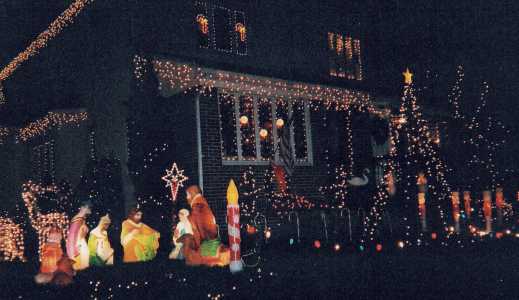 Plastivity, part II
Lucky for Plastic Mary and Plastic Joseph, their stable came equipped with a giant plastic candle to keep Plastic Baby Jesus warm. But, wait...is that Herod's Plastic Army amassing on the far right, looking to kill all male children who might someday become a threat to Herod's throne?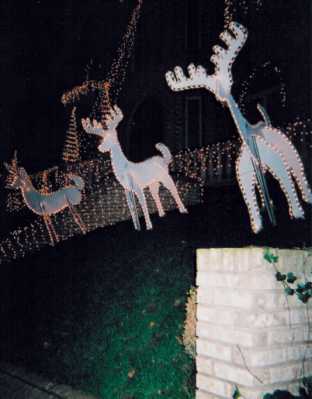 On Venetian! On Ballys!
On Bellagio!
Viva Las Vegasian Reindeer!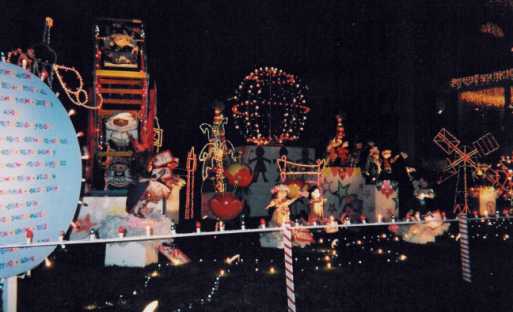 It's a Small World
The most impressive house in the 'hood presents an "It's a Small World" theme. The lyrics to "We are the World" are printed on a giant sign on the left and animatronic kids of all cultures ride a ferris wheel and twirl in the yard. As Dionne and Michael might sing, "It's true we make a better day, just you and me and 100,000 light bulbs."

If you'd like to make your own pilgrimage to Dyker Heights, you'll find most of these homes on 83rd and 84th streets between 10th and 13th avenues. Take the belt parkway to exit 4. Traffic can back up, so it's best to park and stroll around on foot.
For more Christmas kitsch in a neighborhood with less money and even less taste, check out our tour of Yonkers Christmas decorations. And check out a similar neighborhood project in Woodland Hills, CA.
Read Profiling Santa: Growing up Jewish, Max Burbank learned everything he needed to know about Santa from those delightful Rankin/Bass specials.
Hate Christmas office parties? Dodging It's a Wonderful Life on TV 24/7? Tell us what Christmas blights really stick a Santa-butt up your chimney - in the Ape Culture forum!Add comment.
Ape Culture and all associated pages are
ŠApe Culture 1998-2007 and evermore.