As Sleazy As They Wanna Be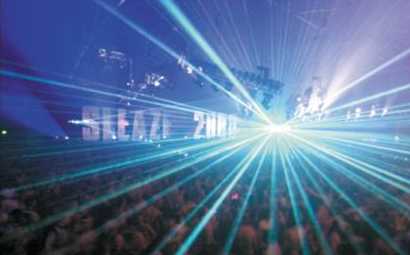 When I arrived in Sydney 8 months ago, it was Mardi Gras season. Now I've come full circle and attended the other gay and lesbian mega-event...and, as Madonna would say, lived to tell. I speak of Sleaze Ball, a gigantic dance party that attracts sleazy, hedonistic, and broadminded folks from around the globe. The theme of this year's Sleaze Ball was "2000 Degrees" and the organizers suggested heat and summer as thematic guidelines. My friends who had been around the Sleaze block advised me that costumes were key. Last year's Sleaze Ball with the theme "Homo-Sutra" had been easy to dress for, but had attracted the ire of Hindus who didn't find the poster's images of six-armed Shivas engaged in various sex acts amusing. For "2000 Degrees," we would need to come up with something high concept. We held a brainstorming meeting at the office and tried to think outside the box. Should we go as Miami Heat basketball players? Well, that would be expensive and not a very good look for the girls. How about the cast of The Towering Inferno? High concept, yes, but utterly unrecognizable as none of us resemble Paul Newman or Robert Wagner. Maybe we could go as fireplaces complete with mantles? Creative, to be sure, but a little unwieldy on the dance floor. Eventually we settled on the idea of going as New York City firefighters. I dispatched my friend Molly to the NY Firestore to fetch authentic reflective T-shirts and "Keep Back 200 Ft" patches for us. We completed the outfits by running reflective tape down our pants, re-labeling kiddie fire hats to say "Sleaze Chief" and smearing charcoal on our faces. We were hotter than an episode of Emergency!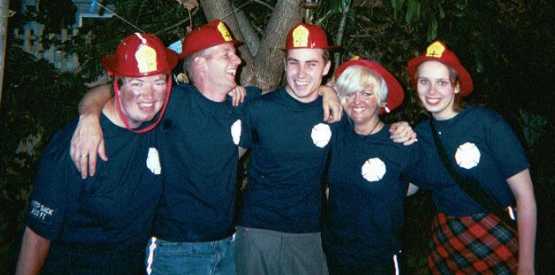 Sleaze 2000 Degrees was completely sold out which meant 14,000 people descended on Fox Studios on November 11 for the party which ran from 10:00 PM - 8:00 AM. Everything was well-organized. Traffic flowed smoothly in Olympic fashion and the crowd was divided between 3 arenas with different DJs and an outdoor chill-out area. In the past there have been men-only and women-only areas but that concept was abandoned this year. Perhaps that's why this Sleaze Ball was much less sleazy than I'd been led to expect. It was more about dancing and having fun. I only observed snogging, nothing like the things a friend mentioned seeing when she inadvertently wondered into an S&M room at a past Sleaze Ball. I'm told it only seemed tame to me because I wasn't in the mens bathrooms--a friend reported sighting Sydney's infamous "Troughman" who likes to sit in the trough in the men's room and let people piss on him. Now that's what I call sleazy!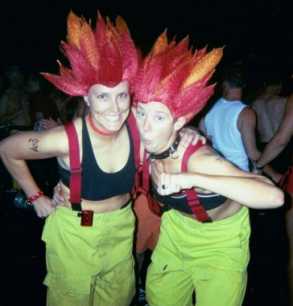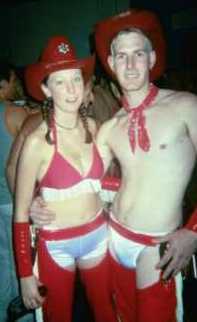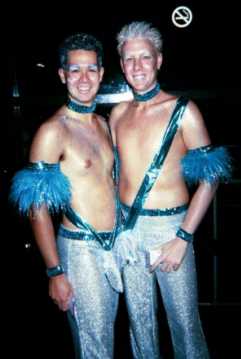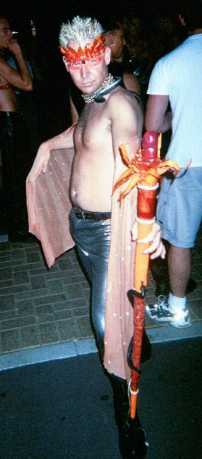 We arrived at Sleaze around midnight and proceeded to the RHI, the arena with the more popular, campy dance music. I managed to sneak my camera past security. Not surprisingly, our group got separated almost immediately and we hadn't arranged a meeting point. Luckily, we carried on in our splinter factions. You'd think our matching T-shirts would have helped us stay together but it was impossible among 14,000 sweaty bodies.
We wondered about the surprise international musical guests. Various rumors touted newly bisexual Sinead O'Connor and Sting, who I thought was a bit too square for it all. In the end, we got neither; we got the much less famous Ultra Nate, best know for their Studio 54 cover of "If You Could Read My Mind." I hear they were good, but I missed their show in the RHI because I was boogieing in the Hordern Pavilion. Nothing was advertised and volunteers wouldn't tell you when the shows were happening, so it was a matter of being in the right place at the right time. No big loss. Tina Cousins also performed but I didn't see her and didn't care. I saw two other shows throughout the course of the evening/ morning, including the closing spectacular featuring drag queen Claire de Lune and dancers dressed as polar bears, seals, and various other animals. According to The Sydney Morning Herald, Sinead bailed on Sleaze because she wanted to sing an Irish love ballad, while the organizers had something a little more upbeat in mind. "Mandinka" would have been a good choice. Too bad Sinead always has to be difficult. I guess it could have been ugly, though--what if she had shown up in one of her moods and ripped a photo of Kylie Minogue in half?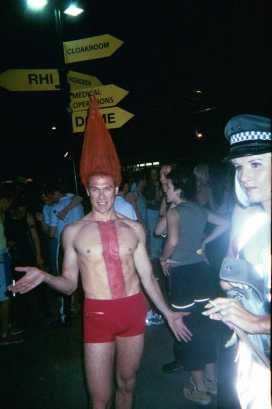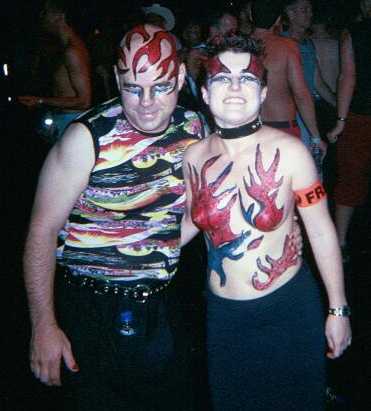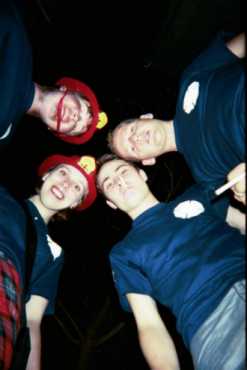 The people watching was, of course, fantastic, and the pictures tell the story of Sleaze better than I can. Many thanks to all the strangers pictured here who let me take their photos. I had a blast and lasted til the bitter end. I was too pooped to make it to the recovery parties, one of which took place in an alleyway. As the new day dawned, I waited at the bus stop and watched hordes of people make their way from the Ball, bound for the clubs of Oxford Street which were opening at 8:00 AM to accommodate those who don't stop til they've got enough. I was sorry I was out of film, as I was unable to capture the image of two men wearing nothing but chaps as they strolled across the cricket field, with the Sydney skyline as their backdrop. This left me with a peaceful, sleazy feeling.
Visit the official Gay and Lesbian Mardi Gras website.
Post a comment about the Sleaze Ball 2000.

Ape Culture and all associated pages are
ŠApe Culture 1998-2007 and evermore.



Click here to learn about
the Ape editors' book
Check out the Ape Blog for the latest Ape Culture News and Reviews