And One Time, At Sculpture Camp…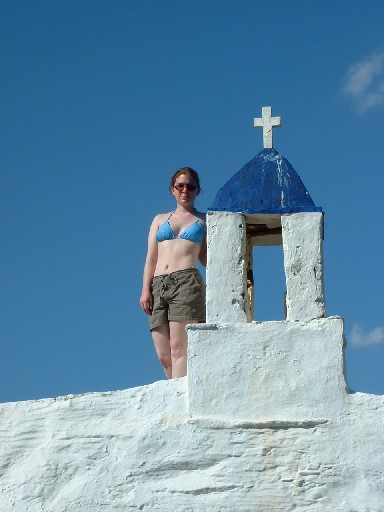 Inspired by Ape Culture contributor Christine Horace's Outward Bound dogsledding trip, I searched my soul to see what I really wanted to experience in those few hours of relaxation called "vacation." Only having a total of two weeks vacation per year as granted by my architecture firm and fortified with the knowledge that an archeological dig was "totally boring," I hit the web. Now, I have been sculpting in stone on and off for a few years, so when I came across a marble carving studio in Tinos, that could further my somewhat anorexic carving knowledge, I knew what I had to do. I coordinated my schedule with my sister Kat who was living in Ireland so that I could have a travel companion and booked a two-week trip to Greece.
I arrived in Athens after a long flight (I highly recommend Swiss Air, by the way) and hopped on the bus to the city center. I found a cab driver and asked if he had a meter before I got in the cab. After about 10 minutes in the cab, I noticed that he hadn't turned the meter on and he asked me for 14.50. I handed him what I thought was a 20 and after he pulled some sort of swicheroo and showed me that I had handed him a five, I gave him another 10 and got out, a moment later realizing that I had just spent 30 euros on a five block cab ride (and discovering two weeks later that a 50 minute metered cab ride only cost 20 euros).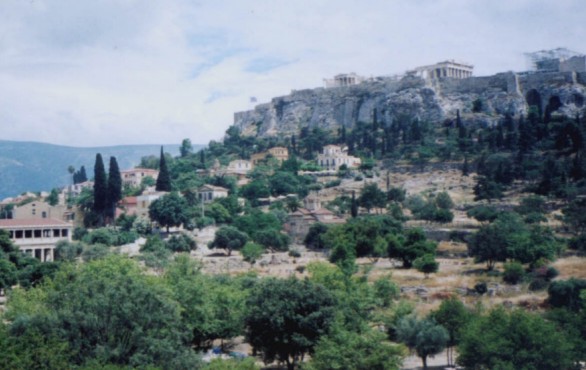 I dropped off my bags, put on my 45 SPF sunblock, and hiked up to the Acropolis, encountering amazing views in every direction. Though the rest of Athens seemed to be pretty much a pit, the antiquities are amazing! I wandered around the Parthenon, marveling at the scale and detailing accomplished so long ago, looking for a spare scaffolding link lying around to add to my collection, and fending off the advances of random locals who prey on unsuspecting female tourists looking for "dates." The Parthenon, though impressive, was under a bit of construction, so I was unable to get as close as I would have liked. As the Olympics will be returning to Athens soon, scaffolding covered everything. At the Erechtheion, there were American film makers setting up for a shoot, which was positively frustrating! As if it's not enough walking around New York City constantly being asked to wait to cross the street as filming is taking place (and yet not seeing enough noteworthy stars to justify it), my vacation too was being interrupted by these annoyances! Luckily, the film makers were not near the porch of the Caryatids, which I have wanted to see ever since I took Professor Dennis Doordan's History of Architecture class during my sophomore year of college. I could walk through the Propylaia despite it's layer of scaffolding. The Temple of Athena Nike and the Theatre of Herodes Atticus were well preserved but somewhat inaccessible because of the aforementioned scaffolding. Despite my affinity for art, architecture and sculpture, I have discovered that I have very little use for museums. I can look at something and move on quickly--I have no need to ponder it. However, if I have already paid for admission to a museum, I am sure as hell going to check it out. The Acropolis Museum was OK, but London owns all of the good antiquities from the Acropolis including the Elgin Marbles (you can look forward, dear reader, to hearing about my trip to London for New Year's 2003).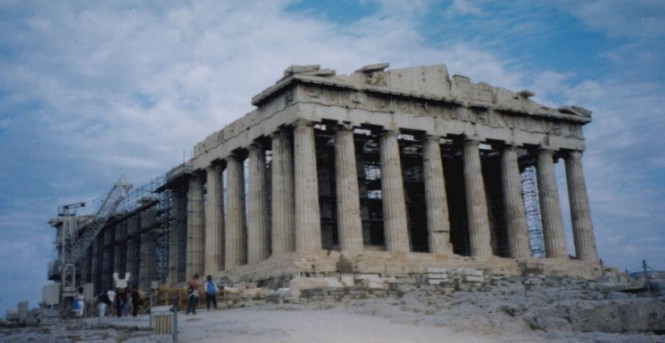 After wandering down to Plaka, I ran into two Scottish travelers I had seen up at the Acropolis and we explored the city together, finally stopping for supper at McDonalds (I know, I know… but I was waiting to eat the local cuisine when I was on the island where I could more likely afford it). I contemplated getting the Greek Mac--a gyro-like sandwich, or the salad with calamari, but settled on typical American cuisine. I finally collapsed into bed, succumbing to the jetlag I had been hoping would never surface.
As the admission ticket into the Acropolis also included admission into six other historical sites, I decided to get the most of those 12 euros and hit every one of them before meeting Kat's plane. I started off by exploring the Theatre of Dionysos and the Stoa of Eumenes (where I found the scaffolding link I sought for my collection) as well as the outside of the Theatre of Herodes Atticus (though I didn't realize exactly what I was looking at until I got home and reread my Eyewitness Guide while writing the article). When I climbed beyond the top of the theatre, I found the chapel of Panagiai Spiliotissa, a little chapel tucked into the base of the wall supporting the Acropolis. I especially enjoyed the Ancient Agora (marketplace from 600 B.C.) which included the reconstructed Stoa of Attalos, the very well-preserved Theseion under scaffolding, and many other ruins, not as well-preserved including some weather-eaten sculptures and part of a very detailed statue of Hadrian. Less impressive was the Roman Agora, though I will grant that my year in Italy makes my Roman Ruin standards rather elevated. I then explored Kerameikos, the ancient cemetery, Hadrian's Arch, and the Temple of Olympian Zeus which must have been absolutely colossal at one time-a portion remained at one end and a single column still stood at the other end, marking the length of the structure. I wandered the National Gardens and observed a convention center at which time the thought occurred to me that the font used was practically cartoonish and cheesy before I remembered that that was merely their alphabet. I crossed the street to the Panathenaic Stadium to check out the odd sculptures at the far end of the track, noting the graffiti that said, "That's Gregory," in Russian.
I met Kat's plane, we bussed to the center of town and walked the few blocks to the hotel (you CAN teach an old dog new tricks!). We decided to spend a quiet evening at the hotel after eating McDonald's (see dining note above). We awoke early in order to get to the Port of Piraus to catch our boat to Tinos, a three-hour trip by speedboat.
We arrived on the island, met by both my travel agent and the incredibly sweet woman whose house we were renting a studio out of (who I will call Reta). They had no problem identifying us as Americans since most people who travel to Tinos are other Greeks visiting the island's famed Greek Orthodox Church. Our host drove us to the apartment-a cute room under her house with internet access, twin beds, a kitchenette and a bathroom with the typical Greek handshower and drain in the center of the room. Shortly thereafter, Annette Fougnies, the once-American artist, arrived to take me to the studio where I would be working for the next two weeks.
This is where the cast of characters expands. Upon arriving at the studio, I met Petros Dellatolas, Annette's husband and the master carver who would be my other mentor for the next two weeks. He was an attractive older man who Carrie (I'll get to her) pointed out looked like Papa Smurf with a power saw. He had grown up in a marble quarry and, in the Greek tradition, had sprung from his mother's womb with a chisel in his hand. Petros and Annette had two children, Nikki and Katerina, who I saw every day at coffee. Annette's folks, Catherine and Leon, were visiting from the States. Next, I met Huber, a Frenchman who has been spending vacations on Tinos for seven years. Posey was an American who was traveling with her daughter, Katie. Jeremy, a British boarding school teacher, was finishing up his third and final week at the studio. A German woman, Sigrid, spent her summers in her house on the island, sculpting rotund figures at the studio. Finally, Carrie was the social worker from New Zealand who my sister and I would become rather fond of over the next two weeks.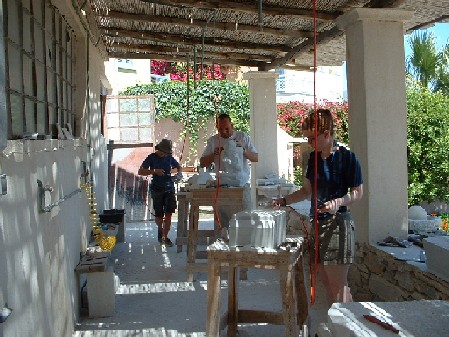 Annette gave me a tour of the studio which included an outdoor porch on which to carve, a few indoor studios including one with some really heavy machinery, and an amazing, lush back garden with a small bathroom attached. In the bathroom was a note to flush absolutely no paper-the first I had heard of the countrywide rule to exclude ALL paper from the waste disposal, a gross idea that I never understood. I returned to the upstairs studio to work on my technique. After practicing with a few of the tools, I decided to call it a day.
I had always been under the impression that I have a good sense of direction, though I had never put this theory to the test since I tend to travel with born navigators. I left the studio to make the five-minute commute back to my room. As I walked, I began to realize that all the architecture looked the same. I tried asking several locals for help, finding that English is not as prevalent a language on Tinos as it is in Athens. After about an hour, I wandered into the police station and asked, "Where is the nearest bakery?" The cop informed me that it would be closed this time of day, so I explained that I was lost and only knew that my room was adjacent to a bakery. He taught me the word for bakery and sent me towards one. Every local I asked thereafter for a "fornos" would inform me that it is closed this time of day. After another half hour of this, I gave in and returned to the studio to ask Annette to drive me home.
Over the next two weeks in studio, I honed my carving abilities and met new challenges. I had never before worked with a compressor or power tools, so I decided to try it out. Now, though I was unlikely to smash my thumb anymore (it happens to the best of us), I had to learn basic control of these new tools, all the while staying upwind of the Frenchman.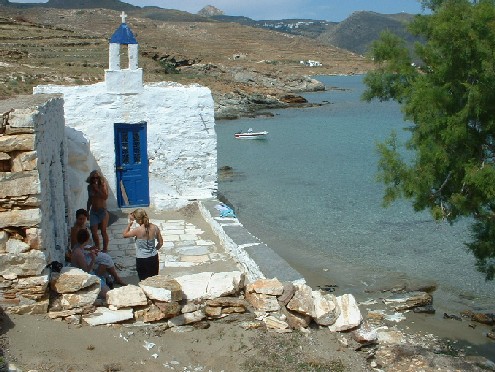 Every day we would take a break at about 11:30 AM to have coffee, ice tea and cookies in the garden. We would exchange ideas and tells stories. In the afternoons, some classmates, my sister and I would often hike about a mile to a remote beach by a church where we'd eat cucumber and tomato sandwiches, drink wine, nap, swim or hike along the coast. We were rarely interrupted by others on our beach, but those that came, often came nude. And those that came nude, came saggy or bloated. On some days, Kat would rent a car and explore the remote villages, returning to pick me up and explore the best of them. Or we'd hang out at the internet café with Carrie and I'd sit and chat with them as they drank hemp beer and emailed--I was enjoying being away from everything and never partook.
Kat and I dined out in the evenings with whatever classmates we ran into in town. Running into Jeremy was always a treat as he shared our sarcastic nature. We gradually discovered that Carrie shared our cynical nature as well and we spent more of our time in her company. One night, Posey, Katie, Kat, Carrie and I were dining. The bill came, and Kat perused it, shrugging, and passing it on to Katie who was anxious to review it. After a few moments of careful study, Katie handed it to her mom, declaring, "I think it's in Greek." Amid our laughter she quickly covered up, "Isn't it?"
We soon had a favorite restaurant amid the string of outdoor restaurants, next to a restaurant with our favorite waiter, Russell Crowe, whose name was probably not actually Russell Crowe. We gorged on the stuffed zucchini, tomatoes, the souvlaki, the mousaka and the bread with tzatziki. Most of the food was drowned in olive oil, as the Greeks are advocates of the idea that it aids digestion. Did you know that it is possible to gain ten pounds in two weeks?
One evening, Kat, Carrie and I dined at a tiny restaurant in town, where the waiter was rather young and quite attentive. He called the other waiters over and they all took a table nearby. Some more friends arrived and before long, ouzo was sent around for the three of us. Ouzo is battery acid in a pretty bottle--nasty stuff with an immediate effect. The men then employed what I have never found to be a successful method of flirting--shamelessly staring, unblinking, at the three of us. Later that night, drink after drink was supplied at the bar by the bartender and the bar owner. Fortunately, thoughts of sculpting with a hangover kept the drinking in check.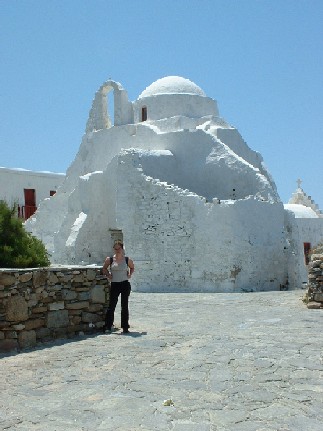 After the first week, Jeremy had to move on to the rest of his vacation and we had a barbeque to say goodbye to him and welcome the freshly arrived Barny, a sculptor from California and Posey's teacher. Kat, Posey's daughter Katie, and Barny's wife Melinda, a college professor, attended in addition to the sculptors and the teacher's family. We feasted on Annette's culinary masterpieces (and I'm NOT being sarcastic) while Posey, Katie, Kat, Carrie and I all discussed our decision to go to Mykonos together that evening. Mykonos was a fifteen-minute trip on the speedboat and known as a party island. Upon arriving there, we bargained with the locals who meet the boats in order to rent out their rooms, and we chose a place in the town center near all the shopping and, apparently, drinking. We headed out on the town to shop and then dine and then returned to the room before venturing out to explore the night life. We went to a bar where we sat outside and talked, watching the attractive waiters running around. The drink prices were rather high, so we moved on to a cheaper place by the water. Posey decided shortly thereafter that she was tired and wanted to go home, possibly stopping by a club that we had seen advertised as having 70's and 80's music. Though her daughter begged her to stay, Posey was insistent, so she left while the rest of us remained at the bar. We finally decided to head home by way of the 70's club (I was disappointed to discover that the club entirely ignored the 80's), where we discovered Posey dancing like there was no tomorrow. First, Carrie went home and after a while, Kat and I decided to go as well. Posey and Katie were coming with us, though after about two blocks, we turned around to discover that they had ducked into another bar at some point. Somehow, they managed to get up early to head out to Delos to see the ruins in the morning. Carrie, Kat and I stayed in Mykonos to shop and then returned to Tinos later that day.
Kat and I returned to our room in Tinos to discover her CD case on the front porch, and she was rather sure she had not left it there. The following day, I discovered my shirt caught in the door leading into the rest of the house, so it became apparent that our room was being visited in our absence. As I returned to the studio to work, Carrie took a nap in our room while Kat went to confront Reta. Carrie heard a knocking at the door but in her sleep, was confused as to its origin. As she opened the front door, the interior door to the house opened and Reta's teenaged daughter came in, screaming and fleeing when she discovered the room was not empty. The next day, Reta made her daughter come and apologize, though the girl would not meet Kat's or Carrie's eyes and pretended not to speak English. We were annoyed with the girl, but Reta was so apologetic that we said it was OK.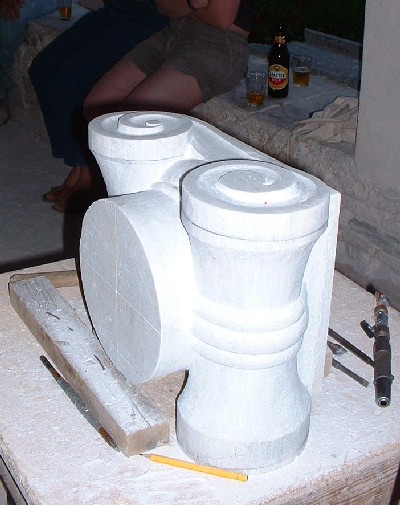 Molly's sculpture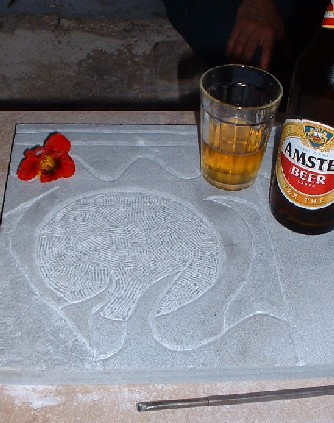 Kat's bas relief
Our second week in Tinos brought about a certain desperation in the remaining carvers, when we suddenly realized that we would all have hundred-pound chunks of stone to send home and not enough accomplished on them. The option to work on our own in the afternoons in the studio was more frequently taken advantage of, though Posey and Katie disappeared midweek, never to return to class, leaving a napkin of farewell. Kat started making Carrie and I go a certain way to town so we would see the pelican that hung out by the fish shop in town. I saw it once--a very surreal experience to run into a pelican by the restaurants! Carrie never got to see him and began to think Kat had made him up--an invisible friend to keep her company while Carrie and I were in class. The pelican stayed out of view until the day Carrie left, when he mocked Kat by hanging out in front of the fish shop for hours while Kat waited nearby to meet up with the travel agent. Kat decided to try her hand at sculpting on her last two days on the island and worked out a bas relief while I attempted to finish the Ionic capital that I had been working on. I could have used another two or three days to finish.
On our final day, Annette and Petros helped me pack my capital into my bag--one of those numbers made popular by flight attendants. The case was incredibly heavy, and I was glad to have packed so lightly. Annette dropped us off at the boat where we said our goodbyes. Kat and I boarded the slow boat to the mainland where we spent the five hours on the upper deck enjoying the sun and air. We arrived as it became dark and I promptly tripped, breaking Kat's bas relief. Next, the handle broke off of my suitcase making it nearly impossible to transport, though Kat, being much stronger than I, did the harder lifts. We finally made our way back to the hotel, and after dining, decided to spend the evening in. We watched some terrible American movie on TV, finally falling asleep at 3:00 AM, getting up again at 4:00 AM in order to get to the airport.
Apparently, marble appears to be a huge black mass on the screen as they run your luggage through the security machines. In Athens, I was searched and questioned. Then on my connecting flight, I was again questioned and made to open my bag. My capital and I finally returned home safely many hours later, and I then slept for 13 hours straight. I have not yet finished the capital, but I swear I will soon. By the time I master making tzatziki.

Read more Apes Abroad travel stories, including Molly's trip to Australia
Leave a comment about sculpture camp or the isle of Tinos.
Ape Culture and all associated pages are
ŠApe Culture 1998-2007 and evermore.



Click here to learn about
the Ape editors' book
Check out the Ape Blog for the latest Ape Culture News and Reviews