Postmodern Irony Meets Suburban Convenience: PLAYSKOOL's McDonald's Building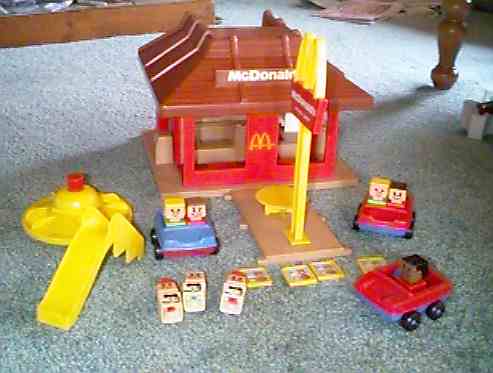 There is a bold trend taking place in the architectural world today. A design innovation that speaks of who we are as Americans now in the 70s, the entrepreneurial idea of creating an establishment entirely out of plastic. Created by PLAYSKOOL™, the Rhode Island-based architectural firm famous for their Holiday Inn, McDonald's™ is a building with a lot to say to the architectural world.
Plastic construction may have been first attempted by the medieval architect, Fisher Price in his castle. Now, these construction techniques are having their heyday in rural and suburban America in houses and barns. Having come a long way from Price's castle, the use of this material has obviously reached its apex in McDonald's™. While pondering this architectural feat, a few things strike me about the decor and construction. The durable materials lend a pre-fabricated feeling to the whole building without seeming entirely sterile. This effect is achieved with heavy colorful plastic construction which contributes delightfully to the feeling of efficiency.
With a simple floor plan and elementary circulation, McDonald's™ brings to mind the gallery in the Oskar Reinhart collection in Winterthur, Switzerland. A walk-through beginning at the grand entry at either side reveals that much is achieved in so compact a space. The doorless approaches are flanked by red plastic muntonless, glassless window frames which match the red plastic walls, demarcated to simulate bricks. These materials blend well with the plastic fawn-colored floor and brown hut-like plastic roof which is constructed with hips and ribs. The space has a fluctuating effect which is dazzling. The open exterior gives way to a darker closed entry, culminating in a grand open space below the courtyard-style skylight, reminiscent of an Italian Renaissance cloister.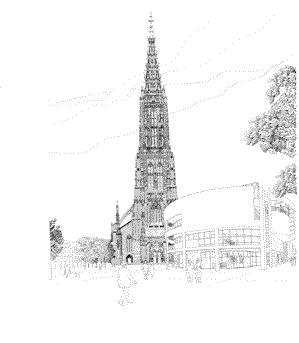 The light playing through the restaurant is not to be ignored. Seldom have I seen so open a space work as well. Consider John Soane's own house or Richard Meier's Ulm Exhibition and Assembly building.
PLAYSKOOL™ manages to achieve as much light filtering through in its own scale. This is not surprising, as this is achieved without any glass. Straightening up to my full 1½ inch height, the ceiling soars above my head to about 4½ inches towards the exterior surfaces and even higher in the center.
Interior decoration is limited, excluding even applied stickers. There isn't a dining area to speak of, but a single yellow plastic table provides for al fresco dining in the parking lot, nestled in the soft shade of the golden arches. The color scheme, though not as hip as the turquoise and orange of Howard Johnson's, is still very groovy, very 70s. Brown yellow and red comprise the majority of the color palette. The plastic counter and food prep area is laid-out in modern precision, contributing to the sterile, utilitarian atmosphere so prevalent in restaurant architecture today.
One cannot visit PLAYSKOOL's™ McDonald's™ without noting the ingenious design of the tray dispenser. Despite low budget construction, this implement works easily -- a worker merely stands in the large plastic body-conformed opening and hurls his body to the other side to expel the yellow plastic trays cleverly designed square so as to ease stacking into the tray return, located next to the means of egress. The trays themselves are also notable in their colorful design, having applied stickers suggesting the meal which might have been ordered.
The landscaping and signage is unremarkable. The gray plastic sidewalks were made to simulate concrete. The play area features a yellow plastic slide and a yellow and red plastic merry-go-round which seats four people safely, as long as a reasonable speed is adhered to.
The equipment, plumbing and utilities are the main areas in which this building falls flat. There aren't any to speak of. Upon entering the doorless restroom at the side of the building, one discovers that not only is there no toilet, but a sink and sanitary hand dryer are non-existent as well. This leads one to ponder how the workers can keep a safe working environment for themselves as well as their public, since they are obviously not washing their hands before returning to work. Then again, this is something for the Gentleman of Leisure to explore.
Give us your opinion on Playskool architecture.
Ape Culture and all associated pages are
ŠApe Culture 1998-2007 and evermore.