My First Cruise: Embracing the Fun Imperative
Reflections on the Carnival Miracle 7-day Mexican Riviera Cruise, Dec 21 - 28, 2014

By Julie Wiskirchen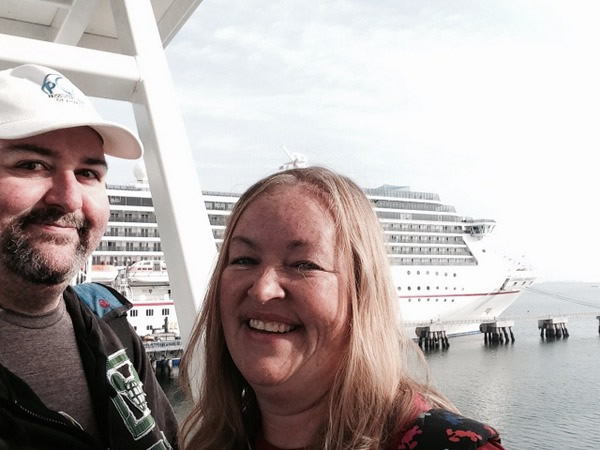 I went on my first cruise this past Christmas week, and it has left me with a lot to process. I was resistant to go on a cruise. It was the subject of debate between my parents for many years. My mom really wanted to go on one, and my dad hated the idea. My mom was more social and was probably captivated by The Love Boat. My dad, being an engineer, saw through the whole concept as "forced fun" and didn't like that you couldn't spend much time in the ports you visited. After my mom passed, he finally went on a cruise - but it was an Alaskan freighter Elderhostel program that was more about education than binge drinking.
My boyfriend Dave grew up in a family that loved cruising and his parents take several cruises a year, so he had pushed the idea for some time. I was eventually convinced to try it because I won an award at work that gave me a travel bonus to cover the cost, and also I liked the idea of being off the grid. I usually only get that experience at Burning Man - but that is an entirely different kind of trip. After a very long and trying year at work, I felt ready to surrender to the cruise pampering.
So we booked a 7-night cruise to the Mexican Riviera on the Carnival Miracle. Some people warned us that Carnival would be raucous and low class. But I had liked some of the Carnival ships I saw on Travel Channel. We also wanted a cruise that left from LA so we didn't have the added expense of airfare and the uncertainty of flying to the east coast during Christmas time with weather delays.
I did very little to prepare for this trip, mainly because work was crazy leading up to it, and also because Dave didn't want me to overplan as I tend to do. He said the point of cruising is they plan everything for you and you just enjoy it. The problem for those of us who are addicted to planning is that not planning stresses us out, and on some level we enjoy the planning and the fruits of the planning.
On Sunday, our departure day, I think we waited in line about 90 minutes to go through security and board the boat. Once inside we found our inside cabin, which was not as small as I feared and had ample closet and drawer space for unpacking. We went through the safety drill. We were smooshed in lines of people against the wall during this process and I began to feel the claustrophobia of being on a very large ship full of people...and kids. It would soon be confirmed by the cruise director Troy that we had 2200 passengers on board - and 800 of them were children. I guess I should have expected that to be the case during a Christmas Week cruise, but I didn't really consider how this would amp up the chaos and general noise level.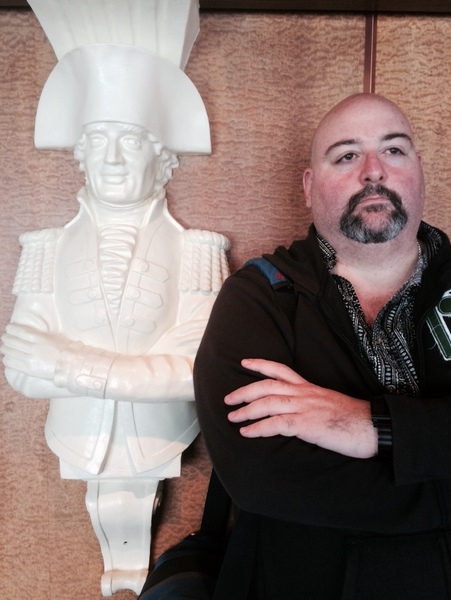 We explored the ship and I was kind of enthralled and kind of repulsed by the gaudy decor. We went to the Lido Deck where the DJ had gotten the party started and people were already in the hot tub before we left port. We learned about the "all you can drink" package, which for $50/person per day isn't a bad deal, but the catch is both people in a cabin have to do it, and Dave doesn't drink much. So we opted for the "soda" package for $6/person per day. This turned out to be a good value although it's a little annoying that every time you ask a bartender for a refill, you are presented with a check for $0 and the opportunity to tip. The Lido Deck buffet was open for lunch and I was immediately struck by the huge quantities of food being consumed - and often discarded. I noticed quite a few morbidly obese people, some on scooters. There were busts of a smirking admiral all along the walls that appeared to be judging the diners. My first meal was a burger, and it was fine. And we partook of the soft serve ice cream which, along with pizza, was available 24 hours a day.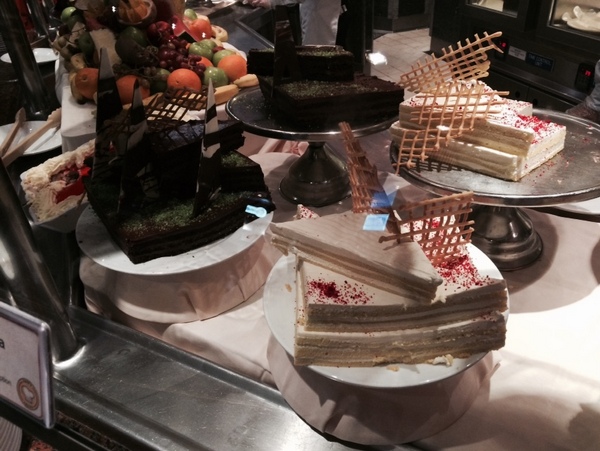 Once we departed port, I didn't feel seasick but I was conscious of the movement. We had our first dinner in the Steakhouse, which offered a free bottle of wine for the first night. It costs $30 per person extra to dine in the Steakhouse. The food and service were very good and it was quiet and uncrowded. Desserts were huge. Because I drank ¾ of the bottle of wine, I felt tired and we went to bed early. I think in general I slept 8-10 hours per night on the cruise, or at least I was in bed that much. The bed wasn't that comfortable, so I was kind of restless. But even though I was supposedly just relaxing the whole time, I felt strangely drained by it all. Having a FOMO issue (fear of missing out), I put pressure on myself to try many activities, so I didn't relax as much as I should have. It was also kind of hard to find quiet areas to read. The ship library was tiny.
Monday's daily schedule arrived and told us it was going to be a "fun day at sea" followed by an Elegant Night. I decided to check out the "Serenity Deck" - the over 21 area with its own adult pool and hot tub. I soon realized the "Serenity" might refer to the Alcoholics Anonymous prayer, as people were downing buckets of beer and fruity drinks and partying well before noon. I found a lounger facing the back of the ship and settled down with my pile of magazines but it was hard to ignore some of the drunken conversations. At one point, a sober couple came to the railing to admire the view and asked me what ocean we were in. I had imagined we'd make "cruise friends" but I was having trouble relating to people.
In the afternoon, Dave participated in the Hairy Chest Contest, as he had done on previous cruises. This required him to do a strip tease for 3 female judges, then get on his knees and bark like a dog. There were 8 contestants. Dave survived the first elimination and then a short gal tried to put a medal around his neck to eliminate him and couldnt reach because he's 6'4". He dodged out of her way a couple times and the crowd thought this was hilarious. He was relieved he didn't make the finals, as the final 2 guys had to dress in drag from whatever clothes and accessories they could find in the crowd. There were a lot of spectactors and I was surprised to see the level of fame this brought to Dave. For the rest of the cruise - even when we were lined up to disembark - people would approach us and say he should have won.
Monday night was my favorite night of the cruise. Dave had arranged for us to do the Chef's Table dinner. This costs $75 more per person but you get an exclusive tour of the galley with the executive chef and a 8-course gourmet meal. This is limited to 15 people and they do it twice per cruise. You have to sign up as soon as you board the boat. The galley tour was really interesting and it was during dinner rush so we saw everything operating at full steam. We were served several appetizers in the galley and the pastry chef showed us how to make Carnival's signature dessert - warm melting chocolate cake. The executive chef informed us we were missing Lobster Night in the main dining room, but that we could ask for lobster on the last night of the cruise to make up for it. He talked about the huge quantities of food they have to order before leaving port. We were then led to Frankenstein's nightclub where a dining table was placed on the light-up dance floor and we dined with the Frankenstein statue looking down on us. Everyone in our group was really nice and we happened to get seated with a guy who works at Google like me - small world. The food was delicious and wine was included. We had waygu beef, lobster bisque, duck, and more. The mass-produced cuisine in the main dining room and at the buffet couldn't compare to this experience. It also gave me an appreciation for all the work and planning that goes into a cruise.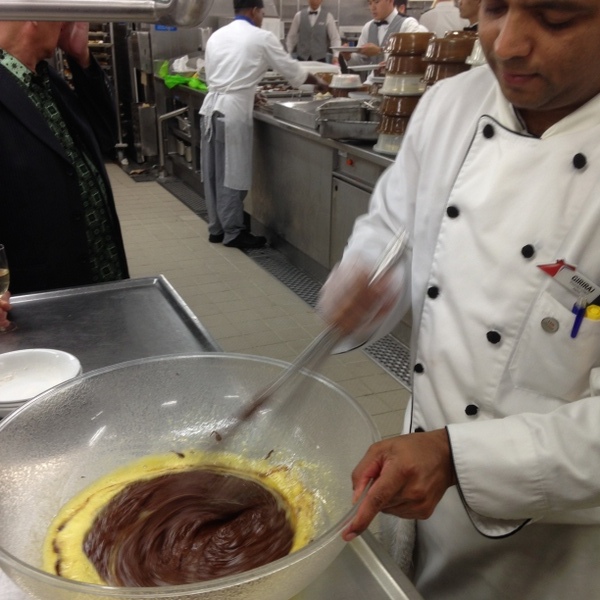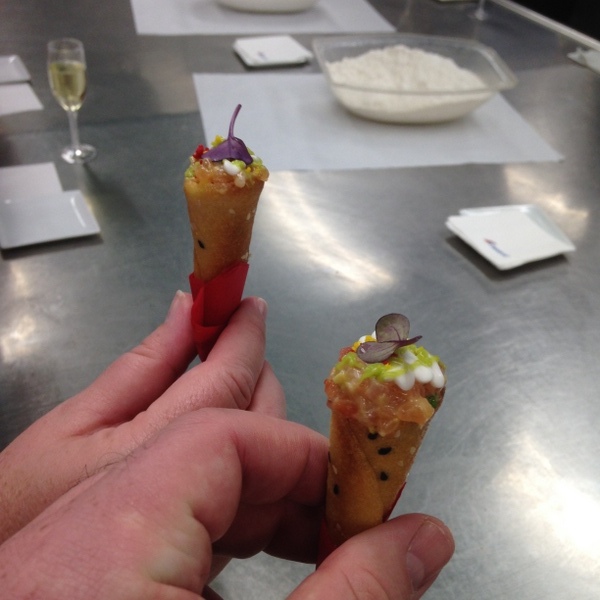 On Tuesday, we were supposed to be in Cabo for 6 hours but it was more like 4 hours. The ship couldn't dock in Cabo, so we had to take small boats called tenders to the shore and we were assigned to tenders by numbers. Since we had limited time, we decided to not to do an excursion but just allow Cabo to do what it does best: get tourists drunk. We wanted to go to Rock and Brews, the newest location of the Gene Simmons bar chain, but because I had done no planning, we didn't know where it was, and neither did our cab driver. So we went to Cabo Wabo instead. We didn't stay for a drink because it was packed with people from our cruise ship and playing 50s music for some reason. Would the Red Rocker really approve of that? We walked to Squid Roe and proceeded to have a cocktail and share 6 kamikaze shots. We then figured out where Rock and Brews was located and walked over there, past some hurricane-damaged buildings. Rock and Brews is very small and not totally finished (no merch shop), but they had a nice patio that faced the marina. We kept drinking and had some appetizers. We then asked the waiter to get us a water taxi back to the ship. We thought we had beat the system, but the water taxi only took us to the other side of the marina and we had to get in line with everyone else for the tenders. While in line, people were trying to sell us stuff and I ended up buying a bottle of vanilla-flavored tequila. That's how you know I was really drunk - plus water taxi PDA.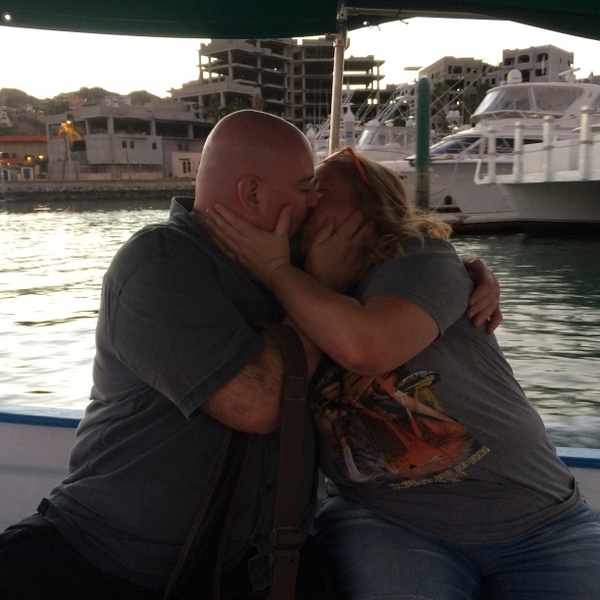 Back on the ship, Dave needed to pass out but I was wide awake. After all, it was only 7pm. I sang karaoke. I went to the piano bar and sang along. I lost money at video poker. It all felt kind of lonely, although I was surrounded by other drunk people. I was kind of jealous of the people who had brought large families or groups of friends. There was an imperative in the air on the cruise to have nothing but a good time all the time, and it got oppressive at times - I call it the Fun Imperative. David Foster Wallace talks about it a lot in his essay about crusing called "Shipping Out: On the (nearly lethal) Comforts of a Luxury Cruise." I saw so many people wasted all the time, starting with the bloody mary bar in the mornings. I saw people getting carried by their loved ones back to their rooms. I heard vomiting in the bathroom. One worker told us that someone had taken a shit on the casino floor on the previous cruise! I think some people needed those "When the Fun Stops" brochures you see on display in Vegas casinos.
On Wednesday, we arrived in Puerto Vallarta around midday. It was Christmas Eve and we would be docked overnight. We could come on and off the boat whenever we liked - no tenders needed. We didn't book an excursion but decided to go into town for shopping. I also wanted to go to Christmas Mass and hoped to have a nice dinner at a restaurant that I had found on TripAdvisor but had neglected to make a reservation or bring the address. We went into a marketplace and were harangued by vendors at every stall we passed. We found the church and noted that there was an English mass at 5pm. We walked along the waterfront and found a restaurant for lunch that had wifi. So I was able to find the address of the place I wanted to go for dinner - Cafe Des Artistes. We walked over there but were told they were totally booked and the best they could suggest was we come early around 6pm or late around 10pm and maybe we could get in. I was disappointed, but we continued to Mass. We didn't get there early enough so ended up with a seat in the back and off to the side where it was hard to hear the priest. It was still neat to see the altar decorated with Christmas lights and the processional with Baby Jesus placed in the manger on the altar.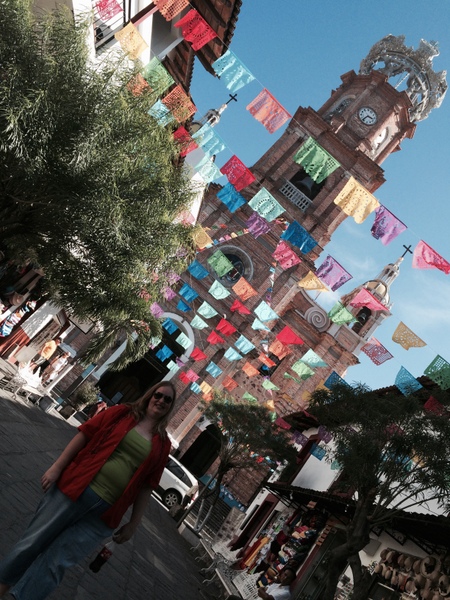 Afterward we walked some more and stopped in McDonalds for a drink. I proceeded to have a meltdown brought on by a few things: (1) the last time I was in Mexico for Christmas was a trip to Cabo with my dad in 2006, shortly before he was diagnosed with cancer and died about a year later, (2) a growing realization that my job is kind of like being cruise director, but that the pressure to create fun and have fun all the time at work, just like on the cruise, was getting to me, (3) I wasn't able to get into the restaurant I wanted, (4) the contrast between the poverty of Mexico and the decadence of our cruise ship, (5) PMS. I imagine I was probably the only passenger from our "Fun Ship" who collapsed in tears at McDonalds on Christmas Eve. Dave is very patient with me when I have these moods, probably because I don't have them too often. He calmly suggested we go back to Cafe Des Artistes as it was now past 9:30pm and maybe we could get in. I didn't have much hope it would work, but we trudged up the hill and amazingly were granted a prime table in the beautiful garden setting. This meal was $125 per person, but it was totally worth it. It felt like we had been dropped into "A Midsummer Nights Dream." I knew when the amuse bouche was a foie gras mousse that I was in the right place. Each course was beautifully presented and service was impeccable. This proved to me that some planning really helps. If we had left ourselves in the hands of what the cruise ship port guide recommended, we would have ended up at Señor Frogs. We got back to the boat just in time to see some of our friends from the Chef's Table dinner heading out to the clubs. It turned out to be a good Christmas after all, and I went to bed resolved to stop thinking so much and just make the best of the next few days.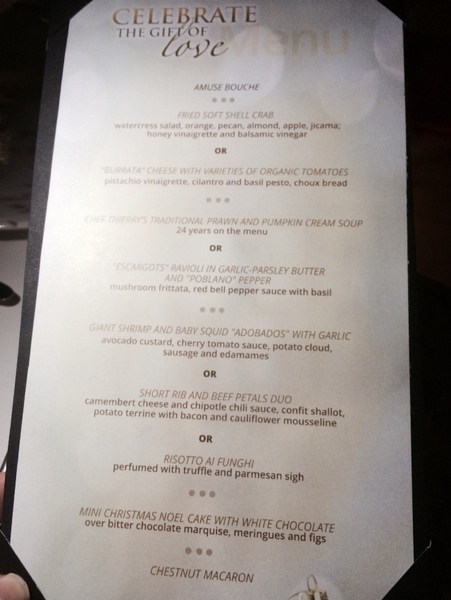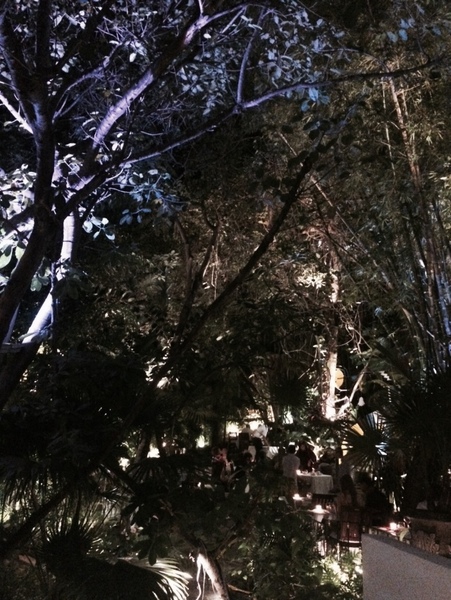 On Christmas, Dave got up early to do a half-day Scuba excursion. I decided to stay on the ship. This ended up being one of the best days because the ship was pretty deserted. The Serenity deck was actually serene! I read a book. I had lunch at the buffet, although I had termed it the Vomitorium and been trying to avoid it. I stuck to the freshly grilled items rather than the stuff on the heat pans. I saw a woman with a heaping plate of food point out a hair in one item to the buffet attendant and then hand the whole plate back to him. It was probably her hair, I thought. I saw kids grabbing buffet items with their bare hands and getting reprimanded by the staff. I could see how the microviruses spread, although there are purel dispensers and warnings everywhere.
When Dave got back, he told me about the great time he had on the scuba excursion and I was a little bummed I didn't go because they went to Las Caletas, the secluded area where John Huston used to have a house. I could have relaxed on the beach there while he dived. That wasn't explained in the brochure so we didn't know. He took me to the shopping arcade on the ship and bought me a nice watch. This purchase gained him an entry for a raffle later in the week. We had a nice Christmas dinner in the Steakhouse, although if I did it again, I would probably only eat once in the Steakhouse as the menu doesnt change, and you also miss out on the opportunity to meet people if you have a group table assignment in the main dining room. We had been on the ship for 5 days at this point and had not eaten dinner in the dining room yet. After dinner, we went to a Rat Pack themed show in the comedy club / lounge, and it was a lot of fun. We also went to the piano bar - more good times.
Friday's daily schedule ordered us to have "A Fun Day at Sea." We started with brunch. I had an insane Froot-Loop-encrusted french toast. On a sugar high, we bounced from trivia contest to trivia contest. These are 20-question trivia games on various topics held in the bars and coffee house areas of the ship. Dave won Star Wars trivia. Together we won Horror Film Trivia, in a sudden death playoff against another passenger (Dave saved the day by knowing that Damien's first victim in The Omen was his nanny). We also made friends with another couple who were also into trivia and as a fearsome foursome we won Musical Trivia. The prizes for these games are the coveted "Ship on a Stick" plastic trophies. I also won a trophy for calling in to the morning show and answering a trivia question. This prize also came with a bottle of cheap champagne and a signed picture from our cruise director Troy. I now have "Ships on Sticks" at home, at work and two that I don't know what to do with.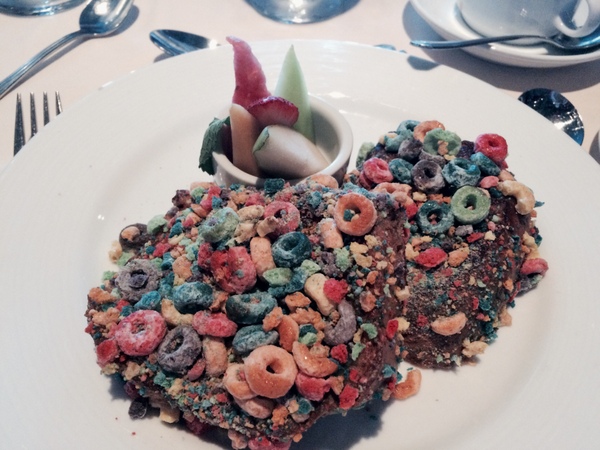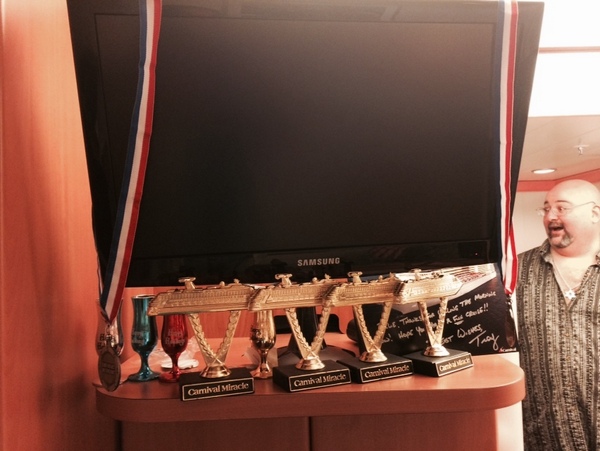 Dave went to the watch store for the raffle and actually won a watch set that they said was valued at $700. It looked kind of cheap to me, and we got home and checked ebay, it was going for $80. Still, it beats losing. Being off the grid does have its disadvantages as in not ever being able to check prices on items for sale on board. I doubt cruises will ever begin to offer free wifi to all, so they can keep this advantage. There's a lot of aggressive selling on the ship in the jewelry store, the duty free store, and especially the photographers and the art gallery. They all stress that we will want this stuff to remember the cruise. I don't think I'll soon get some of the images of the cruise out of my mind, even without mementos (even the images I didn't see but only heard about - like someone taking a shit on the casino floor).
We had dinner in the dining room at a table for two and were seated near a glamourous senior couple. I had heard the woman earlier telling people she was on her 164th cruise. Our waiter told us she was nice but her husband complained about everything. In the middle of dinner, the lights dimmed and the waiters broke out in a rendition of Gangnam Style. While this was amusing, I wondered if it was fun for the waiters or just as burdensome a task as carrying those huge trays of food. The service on the boat was overall very good, especially our dining room waiter and our cabin steward who always managed to know when we were out and make up the room. We never came back to an unmade bed. She also made the awesome towel animals that were placed on our bed each day. Since we missed our dogs, Edgar and Kaboom, Dave substituted the towel animals - Crab-boom and Edgar-phant - and told them to get off the bed just as he would tell the dogs to get off the bed.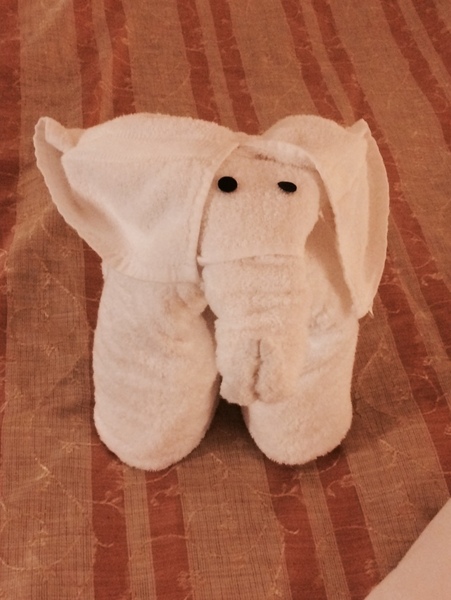 I knew that I needed to attend one of the big shows in the showroom in order to experience all the Miracle had to offer, but most of the topics were unappealing (Ballet Folklorico, Journey through the Decades). I finally agreed to go to the Friday show - a tribute to the Beatles. It started out OK, with some elaborate sets like a double decker bus, singing and dancing. But about 30 minutes in, things went to black and a voice came on declaring technical difficulties. After a few minutes, they resumed, only to stop a few minutes later and say that due to a computer failure, the show could not go on. They suggested we come back for the late show, but I found this too much of a buzzkill. Of course, later that night, Dave overheard someone raving about the spectacular finale of the show. FOMO struck again.
Gambling on the boat didn't work well for us. We lost money at blackjack very rapidly. The odds on the video poker machines were terrible. They also had an odd version of blackjack called "super fun blackjack" where the queens had been removed. The one fun thing we did was a blackjack tournament although it was billed in a misleading way as a $100,000 tournament. The prize on our ship was $500. If you won the tournament, you had the chance to go on another cruise and play in the championship for the chance at $100,000 - but your cruise would not be free. I did enjoy the guitar players who sometimes played in the casino or the bars. The casino was definitely capitalizing on its captive audience.
I went to bed around 10pm and I felt kind of lame about it. Dave stayed up and went to a comedy show. But being on the cruise is kind of like being in Vegas. I love being in Vegas but I never do it for more than 2 or 3 nights. The cruise is like 7 nights of Vegas. There were times when I just wanted to retreat to my inside cabin and be alone in the darkness. You could sleep in really easily since there's no window and it's pitch black.
Saturday was our last "Fun Day at Sea." We again had brunch with strangers and had nice conversation. I wished we had done that all week, perhaps we would have found more cruise friends to pass the time with. We attended the "Love and Marriage" game which was like the newlywed game where the most newly married, longest married, and a couple in the middle competed. We had couples married 5 months, 25 years and 50 years. This game was quite amusing. Our cruise director Troy was really a great host. He also proved he could sing in the Rat Pack show. His mom was on the cruise and attended all of his shows, so that was sweet. The 5-month couple won the game but I liked the seniors best. When asked for their parting words on how to make a marriage last, the wife said "Love each other with all your heart."
We got the lobster dinner raincheck that night and it was tasty. I got drunk on the bottle of wine I brought from home (corkage fee = $15) and then kept drinking at a comedy show (pretty funny) and in the piano bar. I sang along to "Rehab" and then asked the guy to play it again about an hour later. When he said he already played and reminded me I was there for it, I replied, "Yeah, but I'm more drunk now, so I'll sing better." I'm sure Amy Winehouse was smiling down on me. Dave went up to the Vomitorium and got a pizza and brought it down to the piano bar for everyone. It felt like the fun but slightly sad camaraderie Billy Joel describes in "The Piano Man." The husband from the 50-year couple showed up in the piano bar without his wife. I asked him if he got in trouble for any of his answers and he said he shouldn't have made the comment about his wife's spare tire. I'm pretty sure she will forgive him. We finally went to Frankenstein's disco, just as they were playing one of my favorite Nelly songs. We danced for a few songs amid the twentysomethings who were working hard for a last night of the cruise hook up. The Fun Imperative was never more urgent- this was the last night!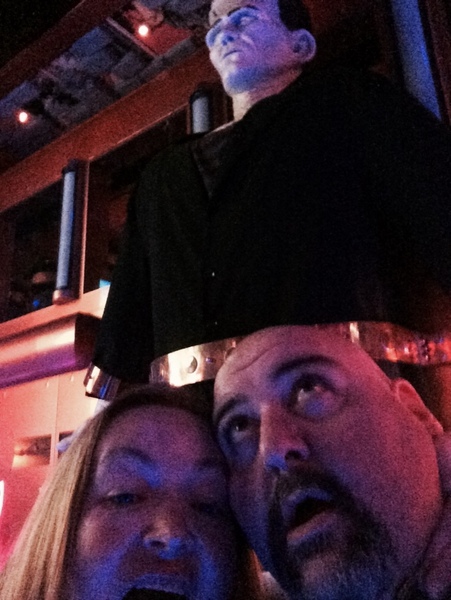 Sunday, we were due back to Long Beach around 9:00 AM but it took several hours to clear customs and be allowed to disembark. Our final bill was slid under the door and I was kind of shocked to see we had racked up over $1000 in charges for booze, tips, special meals and a spa treatment. Disembarkation happened in group numbers. We passed the time on the Lido Deck, checking Facebook and email for the first time in a week. I realized part of my sadness on Christmas was not being able to get on the phone or on Facebook and hear how everyone's Christmases were going. While I like having some unplugged times, Christmas isn't really one of those times.
We got through customs smoothly and I found myself missing the cruise a bit over the next few days. I still felt like I didn't have my land legs, like things were moving. And I kind of longed for the days when my biggest decision was whether to attend Star Wars trivia or Bingo. I missed having someone slide a schedule for the next day under my door and finding it full of enticing activities. Luckily, I had a week of staycation after the cruise before I had to go back to work, as I needed time to decompress and detox. We both gained about 5 pounds on the trip. Would I do it again? I might do an Alaskan cruise, just because that seems like a great way to see highlights of Alaska. I think it would be more fun to go with a group of friends, too. The large families on the ship seemed to be having the best time, even if they were just sitting around playing cards together. You can experience most of what a cruise offers in Vegas - with better shows, better food, better gambling options. Perhaps a smaller boat or a different cruise line might be a better experience too. I still feel like I'd rather visit a place and experience it for more than 4 hours, but if you accept the cruise for what it is, and embrace the Fun Imperative, you can enjoy it.
See all my photos from the cruise
Read more Ape Culture travel stories
\
Ape Culture and all associated pages are
ŠApe Culture 1998-2007 and evermore.