From Ostrich Races to Stuffed Trigger: A Weekend in Branson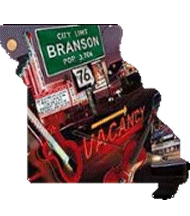 You may not know much about Branson, Missouri, but the little town is a tourist mecca for Midwesterners. Growing up in St. Louis, I was always aware of Branson, however the area has changed tremendously during my 32 years. When I was just knee high to a grasshopper, we vacationed in Branson. At that time, the area was known for outdoor activities such as boating and fishing on Table Rock Lake and Lake Taneycomo, the craft-oriented amusement park Silver Dollar City, a small strip of tacky souvenir stores, The Shepherd of the Hills play, and the Baldknobbers show. Today, there are over 100 shows in Branson, several theme parks, heaps of family attractions, and traffic jams that make navigating around my adopted hometown Los Angeles seem like a breeze.
I remember seeing a feature on Branson on 60 Minutes about 10 years ago. The reporter talked about how entertainers such as Andy Williams, Glen Campbell, and Mickey Gilley were building permanent theaters in Branson. Business was booming, and tourists were flocking there. One entertainer said, "Last person to leave Nashville, please turn out the lights." Branson has enough neon signs and country music stars now to not only eclipse Nashville but also be considered a mini-Vegas. It has icons who are unknown in the rest of the country, such as Shoji Tabuchi, a Japanese fiddle player, who plays to packed houses. Branson is like nothing you've experienced before - a bizarre mix of show biz, simple country living, and American excess.
My college friends and I chose Branson as the site for our 10-year reunion. We all attended Notre Dame but now live in Chicago, New York, LA, San Diego, Kansas City and Indianapolis. Branson offered a central location and a mix of kitsch and nature that would leave everyone in the group feeling content. So, along with hordes of families and retirees from Missouri, Oklahoma, and Arkansas, we descended on Branson for Labor Day weekend.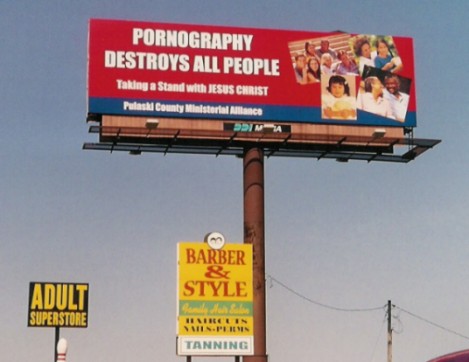 Most of us flew into St. Louis on Friday morning and met up at the airport. We embarked on the 250-mile drive to Branson. There really is no convenient airport by Branson, unless you count Springfield airport, which is quite small. The drive through the Missouri countryside wasn't bad, as we spent our time counting billboards for Meramec Caverns. We also noticed anti-porn billboards with devastating tag lines like "Pornography Destroys All People" were placed near Adult Stores. We saw many cars with Bush/Cheney bumper stickers. This is Bush's America, to be sure.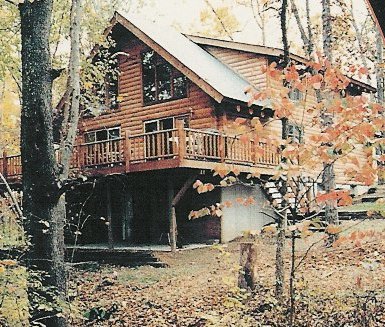 We arrived at the house we had rented for the weekend - Log Haven Lodge - and explored it with enthusiasm. Located in Hollister, MO, just a few miles from the Branson hotspots, the Lodge had a countrified, relaxing feel. We loved the large wrap-around deck, BBQ grill, and pool table. And we admired the many taxidermied animals and fish and the locked gun safe. Our first adventure involved locating a grocery store. Instead of sensibly calling our landlord for a recommendation, we blindly headed out onto the highway. Eventually, we found a supermarket near the main drag of Branson. The aisles were extra-wide for the extra-wide patrons that we encountered there. We stocked up on vacation-only junk food. Back at the house, we decided to order in pizza and spend the first night catching up.
On Saturday, we had a lazy morning and then decided to go check out Branson. We embarked on a 4-mile journey to "The Strip" and proceeded to sit in traffic for nearly an hour, inching down the 4-lane road as everyone paused to look at the various signs and attractions. Our first stop was "Ride the Ducks", where we were herded through an obligatory photo opportunity and onto a rehabilitated amphibious military vehicle for a tour of Branson by land and lake. We were given free "quackers", mouth devices that made duck sounds and our driver encouraged us to quack at other ducks that passed and at unsuspecting motorists. Perhaps all this quacking causes the traffic jams. Our driver was very informative as he regaled us with some of the history of Branson including the story of The Shepherd of the Hills, a book written about the area which he told us has sold millions of copies and is the fourth most popular widely read book in publishing history (so why haven't we heard of it? we wondered). The duck then meandered up a hill and we were driven past various rusted old military vehicles. I found this to be dull, but many of the men on the Duck rapidly snapped photos. At the top of the hill, we were treated to a panoramic view of the lakes and countryside. The climax of the Duck ride was the plunge into the lake, during which the back row got soaked. Children were allowed to pilot the duck on a brief cruise before we returned to land and the duck depot. Some of us found the duck ride nauseating, but we all felt it gave us a good overview of Branson.

Next we visited a strip mall that boasts the World's Largest Banjo and a very large gift shop where we bought souvenirs and postcards. We then proceeded to Dolly Parton's Dixie Stampede. The ticket agent had advised arriving one hour early for the pre-show. We walked from the giant parking lot past the stables where the horses were housed. Inside, we were ushered through the obligatory group photo opportunity and then into a small saloon where the pre-show magic act was taking place. We watched a guy spin plates on sticks, juggle fire, etc. Then, we were herded into a large theater and seated in long rows ringing the dirt-floored arena. Our hyperactive waiter introduced himself and made chit chat as tons of retirees and families filed in and took their seats. Before long, Dolly Parton's voice rang out over the speakers welcoming us to her Dixie Stampede and buffalos came rushing out into the arena. I have to say it was rather thrilling to see buffalos running around to patriotic music, and I especially liked the one who rolled over in the dirt and showed off his undercarriage as if he was in the middle of a bizarre acid trip. Unfortunately, the buffalos were herded off too quickly for us to really appreciate them, perhaps because Branson family values discourages showcasing large buffalo testicles. The show continued with various feats of horsemanship and song and dance.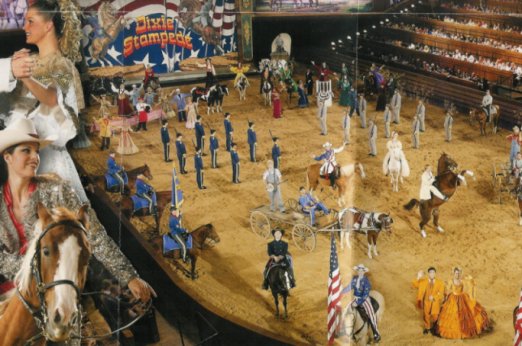 After the initial horseplay, the crowd was divided into halves to cheer for the North vs. South in various competitions, as many folks in this area of the country are indeed still fighting the Civil War. Meanwhile, our meal was served from gigantic trays - rolls, a creamy vegetable soup (the so-called vegetables were specks), an entire rotisserie chicken, a slice of roasted pork, a potato wedge, an apple pastry, and all the pepsi or iced tea you could drink. Diet Pepsi was not an option. No utensils were available, as eating with our hands was supposed to be part of the fun. I believe this spectacle borrows a lot from Medieval Times. Although I've never been to the jousting, I have seen it on The Osbournes. I felt very greasy and barbaric as I tore the chicken limb from limb while watching ostrich races. People actually rode on ostriches. In the midst of our meal and the show, a staffer brought around the souvenir photos and we had to immediately stop and decide if we wanted the photo, although we couldn't really handle it or pass it around as our hands were covered in grease. We gave in to the pressure and bought it. Luckily, it turned out to be a good group shot.
A definite highlight was the pig races. Pigs were brought out in miniature cages/gates, like the starting blocks from a horse race. When the gates were raised, the pigs took off, racing around the track, making tight corners, and heading into the cages at the end, where I'm sure there was some really tasty food waiting for them. There was also a baffling "shell game" magic trick involving some wagons and barrels and a disappearing pseudo-audience member. The finale involved Dolly Parton on a giant video screen singing a patriotic song, while the spirited cowboys and cowgirls rode around the arena in lit-up red, white, and blue outfits. Now that's entertainment!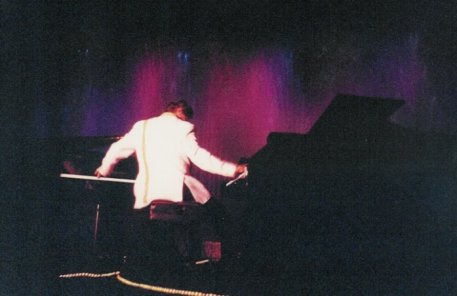 On Sunday, we had a lazy morning, and the group split up for a while. Several people went hiking. Some hung out in the house. I was the only one who hadn't had a kitsch overdose from the Dixie Stampede, so I ventured back to the Branson strip. I had retained some knowledge of the back roads from the Duck tour, so I avoided much of the traffic en route to the Waltzing Waters theater. After reading about the Amazing Frederick's show on Roadside America, I knew I couldn't miss it. He would be playing two pianos at once while accompanied by dancing colored fountains! Only about 30 or so customers showed up for the 1:00 PM show. The fountaineer introduced himself and demonstrated his expertise with the fountain control board. Where does one go to school to learn this trade? Then Frederick took the stage and launched into "The Impossible Dream." Originally from Amsterdam, he grew up in South Africa, lived in New York and Las Vegas, and eventually found his way to Branson, where he now plays 3 shows a day. He told some jokes and informed us that together we could make the memories of this magical hour last a lifetime. He played one piano while another piano sat lonely on the other side of the stage. As the show progressed and Frederick worked his way through the Andrew Lloyd Webber catalog, the pianos moved closer to each other. Lights played off the fountains, as the fountaineer added his interpretations to the songs. Frederick then played a couple of songs with one hand on each piano and his back to the crowd. Frederick broke up the show with some chit chat and jokes. He made a comment about how there were too many foreigners in the US and an obese man in front of me blurted out, "That's for sure," not getting the joke. If there were no foreigners in the US, who would be playing two pianos for us? For the grand finale, Frederick played two different songs on two pianos at the same time! His feet worked pedals on the pianos and his hands flew up and down them. I know one song was the Tom Jones' classic "Green Green Grass of Home", but I'm not sure what the other song was. It was an amazing cacophony. As I am unable to type and talk on the phone at the same time, I was impressed. Afterwards, Frederick sat in the gift shop, ready to sign CDs and chat with the audience members.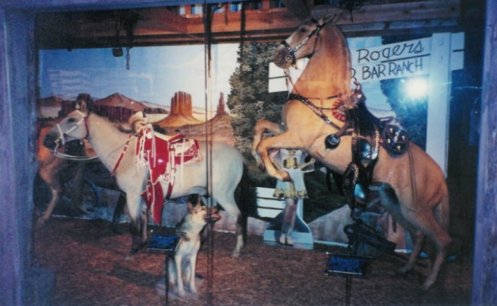 After being amazed by Frederick, I headed to the Roy Rogers and Dale Evans Museum that was just a few blocks away near Celebration City, a "family nighttime amusement" offshoot of the still thriving Silver Dollar City. I was curious to see stuffed Trigger. Inside, I was shocked to see the museum was charging $14 for admission. For that kind of fee, I expect to see a Picasso or at least a wax Donald Trump. Grudgingly, I forked over the cash and viewed the exhibits. The highlights were definitely the glassed-in stuffed animals: Trigger (Roy's horse), Buttermilk (Dale's horse), Trigger Jr. (just another featured horse, not Trigger's real offspring), and Bullet the Wonder Dog. Bullet looked a little frayed around the ears, but the others were in good condition. Other highlights were Roy's costumes and one of his cars which had a saddle inside of it, a leather interior that was imbedded with silver dollars, guns on the hood, and guns for door handles. Dusty Rogers, Roy's son, performs at the museum, but I didn't stick around to catch his rendition of "Cool Water."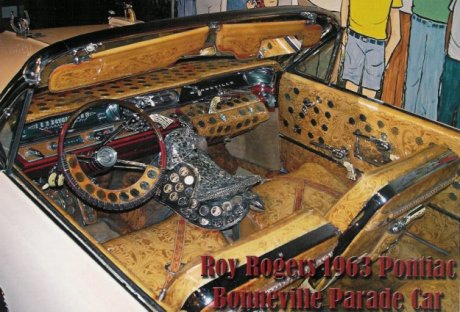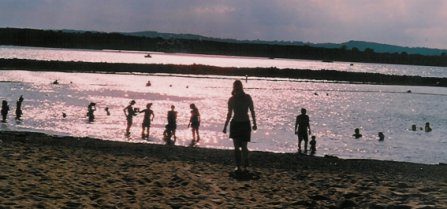 After gorging on kitsch, I returned to the country cabin and regrouped with my friends. We decided to take a late afternoon trip to Moonshine Beach on Table Rock Lake. The beach was nice, though rocky, and the lake water was warm and calm. That night we barbecued and enjoyed smores and more conversation and games.
Monday morning came too soon, and we had to pack up and leave for St. Louis as most of the group was flying out that evening. I wished I had a couple of more days in Branson to catch some more shows - such as Ann Margret and Andy Williams, Roy Clark, or Shoji - but I guess I'll just have to heed the oft-heard cry "Y'all come back now, ya hear" and return someday.
For more information on Branson, visit the Chamber of Commerce site
Go here to rent Log Haven Lodge
Read more Ape Culture travelogues.
Been to Branson? Share your tourism tips here.
Ape Culture and all associated pages are
ŠApe Culture 1998-2007 and evermore.



Click here to learn about
the Ape editors' book
Check out the Ape Blog for the latest Ape Culture News and Reviews