Diana Ross and the Divas of Doom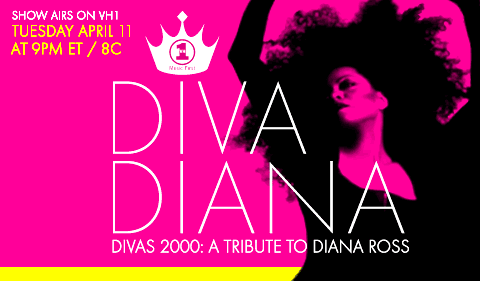 After last years Divas debacle (Divas Live: A Look Back in Anger), we never expected to see the night of a thousand bugle beads again. But alas, the Divas appear to be here to stay.
Divas Live 2000 got off to a groovy start, actually, with Mariah Carey's sampled rendition of Diana Ross's "Love Hangover," a song I really adore for it's funky interlude (Don't call the Doctah/Don't call the Preachah). It was heartening to know that the Divas had a reason d'être this year: a salute to Diana Ross. Good instinct VH1: give the divas focus. This may just limit the hair-pulling fights backstage. "Divas! Pay attention!"
But my feelings about Diana Ross, the artist, are complex, unlike my feelings for Barbra Streisand. (She's your classic Diva Bitch and that's the end of it). I appreciate Lady Sings the Blues, loved Mahogany and am constantly confounded by the fact that The Wiz remains so underappreciated for the unilateral emancipation musical that it is. The Wiz certainly never got its revisionist due. (And I own and often play the inspirational soundtrack album, so I am appalled somewhat on a regular basis). I loved the whole Girl Group school thing Motown made the Supremes endure. What little girl didn't dream of going to girl group class? Learning how to snap her fingers and pose to the right, pose to the left. These days, we watch TLC and are left to wonder how they can possibly manage their affectations without proper training of girl-group theories.
I even loved my Diana Ross Anthology LP, Diana, (with groovy Ashford & Simpson tunes from the Supremes-sounding "Aint No Mountain High Enough" to the dance floor drama, "The Boss"). After reading the trashy Diana Ross war and peace epic by J. Randy Taraborrelli, so large because she stepped on so many toes, I was disgusted that someone so adequately talented would feel the need to be such a flaming bitch to get ahead. There were testimonies in there from EVERYBODY....from her lowly staff to all of the Temptations! And the drama surrounding the new and pudgier Supremes seems to support the negative rage-fest that was Mary Wilson's anti-Diana Ross/Supremes memoir Dreamgirl. It seems Ross pissed off an army in her day. So I figured I had no use for this type of self-absorbed diva-pop anymore and the Diana Ross anthology record ended up in a stack of old records I took to my local used record shop, Vintage Vinyl. There I was offered 2 bucks for the double gatefold LP. Vintage Vinyl is not exactly the soul central of St. Louis, where I was living at the time. But needless to say, I was outraged! Two bucks! You've got to be kidding me! This is Diana Ross. She may be a pop Diva bitch but these are some solid gold Motown numbers on this piece of plastic! What about "Upside Down"? What about the Theme from Mahogany? What about the newly liberated female anthem "It's My Turn"? The problem wasn't so much a disrespect of Ross, but a general late-80s, early-90s disrespect of Motown itself that is so outrageous. Keep your two stinkin' bucks, I'm taking my bitchy Diva record home!
So that is how I am here today, ten years later, still in possession of my Diana Ross Anthology double LP. I am watching Diva Live, Ad Nauseum and wondering how Ross will look and how she will handle this Norma Desmond moment after making something close to 47 comeback attempts since the Michael Jackson-penned "Muscles"/Lionel Richie-penned "Endless Love" era of the early 80s. Tina Turner, Cher, even Bette Midler have been busy becoming senior Divas. Ross has been busy having tantrums somewhere, we don't know.
Tonight we will see, but we will have to wait. Diva's has just started so Diana is a couple hours away.
In the meantime, Donna Summer: a lot of her, like an Aretha-Franklin lot of her. Now Donna was always a beautifully plump woman. Witness the "Love to Love You Baby" video. I am of the general opinion that black woman look better with some extra poundage than white women do. White women tend to reflect light and look corpulent. Compare Winona Judd to Queen Latifah, for example. Black is rosy, white is porky. But Donna seemed to have plumped suddenly, like a ball-park frank. And her dress on Diva's was not flattering. It wanted to be a tube shaped number...on an inner-tube shaped body.
Faith Hill: we shouldn't make models sing...it's cruel. Okay, she's a good singer, she has the right moves, and her hair always looks good. I like to think of her as the thinking man's Shania Twain. Still, something's too perfect, like Mel Gibson singing pop. It's just wrong.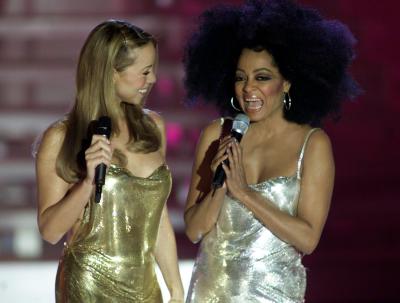 Mariah Carey: I am glad to see that my limp lifeless hairstyle is not the result of raw laziness but actually the latest hairstyle sported by Mariah Carey. But I have to give it to her, she let herself be upstaged and condescended-to by an over-the-hill-Diva for two un-subsequent years now, probably in the hopes that someday she too will be honored and able to upstage and condescend to perky little upstarts such as herself. And when Diana spun Mariah through the drill of "Baby Love" & "Stop In The Name Of Love," stepping on her lines and bungling up the whole bit, Mariah handled it like a real pro. Taking the blame.
I believe that Mariah sincerely cares about VH1's Save The Music program. And it's time a Diva did. After witnessing how Mariah aimed to not disappoint her fanatical fan on the show Fanatic (in a direct response to having been disappointed so often herself when meeting role models) and the plethora of chin-up-little-girl inspirational songs Mariah has written, I think she is on a real mission to not tow the diva-line and to create a kindler gentler Diva. You can see that this is obvious by the fact that she came back for yet another supporting role in a prima-donna show. I didn't think Mariah's performance on Tuesday night's show was all that, she could do better. But I respect her for a some grace among scrambling divas.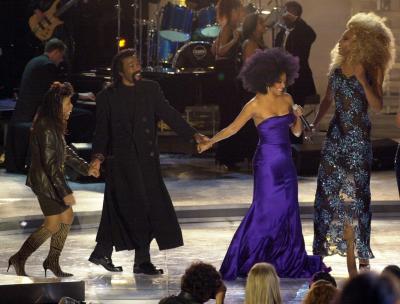 And I admit to being swept up in the sentimental nostalgia of Diana's performance. Her glowing kids, Ashford and Simpson, still solid as a rock in the audience (hell, they wrote the songs that made the whole Diana sing), but I find it hard to forgive Diana the egregious error of wearing a pink lipstick and makeup ensemble with an orange print dress and that god-awful afro wig. It wasn't the style of the wig, which was hip and fun, it was the quality of the wig, that it looked like a dime store plastic fire-hazard. It didn't even look like it was covering her real hair...like it didn't entirely fit right. They make perfectly good wigs these days, you know. Borrow some wigs from Cher, whatever you have to do. Even your celebrity impersonator, Ru Paul, had a better wig than you.
And Diana's attempts to get the crowd singing her music was at times downright sad. This wasn't a crowd of embracing Diana Ross fans. Those poor souls couldn't get 100 yards near a Diana Ross Tribute ticket. No, these were the VH1 movers and shakers, a few well placed celebrities and Donald Trump. There to be there. These people will be there next year for some other Diva Tribute. They weren't sentimental a whit about Diana Ross. I almost felt sorry for Diana. "You're not singing along. You didn't sing." You could tell this was a touching moment for Diana and her family. Unfortunately it was a touching Hollywood moment for everyone else, and therefore an utterly shallow one.
This Diva show was no way the snooze fest that Divas last year was. In my humble opinion, after watching three years of Diva mayhem, it's clear that Divas Live only needs one ingredient to be a decent show: Mariah Carey.
Hey, maybe she'll be at the Harrison Ford tribute tonight! She can do a re-enactment of the opening of the ark of the covenant scene in Raiders of the Lost Ark.
Share your feelings about the Divas.
Ape Culture and all associated pages are
ŠApe Culture 1998-2007 and evermore.