Requiem for The Richard Bey Show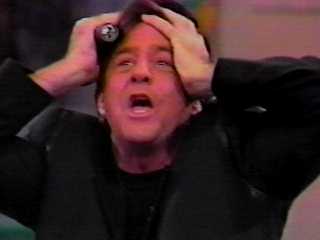 Richard Bey was Jerry Springer before Jerry Springer. He was smarter, less evil, and a whole lot more fun. He was as pure New Jersey as Jon Bon Jovi or Jack Nicholson, but he was Jersey by way of Yale. Yes, as hard as it may be to believe, the trashiest talk show host of them all has a Master of Fine Arts degree from Yale. He once played Hamlet. He acted in Christopher Durang plays off-Broadway. He appeared on local New York news shows before getting his own show, The Richard Bey Show, which was widely syndicated from 1991-1996. The show achieved decent ratings, provided the fodder for many an episode of Talk Soup, and attracted much derision from conservative folks like William Bennett who feel they are the arbitrators of truth, beauty, and good morals in media. Bennett and his ilk just didn't get it! Nobody got it. Sigh.
Why, oh why, did The Richard Bey Show get canceled? Recently, Richard claimed that his show was not canned due to poor ratings, but killed by demonic conspiratorial forces representing Bill Clinton. Richard aired an episode featuring Clinton's former mistress Gennifer Flowers. Although this episode won its time slot, Richard was called to the network offices the next day and informed that the show was going off the air and his contract would be paid off. He claims he kept quiet about this for three years because he thought people would just dismiss the claim as sour grapes. It's an interesting thought, but there's no way Richard or anyone can prove it. Perhaps Oliver Stone would like to make a movie about this case. Conspiracy theories aside, it seems more logical that Richard fell victim to an anti-talk show backlash spurred by the proliferation of talk shows in the mid-90s and the Jenny Jones murder case. When the talk show boom went bust and the Carnies and Tempestts fell to the wayside, only one trash-meister could remain, and that was Jerry. The Richard Bey Show went to an early grave, and somehow, Jerry Springer remains. Richard had poked fun at Jerry on his show, accusing him of stealing his ideas. Jerry got the last laugh.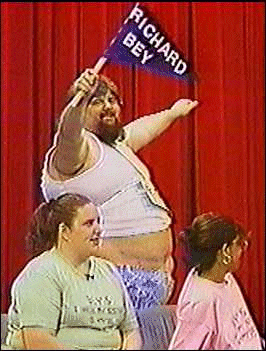 Richard and Jerry both chose the "Let's put on a show and get people to humiliate themselves" theme for their shows. In the end, audiences preferred the bitch-slappin' brawls of Springer to Bey's wacky "wheel of torture" and "Mr. Puniverse" contests. I'll admit to watching Springer and I even paid to see his movie Ringmaster in the theater (albeit, the $3 cinema). I'm morbidly fascinated by these trashy shows, but I much prefer Richard to Jerry. Unlike Jerry, Richard never pontificated. He didn't try to lend his show a moral purpose with an arrogant "thought for the day." He knew it was a trash wallow. He stood in the middle of the freak show, which is what the show basically was, with a bemused expression on his face. "Where Do They Find These People?" became his mantra. He couldn't imagine wanting to participate in a Ms. Big Butt contest, but he wasn't going to stop those who did. A show can't be exploitive if people choose to exploit themselves. Richard just laughed, and I laughed with him, and the Ms. Big Butt contestants would laugh too, especially when they were making butt prints on butcher paper after dipping their ample posteriors in chocolate syrup. Somehow, Richard encouraged the freaks to take pride in their freakishness, to find self-worth through being named Ms. Thunder Thighs and Mr. Gargantugut. OK, maybe that's a bit strong. Perhaps I'm getting preachy like Jerry. Maybe the freaks didn't find self-worth, but at least they got a free night in the Seacaucus, New Jersey Quality Inn and a limo ride.
I had the privilege of attending two tapings of The Richard Bey Show. The first episode was the talk show staple topic "I've Got a Secret," the topic that led to murder in the less capable hands of Jenny Jones. The second show was a more entertaining make-over show featuring various transformations including a goth teen who was recreated as a Gidget lookalike to her mother's squeals of delight. The taping of the make-over episode took more than two hours. Our enjoyment of the show was hampered because we could not escape the locked-down studio and were worried we'd be late for our theater engagement that night-Grease starring Jon Secada (by the grace of God and a Corolla that performed like Greased Lightnin', we made it). During the long pauses while guests were being made over backstage, Richard kept us entertained with witty commentary. He had heaps of energy and enthusiasm. He shook the hands of every audience member, even those that looked like they'd crawled out from under rocks, to thank them for attending. He wore bright-colored blazers with jeans and was too tan like George Hamilton (another failed talk show host), but I found him sexy in a sleazy, Mickey Rourke sorta way.
Richard was a visionary who pushed the talk show concept to fantastic excess. His show was as tacky, entertaining, and hard to ignore as a Big Pineapple. I never ceased to be amazed at the indignities guests would endure for the aforementioned night at the Quality Inn and 15 minutes of fame. In a "Big Breasts vs. Small Breasts" contest, women raced each other around the studio parking lot, as close-ups captured every bounce. Skinny men competed for the title "Mr. Puniverse." People strapped loved ones who had done them wrong on a "wheel of torture" and covered them in condiments. In my all-time favorite episode, women competed to be named "Queen of the Trailer Park." The winner scored big points for wearing dentures and having fire ant bites on her ankles. She took great pride in her title and I'm sure wore her tiara around the trailer park when she got back to Florida.
Amid all this madness, Bey was the likable center. He was all about fun. He never preached like Jerry or Montell. He didn't pretend to be high culture like Oprah. He didn't grate on the viewer's nerves like Geraldo or Leeza. Richard Bey simply held up a mirror and said, in the immortal words of the theme song of America's Funniest Home Videos, "America, America, this is you."

Visit Richard's official site for more information on the show and Richard's current job as a WABC talk radio host, lots of photos and sound clips.
Fade to Black's archive of winners of their "Richard Bey Award," given to people who are distinctive only for lowering our standards
An article about Richard's claims that his show was killed off because of a conspiracy by Bill Clinton
Talk about The Richard Bey Show and other canceled shows you miss in the Ape Culture forum. Add comment.

Ape Culture and all associated pages are
ŠApe Culture 1998-2007 and evermore.



Click here to learn about
the Ape editors' book
Check out the Ape Blog for the latest Ape Culture News and Reviews